Abstract
Irrigation is important to agricultural production and can induce changes in the regional hydrological cycle. In particular, in areas with shallow groundwater, fluctuation of groundwater levels will be present with irrigation events and groundwater evaporation. To deal with the shortage of water resources, agricultural water saving (AWS) has been conducted in arid and semiarid area. The Jiefangzha irrigation district was selected as the study area to investigate groundwater dynamics in response to AWS. With the abundant various data, the trend of groundwater level change from 1980 to 2013 was evaluated based on geographic information systems. Groundwater net consumption (ETng) and regional evapotranspiration (ET) during crop growth period were estimated by water fluctuation method and the water balance method. The results indicate that the groundwater depth was relatively stable before 2002, remaining at around 1.7 m. Due to reduction of the water diversion from the Yellow River and the implementation of water saving measures (WSMs), the canal seepage and irrigation infiltration declined, leading to groundwater levels declining by 0.4 m in recent 10 years. Groundwater net consumption of crop growth period was estimated since 1990 and increased from 50 mm/year in 1990 to 110 mm/year in 2013 with the reduction of water diversion. At the same time, regional evapotranspiration has shown a slightly decreasing trend. Thus, the contribution of groundwater to regional evapotranspiration has an obvious increasing trend, accounting for 20 % in 2013, which is doubled compared with that in 1980. Groundwater is very important to sustain crop production and healthy ecology, and it is quite essential to consider groundwater response to regional WSMs and water management.
Access options
Buy single article
Instant access to the full article PDF.
USD 39.95
Price excludes VAT (USA)
Tax calculation will be finalised during checkout.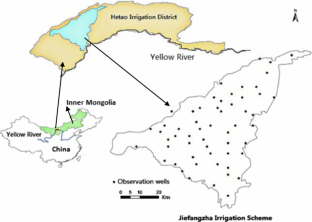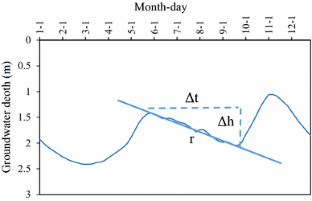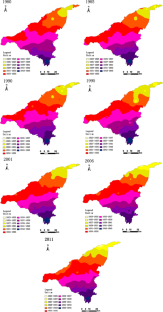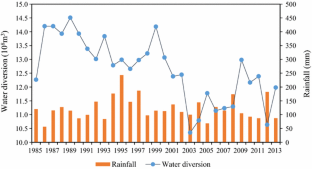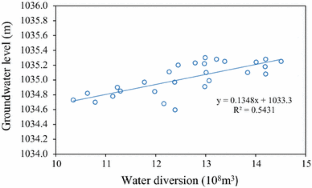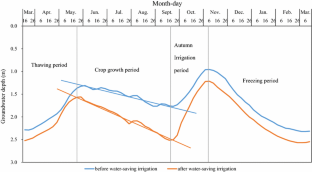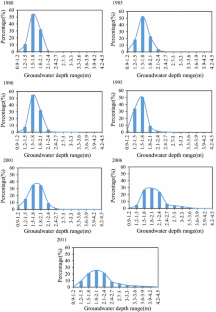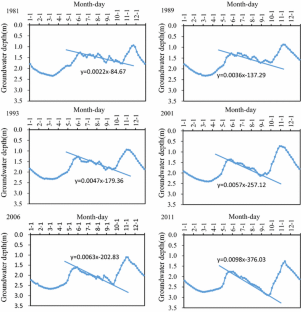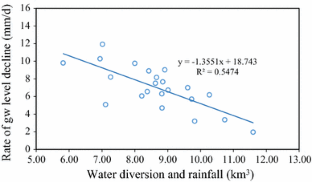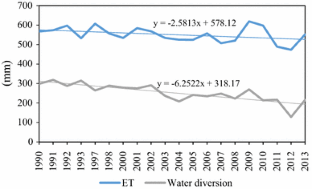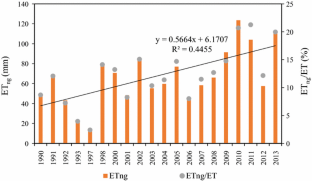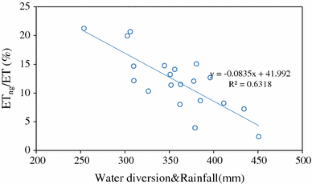 References
Amer R, Ripperdan R, Wang T, Encarnación J (2012) Groundwater quality and management in arid and semi-arid regions: case study, Central Eastern Desert of Egypt. J Afr Earth Sci 69:13–25

Bameng S (2005) Water resources planning report. Bayannaoer Water Resource Bureau, Bayannaoer

Billah MM, Goodall JL, Narayan U, Reager JT, Lakshmi V, Famigliett JS (2015) A methodology for evaluating evapotranspiration estimates at the watershed-scale using GRACE. J Hydrol 523:574–586

Chávez JL, Howell TA, Copeland KS (2009) Evaluating eddy covariance cotton ET measurements in an advective environment with large weighing lysimeters. Irrig Sci 28:35–50

Chen X, Hu Q (2004) Groundwater influences on soil moisture and surface evaporation. J Hydrol 297:285–300

Cohen D, Person M, Daannen R, Locke S, Dahlstrom D, Zabielski V, Winter TC, Rosenberry DO, Wright H, Ito E, Nieber JL, Gutowski WJ Jr (2006) Groundwater-supported evapotranspiration within glaciated watersheds under conditions of climate change. J Hydrol 320:484–500

Colombani N, Di Giuseppe D, Faccini B, Ferretti G, Mastrocicco M, Coltorti M (2016) Inferring the interconnections between surface water bodies, tile-drains and an unconfined aquifer–aquitard system: a case study. J Hydrol 537:86–95

Duque C, Calvache ML, Engesgaard P (2010) Investigating river–aquifer relations using water temperature in an anthropized environment (Motril-Salobreña aquifer). J Hydrol 381:121–133

Fan JL, Oestergaard KT, Guyot A, Lockington DA (2014) Estimating groundwater recharge and evapotranspiration from water table fluctuations under three vegetation covers in a coastal sandy aquifer of subtropical Australia. J Hydrol 519:1120–1129

Feng ZZ, Wang XK, Feng ZW (2005) Soil N and salinity leaching after the autumn irrigation and its impact on groundwater in Hetao Irrigation District, China. Agric Water Manag 71:131–143

González-Altozano P, Pavel EW, Oncins JA, Doltra J, Cohen M, Paço T, Massai R, Castel JR (2008) Comparative assessment of five methods of determining sap flow in peach trees. Agric Water Manag 95:503–515

Guo HM, Zhang Y, Jia YF, Zhao K, Li Y, Tang XH (2013) Dynamic behaviors of water levels and arsenic concentration in shallow groundwater from the Hetao Basin, Inner Mongolia. J Geochem Explor 135:130–140

Han M, Zhao CY, Šimůnek J, Feng G (2015) Evaluating the impact of groundwater on cotton growth and root zone water balance using Hydrus-1D coupled with a crop growth model. Agric Water Manag 160:64–75

Hao FH, Sun MZ, Zhang X, OuYang W, Guo BB, Huang HB (2013) Dynamic of soil water, groundwater and water balance in Hetao irrigation area. Acta Sci Circumst 33:771–779

Hattermanm F, Krysanova V, Wechsung F, Wattenbach M (2004) Integrating groundwater dynamics in regional hydrological modelling. Environ Model Softw 19:1039–1051

Healy RW, Cook PG (2002) Using groundwater levels to estimate recharge. Hydrogeol J 10:91–109

Huo ZL, Feng SY, Huang GH, Zheng YY, Wang YH, Guo P (2012) Effect of groundwater level depth and irrigation amount on water fluxes at the groundwater table and water use of wheat. Irrig Drain 61:348–356

Ibragimov N, Evett SR, Esanbekov Y, Kamilov BS, Mirzaev L, Lamers JPA (2007) Water use efficiency of irrigated cotton in Uzbekistan under drip and furrow irrigation. Agric Water Manag 90:112–120

Jorenush MH, Sepaskhah AR (2003) Modelling capillary rise and soil salinity for shallow saline water table under irrigated and non-irrigated conditions. Agric Water Manag 61:125–141

Kahlown MA, Ashraf M, Zia-ul-Haq (2005) Effect of shallow groundwater table on crop water requirements and crop yields. Agric Water Manag 76:24–35

Kendy E, Zhang YQ, Liu CM, Wang JX, Steenhuis T (2004) Groundwater recharge from irrigated cropland in the North China Plain: case study of Luancheng County, Hebei Province, 1949–2000. Hydrol Process 18:2289–2302

Kleidon A, Heimanm M (2000) Assessing the role of deep rooted vegetation in the climate system with model simulations: mechanism, comparison to observations and implications for Amazonian deforestation. Clim Dyn 16:183–199

Kumar K, Gupta SK (2010) Decline of groundwater tables in the upper Yamuna basin: causes and management strategies. Irrig Drain 59:606–620

Li X (2003) Pressure of water shortage on agriculture in arid region of China. Chinese Geographical Science 13:124–129

Li XY (2006) Study on the evapotranspiration loss in lower reaches of the Yellow River. Hohai University, Wuhan

Liu ZY, Chen H, Huo ZL, Wang FX, Shock CC (2016) Analysis of the contribution of groundwater to evapotranspiration in an arid irrigation district with shallow water table. Agric Water Manag 171:131–141

Maraux F, Lafolie F (1998) Modeling soil water balance of a maize-sorghum sequence. Soil Sci Soc Am J 62:75–82

Moon SK, Woo NC, Lee KS (2004) Statistical analysis of hydrographs and water-table fluctuation to estimate groundwater recharge. J Hydrol 292:198–209

Naumburg E, Mata-gonzalez R, Hunter RG, Mclendon T, Martin DW (2005) Phreatophytic vegetation and groundwater fluctuations: a review of current research and application of ecosystem response modeling with an emphasis on great basin vegetation. Environ Manag 35:726–740

Newman BD, Wilcox BP, Archer SR, Breshears DD, Dahm CN, Duffy CJ, McDowell NG, Phillips FM, Scanlon BR, Vivoni ER (2006) Ecohydrology of water-limited environments: a scientific vision. Water Resour Res 42:W6302

Pfannerstill M, Guse B, Fohrer N (2014) A multi-storage groundwater concept for the SWAT model to emphasize nonlinear groundwater dynamics in lowland catchments. Hyrol Process 28:5599–5612

Ren DY, Xu X, Hao YY, Huang GH (2016) Modeling and assessing field irrigation water use in a canal system of Hetao, upper Yellow River basin: application to maize, sunflower and watermelon. J Hydrol 532:122–139

Saleska SR, Didan K, Huete AR, Da Rocha HR (2007) Amazon forests green-up during 2005 drought. Science 318:612

Sapriza-Azuri G, Jódar J, Carrera J, Gupta HV (2015) Toward a comprehensive assessment of the combined impacts of climate change and groundwater pumping on catchment dynamics. J Hydrol 529:1701–1712

Shouse PJ, Goldberg S, Skaggs TH, Soppe RWO, Ayars JE (2010) Changes in spatial and temporal variability of SAR affected by shallow groundwater management of an irrigated field, California. Agric Water Manag 97:673–680

Soppe RWO, Ayars JE (2003) Characterizing ground water use by safflower using weighing lysimeters. Agric Water Manag 60:59–71

Soylu ME, Istanbulluoglu E, Lenters JD, Wang T (2011) Quantifying the impact of groundwater depth on evapotranspiration in a semi-arid grassland region. Hydrol Earth Syst Sci 15:787–806

Steinwand AL, Harrington RF, Groeneveld DP (2001) Transpiration coefficients for three Great Basin shrubs. J Arid Environ 49:555–567

Steinwand AL, Harrington RF, Or D (2006) Water balance for Great Basin phreatophytes derived from eddy covariance, soil water, and water table measurements. J Hydrol 329:595–605

Tian LP (2013) Study of water saving rebuild in Hetao Irrigation Area. J Inner Mong Agric Univ 34:119–123

Umar R, Absar A (2003) Chemical characteristics of groundwater in parts of the Gambhir River basin, Bharatpur District, Rajasthan, India. Environ Geol 44:535–544

Vinukollu RK, Meynadier R, Sheffield J, Wood EF (2011) Multi-model, multi-sensor estimates of global evapotranspiration: climatology, uncertainties and trends. Hydrol Process 25:3993–4010

Wang P, Yu J, Pozdniakov SP, Grinevsky SO, Liu C (2014) Shallow groundwater dynamics and its driving forces in extremely arid areas: a case study of the lower Heihe River in northwestern China. Hydrol Process 28:1539–1553

Xu CY, Chen D (2005) Comparison of seven models for estimation of evapotranspiration and groundwater recharge using lysimeter measurement data in Germany. Hydrol Process 19:3717–3734

Xu X, Huang GH, Qu ZY, Pereira LS (2010) Assessing the groundwater dynamics and impacts of water saving in the Hetao Irrigation District, Yellow River basin. Agric Water Manag 98:301–313

Xu X, Huang GH, Zhan HB, Qu ZY, Huang QZ (2012) Integration of SWAP and MODFLOW-2000 for modeling groundwater dynamics in shallow water table areas. J Hydrol 412–413:170–181

Yang YH, Watanabe M, Zhang XY, Hao XH, Zhang JQ (2006) Estimation of groundwater use by crop production simulated by DSSAT-wheat and DSSAT-maize models in the piedmont region of the North China Plain. Hydrol Process 20:2787–2802

Yang YT, Shang SH, Jiang L (2012) Remote sensing temporal and spatial patterns of evapotranspiration and the responses to water management in a large irrigation district of North China. Agric For Meteorol 164:112–122

Yeh PJF, Famiglietti JS (2009) Regional groundwater evapotranspiration in Illinois. J Hydrometeorol 10:464–478

York JP, Person M, Gutowski WJ, Winter TC (2002) Putting aquifers into atmospheric simulation models: an example from the Mill Creek Watershed, northeastern Kansas. Adv Water Resour 25:221–238

Yu RH, Liu TX, Xu YP, Zhu C, Zhang Q, Qu ZY, Liu XM, Li CY (2010) Analysis of salinization dynamics by remote sensing in Hetao Irrigation District of North China. Agric Water Manag 97:1952–1960

Zhang W (2008) Study on the temporal and spatial inversion of evapotranspiration over Hetao Plain. Chinese Academy of Geological Sciences, Beijing

Zhang L, Dawes WR, Slavich PG, Meyer WS, Thorburn PJ, Smith DJ, Walker GR (1999) Growth and ground water uptake responses of lucerne to changes in groundwater levels and salinity: lysimeter, isotope and modelling studies. Agric Water Manag 39:265–282

Zhang BZ, Kang SZ, Li FS, Zhang L (2008) Comparison of three evapotranspiration models to Bowen ratio-energy balance method for a vineyard in an arid desert region of northwest China. Agric For Meteorol 148:1629–1640

Zhang Q, Singh VP, Sun P, Chen X, Zhang ZX, Li JF (2011) Precipitation and streamflow changes in China: changing patterns, causes and implications. J Hydrol 410:204–216

Zhang JP, Tian HY, Guo BT (2012) Determination method of water saving threshold in arid area. Proc Eng 28:873–876

Zhang Z, Hu H, Tian F, Yao X, Sivapalan M (2014) Groundwater dynamics under water-saving irrigation and implications for sustainable water management in an oasis: Tarim River basin of western China. Hydrol Earth Syst Sci 18:3951–3967
Acknowledgments
This study was supported by the National Natural Science Foundation of China (51322902), the Ministry of Water Resources of China (201401007) and the Ministry of Education of China (NCET-13-0554). The contributions of the editor and anonymous reviewers whose comments and suggestions significantly improved this article are also appreciated.
About this article
Cite this article
Chen, H., Liu, Z., Huo, Z. et al. Impacts of agricultural water saving practice on regional groundwater and water consumption in an arid region with shallow groundwater. Environ Earth Sci 75, 1204 (2016). https://doi.org/10.1007/s12665-016-6006-6
Received:

Accepted:

Published:

DOI: https://doi.org/10.1007/s12665-016-6006-6
Keywords
Irrigation district

Shallow groundwater

Agricultural water saving

Groundwater consumption