Abstract
During in situ mining processes, high concentrations of ammonium sulfate solution are directly injected into the mountain to replace the rare earth. However, the residual ammonia nitrogen (AN) in the vadose zone from this injected solution is a serious pollutant of groundwater and soil. Unfortunately, in situ leaching methods using clean water are not effective at removing the AN. In this work, we developed a novel leaching method and examined its efficiency, as well as studied the mechanisms behind the adsorption and desorption of AN. It was found that the majority of the ammonium adsorbed in the soil was in soluble and exchangeable forms. The saturated adsorption capacity under mining conditions was 810 mg kg−1, where only 36 % of the adsorbed AN was able to be leached out by water. However, the amount of AN leached out increased to 85 % when a KCl solution was used as the leaching agent at an optimized concentration of 2.8 mM. Furthermore, this improved leaching agent worked well at a wide range of solution pHs. Therefore, this method is an efficient means by which to remediate AN contamination after mining processes of RE ores.
Access options
Buy single article
Instant access to the full article PDF.
US$ 39.95
Tax calculation will be finalised during checkout.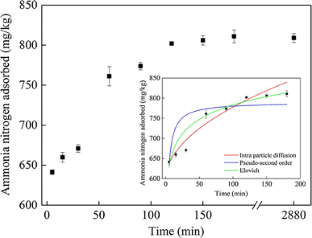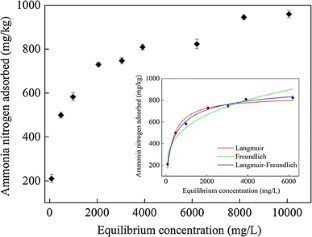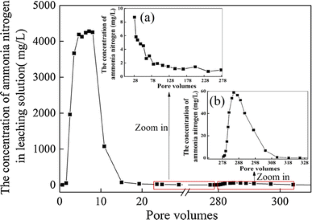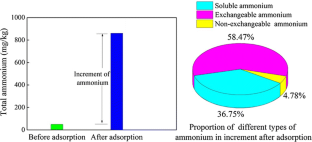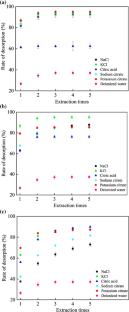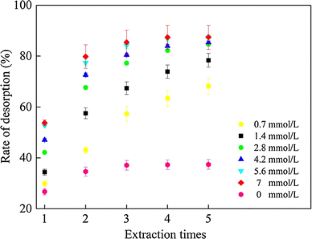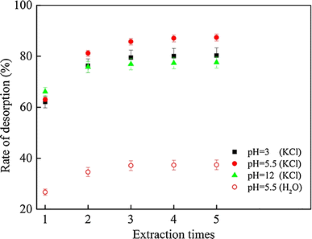 References
Boopathy R, Karthikeyan S, Mandal AB, Sekaran G (2013) Adsorption of ammonium ion by coconut shell-activated carbon from aqueous solution: kinetic, isotherm, and thermodynamic studies. Environ Sci Pollut Res Int 20:533–542. doi:10.1007/s11356-012-0911-3

Buss S, Herbert A, Morgan P, Thornton S, Smith J (2004) A review of ammonium attenuation in soil and groundwater. Q J Eng Geol Hydrogeol 37:347–359

Cavalli D, Consolati G, Marino P, Bechini L (2015) Measurement and simulation of soluble, exchangeable, and non-exchangeable ammonium in three soils. Geoderma 259–260:116–125. doi:10.1016/j.geoderma.2015.05.011

Chen J, Xiao HJ, Qi T, Chen DL, Long HM, Liu SH (2015) Rare earths exposure and male infertility: the injury mechanism study of rare earths on male mice and human sperm. Environ Sci Pollut Res Int 22:2076–2086. doi:10.1007/s11356-014-3499-y

Conte P, Agretto A, Spaccini R, Piccolo A (2005) Soil remediation: humic acids as natural surfactants in the washings of highly contaminated soils. Environ Pollut 135:515–522. doi:10.1016/j.envpol.2004.10.006

Hale SE, Alling V, Martinsen V, Mulder J, Breedveld GD, Cornelissen G (2013) The sorption and desorption of phosphate-P, ammonium-N and nitrate-N in cacao shell and corn cob biochars. Chemosphere 91:1612–1619. doi:10.1016/j.chemosphere.2012.12.057

He Y, Li WZ (2013) Experimental and theoretical investigations on diffusion process for rare earth ores. Mater Test 55:407–410

James DW, Harward ME (1964) Competition of NH3 and H2O for adsorption sites on clay minerals. Soil Sci Soc Am J 28:636–640. doi:10.2136/sssaj1964.03615995002800050018x

Jun T, Jingqun Y, Ruan C, Guohua R, Mintao J, Kexian O (2010) Kinetics on leaching rare earth from the weathered crust elution-deposited rare earth ores with ammonium sulfate solution. Hydrometallurgy 101:166–170. doi:10.1016/j.hydromet.2010.01.001

Kong X, Bi E, Liu F, Huang G, Ma J (2015) Laboratory column study for evaluating a multimedia permeable reactive barrier for the remediation of ammonium contaminated groundwater. Environ Technol 36:1433–1440

Kowalenko CG, Yu S (1996) Solution, exchangeable and clay-fixed ammonium in south coast British Columbia soils. Can J Soil Sci 76:473–483. doi:10.4141/cjss96-059

Li X, Chen Z, Zhang Y (2013) A human health risk assessment of rare earth elements in soil and vegetables from a mining area in Fujian province. Southeast China Chemosphere 93:1240–1246. doi:10.1016/j.chemosphere.2013.06.085

Liao Y, Yang YQ, Shen DS, Long YY (2013) Effect of deposit age on adsorption and desorption behaviors of ammonia nitrogen on municipal solid waste. Environ Sci Pollut Res Int 20:1546–1555. doi:10.1007/s11356-012-1067-x

Limousin G, Gaudet JP, Charlet L, Szenknect S, Barthès V, Krimissa M (2007) Sorption isotherms: a review on physical bases, modeling and measurement. Appl Geochem 22:249–275. doi:10.1016/j.apgeochem.2006.09.010

Liu C-C, Chen G-B (2013) Reclamation of cadmium-contaminated soil using dissolved organic matter solution originating from wine-processing waste sludge. J Hazard Mater 244–245:645–653. doi:10.1016/j.jhazmat.2012.10.060

Liu Y-L, Zhang B, Li C-L, Hu F, Velde B (2008) Long-term fertilization influences on clay mineral composition and ammonium adsorption in a rice paddy soil. Soil Sci Soc Am J 72:1580–1590

Liu T, Yuan J, Dong W, Wu H, Wang H (2015) Effects on inorganic nitrogen compounds release of contaminated sediment treatment with in situ calcium nitrate injection. Environ Sci Pollut Res Int 22:1250–1260. doi:10.1007/s11356-014-3421-7

Ma Y, Liu C (1999) Trace element geochemistry during chemical weathering ChinSciBull 44:2260–2263. doi:10.1007/bf02885934

Mall ID, Srivastava VC, Kumar GVA, Mishra IM (2006) Characterization and utilization of mesoporous fertilizer plant waste carbon for adsorptive removal of dyes from aqueous solution. Colloid Surf A 278:175–187. doi:10.1016/j.colsurfa.2005.12.017

Moldoveanu GA, Papangelakis VG (2013) Recovery of rare earth elements adsorbed on clay minerals: II Leaching with ammonium sulfate. Hydrometallurgy 131–132:158–166. doi:10.1016/j.hydromet.2012.10.011

Nieder R, Benbi DK, Scherer HW (2011) Fixation and defixation of ammonium in soils: a review. Biol Fertil Soils 47:1–14. doi:10.1007/s00374-010-0506-4

Riaz M, Mian IA, Cresser MS (2010) Litter effects on ammonium dynamics in an acid soil under grassland. Geoderma 159:198–208. doi:10.1016/j.geoderma.2010.07.012

Rider D, Zasoski R, Claassen V (2005) Ammonium fixation in sub-grade decomposed granite substrates. Plant Soil 277:73–84

Shen S, Tu S-I, Kemper WD (1997) Equilibrium and kinetic study of ammonium adsorption and fixation in sodium-treated vermiculite. Soil Sci Soc Am J 61:1611–1618. doi:10.2136/sssaj1997.03615995006100060011x

Silva JA, Bremner JM (1966) Determination and isotope-ratio analysis of different forms of nitrogen in soils: 5. Fixed ammonium. Soil Sci Soc Am J 30:587–594. doi:10.2136/sssaj1966.03615995003000050017x

Steffens D, Sparks DL (1997) Kinetics of nonexchangeable ammonium release from soils. Soil Sci Soc Am J 61:455–462. doi:10.2136/sssaj1997.03615995006100020012x

Tian J, Tang X, Yin J, Luo X, Rao G, Jiang M (2013a) Process optimization on leaching of a lean weathered crust elution-deposited rare earth ores. Int J Miner Process 119:83–88. doi:10.1016/j.minpro.2013.01.004

Tian J, Yin J, Tang X, Chen J, Luo X, Rao G (2013b) Enhanced leaching process of a low-grade weathered crust elution-deposited rare earth ore with carboxymethyl sesbania gum. Hydrometallurgy 139:124–131. doi:10.1016/j.hydromet.2013.08.001

Wang B, Lehmann J, Hanley K, Hestrin R, Enders A (2015a) Adsorption and desorption of ammonium by maple wood biochar as a function of oxidation and pH. Chemosphere 138:120–126. doi:10.1016/j.chemosphere.2015.05.062

Wang X, Lei Y, Ge J, Wu S (2015b) Production forecast of China's rare earths based on the generalized Weng model and policy recommendations. Resour Policy 43:11–18. doi:10.1016/j.resourpol.2014.11.002

Witek-Krowiak A, Harikishore Kumar Reddy D (2013) Removal of microelemental Cr(III) and Cu(II) by using soybean meal waste–unusual isotherms and insights of binding mechanism. Bioresour Technol 127:350–357. doi:10.1016/j.biortech.2012.09.072

Xiao Y, Feng Z, Huang X, Huang L, Chen Y, Wang L, Long Z (2015a) Recovery of rare earths from weathered crust elution-deposited rare earth ore without ammonia-nitrogen pollution: I. Leaching with magnesium sulfate. Hydrometallurgy 153:58–65. doi:10.1016/j.hydromet.2015.02.011

Xiao Y, Liu X, Feng Z, Huang X, Huang L, Chen Y, Wu W (2015b) Role of minerals properties on leaching process of weathered crust elution-deposited rare earth ore. J Rare Earth 33:545–552. doi:10.1016/S1002-0721(14)60454-3

Yang X, Zhang J (2015) Recovery of rare earth from ion-adsorption rare earth ores with a compound lixiviant. Sep Purif Technol 142:203–208. doi:10.1016/j.seppur.2014.11.050

Yunnen C, Xiaoyan L, Changshi X, Liming L (2015) The mechanism of ion exchange and adsorption coexist on medium-low concentration ammonium-nitrogen removal by ion-exchange resin. Environ Technol 36:2349–2356. doi:10.1080/21622515.2015.1027285

Zheng Y, Liu Y, Wang A (2011) Fast removal of ammonium ion using a hydrogel optimized with response surface methodology. Chem Eng J 171:1201–1208. doi:10.1016/j.cej.2011.05.026
Acknowledgments
This work was supported financially by the Fundamental Research Fund for the Central Universities (No. 2652014069) and Research Fund of China Geological Survey (D216036). We would also like to thank Prof. Zhongyu Ren and Mr. Shengpin Li for their kind help during the study.
Electronic supplementary material
Below is the link to the electronic supplementary material.
About this article
Cite this article
Yang, S., Xue, Q. & Chen, H. Enhanced recovery of water due to ammonia nitrogen contamination caused by mining processes. Environ Earth Sci 75, 1102 (2016). https://doi.org/10.1007/s12665-016-5908-7
Received:

Accepted:

Published:
Keywords
Ion-absorbed rare earth

Groundwater pollution

Ammonia nitrogen of high concentration

Adsorption and desorption

In situ recovery