Abstract
Blue space can be regarded as a key component of urban development as it contributes to sustainability, landscape contextualisation, environmental quality, quality of life and human health. However, existing studies on urban blue spaces do not differentiate between size and type of space and do not explain the mechanisms of how urban blue spaces interact with appropriations that affect health. In our study, we chose seven urban open spaces in Germany with different types of urban blue (in the cities of Bielefeld, Gelsenkirchen, Dusseldorf, Cologne). We conducted standardised qualitative interviews with n = 211 urban blue space visitors, assessing their health-related appropriations of those spaces (use, experience, social, meaning). Via Correspondence Analysis, we profiled these seven spaces. Our results show that blue experience is an important appropriation in urban open spaces. The amount of green and blue space has a significant influence on health-related appropriative processes. Health-related appropriations shift with the profile of the blue urban open space and the proportion of land the blue space covers. Even in cities with few water features, urban blue induces intensive (restorative) experiences, creates meaning, attracts urban dwellers, promotes physical activity, and diversifies health experiences in urban contexts. We identify implications for public health, urban planning and landscape design. This paper is a valuable contribution to the current research trend in Germany to analyse the significance for human health and well-being of bodies of water in urban areas.
Access options
Buy single article
Instant access to the full article PDF.
USD 39.95
Price includes VAT (USA)
Tax calculation will be finalised during checkout.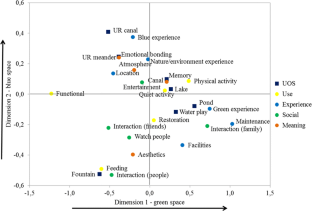 Notes
1.

According to the definition of the Federal Bureau of Statistics (2014: 6) people with 'migration background' are all people, who moved to Germany after 1949, foreigners born in Germany and Germans born in Germany with at least one parent who moved to Germany after 1949 or who is a foreigner born in Germany.
References
Aoki Y (1999) Review article: trends in the study of the psychological evaluation of landscape. Landsc Res 24:85–94

Asakawa S, Yoshida K, Yabe K (2004) Perceptions of urban stream corridors within the greenway system of Sapporo, Japan. Landsc Urban Plan 68:167–182

Ashbullby KJ, Pahl S, Webley P, White MP (2013) The beach as a setting for families' health promotion: a qualitative study with parents and children living in coastal regions in Southwest England. Health Place 23:138–147

Bedimo-Rung AL, Mowen AJ, Cohen DA (2005) The significance of parks to physical activity and public health: a conceptual model. Am J Prev Med 28:159–168

Beh EJ, Lombardo R (2014) Correspondence analysis. Theory, practice and new strategies. Wiley, Chichester

Brown DR (1992) Physical activity, ageing, and psychological well-being: an overview of the research. Can J Sport Sci J Can Sci Sport 17:185–193

Brown T, McLafferty S, Moon G (eds) (2009) A companion to health and medical geography. Wiley-Blackwell, Oxford

Burmil S, Daniel TC, Hetherington JD (1999) Human values and perceptions of water in arid landscapes. Landsc Urban Plan 44:99–109

Cairns JM, Curtis SE, Bambra C (2012) Defying deprivation: a cross-sectional analysis of area level health resilience in England. Health Place 18:928–933

Cattell V, Dines N, Gesler W, Curtis S (2008) Mingling, observing, and lingering: everyday public spaces and their implications for well-being and social relations. Health Place 14:544–561

Claßen T, Heiler A, Brei B, Hornberg C (2011) Urban green areas and health: a contribution to the debate about social and spatial inequality. In: UMID Special Issue II Environmental Justice 02/2011, pp 96–100

Coeterier JF (1996) Dominant attributes in the perception and evaluation of the Dutch landscape. Landsc Urban Plan 34:27–44

Coombes E, Jones AP, Hillsdon M (2010) The relationship of physical activity and overweight to objectively measured green space accessibility and use. Soc Sci Med 70:816–822

Cooper A, Murray R (1992) A structured method of landscape assessment and countryside management. Appl Geogr 12:319–338

Cummins S, Curtis S, Diez-Roux AV, Macintyre S (2007) Understanding and representing "place" in health research: a relational approach. Soc Sci Med 65:1825–1838

De Botton A (2006) The architecture of happiness. Penguin, London

De Coensel B, Vanwetswinkel S, Botteldooren D (2011) Effects of natural sounds on the perception of road traffic noise. J Acoust Soc Am 129:EL148–EL153

Engel GL (1977) The need for a new medical model: a challenge for biomedicine. Science 196:129–136

Eyles J (1985) Senses of place. Silverbrook Press, Warrington

Federal Bureau of Statistics (2014) Bevölkerung und Erwerbstätigkeit. Bevölkerung mit Migrationshintergrund—Ergebnisse des Mikrozensus 2013. Fachserie 1, Reihe 2.2, 2013. https://www.destatis.de/DE/Publikationen/Thematisch/Bevoelkerung/MigrationIntegration/Migrationshintergrund2010220137004.pdf?__blob=publicationFile (Date: 06 April 2015)

Foley R (2011) Performing health in place: the holy well as a therapeutic assemblage. Health Place 17:470–479

Francis M (2003) Urban open space: designing for user needs. Island Press, Washington, DC

Fredrickson LM, Anderson DH (1999) A qualitative exploration of the wilderness experience as a source of spiritual inspiration. J Environ Psychol 19:21–39

Gatrell AC, Popay J, Thomas C (2004) Mapping the determinants of health inequalities in social space: can Bourdieu help us? Health Place 10:245–257

Gesler WM (1992) Therapeutic landscapes: medical issues in light of the new cultural geography. Soc Sci Med 34:735–746

Gesler WM (1993) Therapeutic landscapes: theory and a case study of Epidauros, Greece. Environ Plan Soc Space 11:171–189

Glaser BG, Strauss AL (1999) The discovery of grounded theory: strategies for qualitative research. Aldine Pub, Chicago

Grahn P, Stigsdotter UA (2003) Landscape planning and stress. Urban For Urban Green 2:1–18

Grahn P, Stigsdotter UK (2010) The relation between perceived sensory dimensions of urban green space and stress restoration. Landsc Urban Plan 94:264–275

Groenewegen PP, van den Berg AE, de Vries S, Verheij RA (2006) Vitamin G: effects of green space on health, well-being, and social safety. BMC Public Health 6:149

Guite HF, Clark C, Ackrill G (2006) The impact of the physical and urban environment on mental well-being. Public Health 120:1117–1126

Halonen JI, Kivimäki M, Pentti J et al (2014) Green and blue areas as predictors of overweight and obesity in an 8-year follow-up study. Obesity 22:1910–1917

Herzog TR (1985) A cognitive analysis of preference for waterscapes. J Environ Psychol 5:225–241

Herzog TR, Barnes GJ (1999) Tranquility and preference revisited. J Environ Psychol 19:171–181

Huynh Q, Craig W, Janssen I, Pickett W (2013) Exposure to public natural space as a protective factor for emotional well-being among young people in Canada. BMC Public Health 13:407

Irvine KN, Warber SL, Devine-Wright P, Gaston KJ (2013) Understanding urban green space as a health resource: a qualitative comparison of visit motivation and derived effects among park users in Sheffield, UK. Int J Environ Res Public Health 10:417–442

Kaplan S (1995) The restorative benefits of nature: toward an integrative framework. J Environ Psychol 15:169–182

Kaplan R, Kaplan S (1989) The experience of nature: a psychological perspective. Cambridge University Press, Cambridge, New York

Karmanov D, Hamel R (2008) Assessing the restorative potential of contemporary urban environment(s): beyond the nature versus urban dichotomy. Landsc Urban Plan 86:115–125

Kearns R, Collins D (2012) Feeling for the coast: the place of emotion in resistance to residential development. Soc Cult Geogr 13:937–955

Keswick M (2003) The Chinese garden: history, art and architecture. Harvard University Press, Cambridge

Korpela K, Hartig T (1996) Restorative qualities of favourite places. J Environ Psychol 16:221–233

Korpela KM, Ylén M (2007) Perceived health is associated with visiting natural favourite places in the vicinity. Health Place 13:138–151

Korpela KM, Ylén M, Tyrväinen L, Silvennoinen H (2010) Favorite green, waterside and urban environments, restorative experiences and perceived health in Finland. Health Promot Int 25:200–209

Lamnek S (2010) Qualitative Sozialforschung: Lehrbuch, 5.überarbeitete Auflage. Beltz Psychologie Verlags Union. Weinheim, Basel (in German)

Lanninger S (2010) Theories and patterns of landscape perception—landscape from the view of migrants. Dissertation, Albert-Ludwigs-Universität Freiburg

Lo SM, Yiu CY, Lo A (2003) An analysis of attributes affecting urban open space design and their environmental implications. Manag Environ Qual Int J 14:604–614

Mytton OT, Townsend N, Rutter H, Foster C (2012) Green space and physical activity: an observational study using Health Survey for England data. Health Place 18:1034–1041

Regan CL, Horn SA (2005) To nature or not to nature: associations between environmental preferences, mood states and demographic factors. J Environ Psychol 25:57–66

Relph EC (1976) Place and placelessness. Pion Limited, London

Sander HA, Zhao C (2015) Urban green and blue: who values what and where? Land Use Policy 42:194–209

Smith DG, Croker GF, McFarlane K (1995) Human perception of water appearance—2. Colour judgment, and the influence of perceptual set on perceived water suitability for use. N Z J Mar Freshw Res 29:45–50

Strauss AL (1987) Qualitative analysis for social scientists. Cambridge University Press, New York

Strauss AC, Corbin JM (1990) Basics of qualitative research: grounded theory procedures and techniques, 2nd edn. Sage Publications, Inc, Thousand Oaks

Tuan Y-F (1976) Humanistic geography. Ann Assoc Am Geogr 66:266–276

Ulrich RS (1981) Natural versus urban scenes some psychophysiological effects. Environ Behav 13:523–556

Velarde MD, Fry G, Tveit M (2007) Health effects of viewing landscapes—landscape types in environmental psychology. Urban For Urban Green 6:199–212

Völker S, Kistemann T (2011) The impact of blue space on human health and well-being—Salutogenetic health effects of inland surface waters: a review. Int J Hyg Environ Health 214:449–460

Völker S, Kistemann T (2013) "I'm always entirely happy when I'm here!" Urban blue enhancing human health and well-being in Cologne and Düsseldorf, Germany. Soc Sci Med 78:113–124

Völker S, Kistemann T (2015) Developing the urban blue: comparative health responses to blue and green urban open spaces in Germany. Health Place 35:196–205

Völker S, Baumeister H, Claßen T et al (2013) Evidence for the temperature-mitigating capacity of urban blue space—a health geographic perspective. Erdkunde 67:355–371

Vörösmarty CJ, McIntyre PB, Gessner MO et al (2010) Global threats to human water security and river biodiversity. Nature 467:555–561

Wheeler BW, White M, Stahl-Timmins W, Depledge MH (2012) Does living by the coast improve health and wellbeing? Health Place 18:1198–1201

White M, Smith A, Humphryes K et al (2010) Blue space: the importance of water for preference, affect, and restorativeness ratings of natural and built scenes. J Environ Psychol 30:482–493

White MP, Wheeler BW, Herbert S et al (2014) Coastal proximity and physical activity: is the coast an under-appreciated public health resource? Prev Med 69:135–140

Williams A (1998) Therapeutic landscapes in holistic medicine. Soc Sci Med 46:1193–1203

Wilson K (2003) Therapeutic landscapes and First Nations peoples: an exploration of culture, health and place. Health Place 9:83–93

Yabes R, Shetter K, Schneeman J (1997) Urban waterways: changing historical uses and users in a southwestern desert city. Landsc Urban Plan 39:167–185

Zube EH (1984) Themes in landscape assessment theory. Landsc J 3:104–110

Zube EH, Sell JL, Taylor JG (1982) Landscape perception: research, application and theory. Landsc Plan 9:1–33
Acknowledgments
This work is part of the young professionals research group "German Healthy Urban Open Spaces". We thank the Fritz and Hildegard Berg Foundation, Essen (Germany), for funding. We also thank the participants for their time.
Additional information
This article is part of a Topical Collection in Environmental Earth Sciences on ''Water in Germany'', guest edited by Daniel Karthe, Peter Chifflard, Bernd Cyffka, Lucas Menzel, Heribert Nacken, Uta Raeder, Mario Sommerhäuser and Markus Weiler.
Electronic supplementary material
Below is the link to the electronic supplementary material.
About this article
Cite this article
Völker, S., Matros, J. & Claßen, T. Determining urban open spaces for health-related appropriations: a qualitative analysis on the significance of blue space. Environ Earth Sci 75, 1067 (2016). https://doi.org/10.1007/s12665-016-5839-3
Received:

Accepted:

Published:
Keywords
Urban blue

Urban green

Urban open space

Landscape design

Public health

Well-being