Abstract
Heavy metals can accumulate in the bodies of spiders and affect their physiological and ecological traits and/or show toxicological effects. Spiders are thus considered to be potential bioindicators of heavy metal pollution for ecosystem monitoring, due to their superior resistance to and regulation of heavy metals. The metal loads in spider bodies show considerable variation within and among species, metal types, geochemical sites, exposure pathways, spider physiological traits, and other factors. Moreover, the mechanism of physiological regulation and tolerance in spiders to different kinds of heavy metals also varies significantly; it has been shown that those two differences are synergistic effects. Since the ecotoxicology and differences in physiological mechanisms remain unclear, questions and recommendations for possible further research are suggested.
Access options
Buy single article
Instant access to the full article PDF.
US$ 39.95
Tax calculation will be finalised during checkout.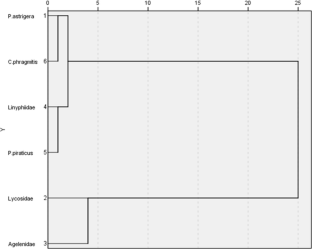 References
Amiard JC, Amiard-Triquet C, Barka S et al (2006) Metallothioneins in aquatic invertebrates: their role in metal detoxification and their use as biomarkers. Aquat Toxicol 76:160–202

Ardestani MM, Straalen NM, Gestel CAM (2014) Uptake and elimination kinetics of metals in soil invertebrates: a review. Environ Pollut 193:277–295

Babczyńka A, Wilczek G, Szulińska E et al (2011) Quantitative immunodetection of metallothioneins in relation to metals concentration in spiders from variously polluted areas. Ecotoxicol Environ Saf 74:1498–1503

Babczyńska A, Wilczek G, Szulińska E et al (2012) The reproductive potential of the spiders Agelena labyrinthica and Xerolycosa nemoralis from areas contaminated with metals. Sci Total Environ 435–436:374–379

Chen XQ, Zhang ZT, Liu R (2011) Effects of the metals lead and zinc on the growth, development, and reproduction of Pardosa astrigera (Araneae: Lycosidae). Bull Environ Contam Toxicol 86(2):203–207

Chung SG, Ryu JC, Song MK et al (2014) Modified composites based on meso structured iron oxyhydroxide and synthetic minerals: a potential material for the treatment of various toxic heavy metals and its toxicity. J Hazard Mater 267:161–168

Eraly D, Hendrickx F, Bervoets L (2010) Experimental exposure to cadmium affects metallothionein-like protein levels but not survival and growth in wolf spiders from polluted and reference populations. Environ Pollut 158(6):2124–2131

Eraly D, Hendrickx F, Backeljau T et al (2011) Direct and indirect effects of metal stress on physiology and life history variation in field populations of a lycosid spider. Ecotoxicol Environ Saf 74(6):1489–1497

Everitt B, Landau S, Leese M et al (2011) Cluster analysis. Wiley, Caribbean

French D, Lindley D (2000) Statistics in ecotoxicology. Wiley, New York

Grześ IM (2010) Ants and heavy metal pollution—a review. Eur J Soil Biol 46(6):350–355

Hendrickx F, Maelfait JP, Langenbick F (2003) Absence of cadmium excretion and high assimilation result in cadmium biomagnifications in a wolf spider. Ecotoxicol Environ Saf 55(3):287–292

Hendrickx F, Maelfait JP, Lens L (2008) Effect of metal stress on life history divergence and quantitative genetic architecture in a wolf spider. J Evol Biol 21(1):183–193

Jing G, Li Y, Xie LP et al (2006) Metal accumulation and enzyme activities in gills and digestive gland of pearl oyster (Pinctada fucata) exposed to copper. Comp Biochem Phys C 144:184–189

Jöst C, Zauke GP (2008) Trace metal concentrations in Antarctic sea spiders (Pycnogonida, Pantopoda). Mar Pollut Bull 56(8):1396–1399

Jung MP, Lee JH (2012) Bioaccumulation of heavy metals in the wolf spider, Pardosa astrigera L. Koch (Araneae: Lycosidae). Environ Monit Assess 184(3):1773–1779

Jung CS, Lee SB, Jung MP et al (2005) Accumulated heavy metal content in wolf spider, Pardosa astrigera (Araneae: Lycosidae), as a bioindicator of exposure. J Aasia Pac Entomol 8(2):185–192

Jung MP, Kim ST, Kim H et al (2008) Species diversity and community structure of ground-dwelling spiders in unpolluted and moderately heavy metal-polluted habitats. Water Air Soil Pollut 195(1):15–22

Kalman J, Bonnail-Miguel E, Smith BD et al (2015) Toxicity and the fractional distribution of trace metals accumulated from contaminated sediments by the clam Scrobicularia plana exposed in the laboratory and the field. Sci Total Environ 506:109–117

Laing GD, Bogaert N, Tack FMG et al (2002) Heavy metal contents (Cd, Cu, Zn) in spiders (Pirata piraticus) living in intertidal sediments of the river Scheldt estuary (Belgium) as affected by substrate characteristics. Sci Total Environ 289(1–3):71–81

Leveque T, Capowiez Y, Schreck E et al (2013) Assessing ecotoxicity and uptake of metals and metalloids in relation to two different earthworm species (Eiseina hortensis and Lumbricus terrestris). Environ Pollut 179:232–241

Liu J, Gao J, Yun Y et al (2013) Bioaccumulation of mercury and its effects on survival, development and web-weaving in the funnel-web spider Agelena labyrinthica (Araneae: Agelenidae). Bull Environ Contam Toxicol 90(5):558–562

Luoma SN, Rainbow PS (2005) Why is metal bioaccumulation so variable? Biodynamics as a unifying concept. Environ Sci Technol 39:1921–1931

Mao H, Wang DH, Yang WX (2012) The involvement of metallothionein in the development of aquatic invertebrate. Aquat Toxicol 110–111:208–213

Morgan AJ, Kille P, Stürzenbaum RS et al (2007) Microevolution and ecotoxicology of metals in invertebrates. Environ Sci Technol 41(4):1085–1096

Posthuma L, Straalen NMV (1993) Heavy-metal adaptation in terrestrial invertebrates: a review of occurrence, genetics, physiology and ecological consequences. Comp Biochem Phys C 106(1):11–38

Rainbow PS, Luoma SN (2011) Metal toxicity, uptake and bioaccumulation in aquatic invertebrates—modelling zinc in crustaceans. Aquat Toxicol 105:455–465

Rainbow PS, Marsden ID (2004) Does the accumulation of trace metals in crustaceans affect their ecology—the amphipod example? J Exp Mar Biol Ecol 300:373–408

Ramirez MG, McCallum JE, Landry JM et al (2011) Relationships between physiological characteristics and trace metal body burdens of banded garden spiders Argiope trifasciata (Araneae, Araneidae). Ecotoxicol Environ Saf 74(4):1081–1088

Santorufo L, Van Gestel CAM et al (2012) Ecotoxicological assessment of metal-polluted urban soils using bioassays with three soil invertebrates. Chemosphere 88(4):418–425

Stankovic S, Kalaba P, Stankovic AR (2014) Biota as toxic metal indicators. Environ Chem Lett 12(1):63–84

Sun HX, Liu Y, Zhang GR (2007) Effects of heavy metal pollution on insects. Acta Entomol Sin 50(2):178–185 (in Chinese with English summary)

Tojal C, Hendrickx F, Tack Filip MG et al (2002) Heavy metal concentrations in the spiders Pirata piraticus (Clerck, 1757) and Clubiona phragmitis (C.L. Koch, 1843) along the Scheldt Estuary (Belgium). Sci World J 2:978–982

Van Praet N, De Jonge M, Blust R et al (2014) Behavioural, physiological and biochemical markers in damselfly larvae (Ischnura elegans) to assess effects of accumulated metal mixtures. Sci Total Environ 470:208–215

Wang WX, Rainbow PS (2008) Comparative approaches to understand metal bioaccumulation in aquatic animals. Comp Biochem Phys C 148(4):315–323

Wilczek G, Babczyńska A, Augustyniak M et al (2004) Relations between metals (Zn, Pb, Cd and Cu) and glutathione-dependent detoxifying enzymes in spiders from a heavy metal pollution gradient. Environ Pollut 132(3):453–461

Wilczek G, Babczyńska A, Wilczek P et al (2008) Cellular stress reactions assessed by gender and species in spiders from areas variously polluted with heavy metals. Ecotoxical Environ Saf 70(1):127–137

Yap CK, Cheng WH (2013) Distributions of heavy metal concentrations in different tissues of the mangrove snail Nerita lineate. Sains Malays 42(5):597–603

Zhang ZS, Lv XG, Wang QC et al (2009a) Mercury contents and distributions in spiders around the zinc smeltery in Huludao City. J Agro Environ Sci 28(3):481–484 (in Chinese with English summary)

Zhang ZT, Xia M, Peng Y et al (2009b) Heavy metal levels in soil and their effects on biological characteristics of Pirata subpiraticus (Araneae: Lycosidae) in different habitats in Nanyang, Henan. Acta EntomolSin 52(9):994–999 (in Chinese with English summary)

Zhang ZT, Pang ZL, Liang ZA et al (2010) Distribution of heavy metals in Pirata subpiraticus (Araneae: Lycosidae) and their effect on activities of antioxidant enzymes. Acta Entomol Sin 53(6):618–625 (in Chinese with English summary)

Zhang ZT, Yu MY, Pang ZL et al (2011a) Effects of cadmium on metallothionein content in Pirata subpiraticus (Araneae: Lycosidae) and its growth and development. Acta Entomol Sin 54(3):293–298 (in Chinese with English summary)

Zhang ZT, Zhang HC, Liang Z et al (2011b) Effects of mercury on activities of antioxidant enzymes in Pirata subpiraticus from different habitat. Sichuan J Zool 30:552–555 (in Chinese with English summary)

Zmudzki S, Laskowski R (2012) Biodiversity and structure of spider communities along a metal pollution gradient. Ecotoxicology 21:1523–1532
Acknowledgments
The study was supported by the Nature Science Foundation of China (Grants Nos. 31071943 and 31272339) and the Agricultural Science and Technology Innovation Program of China (CAAS-ASTIP-2016-IBFC).
Additional information
Huilin Yang and Yuande Peng are the co-first authors.
About this article
Cite this article
Yang, H., Peng, Y., Tian, J. et al. Spiders as excellent experimental models for investigation of heavy metal impacts on the environment: a review. Environ Earth Sci 75, 1059 (2016). https://doi.org/10.1007/s12665-016-5828-6
Received:

Accepted:

Published:
Keywords
Spiders

Metal pollution

Bioaccumulation