Abstract
The agricultural soils near the city of Coimbra (central Portugal) have high levels of potentially toxic trace elements (PTEs). This is a pioneering study that allows the characterization of agricultural soils in central Portugal, using the environmental magnetism techniques and further to establish the main sources of pollution. On completion of magnetic analyses, a scanning electron microscope observation was carried out on magnetic extracts to provide information on the possible origin of particles in general. Chemical studies show a high concentration of some of PTEs in the topsoil. Statistical studies were used for examination of the relationships between the magnetic properties of soil samples and the concentrations of chemical elements. A positive and significant correlation was observed between magnetic measurements and PTEs concentrations. Principal component analysis allowed us to conclude that the main sources of the analysed elements are mostly related to the burning of fossil fuels. The results confirm that (1) simple, rapid and non-destructive magnetic measurements can provide useful information about PTEs enrichment in agricultural soils near the urban centre, (2) the environmental magnetism techniques can be used as a proxy for spatial distribution of pollution in this area and (3) the combination of magnetic methods with chemical and statistical analysis is an efficient tool for the identification of the main pollution sources in poorly industrialized areas and to assess environmental implications.
This is a preview of subscription content, log in to check access.
Access options
Buy single article
Instant access to the full article PDF.
US$ 39.95
Price includes VAT for USA
Subscribe to journal
Immediate online access to all issues from 2019. Subscription will auto renew annually.
US$ 199
This is the net price. Taxes to be calculated in checkout.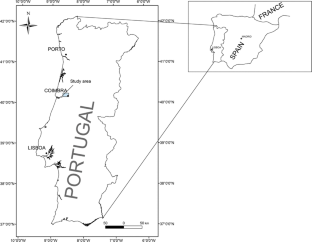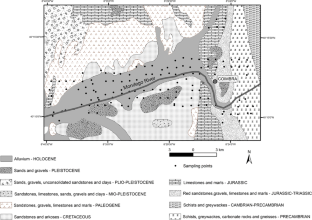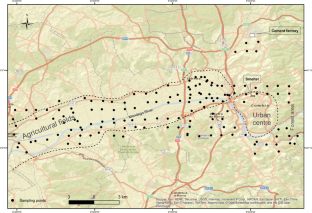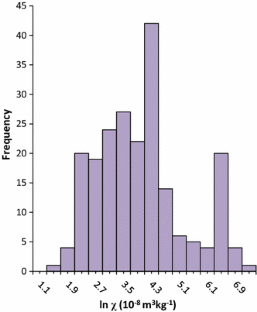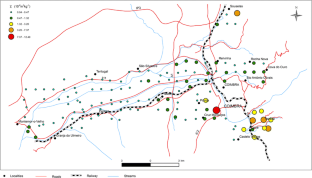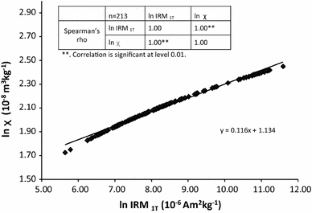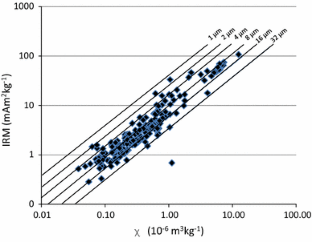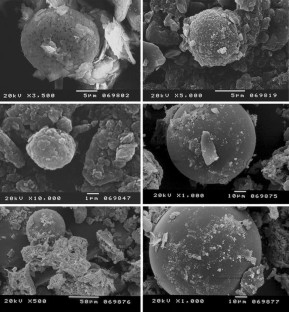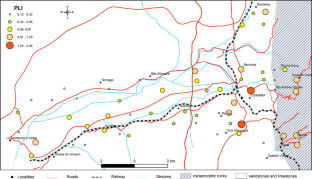 References
Atlas do Ambiente (2015) Agência Portuguesa do Ambiente. www.apambiente.pt (Accessed 3 July 2015)

Bian Y, Ouyang T, Zhu Z, Huang N, Wan H, Li M (2014) Magnetic properties of agricultural soil in the Pearl River Delta, South China—spatial distribution and influencing factor analysis. J Appl Geophys 107:36–44

Bityukova L, Scholger R, Birke M (1999) Magnetic susceptibility as indicator of environmental pollution of soils in Tallinn. Phys Chem Earth 24:829–835

Blaha U, Appel E, Stanjek H (2008) Determination of anthropogenic boundary depth in industrially polluted soil and semi-quantification of heavy metal loads using magnetic susceptibility. Environ Pollut 156:278–289

Chan LS, Ng SL, Davis AM, Yim WWS, Yeung CH (2001) Magnetic properties and heavy-metal contents of contaminated seabed sediments of Penny's Bay, Hong Kong. Mar Pollut Bull 7(42):569–583

Chaparro MAE, Bidegain JC, Sinito AM, Gogorza CSG, Jurado S (2003) Preliminary results of magnetic measurements on stream-sediments from Buenos Aires province, Argentina. Stud Geophys Geod 47:121–145

Chaparro MAE, Gogorza CSG, Chaparro MA, Irurzun MA, Sinito AM (2006) Review of magnetism and heavy metal pollution studies of various environments in Argentina. Earth Planets Space 58:1411–1422

Chaparro MAE, Chaparro MAE, Marinelli C, Sinito AM (2008a) Multivariate techniques as alternative statistical tools applied to magnetic proxies for pollution: cases of study from Argentina and Antarctica. Environ Geol 54:365–371

Chaparro MAE, Sinito AM, Ramasamy V, Marinelli C, Chaparro MAE, Mullainathan S et al (2008b) Magnetic measurements and pollutants of sediments from Cauvery and Palaru River, India. Environ Geol 56:425–437

Chaparro MAE, Chaparro MAE, Rajkumar P, Ramasamy V, Sinito AM (2011) Magnetic parameters, trace elements, and multivariate statistical studies of river sediments from southeastern India: a case study from the Vellar River. Environ Earth Sci 63:297–310

Chen M, Yu L, Niu X, Chen B (2009) Application of environmental magnetism on crime detection in a highway traffic accident from Yangzhou to Guazhou, Jiangsu Province, China. Forensic Sci Int 187:29–33

Da Silva A, Costanzo-Álvarez V, Hurtado N, Aldana M, Bayona G, Guzmán O, López-Rodríguez D (2010) Study of a possible correlation between Miocene global climatic changes and magnetic proxies δ18O, using neuro fuzzy logic analysis: stratigraphic well Saltarín 1A (Llanos foreland basin, Colombia). Stud Geophys Geod 54:607–631

Dankoub Z, Ayoub S, Khademi H, Lu S-G (2012) Spatial distribution of magnetic properties and selected heavy metals in calcareous soils as affected by land use in the Isfahan Region, Central Iran. Pedosphere 22(1):33–47

Davis JC (1986) Statistics and data analysis in geology, 2nd edn. Wiley, New York

Dearing JA (1999) Environmental magnetic susceptibility using the Bartington MS2 system. Chi, Kenilworth

D'Emilio M, Caggiano R, Coppola R, Macchiato M, Ragosta M (2010) Magnetic susceptibility measurements as proxy method to monitor soil pollution: the case study of S. Nicola di Melfi. Environ Monit Assess 169:619–630

El Baghdadi M, Barakat A, Sajieddine M, Nadem S (2011) Heavy metal pollution and soil magnetic susceptibility in urban soil of Beni Mellal City (Morocco). Environ Earth Sci 66(1):141–155

FAO (2006) World reference base for soil resources. World soil resources reports. Food and Agriculture Organisation of the United Nations, Rome

Ferreira DC (2012) Arquitetura industrial em Coimbra no século XX. A zona industrial da Pedrulha. Master thesis, University of Coimbra

Fialová H, Maier G, Petrovský E, Kapička A, Boyko T, Scholger R, Team MAGPROX (2006) Magnetic properties of soils from sites with different geological and environmental settings. J Appl Geophys 59:273–283

Flanders PJ (1999) Identifying fly ash at a distance from fossil fuel power stations. Environ Sci Technol 33:528–532

Gautam P, Blaha U, Appel E (2005) Integration of magnetism and heavy metal chemistry of soils to quantify the environmental pollution in Kathmandu, Nepal. Isl Arc 14:424–435

Hanesch M, Scholger R (2002) Mapping of heavy metal loadings in soils by means of magnetic susceptibility measurements. Environ Geol 42:857–870

Hanesch M, Scholger R (2005) The influence of soil type on the magnetic susceptibility measured throughout soil profiles. Geophys J Int 161:50–55

Hanesch M, Maier G, Scholger R (2003) Mapping heavy metal distribution by measuring the magnetic susceptibility of soils. J Phys IV 107:605–608

Hatfield RG, Maher BA (2009) Fingerprinting upland sediment sources: particle size-specific magnetic linkages between soils, lake sediments and suspended sediments: particle size-specific magnetic linkages between soils, lake sediments and suspended sediments. Earth Surf Process Landf 34:1359–1373

Heller F, Strzyszcz Z, Magiera T (1998) Magnetic record of industrial pollution in forest soils of Upper Silesia, Poland. J Geophys Res 103:17767–17774

Hoffmann V, Knab M, Appel E (1999) Magnetic susceptibility mapping of roadside pollution. J Geochem Explor 66:313–326

Inácio M, Pereira V, Pinto M (2008) The Soil geochemical atlas of portugal: overview and applications. J Geochem Explor 98:22–33

Johnston WR, Harrison RM (1984) Deposition of metallic pollutants alongside the M6 motorway. Sci Tot Environ 33:119–127

Jordanova D, Jordanova N, Petrov P, Ts Tsacheva (2010) Soil development of Chernozem-like profiles from North Bulgaria revealed by magnetic studies. Catena 83:158–169

Kabata-Pendias A (2011) Trace elements in soils and plants. CRC Press, Boca Raton

Kapička A, Jordanova N, Petrovský E, Podrázský V (2003) Magnetic study of weakly contaminated forest soils. Water Air Soil Pollut 148:31–44

Karimi R, Ayoubi S, Jalalian A, Sheikh-Hosseini AR, Afyuni M (2011) Relationships between magnetic susceptibility and heavy metals in urban topsoils in the arid region of Isfahan, central Iran. J Appl Geophys 74:1–7

Landau S, Everitt BS (2004) A handbook of statistical analyses using SPSS. CRC Press, Boca Raton

Lecoanet H, Lévêque F, Ambrosi JP (2003) Combination of magnetic parameters: an efficient way to discriminate soil-contamination sources (south France). Environ Pollut 122:229–234

Lourenço AM, Rocha F, Gomes CR (2012) Relationships between magnetic parameters, chemical composition and clay minerals of topsoils near Coimbra, central Portugal. Nat Hazards Earth Syst Sci 12:2545–2555

Lourenço AM, Sequeira E, Sant'Ovaia H, Gomes CR (2014) Magnetic, geochemical and pedological characterisation of soil profiles from different environments and geological backgrounds near Coimbra, Portugal. Geoderma 213:408–418

Lourenço AM, Esteves I, Rocha A, Abrantes I, Gomes C (2015) Relation between magnetic parameters and nematode abundance in agricultural soils of Portugal—a multidisciplinary study in the scope of environmental magnetism. Environ Monit Assess 187(4):162. doi:10.1007/s10661-015-4373-1

Lu S, Bai SQ, Xue QF (2007) Magnetic properties as indicators of heavy metals pollution in urban topsoils: a case study from the city of Luoyang, China. Geophys J Int 171:568–580

Lygren E, Gjessing E, Berglind L (1984) Pollution transport from a highway. Sci Tot Environ 33:147–159

Magiera T, Zawadzki J (2007) Using of high-resolution topsoil magnetic screening for assessment of dust deposition: comparison of forest and arable soil datasets. Environ Monit Assess 125:19–28

Magiera T, Strzyszcz Z, Kapička A, Petrovský E, Team MAGPROX (2006) Discrimination of lithogenic and anthropogenic influence on topsoil magnetic susceptibility in Central Europe. Geoderma 130:299–311

Magiera T, Parzentny H, Róg L, Chybiorz R, Wawer M (2015) Spatial variation of soil magnetic susceptibility in relation to different emission sources in southern Poland. Geoderma 255–256:94–103

Maher B (1986) Characterisation of soils by mineral magnetic measurements. Phys Earth Planet Inter 42:76–92

Maher B (2011) The magnetic properties of Quaternary aeolian dusts and sediments, and their palaeoclimatic significance. Aeolian Res 3(2):87–144

Marié DC, Chaparro MAE, Gogorza CSG, Navas A, Sinito AM (2010) Vehicle-derived emissions and pollution on the road autovia 2 investigated by rock-magnetic parameters: a case study from Argentina. Stud Geophys Geod 54:135–152

Matschullat J, Ottenstein R, Reimann C (2000) Geochemical background—can we calculate it? Environ Geol 39(9):990–1000

Meena NK, Maiti S, Shrivastava A (2011) Discrimination between anthropogenic (pollution) and lithogenic magnetic fraction in urban soils (Delhi, India) using environmental magnetism. J Appl Geophys 73:121–129

Miguel E, Llamas JF, Chacon E, Berg T, Larssen S, Røyset O et al (1997) Origin and patterns of distribution of trace elements in street dust: unleaded petrol and urban lead. Atmos Environ 31:2733–2740

Moreno E, Sagnotti L, Dinarès-Turell J, Winkler A, Cascella A (2003) Biomonitoring of traffic air pollution in Rome using magnetic properties of tree leaves. Atmos Environ 37:2967–2977

Ng SL, Chan LS, Lam KC, Chan WK (2003) Heavy metal contents and magnetic properties of playground dust in Hong Kong. Environ Monit Assess 89:221–232

Oldfield F (1991) Environmental magnetism—a personal perspective. Quat Sci Rev 10:73–85

Pearson K (1901) On lines and planes of closest fit to systems of points in space. Philos Mag 2(11):559–572

Petrovský E, Kapička A, Jordanova N, Knab M, Hoffmann V (2000) Low-field magnetic susceptibility: a proxy method of estimating increased pollution of different environmental systems. Environ Geol 39:312–318

Rachwał M, Magiera T, Wawer M (2015) Coke industry and steel metallurgy as the source of soil contamination by technogenic magnetic particles, heavy metals and polycyclic aromatic hydrocarbons. Chemosphere 138:863–873

Rebelo F (1996) Condicionalismos Físico-geográficos na origem e no desenvolvimento da cidade de Coimbra. Cadernos Geografia, Actas 1° Colóquio de Geografia de Coimbra. Inst. Est. Geog. Univ. Coimbra, pp 11–13

Reimann C, de Caritat P (1998) Chemical elements in the environment. Springer, Berlin

Reimann C, de Caritat P (2005) Distinguishing between natural and anthropogenic sources for elements in the environment: regional geochemical surveys versus enrichment factors. Sci Tot Environ 337:91–107

Reimann C, Filzmoser F, Garrett R, Dutter R (2008) Statistical analysis explained. Wiley, New York

Rencher AC (2003) Methods of multivariate analysis. Wiley, New York

Rocha F, Lourenço AM, Gomes CR (2009) Relationships between magnetic parameters, toxic elements content and clay minerals of topsoil of an area near Coimbra, Central Portugal. In: Clays, clay minerals and layered materials (CMLM 2009), 21–25 September, Zvenigorod, Moscow

Sandgren P, Thompson R (1990) Mineral magnetic characteristics of podzolic soils developed on sand dunes in the Lake Gosciaz catchment, central Poland. Phys Earth Planet Inter 60:297–313

Sant'Ovaia H, Lacerda MJ, Gomes CR (2012) Particle pollution—an environmental magnetism study using biocollectors located in northern Portugal. Atmos Environ 61:340–349

Sant'Ovaia H, Marques G, Santos A, Gomes C, Rocha A (2015) Magnetic susceptibility and isothermal remanent magnetization in human tissues: a study case. Biometals. doi:10.1007/s10534-015-9879-z

Spiteri C, Kalinski V, Rösler W, Hoffmann V, Appel E MAGPROX Team (2005) Magnetic screening of a pollution hotspot in the Lausitz area, Eastern Germany: correlation analysis between magnetic proxies and heavy metal contamination in soils. Environ Geol 49:1–9

Thompson R, Oldfield F (1986) Environmental magnetism. George Allen and Unwin, London

Thompson R, Bloemendal JA, Dearing J, Oldfield F, Rummery TA, Stober JC et al (1980) Environmental applications of magnetic measurements. Science 207:481–486

Tomlinson DC, Wilson JG, Harris CR, Jeffrey DW (1980) Problems in the assessment of heavy metal levels in estuaries and the formation of a pollution index. Helgol Meeresunters 33:566–575

Wang XS, Qin Y (2005) Correlation between magnetic susceptibility and heavy metals in urban topsoil: a case study from the city of Xuzhou, China. Environ Geol 49:10–18

Wang XS, Qin Y, Sang SX (2005) Accumulation and sources of heavy metals in urban topsoils: a case study from the city of Xuzhou, China. Environ Geol 48:101–107

Wang XS, Zhang P, Fu J, Zhou HY (2012) Association between Pb and Zn concentrations and magnetic properties in particle size fractions of urban soils. J Appl Geophys 86:1–7

Yan HT, Hu SY, Blaha U, Rösler W, Duan XM, Appel E (2011) Paddy soil-a suitable target for monitoring heavy metal pollution by magnetic proxies. J Appl Geophys 75:211–219

Yang T, Liu Q, Zeng Q, Chan L (2011) Relationship between magnetic properties and heavy metals of urban soils with different soil types and environmental settings: implications for magnetic mapping. Environ Earth Sci 66(2):409–420

Zawadzki J, Fabijańczyk P, Magiera T, Rachwał M (2015) Geostatistical microscale study of magnetic susceptibility in soil profile and magnetic indicators of potential soil pollution. Water Air Soil Pollut 226:142. doi:10.1007/s11270-015-2395-5
Acknowledgments
This study was partially supported by the Portuguese Government through the Foundation for Science and Technology—FCT, within the PEst-OE/CTE/UI0611/2013 Project of the Centre for Earth and Space Research of the University of Coimbra and FEDER—European Regional Development Fund through COMPETE 2020—Operational Programme Competitiveness and Internationalization (Project: POCI-01-0145-FEDER-006922).
About this article
Cite this article
Lourenço, A.M., Gomes, C.R. Integration of magnetic measurements, chemical and statistical analysis in characterizing agricultural soils (central Portugal). Environ Earth Sci 75, 968 (2016). https://doi.org/10.1007/s12665-016-5775-2
Received:

Accepted:

Published:
Keywords
Soil

Environmental magnetism

PTEs

Anthropogenic sources