Abstract
Managed aquifer recharge has been used for various regions worldwide to improve water quantity and quality. Furthermore, contaminated site treatment often requires injection of water together with specific additives to support natural attenuation processes. Händel et al. (in J Hydrol 517:54–63, 2014. doi:10.1016/j.jhydrol.2014.05.003) introduced a new recharge approach, applying cost-efficient small-diameter wells. Numerical studies were applied, among others, to investigate the effect of subsurface structures on injection process. Besides this, a comparison with an infiltration basin was made. To close the gap between the theoretical work and the practical use of this technique for medium-term injection of clean waters and to provide an experimental validation of the small-diameter well recharge, two injection tests using a small-diameter well (1″ inner diameter) were performed at the test site Pirna, Saxony, Germany. In a first short-term test, stepwise increasing injection rates were applied and showed only a slight increase in well water levels. In a second test (using the same well), groundwater was injected continuously for 14 days. The constant injection rate of 0.75 l/s resulted in a recharged water volume of 900 m3, showing the high-performance potential of such wells for clean water infiltration.
Access options
Buy single article
Instant access to the full article PDF.
USD 39.95
Price excludes VAT (USA)
Tax calculation will be finalised during checkout.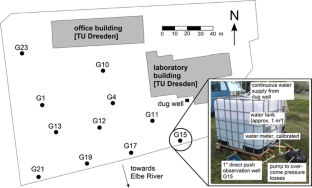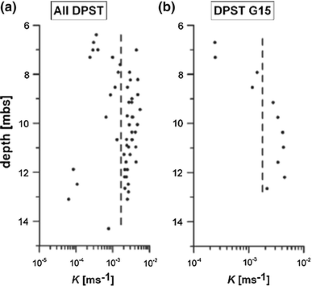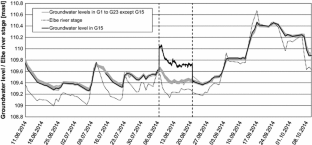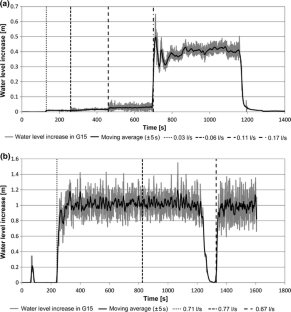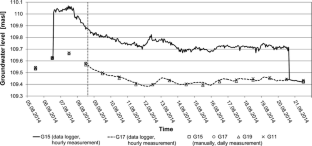 References
Al-Assa'd TA, Abdulla FA (2009) Artificial groundwater recharge to a semi-arid basin: case study of Mujib aquifer, Jordan. Environ Earth Sci 60(4):845–859. doi:10.1007/s12665-009-0222-2

Asano T, Cotruvo JA (2004) Groundwater recharge with reclaimed municipal wastewater: health and regulatory considerations. Water Res 38(8):1941–1951. doi:10.1016/j.watres.2004.01.023

BGBl. II 2001/304 (2001) Bundesgesetzblatt für die Republik Österreich, 304. Verordnung: Trinkwasserverordnung – TWV, Verlagspostamt 1030, Vienna/Austria

Bouwer H (2002) Artificial recharge of groundwater: hydrogeology and engineering. Hydrogeol J 10(1):121–142. doi:10.1007/s10040-001-0182-4

Butler JJ Jr, Healey JM, McCall GW, Garnett EJ, Loheide SP II (2002) Hydraulic tests with direct-push equipment. Ground Water 40(1):25–36. doi:10.1111/j.1745-6584.2002.tb02488.x

Butler JJ Jr, Dietrich P, Wittig V, Christy T (2007) Characterizing hydraulic conductivity with the direct-push permeameter. Ground Water 45(4):409–419. doi:10.1111/j.1745-6584.2007.00300.x

Colebrook CF (1939) Turbulent flow in pipes, with particular reference to the transition region between smooth and rough pipe laws. J Inst Civil Eng 11(4):133–156. doi:10.1680/ijoti.1939.13150

Cunningham JA, Rahme H, Hopkins GD, Lebron C, Reinhard M (2001) Enhanced in situ bioremediation of BTEX-contaminated groundwater by combined injection of nitrate and sulfate. Environ Sci Technol 35(8):1663–1670. doi:10.1021/es001722t

Dietrich P, Leven C (2006) Direct push-technologies. In: Kirsch R (ed) Groundwater geophysics. A tool for hydrogeology. Springer, Berlin, pp 321–340

Dietrich P, Butler JJ Jr, Faiss K (2008) A rapid method for hydraulic profiling in unconsolidated formations. Ground Water 46(2):323–328. doi:10.1111/j.1745-6584.2007.00377.x

Dietze M, Dietrich P (2012) Evaluation of vertical variations in hydraulic conductivity in unconsolidated sediments. Ground Water 50(3):450–456. doi:10.1111/j.1745-6584.2011.00854.x

Fank J, Leis A, Fank A (2012) Gemeinschaftliches nachhaltiges management von Trinkwasserversorgungssystemen im grenzüberschreitenden Mur Einzugsgebiet, Beurteilung der Monitoringergebnisse Phase 1. Report, JOANNEUM Research, Graz/Austria

Händel F (2014) Bewertung von oberflächennahen Grundwasseranreicherungen über Aquifer Storage und Recovery unter Berücksichtigung der Aquiferheterogenität und alternativer Infiltrationsmethoden. Dissertation. Technische Universität Dresden, Dresden/Germany

Händel F, Liu G, Dietrich P, Liedl R, Butler JJ Jr (2014) Numerical assessment of ASR recharge using small-diameter wells and surface basins. J Hydrol 517:54–63. doi:10.1016/j.jhydrol.2014.05.003

Kram M, Lorenzana D, Michaelsen J, Lory E (2001) NFESC technical report TR-2120-ENV—performance comparison: direct-push wells versus drilled wells. Naval Facilities Engineering Command, Washington DC/USA

Leven C, Weiß H, Vienken T, Dietrich P (2011) Direct-Push-Technologien–Effiziente Untersuchungsmethoden für die Untergrunderkundung. Grundwasser 16(4):221–234. doi:10.1007/s00767-011-0175-8

Liu G, Knobbe S, Reboulet EC, Whittemore DO, Händel F, Butler JJ Jr (2015) Field investigation of a new recharge approach for ASR Projects in near-surface aquifers. Ground Water. doi:10.1111/gwat.12363

Olsthoorn TN (1982) Kiwa-communications 72: the clogging of recharge wells, main subjects. Netherlands Waterworks Testing and Research Institute (KIWA), Rijswijk/Netherlands

Pavelic P, Dillon PJ, Barry KE, Vanderzalm JL, Correll RL, Rink-Pfeiffer SM (2007) Water quality effects on clogging rates during reclaimed water ASR in a carbonate aquifer. J Hydrol 334(1–2):1–16. doi:10.1016/j.jhydrol.2006.08.009

Pyne RDG (1995) Aquifer storage recovery: a guide to groundwater recharge through wells. CRC Press, Boca Raton

Vandenbohede A, Van Houtte E, Lebbe L (2008) Study of the feasibility of an aquifer storage and recovery system in a deep aquifer in Belgium. Hydrolog Sci J 53(4):844–856. doi:10.1623/hysj.53.844

Werner AD, Bakker M, Post VE, Vandenbohede A, Lu C, Ataie-Ashtiani B, Simmons CT, Barry DA (2013) Seawater intrusion processes, investigation and management: recent advances and future challenges. Adv Water Resour 51:3–26. doi:10.1016/j.advwatres.2012.03.004
Acknowledgments
This work was funded partially by the PhD scholarship programme of German Federal Environmental Foundation and by German Research Foundation (Grant number LI 727/24-1). We thank Christoph Schlamminger, Johannes Klein and Eric Schieblich for their contribution to the field work during the planning phase. Besides this, we want to acknowledge Manuel Kreck and Andreas Schoßland for their technical support in the field. We thank the INOWAS research group (Technische Universität Dresden) for providing data of the water levels.
Additional information
This article is part of a Topical Collection in Environmental Earth Sciences on "NovCare 2015—Novel Methods for Subsurface Characterization and Monitoring: From Theory to Practice". Guest edited by Uta Sauer and Peter Dietrich.
About this article
Cite this article
Händel, F., Binder, M., Dietze, M. et al. Experimental recharge by small-diameter wells: the Pirna, Saxony, case study. Environ Earth Sci 75, 930 (2016). https://doi.org/10.1007/s12665-016-5701-7
Received:

Accepted:

Published:

DOI: https://doi.org/10.1007/s12665-016-5701-7
Keywords