Abstract
This study focuses on identifying concentrations, species, spatial distribution and potential sources of uranium (U) in groundwater in Al-Batin area south of Iraq. Although few studies reported elevated concentration of U in groundwater in some parts of the Al-Batin Alluvial Fan, a comprehensive investigation of U in the groundwater of the entire fan is still missing so far. To achieve this goal, 43 groundwater samples are collected for major cations and anions, trace elements, total organic carbon and total inorganic carbon analyses. U concentrations range between 0.1 and 98 μg/L with an arithmetic average of 16 μg/L. The spatial distribution of U in groundwater shows an increase eastward and northeastward with some anomalies. UO2(CO3) 2−2 , UO2(CO3) 4−3 and UO2(HPO4) 2−2 are the dominant U species according to PHREEQC simulations. Spearman correlation analysis (n = 43, p < 0.01) shows a positive correlation between U and K, HCO3 −, Ca, Mg, Al, Si and rare earth elements (∑REE). Well depth, on the other hand, had a negative correlation (r = −0.65 at p < 0.01) with U, indicating that U is dominant in more shallow groundwater. This study assumes a geogenic source of U from the Arabian Shield in Saudi Arabia, derived by flood plain and trapped in the east and northeast of the study area under reduced conditions of the neighbor marshes. The release of uranium into the groundwater can be explained by three hypotheses: The first hypothesis is desorption of U sorbed onto ferric minerals (e.g., hematite, magnetite and goethite). The second hypothesis is desorption of U from clay minerals in mudstone lenses within the aquifer. The third hypothesis is the release of U from the carbonate lattice structure due to the replacement with Ca. The relatively high Eh and the elevated concentrations of SO4 2−, Ca2+ and Na+ in groundwater are appropriate conditions to release U load of the supposed sources into groundwater.
This is a preview of subscription content,
to check access.
Access this article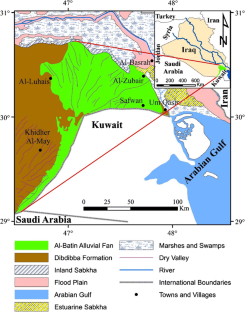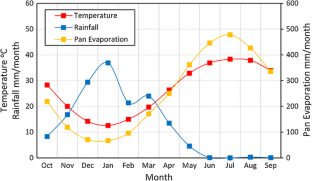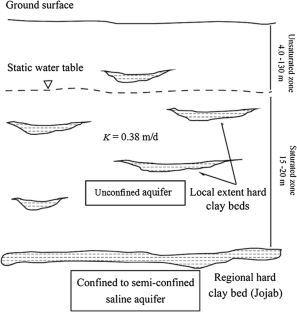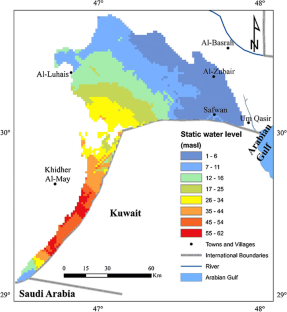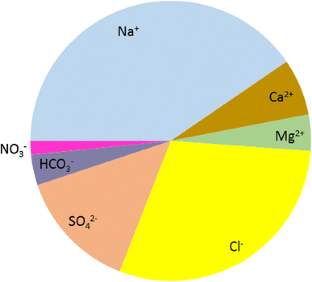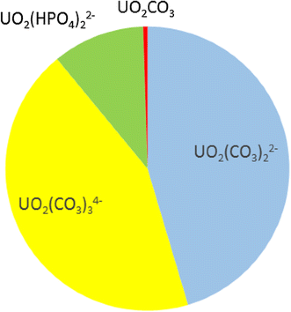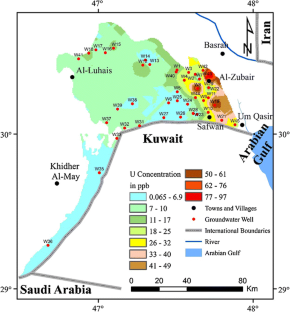 References
Abiye T, Leshomo J (2013) Groundwater flow and radioactivity in Namaqual and South Africa. Environ Earth Sci 70:281–293. doi:10.1007/s12665-012-2126-9

Al-Anazia E, Al-Saleh A (2013) Surface dispersion of uranium in the Al-Hayt area, NE Arabian Shield. J Environ Radioact 124:214–226. doi:10.1016/j.jenvrad.2013.05.010

Al-Atia M, Mahdi M (2005) Origin and mode of formation of Abu Skhair uranium, Middle Iraq. Iraqi Bull Geol Mining 1(1):15–27 (in Arabic)

Al-Basrawi N (2009) Hydrogeology and hydrochemistry of Al-Basrah governorate. Iraq-GEOSURV, int. rep. no. 1345 (unpublished)

Al-Bassam K, Yousif M (2014) Geochemical distribution and background values of some minor and trace elements in Iraqi soils and recent sediments. Iraqi Bulletin of Geology and Mining 10(2):109–156

Al-Bassam K, Mahdi M, Al-Delaimi M (2006) Contribution to the origin of the syngenetic uranium enrichment in the Early Miocene carbonates of the Euphrates Formation, Iraq. Iraqi Bulletin of Geology and Mining 2(2):1–21

Alexandre P, Kyser T (2005) Effects of cationic substitutions and alteration in uraninite and implications for the dating of uranium deposits. The Canadian Mineralogist 43:1005–1017. doi:10.2113/gscanmin.43.3.1005

Alfotawi B, Gazzaz M, Hassan M (1991) Uranium and thorium environment in Haql granite in Midyan Region, Northwest of Saudi Arabia. J. KAU: Earth Sci 4:161–170

Al-Jiburi H, Al-Basrawi N (2009) Geology of Iraqi Southern Desert, Hydrogeology. Iraqi Bulletin of Geology and Mining, Special Issue 2:77–91

Al-Khayoun R, Bachmann A, Bauer J, Dellapenna J, Kazmi S, Richardson C, Wheeler N (2004) The Marsh Arabs of Iraq: The legacy of Saddam Hussein and an agenda for restoration and justice. New York University, Panel discussion

Alkinani M, Awad A, Tawfeeq O (2011) Geological investigation for mineral occurrences and industrial rocks in Muthana governorates. Iraq-GEOSURV int. rep. no. 3332 (in Arabic, unpublished)

Al-Kubaisi Q (1999) Quaternary-Tertiary hydrogeologic boundary condition at Safwan-Zubair area. South of Iraq. Iraq Jour Sci 40(3):21–28

Al-Muqdadi K (2009) Call to clean Iraq from war remains. Environment and Development 135:18–29 (in Arabic)

Al-Muslih S (2012) Hydrogeological and hydrochemical study of Al-Basrah quadrangle (NH-38-8) and Abadan quadrangle (NH-39-5) scale 1:250,000. Iraq-GEOSURV, int. rep. no. 3402 (unpublished)

Al-Najim N, Haqi N, Abdullwahed K (1988) Investigation for the radioactive ores of the clastic sediments in (RZ) area, western Zubair area. Iraq-GEOSURV, int. rep. no. 1703 (unpublished)

Al-Sharbati F, Ma'ala K (1983) Report on the regional geological mapping of west of Zubair area. Iraq-GEOSURV, int. rep. no. 1345 (unpublished)

ATSDR (2013) Toxicological profiles, toxicological profile for uranium. U.S. Department of Health and Human Services, Public Health Service, Agency for Toxic Substances and Disease Registry, Atlanta

Bachmaf S, Merkel B (2011) Sorption of uranium (VI) at the clay mineral–water interface. Environ Earth Sci 63:925–934. doi:10.1007/s12665-010-0761-6

Bachmaf S, Planer-Friedrich B, Merkel B (2009) Competitive sorption and desorption of arsenate and uranium on bentonite and kaolinite. Geochimica et Cosmochimica Acta 73(13):A67

Bell K (1963) Uranium in carbonate rocks: United States Department of the Interior, Geological Survey Professional Paper 474 A

Bonotto D, Andrews J (2000) The transfer of uranium isotopes 234U and 238U to the waters interacting with carbonates from Mendip Hills area (England). Appl Radiat Isot 52(4):965–983. doi:10.1016/S0969-8043(99)00151-7

CCME (2007) Canadian soil quality guidelines for uranium: environmental and human health. Canadian Council of Ministers of the Environment. PN 1371, ISBN 978-1-896997-64-3

Drever J (1997) The geochemistry of natural waters, 3rd edn. Prentice Hall, New Jersey, USA

Duff M, Coughlin J, Hunter D (2002) Uranium co-precipitation with iron oxide minerals. Geochim Cosmochim Acta 66(20):3533–3547. doi:10.1016/S0016-7037(02)00953-5

Gavrilescu M, Pavel L, Cretescu I (2009) Characterization and remediation of soils contaminated with uranium. J Hazard Mater 163(2–3):475–510. doi:10.1016/j.jhazmat.2008.07.103

Gebeshuber I (2007) Europhysics news the origin of the elements of life. Technische Universität Wien, Vienna

Gezahegne W, Hennig C, Tsushima S, Planer-Friedrich B, Scheinost A, Merkel B (2012) EXAFS and DFT investigations of uranyl arsenate complexes in aqueous solution. Environ Sci Technol 46(4):2228–2233. doi:10.1021/es203284s

Hood D (2014) Transformation of Uranium in a Geological Environment. MSC thesis, Clemson University (unpublished)

Hwang J, Moon S, Ripley E, Kim Y (2014) Determining uraniferous host rocks and minerals as a source of dissolved uranium in granite aquifers near the central Ogcheon metamorphic belt, Korea. Environ Earth Sci 72:4035–4046. doi:10.1007/s12665-014-3293-7

Ivanovich M, Fröhlich K, Hendry M (1991) Uranium-series radionuclides in fluids and solids, Milk River aquifer, Alberta. Canada. Appl. Geochem 6:405–418. doi:10.1016/0883-2927(91)90040-V

Jassas H, Kanoua W, Merkel B (2015) Actual evapotranspiration in the Al-Khazir Gomal basin (Northern Iraq) using the surface energy balance algorithm for land (SEBAL) and water balance. Geosciences 5:141–159. doi:10.3390/geosciences5020141

Jassim R, Al-Jiburi B (2009) Geology of Iraqi Southern Desert, Stratigraphy. Iraqi Bulletin of Geology and Mining, Special Issue 2:53–76

Jassim S, Goff J (2006) Geology of Iraq. Dolin and Moravian Museum, Prague

Kacmaz H, Nakoman M (2009) Hydrochemical characteristics of shallow groundwater in aquifer containing uranyl phosphate minerals, in the Koprubas (Manisa) area, Turkey. Environ Earth Sci 59:449–457. doi:10.1007/s12665-009-0043-3

Khalaf F, Gharib I, Alkadi (1982) Sources and genesis of the Pleistocene gravelly deposits in northern Kuwait. Sed Geol 31:101–117. doi:10.1016/0037-0738(82)90033-1

Kitano Y, Oomori T (1971) The Coprecipitation of Uranium with Calcium Carbonate. J Oceanogr Soc Jpn 27(1):34–42. doi:10.1007/BF02109313

Krasny J, Selim Th. (1982) Hydrogeology of Basra area. Iraq-GEOSURV, int. rep. no. 1337 (unpublished)

Krestou A, Panias D (2004) Uranium (VI) speciation diagrams in the UO22 +/CO32-/H2O System at 25 & #xB0;C. European Journal of Mineral Processing and Environmental Protection 4(2):113–129

Langmuir D (1978) Uranium solution-mineral equilibria at low temperatures with applications to sedimentary ore deposits. Geochim Cosmochim Acta 42(12):547–569. doi:10.1016/0016-7037(78)90001-7

Leggett R, Harrison J (1995) Fractional absorption of ingested uranium in humans. Health Phys 68:484–498. doi:10.1097/00004032-199504000-00005

Ma'ala K (2009) Geology of Iraqi Southern Desert, Geomorphology. Iraqi Bulletin of Geology and Mining, Special Issue 2:7–33

Maher K, Bargar J, Brown Gordon E Jr (2012) Environmental speciation of actinides. Inorg Chem 52:3510–3532. doi:10.1021/ic301686d

Manhi H (2012) Groundwater contamination study of the upper part of the Dibdibba aquifer in Safwan area, southern Iraq. PhD thesis, University of Baghdad (unpublished)

Marshall T, Morris K, Law G, Livens F, Mosselmans J, Bots P, Shaw S (2014) Incorporation of uranium into hematite during crystallization from ferrihydrite. Environ Sci Technol 48(7):3724–3731. doi:10.1021/es500212a

Merkel B (2011) Thermodynamic data dilemma. In: Merkel B, Schipek M (eds) The new uranium mining boom. doi:10.1007/978-3-642-22122-4

Merkel B, Hasche-Berger A (2008) Uranium, mining and hydrogeology. Springer-Verlag, Berlin Heidelberg. ISBN 978-3-540-87745-5

Mogren S (2012) Uranium occurrence and radioactive pollution in groundwater in Asfar Thwelil, northern Arabian Shield. J Earth Sci Climate Change 3(3):63. doi:10.4172/2157-7617.S1.006

Nair S, Karimzadeh L, Merkel B (2014) Sorption of uranyl and arsenate on SiO2, Al2O3, TiO2 and FeOOH. Environ Earth Sci 72:3507–3512. doi:10.1007/s12665-014-3258-x

NCCI (2011) Environmental contaminants from war remnants in Iraq. NGO—Coordination Committee for Iraq, http://www.bandepleteduranium.org/en/docs/163

Nitzsche O, Merkel B (1999) Reactive transport modeling of uranium 238 and radium 226 in groundwater of the Königstein uranium mine, Germany. Hydrogeol J 7(5):423–430. doi:10.1007/s100400050215

Noubactep C, Meinrath G, Dietrich P, Merkel B (2003) Mitigating uranium in groundwater: prospects and limitations. Environ Sci Technol 37(18):4304–4308

Pacheco-Torgal F, Jalali S, Fucic A (2012) Toxicity of building materials. Elsevier, Woodhead Publishing, ISBN: 0857091220, 9780857091222

Pezeshki S, DeLaune R (2012) Soil oxidation-reduction in wetlands and its impact on plant functioning. Biology 1:196–221. doi:10.3390/biology1020196

Rout S, Ravi P, Kumar R, Tripathi R (2015) Study on speciation and salinity-induced mobility of uranium from soil. Environ Earth Sci 74:2273–2281. doi:10.1007/s12665-015-4218-9

Sahoo S, Hosoda M, Kamagata S, Sorimachi A, Ishikawa T, Tokonami S, Uchida S (2011) Thorium, uranium and rare earth elements concentration in weathered Japanese soil samples. Prog Nucl Sci Technol 1:416–419. doi:10.15669/pnst.1.416

Salman A (1994) Potential uranium provinces in some Arabian countries. Second Arab conference on the peaceful uses of atomic energy, Cairo, Egypt

Scanlon B, Keese K, Flint A, Flint L, Gaye C, Edmunds W, Simmers I (2006) Global synthesis of groundwater recharge in semiarid and arid regions. Hydrol Process 20:3335–3370. doi:10.1002/hyp.6335

Sheppard M, Thibault D, Mitchell J (1987) Element leaching and capillary rise in sandy soil cores. Experimental results. J Environ Qual 16:273–284

Sissakian V, Shihab A, Al-Ansari N, Knutsson S (2014) Al-Batin Alluvial Fan, southern Iraq. Engineering 6:699–711

Smedley P, Smith B, Abesser C, Lapworth D (2006) Uranium occurrence and behaviour in British groundwater. British Geological Survey Groundwater Systems and Water Quality Programme Commissioned Report CR/06/050N

Stuckless S, Nkomo I, Wenner D, Vantrump G (1983) Geochemistry and uranium favourablity of the postorogenic granites of the Northwestern Arabian Shield, Kingdom of Saudi Arabia. J King Abdulaziz Univ: Earth Sci 6:195–209

Stumm S, Morgan J (1995) Aquatic chemistry an introduction emphasizing chemical equilibria in natural water, 3rd edn. Wiley, New York. ISBN: 978-0-471-51185-4

Todd D (1980) Ground-water hydrology, 2nd edn. Wiley, New York

Trinkw V (2011) Verordnung über die Qualität von Wasser für den menschlichen Gebrauch, Ein Service des Bundesministeriums der Justiz und für Verbraucherschutz in Zusammenarbeit mit der juris GmbH - www.juris.de

Villalobos M, Leckie J (2001) Surface complexation modeling and FTIR study of carbonate adsorption to goethite. J Colloid Interf Sci 235(1):15–32. doi:10.1006/jcis.2000.7341

WHO (2005) Uranium in drinking-water, background document for development of WHO guidelines for drinking-water quality. World Health Organization, Geneva

WHO (2011) Guidelines for drinking water quality, 4th edn. World Health Organization, Geneva

Wu Y, Wang Y, Xie X (2014) Occurrence, behavior and distribution of high levels of uranium in shallow groundwater at Datong Basin, Northern China. Sci Total Environ 472:809–817. doi:10.1016/j.scitotenv.2013.11.109

Yacoub S (1992) The geology of Al-Basrah, Abadan and Bubyian quadrangle sheets NH-38-8, NH-39-5 and NH-39-9 (GM 38, 39 and 43) Scale 1:250,000. Iraq-GEOSURV int. rep. no. 2259 (unpublished)

Zamora M, Tracy B, Zielinski J, Meyerhof D, Mossf M (1998) Chronic ingestion of uranium in drinking water: a study of kidney bioeffects in humans. Toxicol Sci 43(1):68–77. doi:10.1006/toxs.1998.2426
Acknowledgments
This work was funded by the IRAQ Geological Survey (GEOSURV-IRAQ) and the Iraqi Ministry of Higher Education and Scientific Research. The authors thank Dr. Khaldoon Al-Bassam, Scientific Researcher in Czech Geological Survey, for all his hints and useful suggestions. Thanks are also extended to Dr. Hussein Jassas, Head Geologist in the GEOSURV-IRAQ, for his valuable discussion. 
About this article
Cite this article
Alkinani, M., Kanoua, W. & Merkel, B. Uranium in groundwater of the Al-Batin Alluvial Fan aquifer, south Iraq. Environ Earth Sci 75, 869 (2016). https://doi.org/10.1007/s12665-016-5685-3
Received:

Accepted:

Published:

DOI: https://doi.org/10.1007/s12665-016-5685-3
Keywords