Abstract
Future energy security and CO2 emissions investigation models indicate that the best option for Egypt is to adopt a mitigation strategy by using geothermal energy as an energy source mix and implement energy efficiency policy. The hydrothermal potential is estimated to be of the order of 158 × 106 kWh while El Faliq high heat-generating granite has the potential to generate billion kWh of electricity. Through these two geothermal energy sources, the country can mitigate CO2 reduction to the order of 20 million tones and provide sustained freshwater to domestic, agricultural and industrial sectors. Egypt in future may have to address two important issues such as guaranteed future electricity supply and freshwater supply to meet the growing population and agriculture demand. The current situation indicates that the Nile River may not be able to sustain the demand due to uncertainties in the monsoon pattern and reduction in storage capacity. A renewable energy (geothermal) source mix and implementing a sound energy efficient policy in agricultural, transport and domestic sectors will help the country to meet the future food and water demand of the country.
Access options
Buy single article
Instant access to the full article PDF.
US$ 39.95
Tax calculation will be finalised during checkout.
Subscribe to journal
Immediate online access to all issues from 2019. Subscription will auto renew annually.
US$ 119
Tax calculation will be finalised during checkout.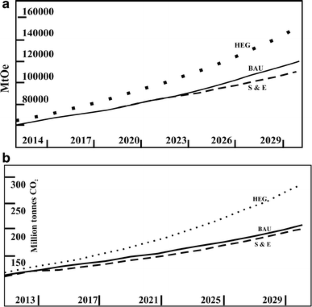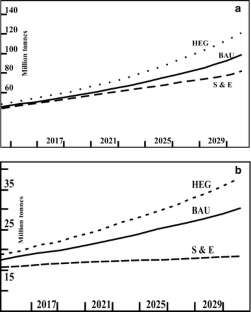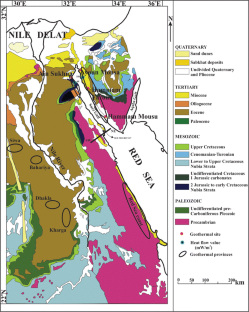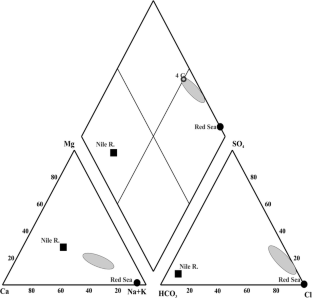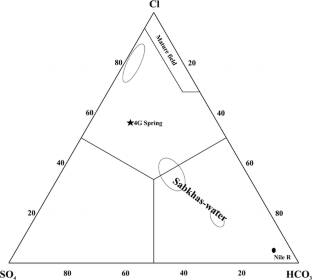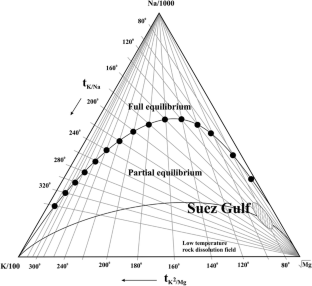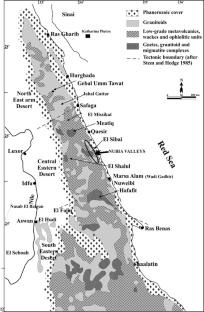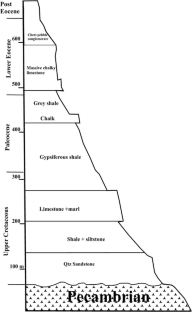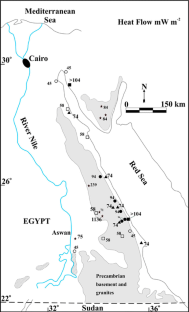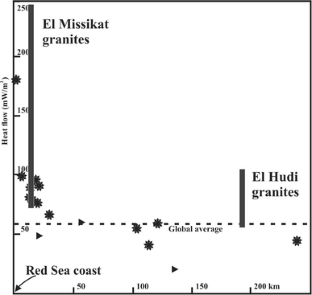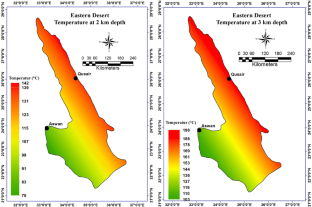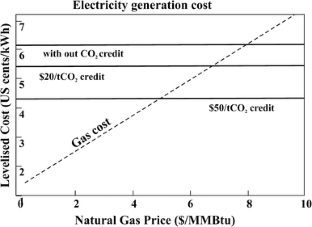 References
Abdalla FA, Scheytt T (2012) Hydrochemistry of surface water and groundwater from a fractured carbonate aquifer in the Helwan area, Egypt. J Earth Syst Sci 121:109–124

Baba A, Deniz O, Ozcan H, Erees SF, Cetiner SZ (2008) Geochemical and radionuclide profile of Tuzla geothermal field, Turkey. Environ Monit Assess 145:361–374

Baria R, Michelet S, Baumgärtner J, Dyer B, Gerard A, Nicholls J, Hettkamp T, Teza D, Soma N, Asanuma H (2004) Microseismic monitoring of the world largest potential HDR reservoir. In: Proceedings of the 29th workshop on geothermal reservoir engineering. Stanford University, California

Bentor YK (1985) The crustal evolution of the Arabo-Nubian Massif with special reference to the Sinai Peninsula. Precambr Res 28:1–74

Breger M, Bauernhofer A, Pelz K, Kloetzli U, Fritz H, Neumayr P (2002) A late Neoproterozoic magmatic core complex in the Eastern Desert of Egypt: emplacement of granitoids in a wrench-tectonic setting. Precambr Res 118:59–82

Cermak V, Huckenholz HG, Rybach L, Schmid R (1982) Radioactive heat generation in rocks. In: Hellwege K (ed) Landolt–Bornstein numerical data and functional relationships in science and technology. New series, group V. geophysics and space research, vol 1, physical properties of rocks, subvolume b. Springer, Berlin, Heidelberg, New York, pp 433–481

Chandrasekharam D, Lashin A, Al Arifi N (2014) CO2 mitigation strategy through geothermal energy, Saudi Arabia. Renew Sustain Energy Rev 38:154–163

Chandrasekharam D, Lashin A, Al Arifi N, Al Bassam AA, Varun C (2015) Evolution of geothermal systems around the Red Sea. Environ Earth Sci 73:4215–4236

Chandrasekharam D, Lashin A, Al Arifi N, Al Bassam AM (2016) Red Sea geothermal provinces. CRC Press, UK, p 250 (in press)

Colletta B, Le Quellec P, Letouzey J, Moretti I (1988) Longitudinal evolution of the Suez rift structure (Egypt). Tectonophysics 153:221–233

de la Vega FF (2010) Impact of energy demand on Egypt's oil and natural gas reserves: current situation and perspectives to 2030. In: Sawin J, Mastny L (eds) "Egyptian–German joint committee on renewable energy, energy efficiency and environmental protection", Pub: Deutsche Gesellschaft für Technische Zusammenarbeit (GTZ) GmbH, pp 1–83

Eby GN (1992) Chemical subdivision of the A-type granitoids; petrogenetic and tectonic implications. Geology 20(7):641–644

El Ahmady Ibrahim M, El Hamed El Kalioby BA, Aly MG, El Tohamy AM, Watanabe K (2015) Altered granitic rocks, Nusab El Balgum Area, Southwestern Desert, Egypt: mineralogical and geochemical aspects of REEs. Ore Geol Rev 70:252–261

El Ramly MF, Akaad MK (1960) The basement complex in the central-eastern desert of Egypt between latitudes 24°30′ and 25°40N. Geol Surv Egypt 8:1–35

El Shaer HM (2010) Potential role of salt marshes in the Sabkhas of Egypt. In: Ozturk M, Boer B, Barth HJ, Breckle SW, Clusener-Godt M, Khan MA (eds) Sabkha ecosystems, volume III: Africa and Southern Europe, series for vegetation science, vol 46, pp 95–98

El Sobki M, Wooders P, Sherif Y (2009) Clean energy investment in developing countries: wind power in Egypt. International Institute for Sustainable Development (http://www.iisd.org), Trade, Investment and climate change series report, 54

Elsayed RAM, Assran HM, Elatta SAA (2014) Petrographic, radiometric and paleomagnetic studies for some alkaline rocks, south Nusab El Balgum mass complex, south western Egypt. Geomaterials 4:27–46

Emam A, Moghazy NM, El-Sherif AM (2011) Geochemistry, petrogenesis and radioactivity of El Hudi I-type younger granites, South Eastern Desert, Egypt. Arab J Geosci 4:863–878

Evans TR, Tammemagi HY (1974) Heat flow and heat production in north-east Africa. Earth Planet Sci Lett 23:349–356

Fritz H, Wallbrecher E, Khudeir AA, Abu El Ela F, Dallmeyer DR (1996) Formation of Neoproterozoic metamorphic core complexes during oblique convergence (Eastern Desert, Egypt). J Afr Earth Sc 23:311–329

Gaafar I (2014) Geophysical mapping, geochemical evidence and mineralogy for Nuweibi Rare Metal Albite granite, Eastern Desert, Egypt. Open J Geol 4:108–136

Gettings ME (1982) Heat flow measurements at shot points along the 1978 Saudi Arabian seismic deep refraction line, part 2: discussion and interpretation. USGS open file report, 82-794

Gettings ME, Showail A (1982) Heat flow measurements at shot points along the 197X Saudi Arabian seismic deep-refraction line, part I: results of the measurements, U.S. Geological Survey of open file report, 82-793, 98

Giggenbach WF (1988) Geothermal solute equilibria. Derivation of Na–K–Mg–Ca geoindicators. Geochim Cosmochim Acta 52:2749–2765

Girdler RW (1970) A review of Red Sea heat flow. Philos Trans R Soc Lond A 267:191–203

Greene DC (1984) Structural geology of the Qusier area, Red Sea cost, Egypt. Department of Geology and Geography contribution number 52, University of Massachusetts, USA, p 179

Hassan MA, Hashad AH (1990) Precambrian of Egypt. In: Said R (ed) The geology of Egypt. Balkema, Rotterdam, pp 201–248

Hogarth R, Holl H, McMahon A (2013) Flow testing results from Habanero EGS Project. In: Proceedings of the sixth annual Australian geothermal energy conference, 14–15 Nov 2013

Karameld A, Mekhermar S (2001) Sitting assessment of a water electricity cogeneration nuclear power plant in Egypt. Desalination 137:45–51

Katzir Y, Eyal M, Litvinovsky BA, Jahn BM, Zanvilevich AN, Valley JW, Beeri Y, Pelly I, Shimshilashvili E (2007) Petrogenesis of A-type granites and origin of vertical zoning in the Katharina pluton, Gebel Mussa (Mt. Moses) area, Sinai, Egypt. Lithos 95:208–228

Khalil A, Mubarak A, Kaseb S (2010) Road map for renewable energy research and development in Egypt. J Adv Res 1:29–38

Lachenbruch AH (1968) Preliminary geothermal model of the Sierra Nevada. J Geophys Res 73:6977–6989

Lashin A (2012) A preliminary study on the potential of the geothermal resources around the Gulf of Suez, Egypt. Arab J Geosci. doi:10.1007/s12517-012-0543-4

Lashin A, Chandrasekharam D, Al Arifi N, Al Bassam A, Chandrasekhar V (2014) Geothermal energy resources of wadi Al-Lith, Saudi Arabia. J Afr Earth Sci 97:357–367

Lundmark AM, Andresen A, Hassan MA, Augland LE, Boghdady GY (2012) Repeated magmatic pulses in the East African Orogen in the Eastern Desert, Egypt: an old idea supported by new evidence. Gondwana Res 22:227–237

MIT (2006) The future of geothermal energy—impact of enhanced geothermal systems (EGS) on the United States in the 21st Century. In: An assessment by an MIT led interdisciplinary panel. MIT—Massachusetts Institute of Technology, Cambridge, MA, p 358

Morgan P, Black'well DD, Fanis TG, Boulos FK, Salib PG (1976) Preliminary temperature gradient and heat flow values for northern Egypt and the Gulf of Suez from oil well data. In: Proceedings international congress on thermal waters. Geothermal energy and volcanism of Mediterranean area. Geothermal energy, vol 1, pp 424–438

Morgan P, Blackwell DD, Farris JC, Boulos FK, Salib PG (1977) Preliminary geothermal gradient and heat flow values for northern Egypt and the Gulf of Suez from oil well data. In: Proceedings of the international congress of thermal waters, geothermal energy and vulcanism of the Mediterranean area, vol I. National Technical University, Athens, Greece, pp 424–438

Morgan P, Boulos FK, Hennin SF, El-Sherif AA, EI-Saycd AA, Basta NZ, Melek YS (1981) Geophysical investigations of a geothermal anomaly at Wadi Ghadir, eastern Egypt. InL Proceedings of the first annual meeting Egyptian Geophysical Society, Cairo, 28 Sept, vol 29, p 17

Morgan P, Boulos FK, Swanberg CA (1983) Regional geothermal exploration in Egypt. Geophys Prospect 31:361–376

Morgan P, Boulos FK, Hennin SF, El-Sherif AA, El-Syed AA, Basta NZ, Melek YS (1985) Heat flow in eastern Egypt: the thermal signature of a continental breakup. J Geodyn 4:107–131

Moussa EMM, Stern R, Manton WI, Ali KA (2008) SHRIMP zircon dating and Sm/Nd isotopic investigations of Neoproterozoic granitoids, Eastern Desert, Egypt. Precambr Res 160:341–356. doi:10.1016/j.precamres.2007.08.006

Nagy RM, Ghuma MA, Rogers JJ (1976) A crustal suture and lineaments in North Africa. Tectonophysics 31:67–72

Patton TL, Moustafa AR, Nelson RA, Abdine AS (1994) Tectonic evolution and structural setting of the Suez rift. In: Landon SM (ed) Interior rift basins, vol 58. American Association of Petroleum Geologists Mere, pp 9–55

Perrin M, Saleh A, Valdivia LA (2009) Cenozoic and Mesozoic basalt from Egypt: a preliminary survey. Earth Planets Space 61:51–60

Piper AM (1953) A graphic procedure in the geochemical interpretation of water analyses. USGS groundwater note, p 12

Pruess K (2006) Enhanced geothermal systems (EGS) using CO2 as working fluid—a novel approach for generating renewable energy with simultaneous sequestration of carbon. Geothermics 35:351–367

Raslan MF, El-Feky MG (2012) Radioactivity and mineralogy of the altered granites of the Wadi Ghadir shear zone, South Eastern Desert, Egypt. Chin J Geochem 31:030–040

Rybach L (1976) Radioactive heat production: a physical property determined by the chemistry. In: Strens RGI (ed) The physical and chemistry of minerals and rocks. Wiley-Interscience Publication, New York, pp 245–276

Saleh GM (2006) Uranium mineralization in the muscovite-rich granites of the Shalatin region, Southeastern desert, Egypt. Chin J Geochem 25:1–15

Saleh S, Jahr T, Jentzsch G, Saleh A, Ashour NMA (2006) Crustal evaluation of the northern Red Sea rift and Gulf of Suez, Egypt from geophysical data: 3-dimensional modelling. J Afr Earth Sci 45:257–278

Saleh GM, Mostafa DA, Darwish ME, Salem IA (2014) Gabal El Faliq Granitoid rocks of the Southeastern Desert, Egypt: geochemical constraints, mineralization and spectrometric prospecting. Stand Glob J Geol Explor Res 1(1):009–026

Schandelmeier H, Pudlo D (1990) The Central-African fault zone in Sudan—a possible continental transform fault. Berl Geowiss Abh 120-A:31–44

Singh B, Ranjith PG, Chandrasekharam D, Viete HK, Singh A, Lashin N Al, Al Arifi N (2015) Thermo-mechanical properties of Bundelkhand Granite near Jhansi, India. Geomecha Geophy Geoener Geores. doi:10.1007/s40948-015-0005-z

Somerville M, Wyborn D, Chopra P, Rahman S, Don Estrella, Theo Van der Meulen (1994) Hot dry rock feasibility study. Energy research and development corporation, Australia, p 170 (unpublished report)

Stern RJ (1985) The Najd Fault System, Saudi Arabia and Egypt: a late Precambrian rift-related transform system? Tectonics 4:497–511

Stern RJ (1994) Arc assembly and continental collision in the Neoproterozoic East African Orogen-Implications for the consolidation of Gondwanaland. Earth Planet Sci Ann Rev 22:319–351

Stern RJ, Johnson P (2010) Continental lithosphere of the Arabian Plate. A geologic, petrologic, and geophysical synthesis. Earth Sci Rev 101:29–67

Stern RJ, Gottfried D, Hedge CE (1984) Late Precambrian rifting and crustal evolution in the northeast Desert of Egypt. Geology 12:168–172

Swanberg CA, Morgan P, Boulos FK (1983) Geothermal potential of Egypt. Tectonophy 96:77–94

Vernekar AD (1975) A calculation of normal temperature at the Earth's surface. J Atmos Sci 32:2067–2081

Zaher MA, Saibi H, El-Nouby M, Ghamry E, Ehara S (2011) A preliminary regional geothermal assessment of the Gulf of Suez, Egypt. J Afr Earth Sci 60:117–132

Zaher MA, Saibi H, Nishijim J, Fujimitsu Y, Mesbah H, Ehara S (2012) Exploration and assessment of the geothermal resources in the Hammam Faraun hot springs, Sinai Peninsula, Egypt. J Asian Erth Sci 45:256–267
Acknowledgments
The authors extend their sincere appreciation to the Deanship of Scientific Research at King Saud University for its funding of this research group No. (RG-1435-070). The corresponding author thanks the Director Indian Institute of Technology Bombay for providing the facilities for this work.
About this article
Cite this article
Chandrasekharam, D., Lashin, A., Al Arifi, N. et al. Geothermal energy potential of eastern desert region, Egypt. Environ Earth Sci 75, 697 (2016). https://doi.org/10.1007/s12665-016-5534-4
Received:

Accepted:

Published:
Keywords
Egypt

EGS

Geothermal

Desalination

Red Sea