Abstract
The origin of groundwater in the Sfax aquifer system was studied using environmental isotopic tracers (δ18O, δ2H, and 3H). In total, 164 water samples were analyzed for stable isotopes: 73 collected from the Sfax shallow aquifer, 63 from the Sfax middle aquifer, and 28 from the Sfax deep aquifer. Recent recharge of the groundwater in the Sfax aquifer was identified using tritium concentrations in 82 groundwater samples from different depths. The isotopic ratios of the shallow aquifer range from −5.55 to −1.59 ‰ for δ18O and from −38.38 to −14.19 ‰ for δ2H, and the isotopic ratios in the middle aquifer range from −6.86 to −2.97 ‰ for δ18O and from −44.18 to −22.38 ‰ for δ2H. The deep aquifer exhibited markedly lower isotopic values, ranging from −6.70 to −5.70 ‰ for δ18O and from −42.40 to −38.89 ‰ for δ2H. The mixing proportions inferred from stable isotopic mass balance calculations suggest that the deep aquifer contributes significantly to the middle aquifer through geologic structures and may reach 100 % in the Menzel Chaker region. The isotopic mass balance model also indicates that the middle groundwater aquifer may contribute up to 100 % of the shallow Plio-Quaternary aquifer, particularly in the western and northeastern parts of the study area, between Bir Ali ben Khalifa and Djebeniana. The tritium data support the existence of recent recharge. The tritium and stable isotope data clearly indicate the presence of mixing processes, especially in the northwestern and coastal portions of the study area. A conceptual model is established, explaining the pressure differences that generate vertical leakage, which is a reasonable mechanism for flow between the aquifers.
Access options
Buy single article
Instant access to the full article PDF.
USD 39.95
Price excludes VAT (USA)
Tax calculation will be finalised during checkout.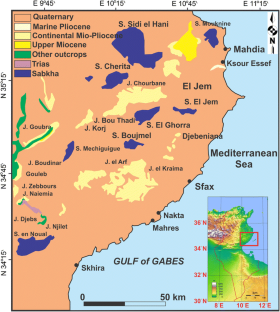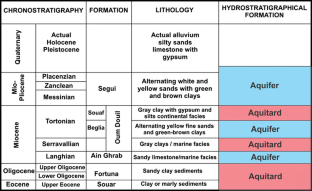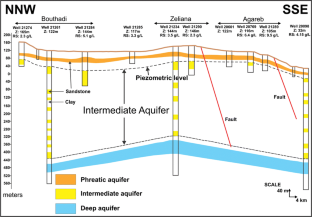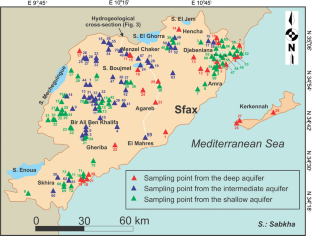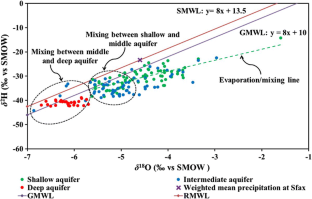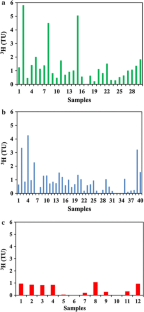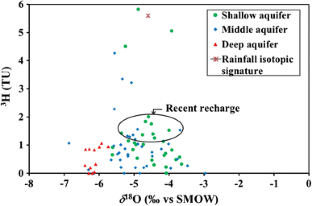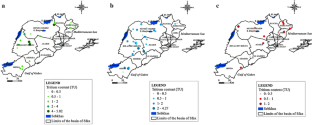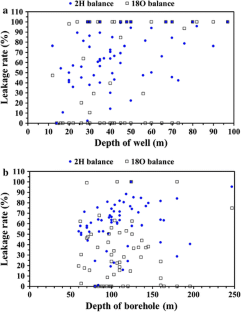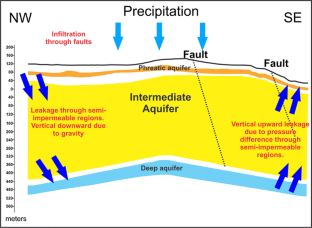 References
Bear J (1972) Dynamics of fluids in porous media. Dover, New York, p 764

Belgacem A, Kharroubi A, Bouri S, Abida H (2010) Contribution of geostatistical modelling to mapping groundwater level and aquifer geometry, case study of Sfax's deep aquifer. Tunis Middle East J Sci Res 6(3):305–316

Ben Akacha M (2001) Etude géologique de la région d'Agareb-Sfax: évolution géomorphologique néotectonique et paléogéographique. DEA, Fac. Sc., Sfax

Ben Brahim F, Bouri S, Khanfir H (2011) Hydrochemical analysis and evaluation of groundwater quality of a Mio-Plio-Quaternary aquifer system in an arid regions: case of El Hancha, Djebeniana and El Amra regions, Tunisia. Arab J Geosci 6:2089–2102. doi:10.1007/s12517-011-0481-6

Ben Hamouda MF, Tarhouni J, Leduc C, Zouari K (2010) Understanding the origin of salinization of the Plio-Quaternary eastern coastal aquifer of Cap Bon (Tunisia) using geochemical and isotope investigations. J Environ Earth Sci 63:889–901

Ben Moussa A, Mzali H, Zouari K, Hezzi H (2014) Hydrochemical and isotopic assessment of groundwater quality in the Quaternary shallow aquifer, Tazoghrane region, north-eastern Tunisia. J Quat Int 338:51–58

Beni Akhy R (1994) Evolution et modélisation de la nappe phréatique urbaine de Sfax. Mémoire de DEA, Fac. Sc., Tunis

Blavoux B (1978) Etude du cycle de l'eau au moyen de l'oxygène 18 et du deutérium, thèse d'État, université Paris-6, p 316

Bouaziz S (1994) Etude de la tectonique cassante dans la plate-forme et l'Atlas Saharien (Tunisie meridionale): évolution des paléochamps de contraintes et implication géodynamique, Thèse Doctorat. Etat. Sc. Geol, Univ. Tunis II, Tunis

Bouchaou L, Michelot JL, Vengosh A, Hsissou Y, Qurtobi M, Gaye CB, Bullen TD, Zuppi GM (2008) Application of multiple isotopic and geochemical tracers for investigation of recharge, salinization, and residence time of water in the Souss-Massa aquifer, southwest of Morocco. J Hydrol 352:267–287

Burollet (1956) Contribution à l'étude Stratigraphique de la Tunisie Centrale, Annale des mines et de la Géologie 18, Tunisia, p 345

Castany G (1953) Les plissements quaternaires en Tunisie. Comptes Rendus Sommaires Société Géologique de France, Paris, pp 155–157

Clark ID, Fritz P (1997) Environmental isotopes in hydrogeology. CRC Press/Lewis Publishers, Boca Raton

Coplen TB (1996) New guidelines for reporting stable hydrogen, carbon, and oxygen isotope-ratio data. Geochim Cosmochim Acta 60:3359–3360

Craig H (1961) Isotopic variation in meteoric water. Science 133:1702–1703

C.R.D.A (2012) Exploitation de la nappe profonde en 2011. Annuaires d'exploitation des nappes aquifères de Sfax. Commissariat Régionale d'Activité Agricole de Sfax, Tunisie

C.R.D.A (2015) Exploitation de la nappe profonde en 2014. Annuaires d'exploitation des nappes aquifères de Sfax. Commissariat Régionale d'Activité Agricole de Sfax, Tunisie

Edmunds WM, Tyler SW (2002) Unsaturated zones as archives of past climates: toward a news proxy for continental regions. J Hydrogeol 10:216–228

Edmunds WM, Guendouz AH, Mamou A, Moula A, Shand P, Zouari K (2003) Groundwater evolution in the Continental Intercalaire aquifer of southern Algeria and Tunisia: trace element and isotopic indicators. Appl Geochem 18:805–822

El Batti, Andrieux (1977) Etude hydrogéologique et géophysique du secteur Wadrane. Rapport interne

Fairbanks RG (1989) A 17000 year glacio-eustatic sea level record: influence of glacial melting rates on the Younger Dryas event anddeep-ocean circulation. Nature 342:367–642

Fedrigoni L, Krimissa M, Zouari K, Maliki A, Zuppi GM (2001) Origine de la minéralisation et comportement hydrogéochimique d'une nappe phréatique soumise a` des contraintes naturelles et anthropiques sévères: exemple de la nappe de Djebeniana (Tunisie). Earth Planet Sci Lett 332:665–671

Gassara A, Ben Marzouk A (2009) Hydrogéologie de la nappe semi-profonde de Sfax. Rapport de CRDA de Sfax, Tunisie

Gay D (2004) Fonctionnement et Bilan de Retenues Artificielles en Tunisie: Approche Hydrochimique et Isotopique. PhD Thesis, University of Paris XI, France

Geyh MA (2000) An overview of 14C analysis in the study of the groundwater. Radiocarbon 42(1):99–114

Gonfiantini R (1986) Environmental isotopes in lake studies. In: Fritz P, Ch. Fontes J (eds) Handbook of environmental isotope geochemistry, the terrestrial environment B, vol 2, Amsterdam, pp 13–163

Hajjem A (1980) Etude hydrogéologique de la région de Sidi Abid. Rapport interne. Direction des Ressources en Eaux de Sfax, Tunis

Hchaichi Z (2008) Etude hydrogéologique et géochimique de la nappe intermédiaire de Sfax et sa relation avec le système phréatique du bassin Nord de Sfax. Mémoire de Mastère, Ecole Nationale d`Ingénieurs de Sfax (ENIS), Tunisie

Hchaichi Z, Abid K, Zouari K (2013) Use of hydrochemistry and environmental isotopes for assessment of groundwater resources in the middle aquifer of the Sfax basin (Southern Tunisia). J Carbonates Evaporites. doi:10.1007/s13146-013-0165-2

I.N.M (2011) Données météorologiques. Institut National de la Météorologie de Sfax, Tunisie

Kamel S (2010) Recharge of the plio-quaternary water table aquifer in Tunisian chotts region estimated from stable isotopes. Environ Earth Sci 63:189–199

Kamel S, Younes H, Chkir N, Zouari K (2008) The hydrogeochemical characterization of ground waters in Tunisian Chott's region. Environ Geol 54:843–854

Lis G, Wassenaar LI, Hendry MJ (2008) High-precision laser spectroscopy D/H and 18O/16O measurements of microliter natural water samples. Anal Chem 80:287–293

Ma J, Ding Z, Edmunds WM, Gates JB, Huang T (2009) Limits to recharge of groundwater from Tibetan plateau to the Gobi desert, implications for water management in the mountain front. J Hydrol 364:128–141

Maliki MA (2000) Etude hydrogéologique, hydrochimique et isotopique du système aquifère de Sfax (Tunisie). Thèse Doctorat. Univ. de Tunis II, Tunis

Maliki MA, Krimissa M, Michelot JL, Zouari K (2000) Relation entre nappes superficielles et aquifère profond dans le bassin de Sfax (Tunisie). Earth Planet Sci 331:1–6

Mazor E (1991) Applied chemical and isotopic groundwater hydrology. Open University Press, Buckingham, p 282

Rozanski K, Araguas-Araguas L, Gonfiantini R (1993) Isotopic patters in modern global precipitation. In: Swart PK et al (eds) Climate change in continental isotopic records. Geophysical Monograph Series, vol 78. AGU, Washington DC, pp 1–36

Scanlon BR, Keeze KE, Flint AL, Flint LE, Gaye CB, Edmunds WM, Simmers I (2006) Global synthesis of groundwater recharge in semiarid and arid regions. Hydrol Process 20:3335–3370

Takrouni M, Michelot JL, Maliki A, Zouari K (2003) Relation entre aquifère profond, nappes superficielles et intrusion marine dans le Bassin de Sfax (Tunisie). Hydrol Mediterr Semiarid Regions 278:1–7

Tayech B (1984) Etudes palynologiques dans le Néogène du Cap Bon (Tunisie). Thèse de Doctorat, Univ. Claude Bernard, Lyon I

Taylor CB (1976) IAEA isotope hydrology laboratory, technical procedure note no. 19. International Atomic Energy Agency, Vienna

Tijani MN, Loehnert EP, Uma KO (1996) Origin of saline groundwaters in the Ogoja area, Lower Benue Trough, Nigeria. J Afr Earth Sci 23:237–252

Trabelsi R (2008) Contribution à l'etude de la salinisation des nappes phrèatiques côtières. Cas du système de Sfax-Mahdia. Thèse Doctorat, Faculté des Sciences de Sfax, Tunisia, p 175

Trabelsi R, Zaïri M, Smida H, Ben Dhia H (2005) Salinisation des nappes côtières: cas de la nappe nord du Sahel de Sfax, Tunisie. C R Acad Sci Paris 337:515–524

Trabelsi N, Zaïri M, Triki I, Ben Dhia H (2006) Contribution d'un SIG à la gestion des ressources en eaux souterraines: Cas de la nappe profonde de Sfax, Tunisie, Conférence francophone ESRI. Issy les moulineaux 2006:1–7

Yangui H, Zouari K, Trabelsi R, Rozanski K (2010) Recharge mode and mineralization of groundwater in a semi-arid region: Sidi Bouzid Plain (central Tunisia). J Environ Earth Sci 63:969–979

Zebidi H (1989) Hydrogéologie de la nappe profonde de Sfax. Rapport interne. DGRE de Tunis

Zouari K, Chkir N, Ouda B (2003) Palaeoclimatic variation in Maknassi basin (central Tunisia) during Holocene period using pluridisciplinary approaches. IAEA, Vienna, CN 80-28
Acknowledgments
The authors would like to thank the technical staff of the Laboratory of Radio-Analyses and Environment at the National Engineering School of Sfax (ENIS) for the chemical and isotopic analyses. Special thanks are also given to the staff members of the Regional Direction of Agriculture and Water Resources of Sfax (South Tunisia) for assistance with the field work.
About this article
Cite this article
Ayadi, R., Zouari, K., Saibi, H. et al. Determination of the origins and recharge rates of the Sfax aquifer system (southeastern Tunisia) using isotope tracers. Environ Earth Sci 75, 636 (2016). https://doi.org/10.1007/s12665-016-5445-4
Received:

Accepted:

Published:

DOI: https://doi.org/10.1007/s12665-016-5445-4
Keywords
Isotopes

Aquifer

Leakage

Recharge

Balance

Sfax