Abstract
New approaches that are cost effective and sustainable are needed globally to better manage flood and drought impacts. Recharging monsoon floodwaters in upstream areas to boost small-scale groundwater irrigation and to protect flood-affected urbanized areas downstream is proposed as one such approach and has been termed 'Underground Taming of Floods for Irrigation' (UTFI). Prospective locations for implementing UTFI are identified using a GIS-based method specifically developed here. There are three main steps to the method: (1) pre-feasibility analysis, (2) spatial data processing, and (3) index determination to rank prospects for establishing UTFI interventions. The methodology was applied to watersheds within the Ganges River Basin in South Asia. Data on the drainage density, flood frequency, flood mortality and distribution, extreme rainfall events, landuse, population density, geology, slope, soil, groundwater level, aquifer transmissivity and economic loss due to floods were used. The ranking and overlay index method adopted in arriving at the final suitability map showed that within the 43 % of the Ganges that is routinely subjected to floods, 68 % of this area had either 'very high' or 'high' suitability. Most important parameters identified from the sensitivity analysis were flood mortality and distribution, flood frequency and extent, drainage density and groundwater level. Suitability index values were generated for watersheds of different sizes which showed that smaller watersheds (100 km2 or less) provide better results but that up to 1000 km2 was considered acceptable. These results can be useful for prioritizing areas to apply integrated flood and drought management measures. The approach developed here may be directly transferable to other river basins.
Access options
Buy single article
Instant access to the full article PDF.
US$ 39.95
Tax calculation will be finalised during checkout.
Subscribe to journal
Immediate online access to all issues from 2019. Subscription will auto renew annually.
US$ 119
Tax calculation will be finalised during checkout.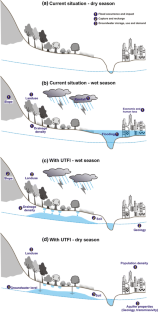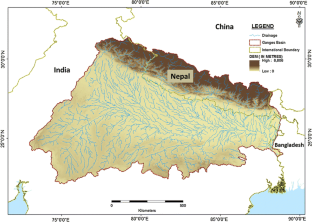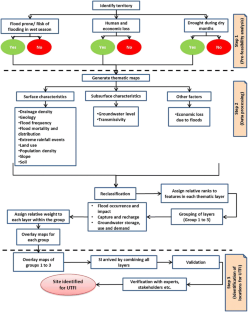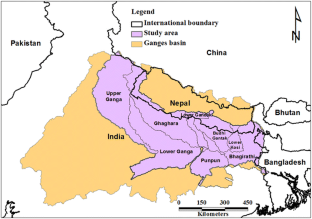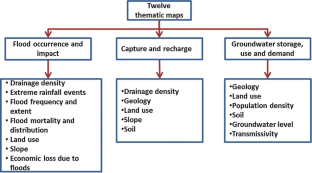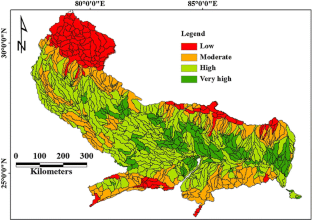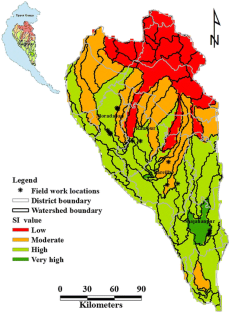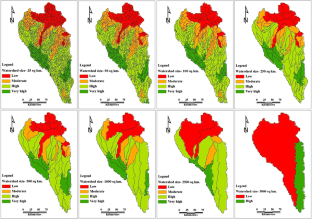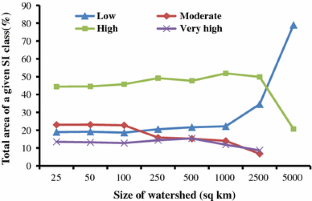 References
Adiat KAN, Nawawi MNM, Abdullah K (2012) Assessing the accuracy of GIS-based elementary multi criteria decision analysis as a spatial prediction tool—a case of predicting potential zones of sustainable groundwater resources. J Hydrol 440–441:75–89

Amarnath G, Ameer M, Aggarwal P, Smakhtin V (2012) Detecting spatio-temporal changes in the extent of seasonal and annual flooding in South Asia using multi-resolution satellite data. In: Civco DL, Ehlers M, Habib S, Maltese A, Messinger D, Michel U, Nikolakopoulos KG, Schulz K (eds) Earth resources and environmental remote sensing/GIS applications III: proceedings of the international society for optics and photonics (SPIE), Vol 8538, Amsterdam, Netherland, 1–6 July 2012. International Society for Optics and Photonics (SPIE), Bellingham, p 11

Aon Benfield (2013) Natural disasters caused $85bn global economic loss during first half of 2013, according to impact forecasting catastrophe update. News update, http://aon.mediaroom.com/2013-07-24-Natural-disasters-caused-85bn-global-economic-loss-during-first-half-of-2013-according-to-Impact-Forecasting-catastrophe-update. Accessed on 13th July 2014

Aon Benfield (2014) Annual global climate and catastrophe report, impact forecasting—2013, impact forecasting—Catastrophe Model Development Center of excellence, Aon Benfield, Illinois, p 66. http://thoughtleadership.aonbenfield.com/Documents/20140113_ab_if_annual_climate_catastrophe_report.pdf. Accessed on 10th July 2014

Babiker IS, Mohamed MAA, Hiyama T, Kato K (2005) A GIS-based DRASTIC model for assessing aquifer vulnerability in Kakamigahara heights, Gifu Prefecture, central Japan. Sci Total Environ 345:127–140

Banerjee M, Bhattacharya D, Singh HN, Shanker D (2010) Evaluation of hydrogeology of the lower son valley based on remote sensing data. J Geogr Inf Syst 2:219–226

Brown CJ, Weiss R, Verrastro R, Schubert S (2004) Development of an aquifer, storage and recovery (ASR) site selection suitability index in support of the comprehensive everglades restoration project. J Environ Hydrol 13(20):1–13

Burrough PA (1986) Principles of geographical information systems for land resources assessment. Oxford University Press, Oxford

Center for Hazards and Risk Research (CHRR)—Center for International Earth Science Information Network (CIESIN) Columbia University, and International Bank for Reconstruction and Development (IBRD)—The World Bank (WB) (2005) Global flood mortality risks and distribution/global flood proportional economic loss risk deciles/global drought hazard frequency and distribution. NASA Socioeconomic Data and Applications Center (SEDAC), Palisades. http://sedac.ciesin.columbia.edu/data/sets/browse?facets=theme:hazards Accessed on 10th July 2014

Chenini I, Mammou AB (2010) Groundwater recharge study in arid region: an approach using GIS techniques and numerical modelling. Comput Geosci 36(6):801–817

Chusanatus S, Uppasit S, Munyou S, Intarasut T, Pholkern K, Srisuk K (2010) Application of GIS techniques for determining suitable areas for managed aquifer recharge in the lower Ping-Yom river basin, Thailand. In: Zuber A, Kania J, Kmiecik E (eds) Proceedings of the 38th IAH Congress "groundwater quality sustainability", Krakow, 12–17 September 2010, extended abstract no. 302, pp 1961–1972

Dar IA, Sankar K, Mithas AD (2011) Deciphering groundwater potential zones in hard rock terrain using geospatial technology. Environ Monit Assess 173:597–610

Dheeravath V, Thenkabail PS, Chandrakantha G, Noojipady P, Reddy GPO, Biradar CM, Gumma MK, Velpuri M (2010) Irrigated areas of India derived using MODIS 500 m time series for the years 2001–2003. ISPRS J Photogramm Remote Sens 65(1):42–59

Forkuor G, Pavelic P, Asare E, Obuobie E (2013) Modelling potential areas of groundwater development for agriculture in northern Ghana using GIS/RS. Hydrol Sci J 58(2):437–451

Gaur S, Chahar BR, Graillot D (2011) Combined use of groundwater modeling and potential zone analysis for management of groundwater. Int J Appl Earth Obs Geoinf 13(1):127–139

GRBMP (2011) Trends in agriculture and agricultural practices in Ganga Basin: an overview, Ganges river Basin management plan, IIT Kanpur, report code: 015_GBP_IIT_SEC_ANL_01_Ver 1_Dec 2011. http://gangapedia.iitk.ac.in/sites/default/files/Second%20Set%20of%20Report/015_SEC_Overall.pdf. Accessed on 14th July 2014

Gumma MK, Pavelic P (2013) Mapping of groundwater potential zones across Ghana using remote sensing, geographic information systems, and spatial modelling. Environ Monit Assess 185(4):3561–3579

Indian Institute of Technology-Roorkee (2009) Status paper on river Ganga, state of environment and water quality, National River Conservation Directorate, Ministry Of Environment And Forests, Alternate Hydro Energy Centre, Indian Institute of Technology-Roorkee, p 31. http://moef.nic.in/downloads/public-information/Status%20Paper%20-Ganga.pdf. Accessed on 10th July 2014

Islam MMd, Sado K (2000) Flood hazard assessment in Bangladesh using NOAA AVHRR data with geographical information system. Hydrol Process 14(3):605–620

Jha MK, Chowdary VM, Chowdhury A (2010) Groundwater assessment in Salboni Block, West Bengal (India) using remote sensing, geographical information system and multi-criteria decision analysis techniques. Hydrogeol J 18(7):1713–1728

Lee S, Kim YS, Oh HJ (2012) Application of a weights-of-evidence method and GIS to regional groundwater productivity potential mapping. J Environ Manage 96:91–105

Lin ML, Chen CW (2011) Using GIS-based spatial geocomputation from remotely sensed data for drought risk-sensitive assessment. Int J Innov Comput Inf Control 7(2):657–668

Lodwick WA, Monson W, Svoboda L (1990) Attribute error and sensitivity analysis of map operations in geographical information systems: suitability analysis. Int J Geogr Inf Syst 4(4):413–428

Machiwal D, Jha MK, Mal BC (2011) Assessment of groundwater potential in a semi-arid region of India using remote sensing, GIS and MCDM techniques. Water Resour Manage 25(5):1359–1386

Madrucci V, Taioli F, de Araújo CC (2008) Groundwater favourability map using GIS multi criteria data analysis on crystalline terrain, Sao Paulo State, Brazil. J Hydrol 357:153–173

Malekmohammadi B, Mehrian MR, Jafari HR (2012) Site selection for managed aquifer recharge using fuzzy rules: integrating geographical information system (GIS) tools and multi-criteria decision making. Hydrogeol J 20:1393–1405

Manap MA, Nampak H, Pradhan B, Lee S, Sulaiman WNA, Ramli MF (2014) Application of probabilistic-based frequency ratio model in groundwater potential mapping using remote sensing data and GIS. Arab J Geosci 7(2):711–724

Moghaddam DD, Rezaei M, Pourghasemi HR, Pourtaghie ZS, Pradhan B (2013) Groundwater spring potential mapping using bivariate statistical model and GIS in the Taleghan Watershed, Iran. Arab J Geosci. doi:10.1007/s12517-013-1161-5

Muthuwatta L, Sood A, Sharma B (2014) Model to assess the impacts of external drivers on the hydrology of the Ganges river Basin. In: Castellarin A, Ceola S, Toth E, Montanari A (eds) Evolving water resources systems: understanding, predicting and managing water-society interactions. Proceedings of the 6th IAHS-EGU international symposium on integrated water resources management, Bologna, Italy, 4–6 June 2014. International Association of Hydrological Sciences (IAHS), Wallingford, pp 76–81

Napolitano P, Fabbri AG (1996) Single-parameter sensitivity analysis for aquifer vulnerability assessment using DRASTIC and SINTACS. Proceedings of the Vienna conference on HydroGIS 96: application of geographical information systems in hydrology and water resources management, IAHS Pub. No. 235, 559–566

Odeh T, Rödiger T, Geyer S, Schirmer M (2015) Hydrological modelling of a heterogeneous catchment using an integrated approach of remote sensing, a geographic information system and hydrologic response units: the case study of Wadi Zerka Ma'in catchment area, north east of the Dead Sea. Environ Earth Sci 73:3309–3326

Oh HJ, Lee S (2011) Cross-application used to validate landslide susceptibility maps using a probabilistic model from Korea. Environ Earth Sci 64(2):395–409

Oh HJ, Kim YS, Choi JK, Park E, Lee S (2011) GIS mapping of regional probabilistic groundwater potential in the area of Pohang City, Korea. J Hydrol 399:158–172

Ozdemir A (2011a) GIS-based groundwater spring potential mapping in the Sultan Mountains (Konya, Turkey) using frequency ratio, weights of evidence and logistic regression methods and their comparison. J Hydrol 411:290–308

Ozdemir A (2011b) Using a binary logistic regression method and GIS for evaluating and mapping the groundwater spring potential in the Sultan Mountains (Aksehir, Turkey). J Hydrol 405(1–2):123–136

Pavelic P, Srisuk K, Saraphirom P, Nadee S, Pholkern K, Chusanathas S, Munyou S, Tangsutthinon T, Intarasut T, Smakhtin V (2012) Balancing-out floods and droughts: opportunities to utilize floodwater harvesting and groundwater storage for agricultural development in Thailand. J Hydrol 470–471:55–64

Pletcher K (ed) (2011) The geography of India: sacred and historic places. Britannica Educational Publication, New York

Pradhan B (2009) Groundwater potential zonation for basaltic watersheds using satellite remote sensing data and GIS techniques. Cent Eur J Geosci 1(1):120–129

Prasad RK, Mondal NC, Banerjee P, Nandakumar MV, Singh VS (2008) Deciphering potential groundwater zone in hard rock through the application of GIS. Environ Geol 55:467–475

Rahman A (2008) A GIS based DRASTIC model for assessing groundwater vulnerability in shallow aquifer in Aligarh, India. Appl Geogr 28:32–53

Rahman MA, Rusteberg B, Gogu RC, Ferreira JPL, Sauter M (2012) A new spatial multi-criteria decision support tool for site selection for implementation of managed aquifer recharge. J Environ Manage 99:61–75

Rahman MA, Rusteberg B, Uddin MS, Lutz A, Saada MA, Sauter M (2013) An integrated study of spatial multicriteria analysis and mathematical modelling for managed aquifer recharge site suitability mapping and site ranking at Northern Gaza coastal aquifer. J Environ Manage 124:25–39

Rao NS (2006) Groundwater potential index in a crystalline terrain using remote sensing data. Environ Geol 50:1067–1076

Rao YS, Jugran DK (2004) Delineation of groundwater potential zones and zones of groundwater quality suitable for domestic purposes using remote sensing and GIS. Hydrol Sci J 48(5):821–833

Rashid M, Lone MA, Ahmed S (2012) Integrating geospatial and ground geophysical information as guidelines for groundwater potential zones in hard rock terrains of south India. Environ Monit Assess 184(8):4829–4839

Sener E, Davraz A, Ozcelik M (2005) An integration of GIS and remote sensing in groundwater investigations: a case study in Burdur, Turkey. Hydrogeol J 13:826–834

Singh PK, Kumar S, Singh UC (2011) Groundwater resource evaluation in the Gwalior area, India, using satellite data: an integrated geomorphological and geophysical approach. Hydrogeol J 19(7):1421–1429

Sreedevi PD, Srinivasulu S, Raju KK (2001) Hydrogeomorphological and groundwater prospects of the Pageru river basin by using remote sensing data. Environ Geol 40:1088–1094

Srisuk K (2010) Hydrogeological mapping of managed aquifer recharge in the lower Yom River Basin, Thailand. In: Zuber A, Kania J, Kmiecik E (eds) Proceedings of the 38th IAH congress "groundwater quality sustainability", Krakow, 12–17 September 2010, extended abstract no. 357, pp 1295–1301

The Energy and Resources Institute (2011) Environmental and social management framework (ESMF), volume I—environmental and social analysis. http://www.moef.nic.in/downloads/public-information/Draft%20ESA%20Volume%20I.pdf. Accessed on 14th July 2014

Thenkabail PS, Gamage MSDN, Smakhtin VU (2004) The use of remote-sensing data for drought assessment and monitoring in Southwest Asia. International Water Management Institute Research Report 85, Colombo, Sri Lanka, p 25

Tran P, Shaw R, Chantry G, Norton J (2009) GIS and local knowledge in disaster management: a case study of flood risk mapping in Viet Nam. Disasters 33(1):152–169
Acknowledgments
This work was made possible through the support of the CGIAR Research Programs on Water, Land and Ecosystems (WLE) and Climate Change, Agriculture and Food Security (CCAFS). We wish to thank Mr. Touleelor Sotoukee from the IWMI, Vientiane office for GIS support, Mr. Sathis Babu, IWMI, Hyderabad office for his aid in field work and Ms. Nishadi Eriyagama and Dr. Vladimir Smakhtin, IWMI, Colombo office for constructive comments that helped to improve the manuscript.
About this article
Cite this article
Brindha, K., Pavelic, P. Identifying priority watersheds to mitigate flood and drought impacts by novel conjunctive water use management. Environ Earth Sci 75, 399 (2016). https://doi.org/10.1007/s12665-015-4989-z
Received:

Accepted:

Published:
Keywords
UTFI

Floods and droughts

Groundwater recharge

Groundwater management

Ganges river Basin