Abstract
Century-old tailings at the Beaver Mine site, Cobalt, Ontario, Canada are migrating downstream to previously uncontaminated Kirk Lake, resulting in metal dispersal into the environment. These metal-rich tailings have high arsenic concentrations and exceed the Ontario regulatory standards for arsenic in soil (18 mg/kg) by up to 240 times. Arsenic concentrations in surface water exposed to the tailings and waste rock were found to be up to 268 times the acceptable limit of 5 µg/L for the protection of aquatic life. At the Beaver Mine Site, where the tailings have sat largely undisturbed for the last century, prevailing redox conditions play an important role in the behavior of arsenic and other metals. Surface enrichment of metals was evident in tailings located above the water table and at both the Beaver Mine and Kirk Lake sites. Arsenic enrichment was evident in clay layers within the tailings. A principal component analysis and an analysis of similarity suggest that the migration process did not significantly alter the metal composition of the tailings (ANOSIM p = 0.21), likely because the migration process is relatively rapid compared to leaching mechanisms that would alter metal composition during migration. Our results indicate that the transportation of these century-old, metal-rich, tailings is having minimal impact on reducing their metal concentrations and as these largely unmanaged tailings continue to be transported through the environment they pose a risk to previously uncontaminated lake and stream ecosystems.
Access options
Buy single article
Instant access to the full article PDF.
USD 39.95
Price excludes VAT (USA)
Tax calculation will be finalised during checkout.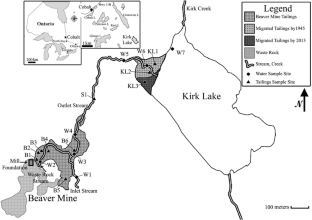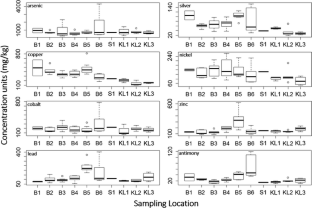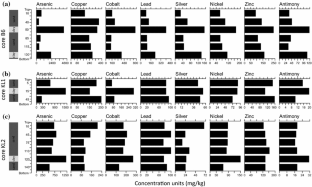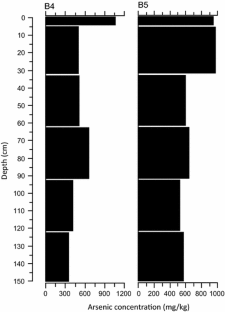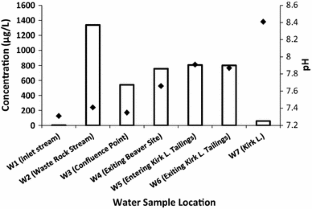 References
Anderson P (1993) Cobalt mining camp tailings inventory, Cobalt, Ontario. Unpublished Report. Ministry of Northern Development and Mines, p 196

Casiot C, Ujevic M, Munoz M, Seidel JL, Elbaz-Poulichet F (2007) Antimony and arsenic mobility in a creek draining an antimony mine abandoned 85 years ago (upper Orb basin, France). Appl Geochem 22:788–798

Dumaresq CG (1993) The occurrence of arsenic and heavy metal contamination from natural and anthropogenic sources in the Cobalt area of Ontario. M.Sc. Thesis, Carleton University, Ottawa, Canada

Eapaea MP, Parry D, Noller B (2007) Dynamics of arsenic in the mining sites of Pine Creek Geosyncline, Northern Australia. Sci Total Environ 379:201–215

Environment Canada (2014) Canadian environmental quality guidelines (CEGQ) under the Canadian Environmental Protection Act: water quality guidelines for the protection of aquatic life. Prepared by Environment Canada

Foli G, Nude PM, Amedjoe CG, Kyei L (2012) Arsenic leaching in mill tailings at the AngloGold Ashanit Obusi Mine, Ghana: management of contamination in the related water environment. West Afr J Appl Ecol 20(7):11–23

Gaskova OL, Bessonova EP, Bortnikova SB (2003) Leaching experiments on trace element release from the arsenic bearing tailings of Khuvo-Aksy (Tuba Republic, Russia). Appl Geochem 18:1361–1371

Hawley J (1980) The chemical characteristics of mineral tailings in the Province of Ontario, 1979. Ontario Ministry of the Environment

Health Canada (2013) Guidelines for Canadian drinking water quality—summary table. Prepared by Health Canada

Hiller E, Petrák M, Tóth R, Lalinská-Voleková B, Jurkovič L, Kučerova G, Radková A, Šottnik P, Vozár J (2013) Geochemical and mineralogical characterization of neutral/low sulphide/high carbonate tailings impoundment, Markusovce, eastern Slovakia. Environ Sci Pollut Res 20:7627–7642

Juggins S (2010) C2 version 1.6.7. Software for ecological and palaeoecological analysis and visualization. Department of Geography, University of Newcastle, Newcastle-upon-Tyne

Kim CS, Stack DH, Rytuba JJ (2012) Fluvial transport and surface enrichment of arsenite in semi-arid mining regions: examples from the Mojave Desert, California. J Environ Monit 14:1798–1813

Knight CW (1922) Geology of the mine workings of Cobalt and South Lorrain silver areas. Ontario Department of Mines. 31st Annual report, volume 31, Part 2

Kreidic N, Armiento G, Cibin G, Cinque G, Crovato C, Nardia E, Pacifico R, Cremisini C, Mottana A (2011) An integrated geochemical and mineralogical approach for the evaluation of arsenic mobility in mine soils. J Soils Sediments 11:37–52

Kwong YTJ, Beauchemin S, Hossain MF, Gould WD (2006) Transformation and mobilization of arsenic in the historic Cobalt mining camp, Cobalt, Ontario, Canada. J Geochem Explor 92:133–150

Lim M, Han G, Ahn J, You K, Kim H (2009) Leachability of arsenic and heavy metals from mine tailings of abandoned metal mines. Int J Environ Res Public Health 6:2865–2879

Manning BA, Goldberg S (1997) Adsorption and stability of As(III) at the clay mineral—water interface. Environ Sci Technol 31:2005–2011

Mok W, Wal CM (1990) Distribution and mobilization of arsenic and antimony species in the Coeur-d'Alene River, Idaho. Environ Sci Technol 24:102–108

NEMI (2015) National Environmental Methods Index. https://www.nemi.gov/home/

Oksanen J, Blanchet FG, Kindt R, Legendre P, Minchin PR, O'Hara RB, Simpson GL, Solymos P, Stevens MHH, Wagner H (2015) vegan: Community Ecology Package. R package version 2.2-1. http://CRAN.R-project.org/package=vegan

Ontario Ministry of the Environment (2011a) Final report: Cobalt-Coleman mining camp soil assessment. Prepared by Ontario Ministry of the Environment

Ontario Ministry of the Environment (2011b) Soil, ground water and sediment standards for use under part XV. I of the Environmental Protection Act. Prepared by the Ontario Ministry of the Environment

Paktunc D (2013) Mobilization of arsenic from mine tailings through reductive dissolution of goethite influenced by organic cover. Appl Geochem 36:49–56

Percival JB, Kwong YTJ, Dumaresq CG, Michel FA (2004) Transport and attenuation of arsenic, cobalt, and nickel in an alkaline environment (Cobalt, Ontario). Geological Survey of Canada Open File 1680

Reid FD, Denny JJ, Hutchison RH (1922) Milling and metallurgical practice in treatment of silver ores at Cobalt. Ontario Department of Mines. 31st Annual report, volume 31 Part 2

R Core Team (2015) R: a language and environment for statistical computing. R Foundation for Statistical Computing, Vienna, Austria. http://www.R-project.org/

Vocke RW, Sears KL, O'Toole JJ, Wildman RB (1980) Growth response of selected freshwater algae to trace elements and scrubber ash slurry generated by coal-fired power plants. Water Res 14:141–150
Acknowledgments
This paper was improved by the helpful comments from the editor and two anonymous reviewers. The authors have also benefited from the wealth of information and local knowledge collected by Carleton University's Environmental Science Cobalt Field course. D.D.S and J.C.V are supported by Carleton University and an NSERC Discovery Grant to J.C.V.
Ethics declarations
Conflict of interest
The authors declare no conflicts of interests for this study.
About this article
Cite this article
Sprague, D.D., Michel, F.A. & Vermaire, J.C. The effects of migration on ca. 100-year-old arsenic-rich mine tailings in Cobalt, Ontario, Canada. Environ Earth Sci 75, 405 (2016). https://doi.org/10.1007/s12665-015-4898-1
Received:

Accepted:

Published:

DOI: https://doi.org/10.1007/s12665-015-4898-1
Keywords
Tailings

Arsenic

Cobalt

Legacy contamination

Tailings geochemistry

Tailings migration