Abstract
This paper focuses on the unsaturated zone and epikarst of karst aquifers in order to identify the hydrogeological behavior of these important but poorly understood parts of karst systems. A high-resolution monitoring of stalactite drips and artificial tracer test experiment in the vadose zone allows to draw a conceptual model for the local recharge processes through the unsaturated zone of karst aquifers. Those aquifers represent major groundwater resources in Belgium. Seven years of high-resolution stalactite dripping were recorded on 3 sites of the Han-sur-Lesse cave system (South of Belgium). The three sites show very different discharge variations but a similar behavior from one year to another. Analysis and comparison of the dripping cycles over 7 years highlight the vadose zone behavior and its relationship with surface infiltration (water excess). For each site, a water excess threshold at the beginning of the winter has been identified. This threshold is needed to refill the vadose zone/epikarst capacity before the dripping. The value of the threshold is relatively constant for each site during the 7 years, indicating the regularity of the capacitive system of the vadose zone. Unknown features have also been observed with discharge decrease during high water excess periods, linked to the drainage processes of epikarst. Finally, artificial tracer test reveals the duality of the unsaturated zone behavior, with fast transmissive pathways (velocity of >6 m/h) related to a highly capacitive system (>150 days of tracer restitution).
Access options
Buy single article
Instant access to the full article PDF.
USD 39.95
Price includes VAT (USA)
Tax calculation will be finalised during checkout.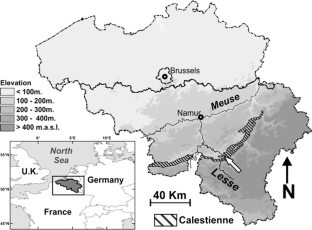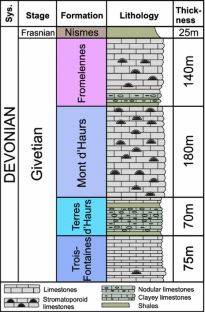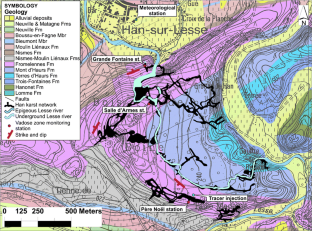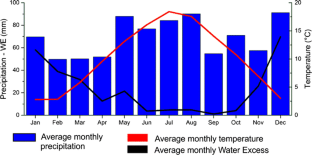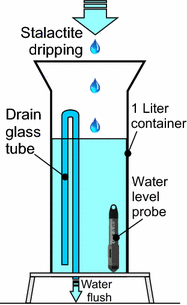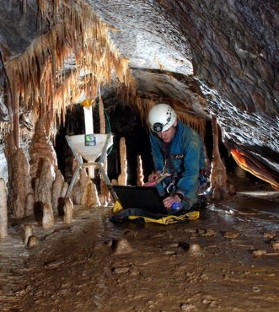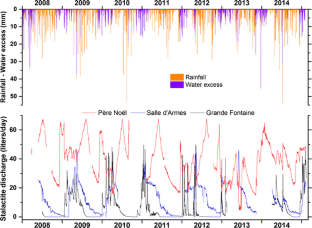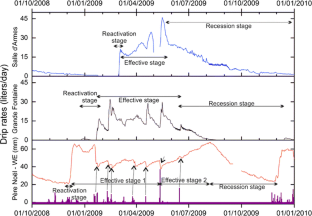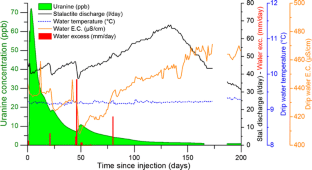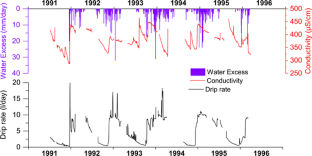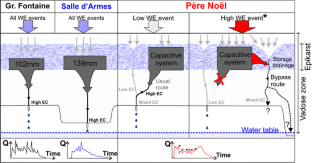 References
Allen RG, Pereira LS, Raes D, Smith M (1998) Crop evapotranspiration—guidelines for computing crop water requirements—FAO irrigation and drainage paper 56. FAO, Rome

Arbel Y, Greenbaum N, Lange J, Inbar M (2010) Infiltration processes and flow rates in developed karst vadose zone using tracers in cave drips. Earth Surf Proc Land 35:1682–1693

Bakalowicz M (1995) The infiltration zone of karst aquifers. Investigation methods, structure and behavior. Hydrogéologie 4:3–21

Bakalowicz M (2012) Epikarst. In: White W, Culver D (eds) Encyclopedia of Caves, 2nd edn. Academic press, San Diego, pp 284–288

Bakalowicz M (2013) Epikarst processes. In: Shroder J, Frumkin A (ed) Treatise on geomorphology, vol 6. Academic Press, San Diego, Karst Geomorphology, pp 164–171

Bakalowicz M, Blavoux B, Mangin A (1974) Apport du traçage isotopique naturel à la connaissance du fonctionnement d'un système karstique. J Hydrol 23:141–158

Baker A, Brunsdon C (2003) Non-linearities in drip water hydrology: an example from Stump Cross Caverns, Yorkshire. J Hydrol 277:151–163

Blockmans S, Dumoulin V (2013) Houyet—Han-sur-Lesse 59/1-2. Carte géologique de Wallonie. In: Ministère de la Région Wallonne (ed) Service Public de Wallonie—Direction générale opérationnelle Agriculture, Ressources naturelles et Environnement, Namur

Bonniver I (2011) Etude hydrogéologique et dimensionnement par modélisation du «système—traçage» du réseau karstique de Han-sur-Lesse (Massif de Boine—Belgique). Université de Namur, Thèse de doctorat en Sciences

Bottrell SH, Atkinson TC (1992) Tracer study of flow and storage in the unsaturated zone of a karstic limestone aquifer. In: Höltz H, Werner A (eds) Tracer hydrology. Balkema, Rotterdam, pp 207–211

Bultynck P, Dejonghe L (2001) Devonian lithostratigraphic units (Belgium). In: Bultynck P, Dejonghe L (eds), Guide to a revisited lithostratigraphic scale of Belgium, Geol Belg 4 (1–2), pp 39–69

Ford D, Williams P (2007) Karst hydrogeology and geomorphology. Wiley, London

Genty D, Deflandre G (1998) Drip flow variation under a stalactite of the Père Noël cave (Belgium). Evidence of seasonal variation and air pressure constraints. J Hydrol 211:208–232

Gunn J (1977) A model of the drainage system of a polygonal karst depression in the Waitomo area, North Island, New Zealand. In: Proceedings 7th International Speleology Congress, Sheffield, Br Cave Research Association, pp 225–229

Hartmann A, Goldscheider N, Wagener T, Lange J, Weiler M (2014) Karst water resources in a changing world: Review of hydrological modeling approaches. Rev Geophys 52(3):218–242

Jeannin PY, Groves C, Häuselaman P (2007) Speleological investigations. In: Goldscheider N, Drew D (eds) Methods in Karst Hydrogeology. Taylor and Francis, London, pp 25–44

Jones WK, Culver D, Herman JS (2004) Epikarst. Special Publication 9. Karst Water Institute, Charles Town

Klimchouk AB (2004) Towards defining, delimiting and classifying epikarst: Its origin, processes and variants of geomorphic evolution. In: Jones WK, Culver D, Herman JS (eds) Epikarst. Special Publication 9. Karst Water Institute, pp 23–35

Kogovsek J (1997) Water tracing test in vadose zone. In: Kranjc YA (ed) Tracer Hydrology 97. Balkema, Rotterdam, pp 167–172

Kogovsek J (2010) Characteristics of percolation through karst vadose zone. ZRC Publishing, Postojna-Ljubljana

Kogovsek J, Petric M (2014) Solute transport processes in a karst vadose zone characterized by long-term tracer tests (the cave system of Postojska Jama, Slovenia). J Hydrol 519:1205–1213

Mangin A (1975) Contribution à l'étude hydrodynamique des aquifères karstiques. Doctorat ès Sciences naturelles, Université de Dijon. In: Ann. Spéléol 29 (3):283–332; (4):795–601; 30 (1):21–124

Mangin A (1994) Karst hydrogeology. In: Gibert J, Danielopol DL, Stanford J (eds) Groundwater ecology. Academic Press, San Diego, pp 43–67

Markowska M, Baker A, Treble PC, Andersen MS, Hankin S, Jex CN, Tadros CV, Roach R (2015) Unsaturated zone hydrology and cave drip discharge water response: implications for speleothem paleoclimate record variability. J Hydrol. doi:10.1016/j.jhydrol.2014.12.044

Quinif Y, Vandycke S (2001) Les phénomènes karstiques de la région de Han-sur-Lesse (Belgique). Bull Inf Bass Paris 38(1):6–19

Rouch R (1968) Contribution à la connaissance des Harpacticides hypogés (Crustacés, Copépodes). Ann Spéléol 23(1):5–167

Schnegg PA (2002) An inexpensive field fluorometer for hydrogeological tracer tests with three tracers and turbidity measurement. In: Bocanegra E, Martinez D, Massone H (eds) Groundwater and human development, pp 1484–1488

Schudel B, Biaggi D, Dervey T, Kozel R, Müller I, Ross JH, Schindler U (2002) Application of artificial tracers in hydrogeology—Guideline. Rapp OFEG, Sér Géol 3

Service Public de Wallonie, Direction Générale opérationnelle—agriculture ressources naturelles et développement (2014) Etat des nappes d'eau souterraines de la Wallonie, Mars 2014 (Treizième année). Direction de la coordination des données, Direction des Eaux Souterraines

Sheffer NA, Cohen M, Morin E, Grodek T, Gimburg A, Magal E, Gvirtzman H, Neid M, Isele D, Frumkin A (2011) Integrated cave drip monitoring for epikarst recharge estimation in a dry Mediterranean area, Sif Cave, Israel. Hydrol Process 25:2837–2845

Smart P, Friederich H (1987) Water movement and storage in the unsaturated zone of a maturely karstified carbonate aquifer, Mendip Hills, England. In: Proceeding of the environmental problems in karst terranes and their solutions conference, USA, pp 57–87

Thornthwaite CW (1948) An approach toward a rational classification of climate. Geogr Rev 38(1):55–94

Van Rampelbergh M, Verheyden S, Allan M, Quinif Y, Keppens E, Claeys P (2014) Monitoring of a fast-growing speleothem site from the Han-sur-Lesse cave, Belgium, indicates equilibrium deposition of the seasonal δ18O and δ13C signals in the calcite. Clim Past 10:1871–1885

Verheyden S, Baele JM, Keppens E, Genty D, Cattani O, Hai C, Edwards L, Hucai Z, Van Strijdonck M, Quinif Y (2006) The Proserpine stalagmite (Han-sur-Lesse cave, Belgium): preliminary environmental interpretation o the last 1000 years as recorded in a layered speleothem. Geol Belg 9:245–256

Verheyden S, Genty D, Deflandre G, Quinif Y, Keppens E (2008) Monitoring climatological, hydrological and geochemical parameters in the Pere Noel cave (Belgium): implications for the interpretation of speleothem isotopic and geochemical timeseries. Int J Speleol 37:221–234

Williams PW (1983) The role of the subcutaneous zone in karst hydrology. J Hydrol 61:45–67

Williams PW (2008) The role of epikarst in karst and cave hydrogeology: a review. Int J Speleol 37(1):1–10
Acknowledgments
This research was made possible by a grant of the Fond National de la Recherche Scientifique—FNRS (Karst Aquifer ReseArch by Geophysics 2013–2017). We thank M. Vandiepenbeeck and S. Pinnock of the Royal Meteorological Institute (RMI) for the meteorological data. Thanks are also due to the Domaine des Grottes de Han for the access to the monitoring stations, and we are particularly grateful to G. Deflandre for the Père Noël cave station access. Finally, we gratefully acknowledge the constructive comments of the two anonymous reviewers who help to improve this manuscript.
About this article
Cite this article
Poulain, A., Rochez, G., Bonniver, I. et al. Stalactite drip-water monitoring and tracer tests approach to assess hydrogeologic behavior of karst vadose zone: case study of Han-sur-Lesse (Belgium). Environ Earth Sci 74, 7685–7697 (2015). https://doi.org/10.1007/s12665-015-4696-9
Received:

Accepted:

Published:

Issue Date:
Keywords
Unsaturated zone

Karst

Vadose zone

Epikarst

Tracer test

Stalactite drips