Abstract
The alluvial aquifer underlying the city of Douala comprises shallow Quaternary deposits where groundwater is the main source for domestic and drinking purposes. Shallow groundwater in the area show signs of acidification with average pH range of 3.8–6.8. Long-term groundwater chemistry data (1998–2013), hydrogeochemical and R mode factor analysis were used to establish the acidification process of shallow groundwater and also determine possible origin and implications for water quality and use in the area. Twenty-six groundwater sample points, three streams and three rain sample points were studied seasonally in the 2006–2008 and the 2010–2013 study periods. The data were compared with result of a study, 7 years earlier (1998–1999). The results show evidence of acidification manifested by depletion of HCO3, a decrease in the pH and increase in SO4 and NO3 concentrations of shallow groundwater. Average groundwater pH range is 3.94–7.70 (1998–1999), 3.8–6.91 (2006–2008), and 3.7–6.8 (2010–2013). Only approximately 16 % (1998–1999), 14 % (2006–2008) and 11.11 % (2010–2013) of water samples fall within the range of pH (6.5–8.5) for potable water according to WHO (1993). The alkalinity/acid neutralizing capacity of the shallow groundwater has decreased significantly coupled with increase in the number of zero alkalinities recorded in the 2010–2013. The shallow groundwater is generally undersaturated with common carbonate minerals (calcite, dolomite), therefore providing insufficient acid buffer. Principal component analysis in combination with hydrogeochemical studies revealed that four main factors are responsible for the groundwater chemistry and acidity: (1) acid atmospheric deposition, (2) anthropogenic activities (industrial effluent discharges and acid spill, (3) chemical weathering, and (4) coastal atmospheric deposition/cation exchange. In general, the shallow groundwater is not suitable for drinking and domestic purposes with respect to the low pH and elevated nitrate concentration. In view of the implications such as increase in corrosion and increased mobilization of toxic elements (e.g. Al, Pb, Cu, Zn, Mn) as well as their possible harmful effect on health, it is recommended that the causes, rate of acidification and the mobility of trace elements be investigated with more details.
Access options
Buy single article
Instant access to the full article PDF.
USD 39.95
Price includes VAT (USA)
Tax calculation will be finalised during checkout.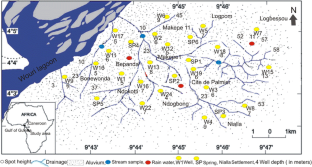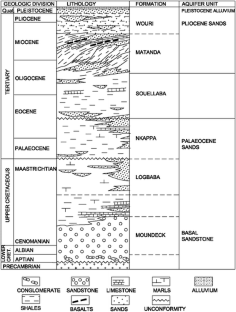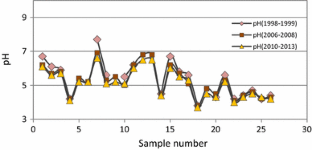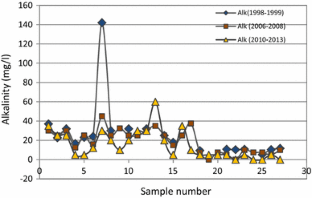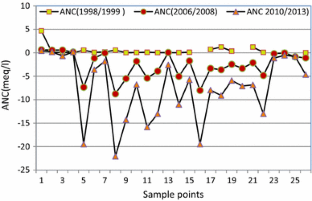 References
Ako AA, Shimada J, Hosono T, Kagabu M, Ayuk AR, Nkeng EJ, Takem GE, Takounjou ALF (2012) Spring water quality and usability in the Mount Cameroon area revealed by hydrogeochemistry. Environ Geochem Health 34:615–639

APHA/AWWA/WEF (1998) Standard methods for the examination of water and waste water, 20th edn. American Public Health Association, American Water Works Association and Water Environment Federation Publication, Washington, p 1220

Appelo CAJ, Postma D (1999) Geochemistry, groundwater and pollution. A.A. Balkema, Rotterdam, p 536

Appleyard S, Cook T (2008) Reassessing the management of groundwater use from sandy aquifers: acidification and base cation depletion exacerbated by drought and groundwater withdrawal on the Gnangara Mound, Western Australia. Hydrogeol J 17(3):579–588

Appleyard S, Wong S, Willis JB, Angeloni J, Watkins R (2004) Groundwater acidification caused by urban development in Perth, Western Australia: source distribution and implication for management. Aust J Soil Res 42:579–585

Asaah VA, Abimbola AF, Suh CE (2006) Heavy metal concentration and distribution in surface soils of the Bassa industrial zone 1 Douala Cameroon. Arab J Sci Eng 31(2A):147–158

Avila A, Alarcon M (1999) Relationship between precipitation chemistry and meteorological situations at a rural site in NE Spain. Atmos Environ 33:1663–1667

Berner EK, Berner RA (1987) The global water cycle. Prentice-Hall, Englewood Cliffs

Black CA (ed) (1965) Method of soil analysis. Part 2. Chemical and microbiological properties. American Society of Agronomy Inc. Publisher, Madison, p 1572

Bromssen von U (1989) Acidification trends in Swedish ground waters. Report 3576, National Swedish Environmental Protection Board, Solna

Cai M (2010) Long-term acid deposition effects on soil and water chemistry in the Noland Divide Watershed, Great Smoky Mountains National Park, USA. PhD dissertation, University of Tennessee

Campbell DH, Muths E, Turk JT, Corn PS (2004) Sensitivity to acidification of subalpine ponds and lakes in north-western Colorado. Hydrol Process 18:2817–2834

Christophersen N, Robson A, Neal C, Whitehead PG, Vigerust B, Henriksen A (1990) Evidence for long-term deterioration of stream water chemistry and soil acidification at the Birkenes catchment, southern Norway. J Hydrol 116:63–76

Cloutier V, Lefebvre R, Therrien R, Savard MM (2008) Multivariate statistical analysis of geochemical data as indicative of the hydrogeochemical evolution of groundwater in a sedimentary rock aquifer system. J Hydrol 353:294–313

Cronan CS, Schofield CL (1979) Aluminium leaching response to acid precipitation: effects on high elevation watersheds in the north east. Science 204:204–306

Das R, Das S, Misra V (2005) Chemical composition of rainwater and dust fall at Bhubaneswar in the east coast of India. Atmos Environ 39:5908–5916

Djeuda-Tchapnga HB, Tanawa E, Ngnikam E (2001) L'eau au Cameroun. Presses Universitaires, Yaounde, pp 115–129

Djuikom E, Temgoua E, Jugnia LB, Nola M, Banne M (2010) Pollution bactériologique des puits d'eau utilisés pas les population dans la communautés urbaine de Douala-Cameroon. Int J Biol Chem Sci 3(5):967–978

Dragon K (2006) Application of factor analysis to study contamination of a semi-confined aquifer (Wielkopolska Buried Valley aquifer, Poland). J Hydrol 331:272–279

Dumort JC (1968) Notice explicative sur la feuille de Douala-Quest, vol 69. Direction Mines et de la Geologie du Cameroun, Yaounde, p 56

Edmunds WM, Kinniburgh DJ (1986) The susceptibility of UK groundwaters to acid deposition. J Geol Soc 143:667–672

Edmunds WM, Shand P, Hart P, Ward RS (2003) The natural (baseline) quality of groundwater: a UK pilot study. Sci Total Environ 310:25–35

Fest EPMJ, Temminghoff EJM, Griffioen J, Van Riemsdijk WH (2005) Proton buffering and metal leaching in sandy soils. Environ Sci Technol 39:7901–7908

Fest EPMJ, Temminghoff EJM, Griffioen J, Van Der Grift B, Van Riemsdijk WH (2007) Groundwater chemistry of Al under Dutch sandy soils: effects of land use and depth. Appl Geochem 22:1427–1438

Ford M, Tellam JM, Hughes M (1992) Pollution-related acidification in the urban aquifer, Birmingham, UK. J Hydrol 140:297–312

Gower C, Rowel DL, Nortcliff S, Wild A (1995) Soil acidification: comparison of acid deposition from the atmosphere with inputs from the litter/soil organic layer. Geoderma 66:855–898

Guevart E, Noeske J, Solle J, Essomba J-M, Edjenguele M, Bita A, Mouangue A, Manga B (2006) Determinats du cholera a Douala. Medecin Tropical 66:283–291

Hansen BK, Postma D (1995) Acidification, buffering salt effects in the unsaturated zone of a sandy aquifer, Klosterhede, Denmark. Water Resour Res 31:2795–2809

Harter RD (2002) Acid soils of the tropics. An Echo technical note, ECHO, North Fort Myers. http://www.echonet.org

Henriksen K, Kirkhusmo LA (1982) Acidification of groundwater in Norway. Nord Hydrol 13:183–192

Hultberg H, Wenblad A (1980) Acid groundwater in south western Sweden, pp 220–221. In: Drablos D, Tollam A (eds) Ecological impact of acid precipitation. Proceedings of the international conference Sandefjord, Norway, SNSF project

Kaiser HF (1958) The varimax criteria for analytical rotation in factor analysis. Psychometrika 23(3):187–200

Kjoller C, Postma D, Larsen F (2004) Groundwater acidification and the mobilization of trace metals in a sandy aquifer. Environ Sci Technol 38:2829–2835

Knutsson G (1994) Acidification effects on groundwater-prognosis of the risks for the future. IAHS Publ 222:3–17

Krug EK, Frink CR (1983) Acid rain on acid soil: a new perspective. Sci 22:520–525

Lahermo P (1991) Aspects of acidification of groundwater in Finland. Geol Surv Finl Spec Pap 9:131–139

Liu CW, Lin KH, Kuo YM (2003) Application of factor analysis in the assessment of groundwater quality in a blackfoot disease area in Taiwan. Sci Total Environ 313:77–89

Mafany (1999) Impact of the geology and seawater intrusion on groundwater quality in Douala. M. Sc. thesis, Buea University, p 100

Migliavacca D, Teixeira EC, Wiegand F, Machado A, Sanchez J (2005) Atmospheric precipitation and chemical composition of an urban site, Guaiba hydrographic basin, Brazil. Atmos Environ 39:1829–1844

Ndjama J, Kamgang KBV, Sigha NL, Ekodeck GE, Tita MA (2008) Water supply, sanitation and health risks in Douala, Cameroon. Afr J Environ Sci Technol 2(11):422–429

Olivry JC (1986) Fleuve et riviere du Cameroun. Collection monographies Hydrologiques. MESRE/ORSTOM, Paris

Oyebog SA, Ako AA, Nkeng GE, Suh CE (2012) Hydrogeochemical characteristics of some Cameroon bottled waters, investigated by multivariate statistical analyses. J Geochem Explor 112:118–130

Regnoult JM (1986) Synthese Geologique du Cameroun. Ministere de Mine et de L'energy, Yaounde, p 119

Rosenthal E (1987) Chemical composition of rainfall and groundwater in recharge areas of the Bet Shean-Harod multiple aquifer system, Isreal. J Hydrol 89:329–352

Shrestha S, Kazama F (2007) Assessment of surface water quality using multivariate statistical techniques: a case study of the Fuji river basin. Japan Environ Model Softw 22:464–475

Sigha-Nkamdjou L, Galy-Lacaux C, Pont V, Richard S, Sighomnou D, Lacaux JP (2003) Rainwater chemistry and wet deposition over the equatorial forested ecosystemof Zoetele (Cameroon). J Atmos Chem 46:173–198

SNEC (1988) Rapport technique sur le forages des Massoumbou. Societé Nationale des Eaux du Cameroon

Statlig Program for Forurensningstilsyn (SFT) (1993) Monitoring of long-transported polluted air and precipitation. Annual report, Oslo, SFT report no. 533/93, p 296

Takem GE (2012) Hydeogeochemistry and pollution characteristics of the unconfined urban aquifer of the city of Douala-Cameroon: implications for shallow groundwater management and use. PhD thesis, University of Buea

Takem GE, Chandrasekharam D, Ayonghe SN, Thambidurai P (2010) Pollution characteristics of alluvial groundwater from springs and bore wells in semi-urban informal settlements of Douala, Cameroon, Western Africa. Environ Earth Sci 61:297–298

Tamfu S, Batupe M (1995) Geologic setting, stratigraphy and hydrocarbon habitat of the Douala Basin Cameroon. Natl Hydrocarb J Cameroon 3:6

Vengosh A, Rosenthal E (1994) Saline groundwater in Israel: its bearing on the water crisis in the country. J Hydrol 156(389):430

Wels C, Cornet RJ, Lazerte BD (1990) Groundwater and wetland contribution to stream acidification: an isotopic analysis. Water Resour Res 26(12):2993–3003

World Health Organisation, WHO (1993) Guidelines for drinking water quality. Revision of the 1984 guidelines. Final task group meeting, Geneva, 21–25 Sept 1992
Acknowledgments
This work constitutes part of data generated during the PhD study of the corresponding author, who was supported by a fellowship from the Third World Organization for Women in Science (TWOWS). We thank IITB and the Institute of Geological and Mining Research (IRGM) for providing laboratory and infrastructure facilities.
About this article
Cite this article
Takem, G.E., Kuitcha, D., Ako, A.A. et al. Acidification of shallow groundwater in the unconfined sandy aquifer of the city of Douala, Cameroon, Western Africa: implications for groundwater quality and use. Environ Earth Sci 74, 6831–6846 (2015). https://doi.org/10.1007/s12665-015-4681-3
Received:

Accepted:

Published:

Issue Date:
Keywords
Shallow groundwater acidification

Sandy soils

Acid atmospheric deposition

Principal component analysis

Anthropogenic inputs

Hydrochemistry