Abstract
Indicators of water quality in open coasts, estuaries, and inlets including nutrients, water clarity, and toxicants were investigated in the Andoni River estuary in the eastern Niger Delta of Nigeria using standard methods. DO was generally below 5 mg/L and 20 % of sampled sites had turbidity levels above standards recommended for estuarine ecosystems. The sampled sites also did not meet international standards for nitrate, heavy metals, and hydrocarbons, exceeding limits for natural resource preservation, coral reef conservation, and aquaculture by very wide margins. Nitrate ranges were between 0.6 and 1.5 mg/L; THC (4.6–52.6 mg/L) heavy metals (Fe 0.45–1.54 mg/L, Mn 0.004–0.19 mg/L, Ni 0.08–0.16 mg/L, Cd 0.02–0.5 mg/L, Pb 0.14–0.44 mg/L, and Zn 0.06–0.17 mg/L). A Water Quality Index calculated for the whole river system showed a declining capacity to support fish and aquatic grass habitats. This study, therefore, concludes that the estuary is suffering pollution from immediate hydrocarbon pollution sources and local pollution from eroded contaminated sediments, discharged domestic and human waste, and long distance river pollution. A comprehensive scientific investigation of estuarine conditions, source control measures for known pollutants, and source conversion of fecal sludge in riverine communities are among recommendations.
Access options
Buy single article
Instant access to the full article PDF.
USD 39.95
Price excludes VAT (USA)
Tax calculation will be finalised during checkout.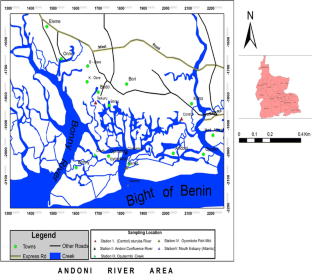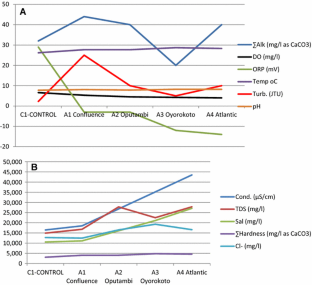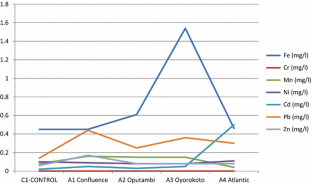 References
Adedeji OH., Ibeh L, Oyebanji FF (2011) Sustainable management of mangrove coastal environments in the Niger Delta Region of Nigeria: role of remote sensing and GIS. Proceedings of the Environmental Management Conference, Federal University of Agriculture, Abeokuta, Nigeria, 2011

American Public Health Association (2005) Standard methods for the examination of water and wastewater, 21st edn. APHA, AWWA, WEF, Washington, DC

American Petroleum Institute. API RP 45 (1998) API recommended practice for analysis of oil-feld waters, 3rd edn. American Petroleum Institute, API Publishing Services, Washington, DC

Brown E, Skougslad MW, Fishman MJ (1970) Methods for collection and analysis of water samples for dissolved minerals and gases. US Geological Survey, Techniques for water resources investigations, Book 5, Chapter A1

Canadian Council of Ministers of the Environment-CCME (1999) Temperature (Marine). Canadian Water Quality Guidelines for the Protection of Aquatic Life: in Canadian Environmental Quality Guidelines, 1999, Winnipeg

Carruthers T, Wazniak C (2004) Development of a Water Quality Index for the Maryland Coastal Bays. Maryland's Coastal Bays: Ecosystem Health Assessment Chapter 4.4: 4-59. Maryland Department of Natural Resources document number DNR- 12-1202-0009. http://www.dnr.state.md.us/coastalbays/sob_2004.html

Chapman (1997) Water Quality Assessments: a guide to the use of Biota, Sediments and Water in Environmental Monitoring. E & FN Spon, London

Commonwealth of Australia-COA (2002) The framework for marine and estuarine water quality protection: a reference document, Department of Environment, Water, Heritage and the Arts, Commonwealth of Australia. Version 1, December 2002

Davis JC (2002) Statistics and data analysis in geology. Wiley, New York

Ecological Society of America—ESA (2000) Nutrient pollution of coastal rivers, bays, and seas. Issues in Ecology, No.7, fall, 2000. http://www.esa.org/esa/wp-content/uploads/2013/03/issue7.pdf

Environment Protection Authority Victoria—EPAV (2001) Water quality objectives for marine and estuarine waters—ecosystem protection, draft state environment protection policy (Waters of Victoria). Environment Protection Authority Victoria, State Government of Victoria publication No. 794

Ezekwe IC, Odu NN, Chima GN, Opigo A (2012) Assessing regional groundwater quality and its health implications in the Lokpaukwu, Lekwesi and Ishiagu mining areas of southeastern Nigeria using factor analysis. Environ Earth Sci 67(4):971–986

Ezekwe IC, Chima GN, Ikogori G (2013) An investigation of selected microbial pollutants in groundwater sources in Yenegoa Town, Bayelsa, Nigeria. Estud Biol 35(84):77–84

Jean-Paul D (2013) Coastal pollution and impacts. Marine Biodiversity Wiki. http://www.marbef.org/wiki/coastal_pollution_and_impacts

Jones A, Dennison WC, Pantus F (2003) Assessment of sewage and septic derived N in the Choptank and Patuxent Rivers. Final Report. Maryland Coastal Zone Management Program, Maryland Department of Natural Resources

Kiddon JA, Paul JF, Buffum HW, Strobel CS, Hale SS, Cobb D, Brown BS (2003) Ecological condition of US mid-Atlantic estuaries, 1997-1998. Mar Pollut Bull 46:1224–1244

Lawson TB (1995) Fundamentals of aquacultural engineering. Chapman and Hall, New York

Mitchell MK, Stapp WB (1992) Field manual for water quality monitoring, and environmental education program for schools. GREEN, Ann Arbor, MI

MPCB (2012) Water quality standards for coastal waters marine outfalls, Environmental Information Centre, Maharashtra Pollution Control board. http://mpcb.gov.in/images/pdf/CoastalwaterStandards.pdf

Narváez J, Richter P, Inestoral M (2007) Preliminary physical chemical characterization of river waters and sediments affected by copper mining activity in central Chile. Application of multivariate analysis. J Chile Chem Soc 52:1261–1265. doi:10.4067/S0717-97072007000300016

Opuene K (2005) "Water quality, levels and impact of heavy metals and polycyclic aromatic hydrcarbons (PAHs) in the Taylor Creek Aquatic Ecosystem, Bayelsa State". Unpublished PhD Thesis, Department of Chemistry, University of Nigeria, Nsukka

Opuene K, Agbozu IE (2008) Relationships between heavy metals in shrimp (Macrobrachium felicinum) and metal levels in the water column and sediments of Taylor Creek. Int J Environ Res 2(4):343–348

PHILMINAQ (2008) Water quality criteria and standards for freshwater and marine aquaculture. Bureau of Fisheries and Aquatic Resources- Mitigating Impact of Aquaculture in the Philippines (BFAR)-PHILMINAQ Project, Diliman, Quezon City, p 34

Plataforma SINC (2009) Transfer of heavy metals from water to fish detailed in Huelva Estuary, Spain. ScienceDaily. Retrieved September 7, 2013, from http://www.sciencedaily.com/releases/2009/06/090616080909.htm

Queensland Government (2012) Water quality standards Student information. Department of Education and Training. http://www.gympcentss.eq.edu.au/classwork/cs2_7/pdf/Week4_s/4_WaterQualStand.pdf

Rainwater FH, Thatcher LL (1960) Methods for collection and analysis of water samples. US Geological Survey Water Supply Paper, 1454

Robinson AD, Nedwell DB, Harrison RM, Ogilvie GG (1998) Hypernutrified estuaries as sources of N2O emmission to the atmosphere: the estuary of the River Colne, Essex, UK. Mar Ecol Prog Ser 164:59–71

Stevenson JC, Staver LW, Staver KW (1993) Water quality associated with survival of submersed aquatic vegetation along an estuarine gradient. Estuaries 16(2):346–361

Tarazona JV, Munoz MJ (1995) Water quality in salmonid culture. Rev Fish Sci 3(2):109–139

Thailand National Environment Board (2000) Marine water quality standard. Ministry of natural resources and environment. Pollution Control Department

University of Delaware Sea Grant Program (2004) The ATHOS 1 Oil spill on the Delaware River. Impacts on wildlife and other natural resources? http://www.ceoe.udel.edu/oilspill/wildlifeimpacts.html

UNEP (1995) Global Programme of Action for the protection of the marine environment from land-based activities. Intergovernmental conference to adopt a global programme of action for the protection of the marine environment from land-based activities, Washington, D.C., 23 October–3 November 1995

UNEP (2007) Mangrove of Western and Central Africa. UNEP-Regional Seas Programme/UNEP-WCMC

USEPA (2003) Ambient water quality criteria for dissolved oxygen, water clarity and Chlorophyll a for the Chesapeake Bay and its tidal tributaries. U.S. Environmental Protection Agency Region III Chesapeake Bay Program Office and Region III Water Protection Division, 2003

USEPA (2008) National Coastal Condition Report III. http://www.epa.gov/nccr. Accessed 3 July 2013

USEPA (2012) Water: Estuaries and Coastal Watersheds. http://water.epa.gov/type/oceb/nep/about.cfm#whatis. Accessed 3 July 2013

USEPA (2013) National Estuary Program Coastal Condition Report—NEP CCR Factsheet. EPA 842-F-06-001, EPA USA. http://water.epa.gov/type/oceb/nep/nepccr-factsheet.cfm. Accessed 23 July 2014

Wepener V, Cyrus DP, Vermeulen LA, O'brierr GC, Wade P (2006) Development of a water quality index for estuarine water quality management in South Africa. Report to the Water Research Commission, WRC Report No. 1163/1/06, Pretoria, South Africa

Wikipedia (2013) Mangroves of Western and Central Africa. http://en.wikipedia.org/wiki/Central_African_mangroves. Accessed 3 July 2013

WRM Bulletin (2008) Current status and conservation of mangroves in Africa: an overview. 133, 8/2008, http://wrmbulletin.wordpress.com/2008/08/25/current-status-and-conservation-of-mangroves-in-africa-an-overview/

Zann LP (compiler) (1995) Major findings of the State of the Marine Environment Report for Australia. Great Barrier Reef Marine Park Authority Townsville Queensland and Department of the Environment, Sport and Territories, Canberra
About this article
Cite this article
Ezekwe, C.I., Edoghotu, M.I. Water quality and environmental health indicators in the Andoni River estuary, Eastern Niger Delta of Nigeria. Environ Earth Sci 74, 6123–6136 (2015). https://doi.org/10.1007/s12665-015-4635-9
Received:

Accepted:

Published:

Issue Date:

DOI: https://doi.org/10.1007/s12665-015-4635-9
Keywords