Abstract
This study determined the levels of selected heavy metals (Zn, Fe, Cd, Cu and Pb) in surface dust samples collected from the walls of residential buildings. Samples were collected from buildings near a main road and a secondary road in Phitsanulok, Thailand. Samples were collected from a 1 m2 area of exterior wall using Kimwipes. The results were dominated by Fe, with a range of 4384.2–8376.4 and 4631.4–7582 mg kg−1 for the main and secondary road locations, respectively. The heavy metal concentrations followed the trend Fe > Zn > Pb > Cu > Cd. Statistical analysis revealed a significant difference between the samples located near the major road compared to those near the secondary road for both Cu and Pb. High levels of heavy metals in settled street dust and motor vehicle emissions are expected to be the main contributors of heavy metals in the surface dust samples.
Access options
Buy single article
Instant access to the full article PDF.
USD 39.95
Price includes VAT (USA)
Tax calculation will be finalised during checkout.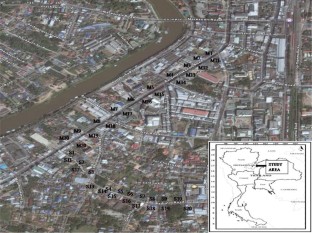 References
Abdul Wahab NA, Darus FM, Isa N, Sumari SM, Hanafi NFM (2012) Heavy metals concentration of settled surface dust in residential building. Malays J Anal Sci 16:18–23

Adachi K, Tainosho Y (2004) Characterization of heavy metal particles embedded in tire dust. Environ Int 30:1009–1017

Al-Khashman OA (2004) Heavy metal distribution in dust, street dust and soils from the work place in Karak Industrial Estate, Jordan. Atmos Environ 38:6803–6812

Al-Shayep SM, Seaward MRD (2001) Heavy metal content of roadside soils along ring road in Riyadh (Saudi Arabia). Asian J Chem 13:407–423

American Society for Testing and Materials (2003) Standard practice for collection of settled dust samples using wipe sampling methods for subsequent lead determination. Available at (http://www.astm.org/Standards/E1728.htm). Accessed 2 Dec 2013

Boonyatumanond R, Murakami M, Wattayakorn G, Togo A, Takada H (2007) Sources of polycyclic aromatic hydrocarbons (PAHs) in street dust in a tropical Asian mega-city, Bangkok, Thailand. Sci Total Environ 384:420–432

Cai QY, Mo CH, Li HQ, Lu H, Zeng QY, Li YW, Wu XL (2013) Heavy metal contamination of urban soils and dusts in Guangzhou, South China. Environ Monit Assess 185:1095–1106

Christoforidis A, Stamatis N (2009) Heavy metal contamination in street dust and roadside soil along the major national road in Kavala's region, Greece. Geoderma 151:257–263

Dockery D, Pope A (1996) Epidemiology of acute health effects: summary of time-series studies. Particles in our air. Concentration and health effects. Harvard University Press, Cambridge

Đorđević D, Mihajlidi-Zelić A, Relić D (2005) Differentiation of the contribution of local resuspension from that of regional and remote sources on trace elements content in the atmospheric aerosol in the Mediterranean area. Atmos Environ 39:6271–6281

Ee-Ling O, Mustaffa NIM, Amil N, Khan MF, Latif MT (2015) Source contribution of PM2.5 at different locations on the Malaysian Peninsula. Bull Environ Contam Toxicol 87:108–116

Fergusson JE, Kim ND (1991) Trace elements in street and house dusts: sources and speciation. Sci Total Environ 100:125–150

Han NMM, Latif MT, Othman M, Dominick D, Mohamad N, Juahir H, Tahir NM (2014) Composition of selected heavy metals in road dust from Kuala Lumpur city centre. Environ Earth Sci 72:849–859

Hu X, Zhang Y, Luo J, Wang T, Lian H, Ding Z (2011) Bioaccessibility and health risk of arsenic, mercury and other metals in urban street dusts from a mega-city, Nanjing, China. Environ Pollut 159:1215–1221

Inyang HI, Bae S (2006) Impacts of dust on environmental systems and human health. J Hazard Mater 132:v–vi

Kreider ML, Panko JM, McAtee BL, Sweet LI, Finley BL (2010) Physical and chemical characterization of tire-related particles: comparison of particles generated using different methodologies. Sci Total Environ 408:652–659

Laidlaw MAS, Zahran S, Pingitore N, Clague J, Devlin G, Taylor MP (2014) Identification of lead sources in residential environments: Sydney Australia. Environ Pollut 184:238–246

Latif MT, Yong SM, Saad A, Mohamad N, Baharudin NH, Mokhtar MB, Tahir NM (2014) Composition of heavy metals in indoor dust and their possible exposure: a case study of preschool children in Malaysia. Air Qual Atmos Health 7:181–193

Leung AOW, Duzgoren-Aydin NS, Cheung KC, Wong MH (2008) Heavy metals concentrations of surface dust from e-waste recycling and its human health implications in southeast China. Environ Sci Technol 42:2674–2680

Li X, Poon CS, Liu PS (2001) Heavy metal contamination of urban soils and street dusts in Hong Kong. Appl Geochem 16:1361–1368

Li H, Qian X, Hu W, Wang Y, Gao H (2013a) Chemical speciation and human health risk of trace metals in urban street dusts from a metropolitan city, Nanjing, SE China. Sci Total Environ 456–457:212–221

Li Z, Feng X, Li G, Bi X, Zhu J, Qin H, Dai Z, Liu J, Li Q, Sun G (2013b) Distributions, sources and pollution status of 17 trace metal/metalloids in the street dust of a heavily industrialized city of central China. Environ Pollut 182:408–416

Lu X, Wang L, Lei K, Huang J, Zhai Y (2009) Contamination assessment of copper, lead, zinc, manganese and nickel in street dust of Baoji, NW China. J Hazard Mater 161:1058–1062

Lucas JP, Bellanger L, Le Strat Y, Le Tertre A, Glorennec P, Le Bot B, Etchevers A, Mandin C, Sébille V (2014) Source contributions of lead in residential floor dust and within-home variability of dust lead loading. Sci Total Environ 470–471:768–779

Ma J, Singhirunnusorn W (2012) Distribution and health risk assessment of heavy metals in surface dusts of Maha Sarakham municipality. Procedia Soc Behav Sci 50:280–293

Markus J, Mcbratney A (1996) An urban soil study: heavy metals in Glebe, Australia. Soil Res 34:453–465

Martuzevicius D, Kliucininkas L, Prasauskas T, Krugly E, Kauneliene V, Strandberg B (2011) Resuspension of particulate matter and PAHs from street dust. Atmos Environ 45:310–317

Mashi SA, Yaro SA, Eyong PN (2005) A survey of trends related to the contamination of street dust by heavy metals in Gwagwalada, Nigeria. Manag Environ Qual 16:71–76

Nazzal Y, Rosen M, Al-Rawabdeh A (2013) Assessment of metal pollution in urban road dusts from selected highways of the Greater Toronto Area in Canada. Environ Monit Assess 185:1847–1858

Puangthongthub S, Wangwongwatana S, Kamens RM, Serre ML (2007) Modeling the space/time distribution of particulate matter in Thailand and optimizing its monitoring network. Atmos Environ 41:7788–7805

Saeedi M, Li LY, Salmanzadeh M (2012) Heavy metals and polycyclic aromatic hydrocarbons: pollution and ecological risk assessment in street dust of Tehran. J Hazard Mater 227–228:9–17

Salim Akhter M, Madany I (1993) Heavy metals in street and house dust in Bahrain. Water Air Soil Pollut 66:111–119

Tahir NM, Cheer PO, Jaafar M (2007) Determination of Heavy metals content in soils and indoor dusts from nurseries in Dunguin, Teregganu. Malays J Anal Sci 11:280–286

Thai Meteorological Department (2013) Mean monthly rainfall in Thailand. http://www.tmd.go.th/en/climate.php?FileID=7. Accessed Oct 2013

Tippayawong N, Pengchai P, Lee A (2006) Characterization of ambient aerosols in Northern Thailand and their probable sources. Int J Environ Sci Tech 3:359–369

Wahid NBA, Latif MT, Suratman S (2013) Composition and source apportionment of surfactants in atmospheric aerosols of urban and semi-urban areas in Malaysia. Chemosphere 91:1508–1516

Wang G, Oldfield F, Xia D, Chen F, Liu X, Zhang W (2012) Magnetic properties and correlation with heavy metals in urban street dust: a case study from the city of Lanzhou, China. Atmos Environ 46:289–298

Wilcke W, Müller S, Kanchanakool N, Zech W (1998) Urban soil contamination in Bangkok: heavy metal and aluminium partitioning in topsoils. Geoderma 86:211–228

Willers S, Gerhardsson L, Lundh T (2005) Environmental tobacco smoke (ETS) exposure in children with asthma—relation between lead and cadmium, and cotinine concentrations in urine. Resp Med 99:1521–1527

Yongming H, Peixuan D, Junji C, Posmentier ES (2006) Multivariate analysis of heavy metal contamination in urban dusts of Xi'an, Central China. Sci Total Environ 355:176–186
Acknowledgments
The authors would like to thank Pibulsongkram Rajabhat University for the Research Grant (RDI-1-57-6-13) and also would like to thank the owners of the houses for cooperation to successfully conduct this study. Many thanks to Dr. Rose Norman for proofreading this manuscript.
About this article
Cite this article
Srithawirat, T., Latif, M.T. Concentration of selected heavy metals in the surface dust of residential buildings in Phitsanulok, Thailand. Environ Earth Sci 74, 2701–2706 (2015). https://doi.org/10.1007/s12665-015-4291-0
Received:

Accepted:

Published:

Issue Date:
Keywords
Surface dust

Street dust

Heavy metals

Residential buildings