Abstract
Bosten Lake, the largest inland freshwater lake in China, is similar to other lakes in arid regions in that it faces shrinkage of its area and a decrease in environmental quality due to climate change and anthropogenic pressures. A water and salt balance model, developed using system dynamics approach, was used to estimate potential contributions of natural and socio-economic factors to variations in the lake's level and salinity. Calibration of the model provided new estimates of conversion coefficients for the actual evaporation and dissolved salt from the lake bed. The sensitivity analysis indicated that the lake's level and average salinity have significant and high correlation with the water exchange rate and evaporation of surface water. Analysis showed that (1) increasing water exchange of the lake promoted a decreasing average salinity of the lake and an increasing water supply to the downstream area of the lake; (2) the average unproductive water lost was larger than half of the average surface water inflow; (3) enlarging the agricultural area in the Konqi River basin instead of the Kaidu River basin promoted a decrease in the lake's salinity as well as a decrease in the total amount of salt in the lake. This study implies that increasingly efficient water management practices and greater conservation of water resources are required to save Bosten Lake and its ecosystem.
Access options
Buy single article
Instant access to the full article PDF.
US$ 39.95
Tax calculation will be finalised during checkout.
Subscribe to journal
Immediate online access to all issues from 2019. Subscription will auto renew annually.
US$ 119
Tax calculation will be finalised during checkout.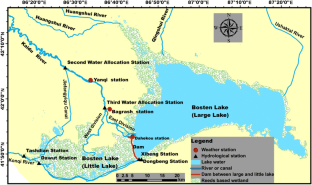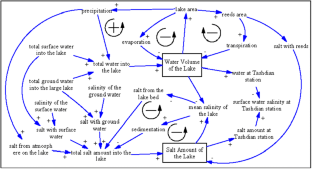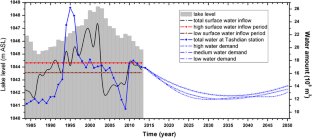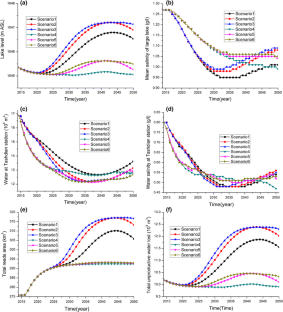 References
Ahmad S, Prashar D (2010) Evaluating municipal water conservation policies using a dynamic simulation model. Water Resour Manag 24:3371–3395

Ahmad S, Simonovic SP (2000) System dynamics modeling of reservoir operations for flood management. ASCE J Comput Civ Eng 14(3):190–198

Ahmad S, Simonovic SP (2004) Spatial system dynamics: new approach for simulation of water resources systems. J Comput Civ Eng 18(4):331–340

Ahmad MM, Ghumman AR, Ahmad S, Hashmi HN (2010) Estimation of a unique pair of Nash model parameters: an optimization approach. Water Resour Manag 24(12):2971–2989

Brunner PA (2005) Water and salt management in the Yanqi Basin, China. Dissertation, Eidgenössische Technische Hochschule ETH Zürich, Nr. 16210, 2006

Carrier C, Kalra A, Ahmad S (2013) Using paleo reconstructions to improve streamflow forecast lead-time in the Western United States. J Am Water Resour Assoc (JAWRA) 49(6):1351–1366. doi:10.1111/jawra.12088

Chen YN, Du Q, Chen YB (2013) Sustainable utilization of water resources in the Bosten Lake area. Science Press, Beijing (in Chinese)

Cheng Q (1995) Research on Bosten Lake. Hohai University Press, Nanjing (in Chinese)

Dawadi S, Ahmad S (2012) Changing climatic conditions in the Colorado River Basin: implications for water resources management. J Hydrol 430:127–141

Dawadi S, Ahmad S (2013) Evaluating the impact of demand-side management on water resources under changing climatic conditions and increasing population. J Environ Manage 114:261–275

Forrester JW (1971) Counterintuitive behavior of social systems. Theor Decis 2:109–140

Forsee WJ, Ahmad S (2011) Evaluating urban stormwater infrastructure design in response to projected climate change. J Hydrol Eng 16(11):865–873

Guo M, Wu W, Zhou X, Chen Y, Li J (2015) Investigation of the dramatic changes in lake level of the Bosten Lake in northwestern China. Theor Appl Climatol 119:341–351

Hao X, Chen Y, Xu C, Li W (2008) Impacts of climate change and human activities on the surface runoff in the Tarim River Basin over the last fifty years Water. Resour Manag 22:1159–1171

Kalra A, Ahmad S, Nayak A (2013) Increasing streamflow forecast lead time for snowmelt driven catchment based on large scale climate pattern. Adv Water Resour 53:150–162

Li L, Simonovic S (2002) System dynamics model for predicting floods from snowmelt in North American prairie watersheds. Hydrol Process 16:2645–2666

Li L, Yakupitiyage A (2003) A model for food nutrient dynamics of semi-intensive pond fish culture. Aquac Eng 27:9–38

Li L, Xu H, Chen X, Simonovic SP (2010) Streamflow forecast and reservoir operation performance assessment under climate change. Water Resour Manag 24:83–104

Li X, Li L, Guo L, Zhang F, Adsavakulchai S, Shang M (2011) Impact of climate factors on runoff in the Kaidu River watershed: path analysis of 50-year data. J Arid Land 3:132–140

Liu Y (2004) Study on ecology restroration of phragrmites australis wetland of the Beston Lake. Dissertation, Beijing University of Chemical Technology (in Chinese)

Melesse AM, Ahmad S, McClain ME, Wang X, Lim YH (2011) Suspended sediment load prediction of river systems: an artificial neural network approach. Agric Water Manag 98(5):855–866

Mirchi A, Madani K, Watkins D Jr, Ahmad S (2012) Synthesis of system dynamics tools for holistic conceptualization of water resources problems. Water Resour Manag 26:2421–2442

Moriasi D, Arnold J, Van Liew M, Bingner R, Harmel R, Veith T (2007) Model evaluation guidelines for systematic quantification of accuracy in watershed. Simul Trans Asabe 50:885–900

Puri S, Stephen H, Ahmad S (2011) Relating TRMM precipitation radar backscatter to water stage in wetlands. J Hydrol 401(3–4):240–249

Qaiser K, Ahmad S, Johnson W, Batista J (2011) Evaluating the impact of water conservation on fate of outdoor water use: a study in an arid region. J Environ Manag 92(8):2061–2068

Qaiser K, Ahmad S, Johnson W, Batista JR (2013) Evaluating water conservation and reuse policies using a dynamic water balance model. Environ Manag 51:449–458

Rykiel EJ (1996) Testing ecological models: the meaning of validation. Ecol Model 90:229–244

Sagarika S, Kalra A, Ahmad S (2014) Evaluating the effect of persistence on long-term trends and analyzing step changes in streamflows of the continental United States. J Hydrol 517:36–53

Shrestha E, Ahmad S, Johnson W, Shrestha P, Batista JR (2011) Carbon footprint of water conveyance versus desalination as alternatives to expand water supply. Desalination 280(1–3):33–43

Shrestha E, Ahmad S, Johnson W, Batista JR (2012) The carbon footprint of water management policy options. Energy Policy 42:201–212

Shuter B, Jones M, Korver R, Lester N (1998) A general, life history based model for regional management of fish stocks: the inland lake trout (Salvelinus namaycush) fisheries of Ontario Canadian. J Fish Aquat Sci 55:2161–2177

Sivapalan M (2012) Modeling and model-data assimilation: a surface hydrology perspective. In: Proceedings of the Water Information Research and Development Alliance (WIRADA). Science Symposium, pp 1–5

Sterman JD (2000) Business dynamics: systems thinking and modeling for a complex world, vol 19. McGraw-Hill, New York

Vedwan N, Ahmad S, Miralles-Wilhelm F, Broad K, Letson D, Podesta G (2008) Institutional evolution in Lake Okeechobee management in Florida: characteristics, impacts, and limitations. Water Resour Manag 22:699–718

Venkatesan AK, Ahmad S, Johnson W, Batista JR (2011a) Systems dynamic model to forecast salinity load to the Colorado River due to urbanization within the Las Vegas Valley. Sci Total Environ 409:2616–2625

Venkatesan AK, Ahmad S, Johnson W, Batista JR (2011b) Salinity reduction and energy conservation in direct and indirect potable water reuse. Desalination 272:120–127

Walker K, Yang H (1999) Fish and fisheries in western China. Fish Fish High Alt Asia 385:304

Wang R, Giese E, Gao Q (2003) Seespiegelschwankungen des Bosten-Sees (VR China). Zentrum für internationale Entwicklungs-und Umweltforschung (ZEU) der Justus-Liebig-Universität Giessen Discussion Papers

Wang Q, Li S, Jia P, Qi C, Ding F (2013) A review of surface water quality models. Sci World J 2013:1–7. doi:10.1155/2013/231768

Weber-Scannell PK, Duffy LK (2007) Effects of total dissolved solids on aquatic organisms: a review of literature and recommendation for salmonid species. Am J Environ Sci 3:1–6

Winz I, Brierley G, Trowsdale S (2009) The use of system dynamics simulation in water resources management. Water Resour Manag 23:1301–1323

Wu G, Li L, Ahmad S, Chen X, Pan X (2013) A dynamic model for vulnerability assessment of regional water resources in arid areas: a case study of Bayingolin, China. Water Resour Manag 27:3085–3101

Wünnemann B, Mischke S, Chen F (2006) A holocene sedimentary record from Bosten Lake, China. Palaeogeogr Palaeoclimatol Palaeoecol 234:223–238

Xia J, Zuo Q, Shao M (2003) Theory, method and practice on water resources sustainable utilization in Lake Bosten. Chinese Science and Technology Press, Beijing (in Chinese)

Zhang C-J, Cao J, Lei Y-B, Shang H-M (2004) The chronological characteristics of Bosten Lake Holocene sediment environment in Xinjiang, China. Acta Sedimentol Sin 22:494–499 (in Chinese)

Zhao D (2005) Study on space-time variation of dustfall and the relationship between dustfall and Aeolian erosion in Tarim Basin. Dissertation, Xinjiang Agricultural University (in Chinese)
Acknowledgments
This study is supported by following projects: the State Key Basic R&D Program of China (973 Program, No. 2012CB956204), the Natural Sciences Foundation of China (No. 41161007, No. 41461006, No. U1138302 and No. 41201032), the open research projects of the Xinjiang Key Laboratory of Lake and Resources in Arid Zone (No. XJDX0909-2010-12), Special funds for Key Laboratory of Xinjiang Uyghur Autonomous Region (No. 2004KL016). The authors wish to acknowledge the Natural Science Foundation of the Science and Technology Department of Xinjiang Uyghur Autonomous Region (No. 2011211A034).
About this article
Cite this article
Rusuli, Y., Li, L., Ahmad, S. et al. Dynamics model to simulate water and salt balance of Bosten Lake in Xinjiang, China. Environ Earth Sci 74, 2499–2510 (2015). https://doi.org/10.1007/s12665-015-4257-2
Received:

Accepted:

Published:

Issue Date:
Keywords
Bosten Lake

System dynamics

Water balance

Salt balance

Model