Abstract
Streambed sediments collected from the Shade River Watershed within the Western Allegheny Plateau in Meigs and Athens counties (Ohio, USA) were analyzed for trace elements. Different pollution indices and statistical techniques were used to evaluate the relationship between the trace elements and determine their levels of contamination. The watershed was once mined for coal and has history of acid mine drainage (AMD). Treatment of this contamination is still being addressed by federal and local organizations. Sediment analyses indicated that iron, aluminum, and manganese, which are primary AMD species, are dominant within the sediments. Pollution indices indicated that the sediments were moderately to extremely polluted, with iron dominating. Relatively low trace element concentrations in the Middle Shade River can be attributed to the intense remediation or treatment of mine drainage. Although trace elements' concentration in the Shade River Watershed was greater than their respective background values, the relationship between iron and other trace elements indicates that alkaline pH and redox conditions can influence the neutralization of AMD, and also result in the precipitation of iron and manganese oxide/hydroxides. This may have caused the contamination of the streambed sediment apart from factors including local geology, erosion of agricultural soil, mine discharge, and other anthropogenic input into the watershed.
Access options
Buy single article
Instant access to the full article PDF.
USD 39.95
Price excludes VAT (USA)
Tax calculation will be finalised during checkout.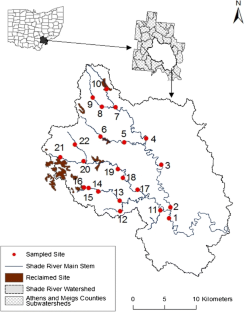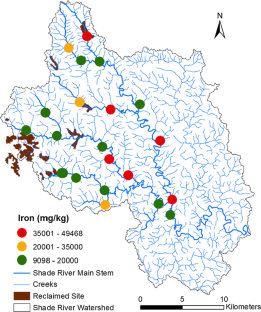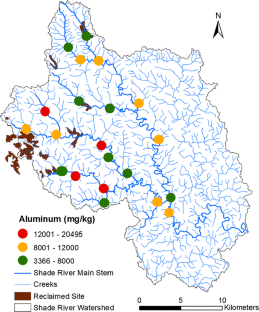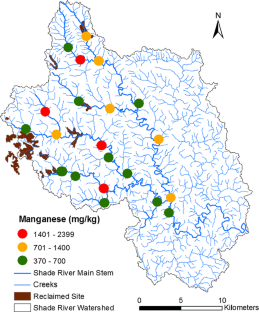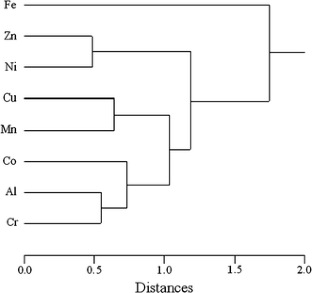 References
Alexakis D (2008) Geochemistry of stream sediments as a tool for assessing contamination by arsenic, chromium, and other toxic elements: East Attica region, Greece. Eur Water 21(22):57–72

Brant RA (1964) Geological description and effects of strip mining on coal overburden material. Ohio J Sci 64(2):68–69

Bricker O (1965) Some stability relations in the systems Mn–O2–H2O at 25°C and one atmosphere pressure. Am Mineral 50:1296–1354

Carroll KC, López DL, Stoertz MW (2003) Solute transport at low flow in an acid stream in Appalachian Ohio. Air Water Soil Pollut 144(1–4):195–222

Chapman PM, Wang F, Janssen CR, Goulet RR, Kamunde CN (2003) Conducting ecological risk assessments of inorganic metals and metalloids: current status. Human Ecolog Risk Assess 9(4):641–697

Chen CW, Kao CM, Chem CF, Dong CD (2007) Distribution and accumulation of metals in sediments of Kaoshiung Harbor, Taiwan. Chemosphere 66:1431–1440

Childress CJO, Jones RL (1985a) Sedimentation and water quality in the West Branch Shade River Basin, Ohio 1983 water year. In: US Geological Survey Open-File Report. pp 85–187

Childress CJO, Jones RL (1985b) Sedimentation and water quality data for the West branch and East branch Shade River Basin, Ohio 1984 water year. In: US Geological Survey Open-File Report. pp 85–552

Davis JC (2002) Statistics and data analysis in geology, 3rd edn. Wiley, New York 638 p

Davis C, Fox J (2009) Sediment fingerprinting: review of the method and future improvements for allocating nonpoint source pollution. J Environ Eng 135(7):490–504

de Nijs MAJ, Winterwerp JC, Pietrzak JD (2009) On harbor siltation in the fresh-salt water mixing region. Cont Shelf Res 29(1):175–193

Förstner U, Wittmann GTW (1979) Metal pollution in the aquatic environment. Springer, Berlin

Gagnon C, Arnac M, Brindle JR (1992) Sorption interaction between trace metals (Cd and Ni) and phenolic substances on suspended clay mineral. Water Resour 26(8):1067–1072

Gbolo P, Gerla P (2013) Statistical analysis to characterize transport of nutrients in groundwater near an abandoned feedlot. Hydrol Earth Syst Sci 17:4897–4906

Gbolo P, Lopez DL (2013) Chemical and geological control on surface water within the Shade River Watershed in southeastern Ohio. J Environ Prot 4:1–11

Gilmore G, Bottrell GD (2000) Soil survey of Meigs County, Ohio. In: United States Department of Agriculture, Natural Resources Conservation Service

Hakanson L (1980) An ecological risk index for aquatic pollution control, a sedimentological approach. Water Res 14(8):975–1001

Håkansson K, Karlsson S, Allard B (1989) Effects of pH on the accumulation and redistribution of metals in a polluted stream bed sediment. Sci Total Environ 87(88):43–57

Hem JD, Lind CJ (1983) Nonequilibrium models for predicting forms of precipitated manganese oxides. Geochim Cosmochim Acta 47(11):2037–2046

Holmgren SGG, Meyer WM, Chaney LR, Daniels BR (1993) Cadmium, lead, copper, and nickel in agricultural soils of the United State of America. J Environ Qual 22(2):335–348

Horowitz AJ (1991) A primer on sediment trace metal chemistry, 2nd edn. Lewis Publishers, Chelsea

Jain CK, Ram D (1997) Adsorption of metal ions on bed sediments. Hydrol Sci 42(5):713–723

Johnson UK (2013) River sediment supply, sedimentation and transport of the highly turbid sediment plume in Malindi Bay, Kenya. J Geogr Sci 25(3):465–489

Kimbrough DE, Wakakuma J (1992) A study of the linear ranges of several acid digestion procedures. Environ Sci Technol 26(1):173–178

Mayer LM, Fink KL (1980) Granulometric dependence of chromium accumulation in estuarine sediments in Maine. Estuar Coast Mar Sci 11(5):491–503

McKee BA, Aller RC, Allison MA, Bianchi TS, Kineke GC (2004) Transport and transformation of dissolved and particulate materials on continental margins influenced by major rivers: benthic boundary layer and seabed processes. Cont Shelf Res 24(7–8):899–926

Munk L, Faure G, Pride DE, Bigham JM (2002) Sorption of trace metals to an aluminum precipitate in a stream receiving acid rock-drainage; Snake River, Summit County, Colorado. Appl Geochem 17:421–430

National Oceanic and Atmospheric Administration (NOAA) (1999) Screening quick reference tables (SquiRTs)

Pigati E, López DL (1999) Effect of subsidence on recharge at abandoned coal mines generating acidic discharge: The Majestic Mine, Athens County, Ohio. Mine Water Environ 18(1):45–66

Post JE (1999) Manganese oxide minerals: crystal structure and economic and environmental significance. Proc Natl Acad Sci USA 96(7):3447–3454

Rankin ET, Yoder CO, Mishne D (1996) Ohio water resource inventory, volume 1: summary and trends, Ohio EPA, Division of Surface Water and Monitoring and Assessment Section. Columbus, Ohio

Rule JH (1986) Assessment of trace element geochemistry of Hampton Roads Harbor and Low Chesapeake Bay area sediments. Environ Geol Water Sci 8(4):209–219

Schindler DW (1988) Effects of acid rain on freshwater ecosystems. Science 239(4836):149–157

Shelton LR, Capel PD (1994) Guidelines for collecting and processing samples of stream bed sediment for analysis of trace elements and organic contaminants for the National Water—quality assessment program: US Geological Survey Open-File Report 94-458. pp 20

Smith DB, Cannon WF, Woodruff LG, Garrett RG, Klassen R, Kilburn JE, Horton JD, King HD, Goldhaber MB, Morrison JM (2005) Major- and trace-element concentrations in soils from two continental-scale transects of the United States and Canada. United States Geol Surv Open File Rep 2005–1253:22

Sommer SE, Pyzik AJ (1974) Geochemistry of middle Chesapeake Bay sediments from upper cretaceous to present. Chesapeake Sci 15(1):39–44

Tomlinson DL, Wilson JG, Harris CR, Jeffrey DW (1980) Problems in the assessment of heavy-metal levels in estuaries and the formation of a pollution index. Helgoländer Meeresuntersuchungen 33(1–4):566–575

US Environmental Protection Agency (USEPA) (1982) Handbook for sampling and sample preservation of water and wastewater. In: Environmental Monitoring and Support Laboratory, EPA/600/4-82/029

US Environmental Protection Agency (USEPA) (1996) Acid digestion of sediments, sludges, and soils, Method 3050B, Revision 2. Washington DC, pp 3–5
Acknowledgments
This research was supported by the Ohio University-US EPA's STAR Grant (R831365). We would like to thank Kwarteng Amaning, Jr., Josh Cole, and Ashley Campbell, formerly of Ohio University for their help. Finally, we thank the anonymous reviewers for their constructive criticisms and suggestions that greatly improved the manuscript.
About this article
Cite this article
Gbolo, P., Lopez, D.L. Analysis of trace elements pollution within streambed sediments from the Shade River Watershed, southeastern Ohio. Environ Earth Sci 73, 7193–7204 (2015). https://doi.org/10.1007/s12665-014-3899-9
Received:

Accepted:

Published:

Issue Date:

DOI: https://doi.org/10.1007/s12665-014-3899-9
Keywords
Trace elements

Shade River Watershed

Streambed sediment

Pollution indices