Abstract
To assess the current status of surface waters, it is necessary, as a first step, to have a system that includes a set of criteria for classifying and describing each existing surface water body. In this article, a new river typology system for Chile based on the Water Framework Directive of the European Union is shown. This system was created following a top down and a priori approach and was based on an accurate review of scientific literature, interviews and workshops with experts in Chilean aquatic ecosystems. The system consisted of five ecoregions (large areas with homogenous hydrological and climatic conditions) and a set of abiotic criteria with their classes. It was assumed that each abiotic criterion was a control factor for freshwater ecosystems. It is expected that this system will organise knowledge about the biocenosis distribution of the Chilean freshwater ecosystem and also provide an operative tool for water quality monitoring based on biological indicators.
Access options
Buy single article
Instant access to the full article PDF.
US$ 39.95
Tax calculation will be finalised during checkout.
Subscribe to journal
Immediate online access to all issues from 2019. Subscription will auto renew annually.
US$ 119
Tax calculation will be finalised during checkout.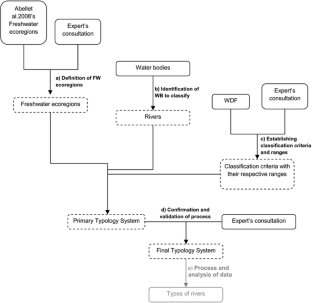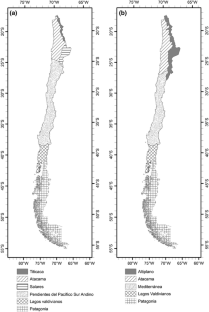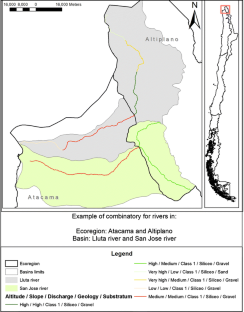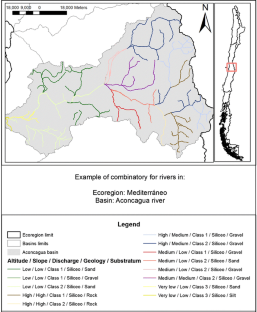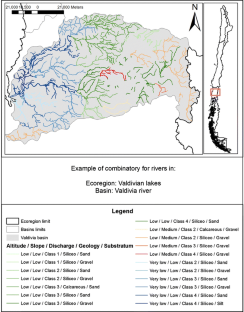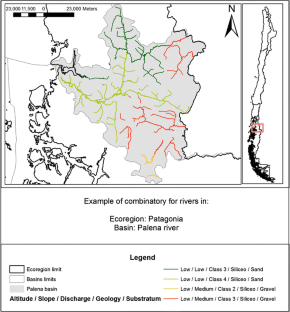 References
Abell R, Thieme M, Revenga C, Bryer MT, Kottelat M et al (2008) Freshwater ecoregions of the world: a new map of biogeographic units for freshwater biodiversity conservation. Bioscience 58(5):403–414

Allan JD, Castillo MM (2007) Stream ecology. Structure and function of running waters. Springer, Dordrecht

Barra R, Quiroz R, Sáez K, Araneda A, Urrutia R, Popp P (2009) Sources of polycyclic aromatic hydrocarbons (pahs) in sediments of the Biobío river in South Central Chile. Environ Chem Lett 7(2):133–139

Bernadet C, Touron-Poncet H, Desrosiers C, Compin A, Bargier N et al (2013) Invertebrate distribution patterns and river typology for the implementation of the Water Framework Directive in Martinique. French Lesser Antilles Knowl Manag Aquat Ecosyst. doi:10.1051/kmae/2013036

Böhmer J, Rawer-Jost C, Zenker A, Meier C, Feld CK et al (2004) Assessing streams in Germany with benthic invertebrates: development of a multimetric invertebrate based assessment system. Limnologica 34(4):416–432

Brown G, Raymond CM (2014) Methods for identifying land use conflict potential using participatory mapping. Landscape Urban Plan 122:196–208

Bunn SE, Arthington AH (2002) Basic principles and ecological consequences of altered flow regimes for aquatic biodiversity. Environ Manage 30:492–507

CADE-IDEPE (2004) Diagnóstico y clasificación de los cursos y cuerpos de agua según objetivos de calidad. Cuenca del río Huasco. Dirección General de Aguas, Ministerio de Obras Públicas, Chile

Carter JL, Fend SV, Kennelly SS (1996) The relationships among three habitat scales and stream benthic invertebrate community structure. Freshw Biol 35(1):109–124

CEA, Centro de Ecología Aplicada (2009) Determinación de caudales ecológicos en cuencas con fauna íctica nativa y en estado de conservación. Informe Final. Dirección General de Aguas, Ministerio de Obras Públicas, Gobierno de Chile, Santiago de Chile

Chambers R (2006) Participatory mapping and geographic information systems: whose map? Who is empowered and who disempowered? Who gains and who loses? EJISDC 25:1–11

CONAMA, Comisión Nacional del Medio Ambiente (2004) Guía para el desarrollo de normas para la protección de las aguas continentales superficiales. CONAMA, Gobierno de Chile, Santiago de Chile

Dyer B (2000) Systematic review and biogeography of the freshwater fishes of Chile. Estud Oceanol 19:77–98

European Parliament and Council (2000) Directive 2000/60/EC of the European Parliament and of the Council of 23 October 2000 establishing a framework for Community action in the field of water policy as amended by Decision 2455/2001/EC and Directives 2008/32/EC, 2008/105/EC and 2009/31/E

Ferreól M, Dohet A, Cauchie H, Hoffmann L (2005) A top-down approach for the development of a stream typology based on abiotic variables. Hydrobiologia 551(1):193–208

Fuster R, Escobar C, Lillo G, González M, De la Fuente A, Pottgiesser T (2012) Water bodies typology system: a Chilean case of scientific stakeholders and policy makers dialogue. Lakes Reserv Ponds 6(2):93–107

González M, García D (2006) Propuesta de caracterización jerárquica de los ríos españoles para su clasificación según la Directiva Marco de la Unión Europea. Limnetica 25(3):693–712

Goodwin P, Jorde K, Meier C, Parra O (2006) Minimizing environmental impacts of hydropower development: transferring lessons from past projects to a proposed strategy for Chile. J Hydroinform 8(4):253–270

Habit E, Parra O (2001) Impactos ambientales de los canales de riego sobre la fauna de peces. Ambiente y Desarrollo 27(3):50–56

Habit E, Belk MC, Tuckfield RC, Parra O (2006a) Response of the fish community to human-induced changes in the Biobío river in Chile. Freshw Biol 51(1):1–11

Habit E, Dyer B, Vila I (2006b) Estado de conocimiento de los peces dulceacuícolas de Chile. Gayana 70(1):100–112

Habit E, Belk M, Parra O (2007) Response of the riverine fish community to the construction and operation of a diversion hydropower plant in central Chile. Aquat Conserv 17(1):37–49

Habit E, Piedra P, Ruzzante D, Walde S, Belk M et al (2010) Changes in the distribution of native fishes in response to introduced species and other anthropogenic effects. Glob Ecol Biogeogr 19(5):697–710

Hauenstein E (2006) Visión sinóptica de los macrófitos dulceacuícolas de Chile. Gayana 70(1):16–23

Hering D, Meier C, Rawer-Jost C, Feld CK, Biss R et al (2004) Assessing streams in Germany with benthic invertebrates: selection of candidate metrics. Limnologica 34(4):398–415

Hering D, Borja A, Carstensen J, Carvalho L, Elliott M et al (2010) The European Water Framework Directive at the age of 10: a critical review of the achievements with recommendations for the future. Sci Total Environ 408:4007–4019

Hernández R, Fernández C, Baptista P (2006) Metodología de la Investigación. McGraw-Hill, México

Higgins M, Bryer T, Khoury MI, Fitzhugh TW (2005) A freshwater classification approach for biodiversity conservation planning. Conserv Biol 19(2):432–445

Huitema D, Turnhout E (2009) Working at the science-policy interface: a discursive analysis of boundary work at the Netherlands Environmental Assessment Agency. Environ Polit 18(4):576594

Iwasaki Y, Ryo M, Sui P, Yoshimura C (2012) Evaluating the relationship between basin-scale fish species richness and ecologically relevant flow characteristics in rivers worldwide. Freshw Biol 57:2173–2180

Jacobsen D, Schultz R, Encalada A (1997) Structure and diversity of stream invertebrate assemblages: the influence of temperature with altitude and latitude. Freshw Biol 38:247–261

Jara CG, Rudolph EH, González ER (2006) Estado de conocimiento de los malacostráceos dulceacuícolas de chile. Gayana 70(1):40–49

Logan P, Furse M (2002) Preparing for the European Water Framework Directive. Making the links between habitat and aquatic biota. Aquat Conserv 12(4):425–437

Lorenz A, Feld CK, Hering D (2004) Typology of streams in Germany based on benthic invertebrates: ecoregions, zonation, geology and substrate. Limnologica 34(4):379–389

MaCkay RJ (1992) Colonization by lotic macroinvertebrates: a review of processes and patterns. Can J Fish Aquat Sci 49(3):617–628

McGarvey D (2014) Moving beyond species-discharge relationships to a flow-mediated, macroecological theory of fish species richness. Freshw Sci 33(1):18–31

McNie E (2007) Reconciling the supply of scientific information with user demands: an analysis of the problem and review of the literature. Environ Sci Policy 10:17–38

Niemeyer H, Cereceda P (1984) Hidrografía. Geografía de Chile, Ediciones Instituto Geográfico Militar, Santiago de Chile

Orr HG, Large ARG, Newson MD, Walsh CL (2008) A predictive typology for characterisinghydromorphology. Geomorphology 100(1–2):32–40

Ortiz JC, Díaz-Páez H (2006) Estado de conocimiento de los anfibios de Chile. Gayana 70(1):114–121

Oyarzún C, Huber A (2003) Nitrogen export from forested and agricultural watersheds of southern Chile. Gayana Bot 60(1):63–68

Palma A, Figueroa R, Ruiz VH (2009) Evaluación de ribera y hábitat fluvial a través de los índices QBR e IHF. Gayana 73(1):57–63

Parra O, Valdovinos C, Urrutia R, Cisternas M, Habit E, Mardones M (2003) Caracterización y tendencias tróficas de cinco lagos costeros de Chile central. Limnetica 22(1–2):51–83

Peredo-Parada M, Martínez-Capel F, Garófano-Gómez V, Atenas M, Riestra F (2009) Base de datos eco-hidrológica de los ríos de Chile: una herramienta de gestión para los ecosistemas acuáticos. Gayana 73(1):119–129

Peredo-Parada M, Martínez-Capel F, Quevedo DI, Hernández-Mascarell AB (2011) Implementation of an eco-hydrological classification in Chilean rivers. Gayana 75(1):26–38

Pérez-Losada M, Bond-Buckup G, Jara CG, Crandall KA (2009) Conservation assessment of Southern South American freshwater ecoregions on the basis of the distribution and genetic diversity of crabs from the genus Aegla. Conserv Biol 23(3):692–702

Pottgiesser T, Sommerhauser M (2008) Begleittext. aktualisierung der steckbriefe der bundesdeutshenfliesgewassertypen (teil a) und erganzung der steckbriefe der deutschenfliesgewassertypen um typspezifishereferenzbedingungen und bewertungsverfahrenallerqualitatselemente (teil b). http://wasserblick.net/servlet/is/24739/?lang=de&highlight=typology. Accessed 1 Octuber 2010

Rambaldi G, Chambers R, McCall M, Fox J (2006) Practical ethics for PGIS practitioners, facilitators, technology intermediaries and researchers. Particip Learn Action 54:106–113

Rippey B, Doe S, Girvan J, Hale PR, McElarney Y, Neale M, Preston J (2001) A preliminary classification of lake types in northern Ireland. Freshw Forum 16(1):39–64

Rivera P (2006) Estado de conocimiento de las diatomeas dulceacuícolas de Chile. Gayana 70(1):1–7

Sánchez-Montoya MM, Puntí T, Suárez ML, Vidal-Abarca MD, Rieradevall M et al (2007) Concordancebetweenecotypes and macro invertebrate assemblages in mediterranean streams. Freshw Biol 52(11):2240–2255

Santibáñez F, Roa P, Santibáñez P (2008) El medio físico. In: CONAMA (ed) Biodiversidad de Chile. Patrimonio y desafíos, Santiago de Chile, pp 21–45

Snelder T, Biggs B (2002) Multiscale river environment classification for water resources management. J Am Water Resour As 38(5):1225–1239

Snelder T, Hughey KFD (2005) The use of an ecological classification to improve water resource planning in New Zealand. Environ Manage 36(5):741–756

Soto D, Campos H (1997) Los lagos oligotróficos del bosque templado húmedo del sur de Chile. In: Armesto JJ, Villagrán C, Kalin M (eds) Ecología de los bosques nativos de Chile. Editorial Universitaria, Santiago, pp 317–334

TWINBAS, Twinning European and Third Countries River Basin for Development of Integrated Water Resources Management Methods, WP6.2 (2007) Classification of water bodies. Volume I: Characterisation. Biobío River Basin, Concepción

van den Bund W, Solimini AG (2007) Ecological quality ratios for ecological quality assessment in inland and marine waters. Institute for Environment and Sustainability (ed), Italy

Verdonschot PFM, Nijboer RC (2004) Testing the European stream typology of the Water Framework Directive for macro invertebrates. Hydrobiologia 516(1–3):35–54

Vila I, Pardo R, Dyer B, Habit E (2006) Peces límnicos: diversidad, origen y estado de conservación. In: Ramírez C (ed) Vila I, Veloso A, Schlatter R. Macrófitas y vertebrados de los sistemas límnicos de Chile. Editorial Universitaria, Santiago de Chile, pp 73–103

Vila I, Pardo R, Scott S (2007) Freshwater fishes of the Altiplano. Aquat Ecosyst Health Manage 10(2):201–211

Villalobos L (2006) Estado de conocimiento de los crustáceos zooplanctónicos dulceacuícolas de Chile. Gayana 70(1):31–39

Wasson JG, Chandesris A, Pella H, Blanc L (2004) Les hydro-écorégions: une aproche fonctionnelle de la typologie des rivières pour la Directive Cadre Européenne Sur L'Eau. Ingénieries 40:3–10

Wikramanayake E, Dinerstein E, Loucks C, Olson D, Morrison J et al (2002) Ecoregions in Ascendance:reply to Jepsen and Whittaker. Conserv Biol 19:238–243

Wimmer R, Chovanec A, Moog O, Fink MH, Gruber D (2000) Abiotic stream classification as a basis for a surveillance monitoring network in Austria in accordance with Eu Water Framework Directive. Acta Hydroch Hydrob 28(4):177–184
Acknowledgments
We would like to thank to the Ministry of Environment (ex Comisión Nacional del Medio Ambiente, CONAMA), whose funding to the 1588-160-LE09 project permitted the development of this study. We also thank all of the experts who disinterestedly shared their knowledge to develop this continental water body classification that leads us to a typology of water bodies at a national level.
Electronic supplementary material
Below is the link to the electronic supplementary material.
About this article
Cite this article
Fuster, R., Escobar, C., Lillo, G. et al. Construction of a typology system for rivers in Chile based on the European Water Framework Directive (WFD). Environ Earth Sci 73, 5255–5268 (2015). https://doi.org/10.1007/s12665-014-3772-x
Received:

Accepted:

Published:

Issue Date:
Keywords
Typology system

Water bodies

Water resources management

Rivers