Abstract
The aim of this work was to examine the consequences of the wildfire on the differences in qualitative and quantitative composition of the soil, and Cu, Pb, Cd, and Zn levels in the soils and plant species of Geraniaceae family at Vidlic Mountain, Serbia. Main soil characteristics organic matter content, conductivity, redox potential, pH (H2O), pH (KCl), and chloride content in soil samples from post-fire areas and from fire non-disturbed areas were studied. The optimized three-step sequential extraction procedure was applied to the analysis of Cu, Pb, Cd, and Zn levels in the soils. Distribution of heavy metals in aerial parts and roots of examined species was investigated too. For some characteristic parameters of soil, like conductivity, redox potential, chloride content, the impact of fire on the soil habitats followed the same trend for all plants species. Content of copper, lead, and zinc in plant material derived from post-fire areas was generally greater than their content in the plants that grew on the area not exposed to fire. Although the content of cadmium was generally higher in all fractions of the samples from the locality not exposed to the fire, content of that metal in the plant parts was reversed. Most characteristics of soil are significantly altered as a consequence of fire. Majority of soil samples from the post-fire area had increased content of analyzed metals, except cadmium. Fire caused slightly increased bioavailability of the examined metals. The biggest difference in the content of the studied metals in the soil from the post-fire areas and the area not exposed to fire was in the fraction which includes metals associated with organic matter.
Access options
Buy single article
Instant access to the full article PDF.
USD 39.95
Price excludes VAT (USA)
Tax calculation will be finalised during checkout.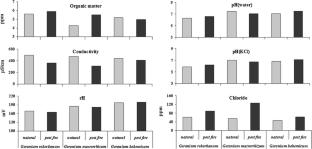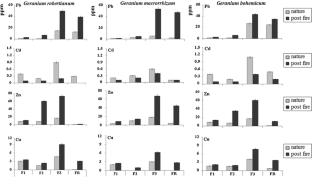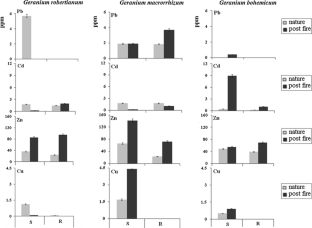 References
Adriano DC (1986) Trace elements in the terrestrial environment. Springer, New York

Ahmed A, Tajmir-Riahi HA (1993) Interaction of toxic metal ions Cd2+, Hg2+ and Pb with light-harvesting proteins of chloroplast thylakoid membranes. An FTIR spectroscopic study. J Inorg Biochem 50:235–243

Aldridge KT, Ganf GG (2003) Modification of sediments redox potential by three contrasting. Mar Freshw Res 54:87–94

Bacon JR, Hewitt IJ, Cooper P (2005) Reproducibility of the BCR sequential extraction procedure in a long-term study of the association of heavy metals with soil components in an upland catchment in Scotland. Sci Total Environ 337:191–205

Blagojevic N, Damjanovic-Vratnica B, Vukasinovic-Pesic V, Djurovic D (2009) Heavy metals content in leaves and extracts of wild-growing Salvia officinalis from Montenegro. Pol J Environ Stud 18:167–173

Bogacz A, Wozniczka P, Labaz B (2011) Concentration and pools of heavy metals in organic soils in post-fire areas used as forest and meadows. J Elem 16:515–524

Burke MP, Hogue TS, Ferreira M, Mendez CB, Navarro B, Lopez S, Jay JA (2010) Effect of wildfire on soil mercury concentrations in Southern California watersheds. Water Air Soil Pollut 212:369–385

Burzynski M (1987) The uptake and transpiration of water and the accumulation of lead by plants growing on lead chloride solutions. Acta Soc Bot Pol 56:271–280

Chrysikou L, Gemenetzis P, Kouras A, Manoli E, Terzi E, Samara C (2008) Distribution of persistent organic pollutants, polycyclic aromatic hydrocarbons and trace elements in soil and vegetation following a large scale landfill fire in northern Greece. Environ Int 34:210–225

Ciric J (1989) Geography of upper Ponišavlje and Luznica. In: Nikolic P (ed) Pirot proceedings, vol 16, pp 9–23, newspaper publishing institution, "Freedom", Pirot

Couto-Vazquez A, Gonzalez-Prieto SJ (2008) Short- and medium-term effects of fire and fire-fighting chemicals on soil micronutrient availability. Sci Total Environ 407:297–303

Crawford JJ, Train SJ, Tuovinen OH (2000) Bacterial degradation of atrazine in redox potential gradients in fixed-film sand columns. Soil Sci Soc Am J 64:624–634

Forstner U (1995) Land contamination by metals—global scope and magnitude of problem. In: Herbert AE, Huang CP, Bailey GW, Bowers AR (eds) Metal speciation and contamination of soil. CRC Press, Boca Raton, FL, pp 1–34

Fox TC, Guerinot ML (1998) Molecular biology of cation transport in plants. Annu Rev Plant Physiol Plant Mol Biol 49:669–696

Ghosh M, Singh SP (2005) A review on phytoremediation of heavy metals and utilization of its byproducts. Appl Ecol Environ Res 3:1–18

Gonzalez-Perez JA, Gonzalez-Vila FJ, Almendros G, Knicker H (2004) The effect of fire on soil organic matter—a review. Environ Int 30:855–870

Guerraa MBB, Netoa EL, Priantia MTA, Pereira-Filhob ER, Schaefera CEGR (2013) Post-fire study of the Brazilian Scientific Antarctic Station: toxic element contamination and potential mobility on the surrounding environment. Microchem J 110:21–27

He XT, Traina SJ, Logan TJ (1992) Chemical properties of municipal solid waste compost. J Environ Qual 21:318–329

Hoenig M (2001) Preparation steps in environmental trace element analysis-facts and traps. Talanta 54:1021–1038

Iwegbue CMA, Egobueze FE, Opuene K (2006) Preliminary assessment of heavy metals levels of soils of an oil field in the Niger Delta, Nigeria. Int J Environ Sci Technol 3:167–172

Jeliazkova EA, Craker LE (1998) Heavy metals and seed germination in some medicinal and aromatic plants. HortScience 33:203–206

Jose S, Gillespie AR, Pallardy SG (2004) Interspecific interactions in temperate agroforestry. Agroforest Syst 61–62:237–255

Krishnamurti GSR, Naidu R (2002) Solid-solution speciation and phytoavailability of copper and zinc in soils. Environ Sci Technol 36:2645–2651

Lake DL, Kirk PWW, Lester JN (1984) Fractionation, characterization, and speciation of heavy metals in sewage and sludge amended soil: a review. J Environ Qual 13:175–183

Macdonald SE (2007) Effects of partial post-fire salvage harvesting on vegetation communities in the boreal mixedwood forest region of northeastern Alberta, Canada. For Ecol Manage 239:21–31

Manahan ES (2000) Environmental chemistry, 7th edn. CRC Press LLC, Boca Raton, FL

Ministry of Environment and Spatial Planning Republic of Serbia (2008) Report on fires in protected natural resources for 2007 year (in Serbian)

Mohanty N, Vass I, Demeter S (1989) Copper toxicity affects photosystem 11 electron transport at the secondary quinone acceptor, Q(B). Plant Physiol 90:175–179

National Wildfire Coordinating Group (2001) Fire effects guide. Chapter v—soils, water, and watersheds By Dr. Bob Clark. http://www.nwcg.gov/pms/RxFire/FEG.pdf

Patra M, Bhowmik N, Bandopadhyay B, Sharma A (2004) Comparison of mercury, lead and arsenic with respect to genotoxic effects on plant systems and the development of genetic tolerance. Environ Exp Bot 52:199–223

Pereira MG, Valladares GS, Anjos LHC, Benites VM, Espíndula JRA, Ebeling AG (2006) Organic carbon determination in Histosols and soil horizons with high organic matter content from Brazil. Sci Agric 63:187–193

Petrovic J (1971) Odorovac cave, proceedings of the Faculty of Sciences 1, separat, University of Novi Sad, pp 228–258

Petruzzelli G (1989) Recycling wastes in agriculture: heavy metal bioavailubiity. Agric Ecosyst Environ 27:493–503

Quevauviller Ph (1998) Operationally defined extraction procedures for soil and sediment analysis. I. Standardization. Trac Trends Analyt Chem 17:289–298

Radojevic M, Bashin V (1999) Practical environmental analysis. RSC, Cambridge

Ramos L, Gonzalez MJ, Hernandez LM (1999) Sequential extraction of copper, lead, cadmium, and zinc in sediments from Ebro River (Spain): relationship with levels detected in earthworms. Bull Environ Contam Toxicol 62:301–308

Rashid P, Mukherji S (1991) Changes in catalase and ascorbic oxidase activities in response to lead nitrate treatments in mungbean. Indian J Plant Physiol 34:143–146

Robichaud PR, Beyers JL, Neary DG (2000) Evaluating the effectiveness of postfire rehabilitation treatments. USDA Forest Service, Gen Tech Rep RMRSGTR-63

Schutzendubel A, Polle A (2002) Plant responses to abiotic stresses: heavy metal-induced oxidative stress and protection by mycorrhization. J Exp Bot 53:1351–1365

Sigg L (2000) Redox potential measurements in natural waters: significant: concepts and problems. In: Schulz HD, Fischer WR, Bottcher J, Duijnisveld WHM (eds) Redox: fundamentals, processes and applications. Springer, Berlin, pp 1–11

Sosorova SB, Merkusheva MG, Ubugunov LL (2013) Pyrogenic changes in microelement content in soils and plants from the pine forests of western Transbaikal. Contemp Probl Ecol 6:499–508

Stankov Jovanovic VP, Ilic MD, Markovic MS, Mitic VD, Nikolic Mandic SD, Stojanovic GS (2011) Wild fire impact on copper, zinc, lead and cadmium distribution in soil and relation with abundance in selected plants of Lamiaceae family from Vidlic Mountain (Serbia). Chemosphere 84:1584–1591

Summary Report of a Workshop on phytoremediation research needs (1994) Mechanisms of plant uptake, translocation, and storage of toxic elements. Plume Focus Area, U. S. Department of Energy, Santa Rosa, California. http://www.osti.gov/bridge/servlets/purl/10109412-BckU4U/webviewable/10109412.pdf

Tan K (1998) Principles of soil chemistry, 3rd edn. Marcel Dekker Inc, Revised and expanded

Tuzen M (2003) Determination of heavy metals in soils, mushrooms and plant samples by atomic absorption spectromerty. Microchem J 74:289–297

(US EPA) United States Environmental Protection Agency (1996) Method 3050B: acid digestion of sediments, sludges and soils. http://www.epa.gov/wastes/hazard/testmethods/sw846/pdfs/3050b.pdf. Accessed December 1996

(US EPA) United States Environmental Protection Agency (2006) Process design manual: land treatment of municipal wastewater effluents. EPA 625/R-06/016, ORD, Cincinnati, OH

Violante A, Cozzolino V, Perelomov L, Caporale AG, Pigna M (2010) Mobility and bioavailability of heavy metals and metalloids in soil environments. J Soil Sci Plant Nutr 10:268–292

Walkley A, Black IA (1934) An examination of the Degtjareff method for determining soil organic matter, and a proposed modification of the chromic acid titration method. Soil Sci 37:29–38

Yobouet YA, Adouby K, Trokourey A, Yao B (2010) Cadmium, copper, lead and zinc speciation in contaminated soils. Int J Eng Sci Technol 2:802–812
Acknowledgments
The research was supported by the Serbian Ministry of Education and Science (Grant No. 172051).
About this article
Cite this article
Mitic, V.D., Stankov Jovanovic, V.P., Ilic, M.D. et al. Impact of wildfire on soil characteristics and some metal content in selected plants species of Geraniaceae family. Environ Earth Sci 73, 4581–4594 (2015). https://doi.org/10.1007/s12665-014-3744-1
Received:

Accepted:

Published:

Issue Date:

DOI: https://doi.org/10.1007/s12665-014-3744-1
Keywords
Geraniaceae family

Heavy metals

Sequential extraction

Soil

Wildfire