Abstract
The current thermal regime around the red Sea was initiated by a mantle plume beneath Ethiopia, Eretria, Yemen and SW of Saudi Arabia at about 31 Ma before the present. The evolution of the geothermal systems around the Red Sea is coeval to the initial onset of volcanism over the separated land masses (Eritrea, Ethiopia, Djibouti, Yemen, Saudi Arabia and Egypt at 14 Ma. The entire tectono-magmatic activities around the Red Sea gave rise to several geothermal provinces over the continents surrounding the Red Sea, represented by thermal springs and fumaroles at several locations in Eretria, Djibouti, Ethiopia, Yemen and Saudi Arabia. These countries have the potential to develop these resources, like Ethiopia, to mitigate CO2 emissions in countries like Saudi Arabia and to enhance the GDP (gross domestic product) of the economically backward countries. The geothermal resources have the potential to make these countries energy independent in future.
Access options
Buy single article
Instant access to the full article PDF.
US$ 39.95
Tax calculation will be finalised during checkout.
Subscribe to journal
Immediate online access to all issues from 2019. Subscription will auto renew annually.
US$ 119
Tax calculation will be finalised during checkout.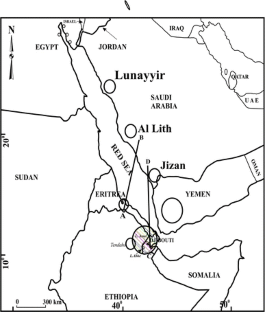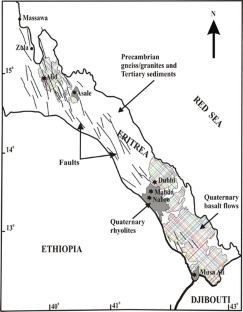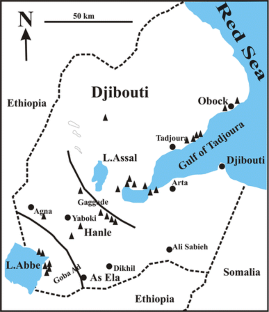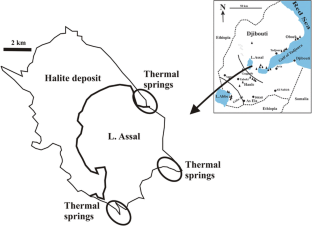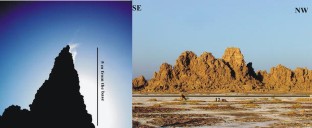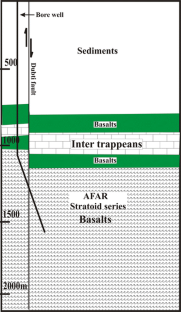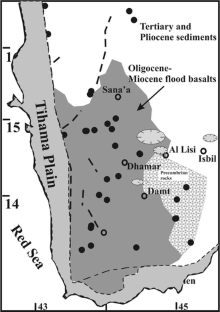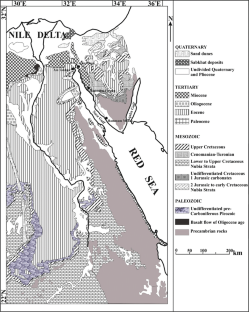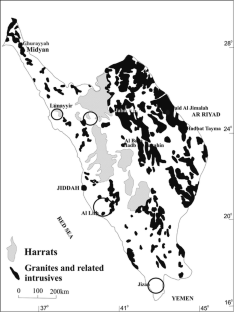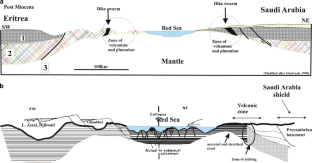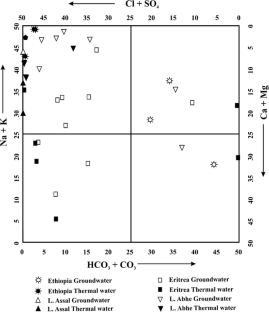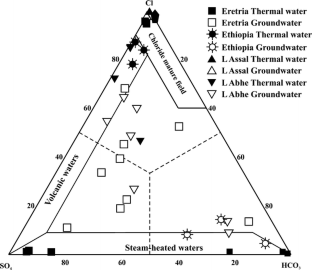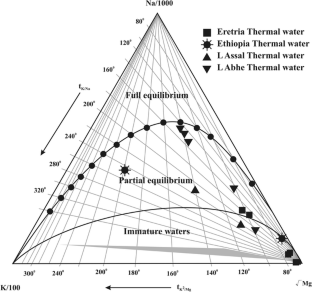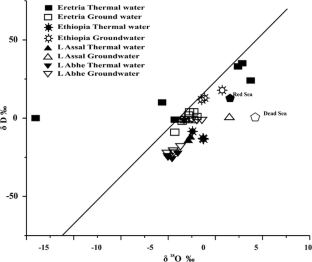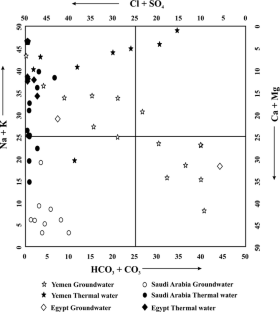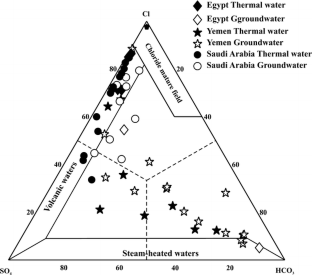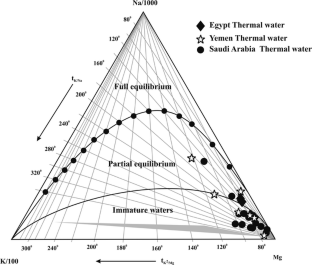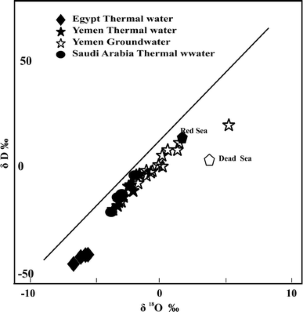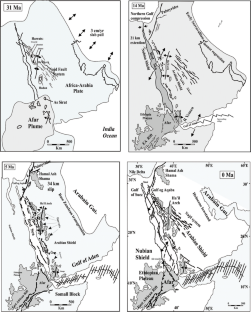 References
Abdalla FA, Scheytt T (2012) Hydrochemistry of surface water and groundwater from a fractured carbonate aquifer in the Helwan area. Egypt J Earth Syst Sci 121:109–124

Al-Amri AMS (1994) Seismicity of the south-western region of the Arabian Shield and southern Red Sea. J Afr Earth Sci 19:17–25

Al-Dayel M (1988) Geothermal resources in Saudi Arabia. Geothermics 17(2–3):465–476

Ali S (2005) Geochemical studies of the Tendaho geothermal field. Proceedings world geothermal congress, Antalya, Turkey, 2005

Al-Kadasi M, Menzies M, Baker J (1999) K–Ar chronology of the basalt-rhyolite province in western Yemen: the need for data screening. Yemeni J Sci 1:67–80

Al-Mazroui M, Islam MN, Athar H, Jones PD, Rahman MA (2012) Recent climate change in the Arabian peninsula: annual rainfall and temperature analysis of Saudi Arabia. Inter J Climatol 32:953–966

Al-Zahrani H, Al-Amri AM, Abdel-Rahman K, Fnais M (2013) Aftershock sequence analysis of 19 May, 2009 earthquake of Lunayyir lava flow, northwest Saudi Arabia. Inter J Phys Sci 8:277–285

Aquater (1989) Djibouti geothermal exploration project Republic of Djibouti: final report, ISERST, p 159

As-Saruri ML (1999) Lithostratigraphie der Tertiar-Sedimente der Republik Jemen. Schriftenreihe fur geologische Wissenschaften H, 10, Berlin, Federal Republic of Germany

Battistellia A, Yiheyis A, Calore C, Ferragina C, Abatneh W (2002) Reservoir engineering assessment of Dubti geothermal field, northern Tendaho rift, Ethiopia. Geothermics 31:381–406

Bayer HJ, El Isa Z, Hotzl H, Mechie J, Prodehl C, Saffarini G (1989) Large tectonic and lithospheric structures of the Red Sea region tectonic and lithospheric structures of the Red Sea region. J Afr Earth Sci 8(2/3/4):565–587

Bergelson G, Nativ R, Bein A (1999) Salinization and dilution history of ground water discharging into the Sea of Galilee, the Dead Sea transform. Isr App Geochem 14:91–118

Beydoun ZR, As-Saruri AL, Mustafa, El-Nakhal H, Al-Ganad IN, Baraba RS, Nani ASO, Al-Aawah MH (1998) International lexicon of stratigraphy v.III, Republic of Yemen. In: International union of geological sciences and ministry of oil and mineral resources, 2nd ed, Republic of Yemen

Black M, Morton WH, Rex DC (1974) Block tilting and volcanisme withintheAfar in the light of recent K/ArAge data. In: Pilger, Rösler A (eds) Afar Depression of Ethiopia, Bad Bergzarben, pp 296–299

Bosch B, Deschamps J, Leleu M, Lopoukhine M, Marce A, Vilbert C (1977) The geothermal zone of lake Assal (FTAI), geochemical and experimental studies. Geothermics 5:165–175

Bosworth W, Huchon P, McClay K (2005) The Red Sea and Gulf of Aden Basins. J Afr Earth Sci 43:334–378

Brown GF (1970) Eastern margin of the Red Sea and the coastal structures in Saudi Arabia. Phil Trans Roy Soc Lond A 267:75–87

Camp VE, Roobol MJ (1992) Upwelling asthenosphere beneath western Arabia and its regional implications. J Geophy Res 97:15255–15271

Chandarasekharam D, Lashin A, Al Arifi N (2014a) CO2 mitigation strategy through geothermal energy, Saudi Arabia. Renew Sustain Energy Rev 38:154–163

Chandarasekharam D, Lashin A, Al Arifi N (2014b) The potential contribution of geothermal energy to electricity supply in Saudi Arabia. Inter J Sustain Energy. doi:10.1080/14786451.2014.950966

Chandrasekharam D, Antu MC (1995) Geochemistry of Tattapani thermal springs, Madhya Pradesh, India–field and experimental investigations. Geothermics 24(4):553–559

Chandrasekharam D, Chandrasekhar V (2010) Geothermal energy development of L. Abbe and CDM for Djibouti. In: Proceedings of ArGeo 3 Conference, Djibouti

Chideh AF (2006) Pilot project for energy and mining economic beneficiation from Assal (Djibouti) geothermal and mineral Resources. Geothermal Res Counc Trans 30:659–662

CNRS-CNR (Centre National de la Recherche Scientifique-Consiglio Nazionaledelle Ricerche) (1973) "Geology of Northern Afar (Ethiopia)." Rev Géog Phys Géol Dyn (2) XV (4): 443–490

Colletta B, Le Quellec P, Letouzey J, Moretti I (1988) Longitudinal evolution of the Suez rift structure (Egypt). Tectonophy 153:221–233

Craig H (1966) Isotopic composition and origin of the Red Sea and Salton Sea geothermal brines. Science 154:1544–1548

D'Almeida GAF (2010) Structural evolution history of the Red Sea rift. Geotectonics 44(3):271–282

Dequin H (1976) Arabische republik Yemen. Wirschafts geographieeines Entwicklungslandes, Riyadh

Dowgiallo J (1986) Thermal waters of the Yemen Arab republic. Geothermics 15:63–76

Duffeld WA, Bullen TD, Clynne MA, Fournier RO, Janik CJ, Lanphere MA, Lowenstern J, Smith JG, Giorgis L, Kahsai G, Mariam K, Tesfai T (1997) Geothermal potential of the Alid volcanic center, Danakil Depression, Eritrea. US Geol Surv Open File Rep 291:62

El Fiky AA (2009) Hydrogeochemistry and geothermometry of thermal groundwater from the Gulf of Suez Region. Egypt J King Abdulaziz Univ Earth Sci 20:71–96

Fara M, Chandrasekharam D, Minissale A (1999) Hydrogeochemistry of Damt thermal springs, Yemen Republic. Geothermics 28:241–252

Fournier RO (1973) Silica in thermal waters: laboratory and field investigations Proceedings international symposium on hydrogeochemistry and biogeochemistry, Tokyo, 1, 122–139

Fournier RO (1977) Chemical geothermometers and mixing models for geothermal systems. Geothermics 5:41–50

Fournier RO (1983) A method of calculating quartz solubilities in aqueous sodium chloride solution. Geochim Cosmochim Acta 47:579–586

Fournier RO, Truesdell AH (1973) An empirical Na–K–Ca geothermometer for natural water. Geochim Cosmochim Acta 37:1255–1275

Fontes JCh (1980) Environmental isotope study of groundwater systems in the Republic of Djibouti.Extrait de "Arid zone hydrology" investigation with isotope techniques, International Atomic Agency, Vienne, pp 237–263

Gasse F, Richard O, Robe D, Et Williams MAJ (1980) "Evolution Tectoniqueetclimatique de l'Afar Centrald'après les sédimentsplio-pléistocènes". 7. Bulletin de la Societe Géologique France XXII 6:987–1001

Gaulier JM, Huchon P (1990) Evolution tectonique de l'Afarméridionaldepuis 3, 5 Ma. Sciences et Techniquesno 3, ISERST, Djibouti, pp 7–12

Gettings ME, Blank HR, Mooney WD, Healey JH (1986) Crustal structure of south-western Saudi Arabia. J Geophy Res 91:6491–6512

Giggenbach WF (1988) Geothermal solute equilibria. Derivation of Na–K–Mg–Ca geoindicators. Geochim Cosmochim Acta 52:2749–2765

Giggenbach WF, Gonfiantini R, Jangi BL, Truesdell AH (1983) Isotopic and chemical composition of Parbati Valley geothermal discharges, NW-Himalaya, India. Geothermics 12:199–222

Greenwood WR, Hadley DG, Anderson RE, Fleck RJ, Schmidt DL (1976) Late Proterozoic cratonization in south-western Saudi Arabia. Phil Trans R Soc Lond A 280:517–527

Haenel R (1972) Heat flow measurements in the Red Sea and the Gulf of Aden. Zeit Geophys 38:1032–1047

Houssein DE, Axelsson G (2010) Geothermal resources in the Assal Region, Republic of Djibouti: an update with emphasis on reservoir engineering studies. Geothermics 39:220–227

Houssein B, Chandrasekharam D, Varun C, Jalludin M (2013) Geochemistry of thermal springs around Lake Abhe. J Sustain Energy, Western Djibouti. doi:10.1080/14786451.2013.813027

Hussein M, Lashin A, Al Bassam A, Al Arifi N, Al Zahrani I (2013) Geothermal power potential at the western coastal part of Saudi Arabia. Renew Sustain Energy Rev 26:668–684

IEA (International Energy Agency) (2013) World energy outlook, France, p 674

Kohlani T (2013) Geothermal prospecting by geochemical methods in the Quaternary volcanic province of Dhamar (central Yemen). J Volcanol Geother Res 249:95–108

Lashin A (2007) Evaluation of the geothermal potential around the coastal parts of the Gulf of Suez, Egypt, using well logging and the geo-thermometer data. J Appl Geophys 6(2):215–248

Lashin A (2013) A preliminary study on the potential of the geothermal resources around the Gulf of Suez. Egypt Arabian J Geosci 6:2807–2828

Lashin A, Al Arifi N (2012) The geothermal potential of Jizan area, South-western parts of Saudi Arabia. Int J Phys Sci 7:664–675

Lashin A, Al Arifi N (2014) Geothermal energy potential of south-western of Saudi Arabia "exploration and possible power generation": a case study at Al Khouba area–Jizan. Renew Sustain Energy Rev 30:771–789

Lashin A, Chandrasekharam D, Al Arifi N, Al Bassam AA, Varun C (2014) Geothermal energy resources of Wadi Al-Lith, Saudi Arabia. J African Earth Sci 97:357–367

Lowensterna JB, Janika CJ, Fournier RO, Tesfaib T, Duffield WA, Clynne MA, Smith JG, Woldegiorgis L, Weldemariam K, Kahsai G (1999) A geochemical reconnaissance of the Alid volcanic center and geothermal system Danakil depression, Eritrea. Geothermics 28:161–187

Mattash MA (1994) Study of the Cenozoic volcanics and their associated intrusive rocks in Yemen in relation to rift development. Thesis Univ Budapest, Hungarian Academy of Sciences

Mattash MA, Vaselli O, Minissale A, Ad-Dukhain A, Hazza M (2005) The first geothermal resources map of Yemen, at a 1:125 000 scale, Ministry of Oil and Mineral Resources, Sana'a (Republic of Yemen)

McCombe DA, Fernette GL, Aalawi AJ (1994) The geological and mineral resources of Yemen. Ministry of Oil and Mineral Resources, Geological Survey of Yemen ed., Sana'a (Yemen), p 128

Meneisy MY, Kreuzer H (1974) Potassium-argon ages of Egyptian basaltic rocks. J Geol Jahrb 9:21–31

Menzies M, Bosence D, El Nakhal HA, Al Khirbash S, Al Khadasi MA, Al Subbary A (1990) Lithospheric extension and the opening of the Red Sea: sediment-basalt relationships in Yemen. Terra Nova 2:340–350

Menzies M, Al-Kadasi MA, Al-Khirbash S, Al-Subbary A, Baker J, Blakey S, Bosence D, Davison I, Dart C, Owen L, McClay K, Nichols G, Yelland A, Watchorn F (2001) Geology of Yemen. Geology and mineral resources of Yemen. Geological Survey and Mineral Resources of Yemen, Sana'a, pp 21–48

Minissale A, Mattash MA, Vaselli O, Tassi F, Al-Ganad IN, Selmo E, Shawki NM, Tedesco D, Poreda R, Ad-Dukhain AM, Hazzae MK (2007) Thermal springs, fumaroles and gas vents of continental Yemen: their relation with active tectonics, regional hydrology and the country's geothermal potential. Appl Geochem 22:799–820

Minissale A, Vaselli O, Mattash M, Montegrossi G, Tassi F, Ad-Dukkain A, Kalberkamp U, Al-Sabri A, Al Kohlani T (2013) Geothermal prospecting by geochemical methods in the Quaternary volcanic province of Dhamar (central Yemen). J Volcanol Geother Res 249:95–108

Morgan P, Black'well DD, Fanis TG, Boulos FK, Salib PG (1976) Preliminary temperature gradient and heat flow values for northern Egypt and the Gulf of Suez from oil well data. In: Proceedings international congress on thermal waters. geothermal energy and volcanism of mediterranean area. Geothermal energy, 1:424–438

Morgan P, Boulos FK, Swanberg CA (1983) Regional geothermal exploration in Egypt. Geophy Prospect 31:361–376

Morgan P, Boulos FK, Hennin SF, El Sherif AA, Basta NZ, Melek YS (1985) Heat flow in eastern Egypt: the thermal signature of a continental breakup. J Geodyn 4:107–131

Moufti MR, Moghazi AM, Ali KA (2013) 40Ar/39Ar geochronology of the Neogene-Quaternary Harrat Al-Madinah intercontinental volcanic field, Saudi Arabia: implications for duration and migration of volcanic activity. J Asian Earth Sci 62:253–268

Mukhopadhyay B, Mogren S, Mukhopadhyay M, Dasgupta S (2012) Incipient status of dyke intrusion in top crust–evidences from the Al-Ays 2009 earthquake swarm, Harrat Lunayyir, SW Saudi Arabia. Geomatics Nat Hazards Risk. doi:10.1080/19475705.2012.663794

Nuti S (1991) Isotope techniques in geothermal studies. In: F. D'amore (ed) Applications of geochemistry in geothermal reservoir development, pp 215–251

Orihashi Y, Al-Jailani A, Nagao K (1998) Dispersion of the Afar plume: implications for the spatiotemporal distribution of the late Miocene to recent volcanism, southwest Arabian peninsula. Gondwana Res 1:221–234

Patton TL, Moustafa AR, Nelson RA, Abdine AS (1994) Tectonic evolution and structural setting of the Suez rift. In: Landon SM (ed) Interior Rift Basins, vol 58. Am Assoc Pet Geol, Mere, pp 9–55

Perrin M, Saleh A, Alva-Valdivia L (2009) Cenozoic and Mesozoic basalts from Egypt: a preliminary survey with a view to paleointensity. Earth Planets Space 61:51–60

Pierret MC, Clauer N, Bosch D, France-Lanord C (2001) Chemical and isotopic (87Sr/86Sr, d18O, dD) constraints to the formation processes of Red-Sea brines. Geochim Cosmochim Acta 65:1259–1275

Pint JJ (2006) Prospects for lava-cave studies in Harrat Khaybar, Saudi Arabia. AMCS Bulletin 19/SMES Boletín 7

Plakfer G, Agar R, Asker AH, Haulf M (1987) Surface effects and tectonic setting of the 13th December 1982 north Yemen earthquake. Bull Seismolog Soc Am 77:2018–2037

Roobol MJ, Pint JJ, Al-Shanti MA, Al-Juaid AJ, Al-Amoudi SA, Pint S, With the collaboration of Al-Eisa AM, Allam F, Al-Sulaimani GS, Banakhar AS (2002) Preliminary survey for lava-tube caves on Harrat Kishb, Kingdom of Saudi Arabia: Saudi geological survey open-file report SGS-OF-2002-3, p 35

Saleh S, Jahr T, Jentzsch G, Saleh A, Ashour NMA (2006) Crustal evaluation of the northern Red Sea rift and Gulf of Suez, Egypt from geophysical data: 3-dimensional modelling. J African Earth Sci 45:257–278

Savage D, Cave MR, Mildowski AE (1985) The origin of saline groundwater in granite. Evidence from hydrothermal experiments. Met Rs Symp 50:121–128

SGS (2007) Saudi geological survey: maps of caves surveyed by Saudi geological survey Kingdom of Saudi Arabia, p 59

Siedner G (1973) K-Ar chronology of Cenozoic volcanic from northern Israel and Sinai [J]. Fortschr Min 50:129–130

Singh HK, Garg GC, Chandrasekharam D, Trupti G, Singh B (2014) Physicochemical evolution of the thermal springs over the Siwana Ring Complex, Western Rajasthan, India. J Geol Soc India (in press)

Stoeser DB (1986) Distribution and tectonic settiing of plutonic rocks of the Arabian Shield. J African Earth Sci 4:31–46

Stoeser DB, Stacey JS, Greenwood WR, Fischer LB (1984) U/Pb zircon geochronology of the southern portion of the Nabitah mobile belt and Pan-African continental collision in the Saudi Arabian Shield, Saudi Arabia. Ministry for Mineral Resources Technical Record USGS, TR 04–05

Swanberg CA, Morgan P, Boulos FK (1983) Geothermal potential of Egypt. Tectonophy 96:77–94

Teklemariam M, Kebede S (2010) Strategy for geothermal resource exploration and development in Ethiopia. In: Proceedings world geothermal congress, Bali, 2010

Truesdell AH (1976) Summary of Section III geochemical techniques in exploration. In: Proceedings, Second United Nations Symposium on the development and use of geothermal resources. San Francisco, vol 1 Washington D.C., U.S. Government Printing Office, pp liii–lxxxix, 1975

Tonani F (1970) Geochemical methods of exploration for geothermal energy. In: Proceedings 1st U.N. Symp. on the Development and Use of Geothermal Energy, vol 2, Pisa, Geothermics, pp 492–515 22 Sep to 1 Oct 1970

Vellutini P (1990) The manda-inakir rift, Republic of Djibouti: a comparison with the Asal. Rift and its geodynamic interpretation. Tectonophy 172:141–153

Yohannes E (2007) Geothermal exploration in Eritrea. Status report and discussion. In: Proceedings Surface Exploration for Geothermal Resources, organized by UNU-GTP and KenGen, at Lake Naivasha, Kenya, pp 2–17 Nov

Zaher MA, Saibi H, El-Nouby M, Ghamry E, Ehara S (2011) A preliminary regional geothermal assessment of the Gulf of Suez, Egypt. J Afr Earth Sci 60:117–132

Zaher AM, Saibi H, Ehara S (2012) Geochemical and stable isotopic studies of Gulf of Suez's hot springs, Egypt. Chin J Geochem 31:120–127

Zan L, Gianelli G, Passerini P, Troisi C, Haga AO (1990) Geothermal exploration in the Republic of Djibouti: thermal and geological data of the Hanle and Assal areas. Geothermics 19(6):561–582

Zumbo V, Feraud G, Vellutini P, Piguet P, Vincent J (1995) First 40Ar/39Ar dating on Early Pliocene to Plio-Pleistocene magmatic events of the Afar—Republic of Djibouti. J Volcanol Geotherm Res 65:28l–295
Acknowledgments
The authors extend their appreciation to the Deanship of Scientific Research at King Saud University for funding the work through the research group project No. RGP VPP-122. We are extremely thankful to one of the reviewers who meticulously reviewed the MS with constructive comments.
About this article
Cite this article
Chandrasekharam, D., Lashin, A., Al Arifi, N. et al. Evolution of geothermal systems around the Red Sea. Environ Earth Sci 73, 4215–4236 (2015). https://doi.org/10.1007/s12665-014-3710-y
Received:

Accepted:

Published:

Issue Date:
Keywords
Red Sea rift

CO2

Erta Ale

L. Abhe

Afar

Harrats

Suez Gulf