Abstract
This paper deals with cyclical effect of Jupiter on Earth's climate. The period of Earth's interaction with Jupiter and of its effect on the position of Earth's orbit is approximately equal to 11.86 years and the Earth's temperature seasonal fluctuations is equal to 12 months. Modeling indicates that the superposition of large planets' (mostly Jupiter) that effect Earth's climate should result in the modulation of seasonal temperature fluctuations of ±2.5 °C with the total period of 12 years. The real climatic fluctuations in the near-surface areas of Earth are modified first of all by the Sun's revolution around the center of mass of the Solar system, as affected by the gravitational pull of large planets (Jupiter and Saturn).
Access options
Buy single article
Instant access to the full article PDF.
USD 39.95
Price includes VAT (USA)
Tax calculation will be finalised during checkout.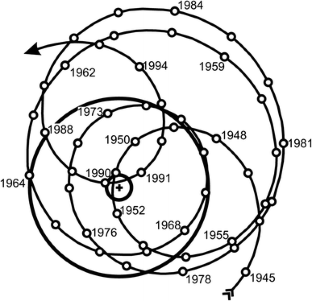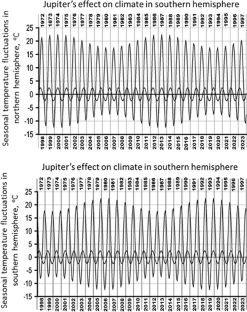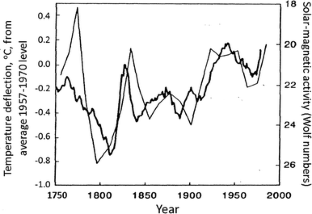 References
Abdusamatov KhI (2003) On long-term coordinated variations in luminosity activity, Sun's radius and climate In: Proceedings of international conference on climatic and ecological aspects of solar activity. St. Petersburg: pp 3–10

Landscheidt T (2003) New little ice age instead of global warming? Energy and Environ 14:327–350

Marov MYa (1986) Planets of the solar system. Nauka, Moscow, p 320

Robinson AB, Baliunas SL, Soon W, Robinson ZW (1998) Environmental effects of increased atmospheric carbon dioxide.(info@oism.org; info@marshall.org)

Sorokhtin OG (2006) Evolution and forecast of changes in Earth's global climate. Moscow–Izhevsk, Institute of Computer Studies, p 88

Sorokhtin OG, Chilingar GV, Khilyuk LF (2007) Global warming and global cooling: evolution of climate on Earth. Developments in Earth and Environmental Sciences, vol 5. Elsevier, Amsterdam, p 313

Sorokhtin OG, Chilingarian GV, Sorokhtin NO (2011) Evolution of Earth and its climate. Elsevier science. Developments in Earth and environmental sciences, vol 10. Elsevier, Amsterdam, p 763
Acknowledgments
The help extended by Academician MV Gorfunkel is greatly appreciated by the authors.
About this article
Cite this article
Sorokhtin, O.G., Chilingar, G.V., Sorokhtin, N.O. et al. Jupiter's effect on Earth's climate. Environ Earth Sci 73, 4091–4097 (2015). https://doi.org/10.1007/s12665-014-3694-7
Received:

Accepted:

Published:

Issue Date:
Keywords
Earth's climate

Jupiter's effect

Temperature fluctuations