Abstract
Arsenic contamination in drinking water is a worldwide health crisis. Treatment of arsenic laden water in areas of the world such as West Bengal, India has proven to be an extremely difficult task. Practical and reliable treatment technologies that can overcome the socioeconomic and geochemical barriers present in these areas of the world must be developed. Cupric Oxide (CuO) nanoparticles have shown promising characteristics as a sorbent to remove arsenic from water. Presented in this study is, to our knowledge, the first time CuO nanoparticles have been used to treat groundwater from West Bengal that is naturally high in arsenic. Batch experiments were conducted by reacting CuO nanoparticles with sixteen groundwater samples from West Bengal that exceed 10 µg/L. All samples showed near complete removal of arsenic following the treatment with CuO nanoparticles. The removal of arsenic was unaffected by the presence of high concentrations of competing ions such as bicarbonate (HCO3 −), phosphate (PO4 3−), and sulfate (SO4 2−). The CuO nanoparticle treatment showed no major affect on other water constituents. Overall, the results of this study suggest that CuO nanoparticles show potential as an effective sorbent of arsenic under diverse geochemical makeups.
This is a preview of subscription content, log in to check access.
Access options
Buy single article
Instant access to the full article PDF.
US$ 39.95
Price includes VAT for USA
Subscribe to journal
Immediate online access to all issues from 2019. Subscription will auto renew annually.
US$ 199
This is the net price. Taxes to be calculated in checkout.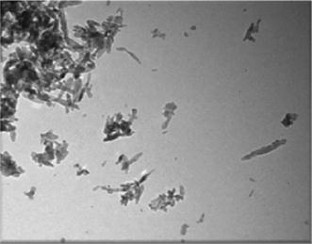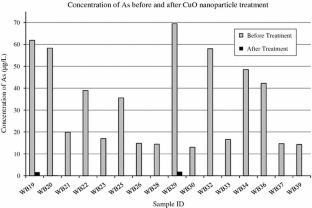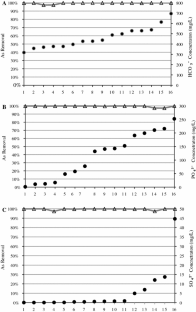 References
Anawar HM, Akai J, Mostofa KMG, Safiullah S, Tareq SM (2002) Arsenic poisoning in groundwater: health risk and geochemical sources in Bangladesh. Environ Int 27(7):597–604. doi:10.1016/S0160-4120(01)00116-7

APHA, WEF (2005) Standard methods for the examination of water and wastewater 1965, 21

Berg M, Stengel C, Trang PTK, Hung Viet P, Sampson ML, Leng M, Samreth S, Fredericks D (2007) Magnitude of arsenic pollution in the Mekong and Red River Deltas—Cambodia and Vietnam. Sci Total Environ 372(2):413–425

BGS, DPHE (2001) Arsenic contamination of groundwater in Bangladesh. In: Kinniburgh DG, Smedley PL (eds) British geological survey technical report WC/00/19. British Geological Survey, Keyworth

Chakraborti D (2011) Arsenic: occurrence in groundwater. In: Jerome ÂÂ, Nriagu O (eds) Encyclopedia of environmental health. Elsevier, Burlington, pp 165–180

Chakraborti D, Das B, Rahman MM, Chowdhury UK, Biswas B, Goswami AB, Nayak B, Pal A, Sengupta MK, Ahamed S, Hossain A, Basu G, Roychowdhury T, Das D (2009) Status of groundwater arsenic contamination in the state of West Bengal, India: a 20-year study report. Mol Nutr Food Res 53(5):542–551. doi:10.1002/mnfr.200700517

Chakraborti D, Mohammad MR, Das B, Nayak B, Pal A, Sengupta MK, Hossain MA, Ahamed S, Sahu M, Saha KC, Mukherjee SC, Pati S, Dutta RN, Quamruzzaman Q (2013) Groundwater arsenic contamination in Ganga-Meghna-Brahmaputra plain, its health effects and an approach for mitigation. Environ Earth Sci 70(5):1993–2008

Chiew H, Sampson M, Huch S, Ken S, Bostick BC (2009) Effect of groundwater iron and phosphate on the efficacy of arsenic removal by iron-amended BioSand filters. Environ Sci Technol 43(16):6295–6300

Chowdhury UK, Biswas BK, Chowdhury TR, Samanta G, Mandal BK, Basu GC, Chanda CR, Lodh D, Saha KC, Mukherjee SK (2000) Groundwater arsenic contamination in Bangladesh and West Bengal, India. Environ Health Perspect 108(5):393

Chowdhury SR, Yanful EK, Pratt AR (2011) Arsenic removal from aqueous solutions by mixed magnetite-maghemite nanoparticles. Environ Earth Sci 64(2):411423

George CM, Zheng Y, Graziano J, Hossain Z, Rasul SB, Mey J, Van Geen A (2012) Evaluation of an arsenic test kit for rapid well screening in Bangladesh. Environ Sci Technol 46(20):11213–11219

Gustaffson JP (2011) Visual MINTEQ. 3.0

Jain A, Loeppert RH (2000) Effect of competing anions on the adsorption of arsenate and arsenite by ferrihydrite. J Environ Qual 29(5):1422–1430

Johnston RB, Hanchett S, Khan MH (2010) The socio-economics of arsenic removal. Nat Geosci 3(1):2–3

Ledwith M (2002) Land cover classification using SPOT Vegetation 10-day composite images–Baltic Sea catchment basin

Lunetta RS, Knight JF, Ediriwickrema J, Lyon JG, Worthy LD (2006) Land-cover change detection using multi-temporal MODIS NDVI data. Remote Sens Environ 105(2):142–154

Martinson CA, Reddy K (2009) Adsorption of arsenic (III) and arsenic (V) by cupric oxide nanoparticles. J Colloid Interface Sci 336(2):406–411

Masscheleyn PH, Delaune RD, Patrick WH Jr (1991) Effect of redox potential and pH on arsenic speciation and solubility in a contaminated soil. Environ Sci Technol 25(8):1414–1419

Meng X, Bang S, Korfiatis GP (2000) Effects of silicate, sulfate, and carbonate on arsenic removal by ferric chloride. Water Res 34(4):1255–1261

Mohan D, Pittman CU (2007) Arsenic removal from water/waste water using adsorbents: a critical review. J Hazard Mater 142(1–2):1–53

Mukherjee S (2008) Role of satellite sensors in groundwater exploration. Sensors 8(3):2006–2016

Pan WC, Seow WJ, Kile ML, Hoffman EB, Quamruzzaman Q, Rahman M, Mahiuddin G, Mostofa G, Lu Q, Christiani DC (2013) Association of low to moderate levels of arsenic exposure with risk of type 2 diabetes in Bangladesh. Am J Epidemiol 178(10):1563–1570. doi:10.1093/aje/kwt195

Pazand K, Javanshir AR (2013) Hydrogeochemistry and arsenic contamination of groundwater in the Rayen area, southeastern Iran. Environ Earth Sci 70(6):2633–2644

Petrini R, Slejko F, Lutman A, Pison S, Franceschini G, Zini L, Italiano F, Galic A (2011) Natural arsenic contamination in waters from the Pesariis village. NE Italy. Environmental Earth Sciences 62(3):481–491

Rahman MM, Ng JC, Naidu R (2009) Chronic exposure of arsenic via drinking water and its adverse health impacts on humans. Environ Geochem Health 31:189–200

Reddy K, Attili V (2005) How to Remove Arsenic from Water. ASA, CSSA, SSSA, Annual Meeting abstracts

Reddy KJ (2007) Method for Removing Arsenic from Water. US Patent No, 7,235,179. Washington, DC: U.S. Patent and Trademark Office

Reddy KJ (2011) U.S. Patent No, 7,897,052. Washington, DC: U.S. Patent and Trademark Office

Reddy K, Roth T (2012) Arsenic removal from natural groundwater using cupric oxide. Ground Water. doi:10.1111/j.1745-6584.2012.00926.x

Reddy K, McDonald K, King H (2013) A novel arsenic removal process for water using cupric oxide nanoparticles. J Colloid Interface Sci 397:96–102

Rodrí-guez-Lado L, Sun G, Berg M, Zhang Q, Xue H, Zheng Q, Johnson CA (2013) Groundwater arsenic contamination throughout china. Science 341(6148):866–868

Roth TR, Reddy K (2005) Regional assessment of arsenic in domestic wells of small communities

Shafiquzzaman M, Azam MS, Mishima I, Nakajima J (2009) Technical and social evaluation of arsenic mitigation in rural Bangladesh. J Health Popul Nutr 27(5):674

Siegel M, McConnell P, Ilges A, Chen HW, Ghassemi A, Thompson R (2007) Development and evaluation of innovative arsenic adsorption technologies for drinking water by the arsenic water technology partnership (SAND2006-0113C)

Singh N, Singh RP, Mukherjee S, McDonald KJ, Reddy KJ (2013) Hydro-geological processes controlling the release of arsenic in part of 24 Parganas district West Bengal. Environ Earth Sci. doi:10.1007/s12665-013-2940-8

Welch AH, Westjohn D, Helsel DR, Wanty RB (2005) Arsenic in ground water of the United States: occurrence and geochemistry. Ground Water 38(4):589–604

Winkel L, Berg M, Amini M, Hug SJ, Johnson CA (2008) Predicting groundwater arsenic contamination in Southeast Asia from surface parameters. Nat Geosci 1(8):536–542

Yoon RH, Salman T, Donnay G (1979) Predicting points of zero charge of oxides and hydroxides. J Colloid Interface Sci 70(3):483–493

Zhang G, Li X, Wu S, Gu P (2012) Effect of source water quality on arsenic (V) removal from drinking water by coagulation/microfiltration. Environ Earth Sci 66(4):1269–1277
Acknowledgments
The authors would like to thank the University of Wyoming and Jawaharlal Nehru University for providing the facilities and resources used in this research.
About this article
Cite this article
McDonald, K.J., Reddy, K.J., Singh, N. et al. Removal of arsenic from groundwater in West Bengal, India using CuO nanoparticle adsorbent. Environ Earth Sci 73, 3593–3601 (2015). https://doi.org/10.1007/s12665-014-3645-3
Received:

Accepted:

Published:

Issue Date:
Keywords
Arsenic removal

Arsenic contamination

Arsenate

Arsenite

Arsenic toxicity

CuO sorbent