Abstract
In addition to drought intensity, drought magnitude (DM) is an important parameter in drought analysis. Therefore, in this study, the drought intensity and DM trends are investigated based on the standardized precipitation index (3, 6, 9, 12, 18 and 24 monthly SPI time series) from 1975 until 2005 in 25 synoptic weather stations located in arid and semi-arid regions of Iran. Although the DM is commonly computed for negative SPI values, for analysis the wet years besides drought conditions, this study has also involved positive SPI values and therefore, each time series was divided into four drought intensity conditions as follows: drought (D; SPI values less than −1), normal near drought (ND; SPI values more than −1 and less than 0), normal near wet (NW, SPI values more than 0 and less than +1), and wet (W; SPI values more than 1). The non-parametric rank-based Mann–Kendall test was used to detect trends of SPI values (drought intensity and DM) for 3, 6, 9, 12, 18 and 24 monthly time scales. Based on the results, a considerable percentage (50 %) of the stations at the level of 0.05 showed a significant trend with regards to drought intensity when compared with the DM trend (5.8 %). Generally, it can be said that the arid and semi-arid areas of Iran had a negative SPI trend and it means the more drought severities. Also, the more frequent significant positive DM trend in comparison to negative ones is a sign of increasing DM during the three past decades.
Access options
Buy single article
Instant access to the full article PDF.
US$ 39.95
Tax calculation will be finalised during checkout.
Subscribe to journal
Immediate online access to all issues from 2019. Subscription will auto renew annually.
US$ 119
Tax calculation will be finalised during checkout.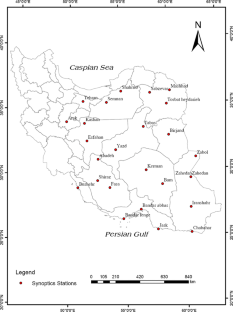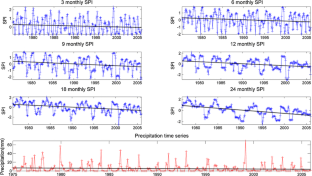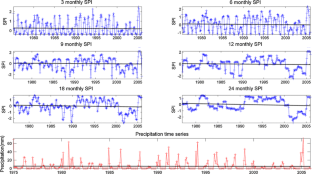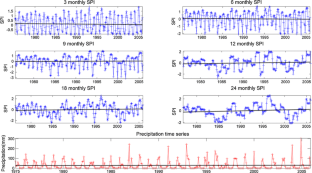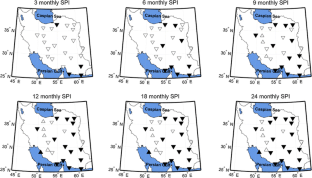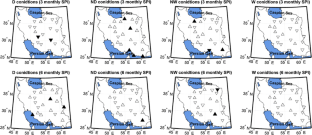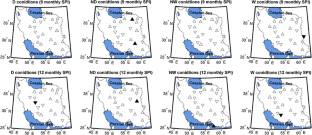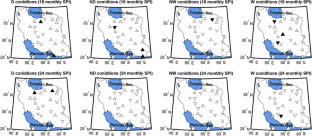 References
Abramowitz M, Stegun A (1965) Handbook of mathematical formulas graphs and mathematical tables. Dover Publications Inc, New York

Bari Abarghouei H, Asadi Zarch MA, Dastorani MT, Kousari MR, Safari Zarch M (2011) The survey of climatic drought trend in Iran. Stoch Environ Res Risk Assess. doi:10.1007/s00477-011-0491-7

Bonaccorso B, Cancelliere A, Rossi G (2003) An analytical formulation of return period of drought intensity. Stoch Environ Res Risk Assess 17:157–174

Dastorani ML, Afkhami H (2011) Application of artificial neural networks on drought prediction in Yazd (Central Iran). J Desert 16:39–48

Dinpashoh Y, Jhajharia D, Fakheri-Fard A, Singh VP, Kahya E (2011) Trends in reference crop evapotranspiration over Iran. J Hydrol 399:422–433

Edwards DC, McKee TB (1997) Characteristics of 20th century drought in the United States at multiple timescales. In: Climatology report no. 97-2. Colorado State University, Fort Collins Fort Collins, Colo

Hirsch R, Helsel D, Cohn T, Ilroy E (1993) Statistical analysis of hydrologic data, handbook of hydrology. McGraw-Hill, New York

Hughes BL, Saunders MA (2002) A drought climatology for Europe. Int J Climatol 22:1571–1592

Jiang T, Su B, Hartmann H (2007) Temporal and spatial trends of precipitation and river flow in the Yangtze River Basin, 1961–2000. Geomorphology 85:143–154

Kousari MR, Ahani H (2011) An investigation on reference crop evapotranspiration trend from 1975 to 2005 in Iran. J. Climatol, Int. doi:10.1002/joc.3404

Kousari MR, Asadi Zarch MA (2010) Minimum, maximum, and mean annual temperatures, relative humidity, and precipitation trends in arid and semi-arid regions of Iran. Arab J Geosci. doi:10.1007/s12517-009-0113-6

Kousari MR, Ekhtesasi MR, Tazeh M, Saremi Naeini MA, Asadi Zarch MA (2010) An investigation of the Iranian climatic changes by considering the precipitation, temperature, and relative humidity parameters. Theor Appl Climatol. doi:10.1007/s00704-010-0304-9

Kousari MR, Dastorani MT, Niazi Y, Soheili E, Hayatzadeh M, Chezgi J (2014) Trend detection of drought in arid and semi-arid regions of iran based on implementation of reconnaissance drought index (RDI) and application of non-parametrical statistical method. Water Resour Manag 28(7):1857–1872

López-Moreno JI et al (2009) Dam effects on droughts magnitude and duration in a transboundary basin: the Lower River Tagus, Spain and Portugal. Water Resour Res 45(2):W02405

Malekinezhad H (2009) Study on the water availability in Iran, using the international water indicators. In: 8th International Congress on Civil Engineering, Shiraz, Iran

McKee TB, Doesken NJ, Kleist J (1993) The relationship of drought frequency and duration to time scales. In: Preprints, 8th conference on applied climatology, vol 17–22. Anaheim, CA, pp 179–184

Mishra AK, Desai VR (2005) Drought forecasting using stochastic models. Stoch Environ Res Risk Assess 19:326–339

Mishra AK, Singh VP (2010) A review of drought concepts. J Hydrol 391:202–216

Modarres R, Sarhadi A (2009) Rainfall trends analysis of Iran in the last half of the twentieth century. J Geophys Res 114:D03101

Raziei T, Saghafian B, Paulo AA, Pereira LS, Bordi I (2009) Spatial patterns and temporal variability of drought in western Iran. Water Resour Manage 23:439–455

Rosegrant MW, Cai X, Cline SA (2002) Global Water Outlook to 2025, averting an Impending crisis. In: International Water Management Institute (IWMI)

Sadeghi AR, Kamgar-Haghighi AA, Sepaskahah AR, Khalili D, Zand-Parsa S (2002) Regional classification for dryland agriculture in southern Iran. J Arid Environ 50:333–341

Sen PK (1968) Estimates of the regression coefficient based on Kendall's Tau. J Am Stat Assoc 63:1379–1389

Silva V (2005) On climate variability in northeast of Brazil. J Arid Environ 58(4):575–596

Sneyers R (1990) On the statistical analysis of series of observations. In: WMO technical note 43. World Meteorological Organization, Geneva

Sonali P Nagesh, Kumar D (2013) Review of trend detection methods and their application to detect temperature changes in India. J Hydrol 476:212–227

Tabari H, Hosseinzadeh Talaee P (2011) Temporal variability of precipitation over Iran: 1966–2005. J Hydrol 396:313–320

Tabari H, Abghari H, Hosseinzadeh TP (2012) Temporal trends and spatial characteristics of drought and rainfall in arid and semiarid regions of Iran. Hydrol Process 26:3351–3361

Thom HCS (1958) A note on gamma distribution. Mon Weather Rev 86:117–122

Wu H, Svoboda M, Hayes M, Wilhite D, Wen F (2007) Appropriate application of the standardized precipitation index in arid locations and dry seasons. Int J Climatol 27:65–79

Yu Y, Zou S, Whittemore D (1993) Non-parametric trend analysis of water quality data of rivers in Kansas. J Hydrol 150:61–80

Yue S, Pilon P, Phinney B, Cavadias G (2002) The influence of autocorrelation on the ability to detect trend in hydrological series. Hydrol Process 16:1807–1829

Zhai L, Feng Q (2008) Spatial and temporal pattern of precipitation and drought in Gansu Province, northwest China. Nat Hazards 49:1–24
Acknowledgments
The authors gratefully appreciate the Cadastre group (Management Center for Strategic Projects) in Fars Organization of Agricultural Jihad for their support and providing research facilities. Also, the authors are grateful for the excellent research facilities provided by Yazd University and Hormozgan University. Furthermore, we appreciate the comments and suggestions made by the referees which enhanced the quality of current work.
About this article
Cite this article
Dashtpagerdi, M.M., Kousari, M.R., Vagharfard, H. et al. An investigation of drought magnitude trend during 1975–2005 in arid and semi-arid regions of Iran. Environ Earth Sci 73, 1231–1244 (2015). https://doi.org/10.1007/s12665-014-3477-1
Received:

Accepted:

Published:

Issue Date:
Keywords
Arid and semi-arid

Drought magnitude

Iran

Mann–Kendall statistics

SPI