Abstract
In urban microclimate research, ground-based thermography is used to gain insight into the spatial distribution of surface temperatures of various materials. Taking snapshots over a certain time span helps experts to observe the temporal thermo-radiative behavior of the monitored surface elements and therefore supports decisions on possible optimizations, e.g., improving the thermal comfort in a neighborhood. Appropriate visualization techniques facilitate decision-making and are thus crucial in the optimization process. In this study, we present a tool that eases the extraction of thermo-radiative features from multi-temporal thermographs taken from a monitored scene. Assisted by our tool, users can identify, choose, and register thermo-radiative features for each time step according to their individual research needs. The features' temporal development is then visualized using a directed graph that encodes topological events as well as each feature's size and summarizing statistics. To enhance this summary, a comprehensive animated sequence emphasizes the spatiotemporal behavior of the most significant thermo-radiative features. Salient developments are visually embedded and highlighted in the original infrared images, which are blended in an animation from time step to time step. Since we enable the user to interact with the data in a flexible way, noisy and low resolution image data sets can also be processed.
Access options
Buy single article
Instant access to the full article PDF.
USD 39.95
Price excludes VAT (USA)
Tax calculation will be finalised during checkout.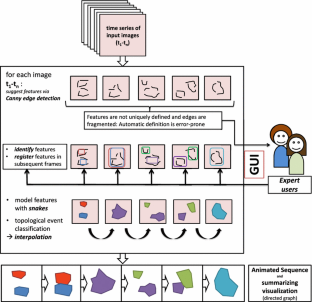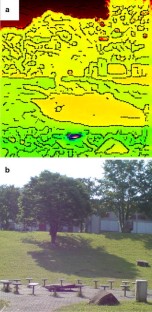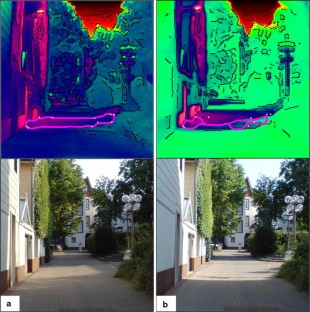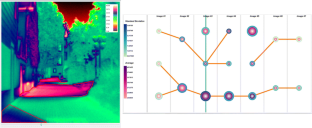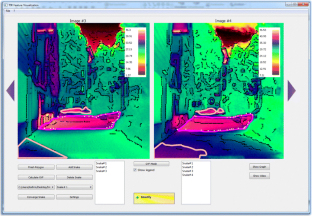 References
Ardila JP, Bijker W, Tolpekin VA, Stein A (2012) Multitemporal change detection of urban trees using localized region-based active contours in VHR images. Remote Sens Environ 124:413–426

Balaras C, Argiriou A (2002) Infrared thermography for building diagnostics. Energy Build 34(2):171–183

Canny J (1986) A computational approach to edge detection. IEEE Trans Pattern Anal Mach Intell 8(6):679–698

Chambenoit Y, Trouve E, Classeau N, Rudant J-P, Bolon P (2004) Different fusion strategies to detect geographical objects by active contours in multitemporal SAR images. In: Geoscience and remote sensing symposium, 2004 IGARSS'04 Proceedings 2004 IEEE International vol. 1, pp 97–100

Christen A, Meier F, Scherer D (2012) High-frequency fluctuations of surface temperatures in an urban environment. Theor Appl Climatol 108(1–2):301–324

Chudnovsky A, Ben-Dor E, Saaroni H (2004) Diurnal thermal behavior of selected urban objects using remote sensing measurements. Energy Build 36(11):1063–1074

Fang Z, Möller T, Hamarneh G, Celler A (2007) Visualization and exploration of time-varying medical image data sets. In: Proceedings of graphics interface 2007, ser. GI'07. ACM, New York, pp 281–288

FLIR® Systems (2011) FLIR® Reporter (Online). Available: http://www.flir.com/cs/emea/de/view/?id=42405. Accessed 2 September, 2013

FLIR® Systems (2011) FLIR® tools (Online). Available: http://www.flir.com/cs/emea/en/view/?id=52662. Accessed July 7, 2013

FLUKE® Corporation (2011) FLUKE® SmartView® (Online). Available: http://www.fluke.com/fluke/usen/accessories/software/flukesmartview-ir.htm?PID=56169. Accessed 2 September, 2013

Golden JS, Carlson J, Kaloush KE, Phelan P (2007) A comparative study of the thermal and radiative impacts of photovoltaic canopies on pavement surface temperatures. Sol Energy 81(7):872–883

Han J, Bhanu B (2007) Fusion of color and infrared video for moving human detection. Pattern Recogn 40(6):1771–1784

Harrower MA, Brewer CA (2003) ColorBrewer.org: an online tool for selecting color schemes for maps. Cartogr J 40(1):27–37

Hartz D, Prashad L, Hedquist B, Golden J, Brazel A (2006) Linking satellite images and hand-held infrared thermography to observed neighborhood climate conditions. Remote Sens of Environ 104(2):190–200

Henninger S (2012) Preventing a mass panic by micrometeorological measurements. In: 8th International conference on urban climates, August 2012, Dublin, Ireland

Hien WN, Yok TP, Yu C (2007) Study of thermal performance of extensive rooftop greenery systems in the tropical climate. Build Environ 42(1):25–54

Hoyano A, Asano K, Kanamaru T (1999) Analysis of the sensible heat flux from the exterior surface of buildings using time sequential thermography. Atmos Environ 33(2425):3941–3951

Ivins J, Porrill J (2000) Everything you always wanted to know about snakes. AIVRU Technical memo 86

Kass M, Witkin A, Terzopoulos D (1988) Snakes: active contour models. Int J Comput Vis 1(4):321–331. doi:10.1007/BF00133570

Lerma JL, Cabrelles M, Portals C (2011) Multitemporal thermal analysis to detect moisture on a building façade. Constr Build Mater 25(5):2190–2197

Meier F, Scherer D (2012) Spatial and temporal variability of urban tree canopy temperature during summer 2010 in Berlin Germany. Theor Appl Climatol 110(3):373–384

Meier F, Scherer D, Richters J (2010) Determination of persistence effects in spatio-temporal patterns of upward long-wave radiation flux density from an urban courtyard by means of time-sequential thermography. Remote Sens Environ 114(1):21–34

Reinders F, Post FH, Spoelder HJ (2001) Visualization of time-dependent data with feature tracking and event detection. Vis Comput 17(1):55–71

Ribaric S, Maretic D, Vedrina DS (2009) A knowledge-based system for the non-destructive diagnostics of façade isolation using the information fusion of visual and IR images. Expert Syst Appl 2:3812–3823

Samtaney R, Silver D, Zabusky N, Cao J (1994) Visualizing features and tracking their evolution. Comput 27(7):20–27

Sham JF, Memon SA, Tommy, Lo Y (2013) Application of continuous surface temperature monitoring technique for investigation of nocturnal sensible heat release characteristics by building fabrics in Hong Kong. Energy Build 58:1–10

Sidiropoulou-Velidou D, Georgopoulos A, Lerma J (2012) Exploitation of thermal imagery for the detection of pathologies in monuments. Ioannides M, Fritsch D, Leissner J, Davies R, Remondino F, Caffo R (eds) In: Progress in cultural heritage preservation. Lecture notes in computer science. Springer, Heidelberg, vol 7616, pp 97–108

Sohn B-S, Bajaj C (2006) Time-varying contour topology. IEEE Trans Vis Comput Graph 12(1):14–25

Speak A, Rothwell J, Lindley S, Smith C (2013) Reduction of the urban cooling effects of an intensive green roof due to vegetation damage. Urban Climate 3:40–55

Toet A, Hogervorst M, Nikolov S, Lewis J, Dixon T, Bull D, Canagarajah C (2010) Towards cognitive image fusion. Inf Fusion 11(2):95–113

Widanagamaachchi W, Christensen C, Bremer P-T, Pascucci V(2012) Interactive exploration of large-scale time-varying data using dynamic tracking graphs. In: Large data analysis and visualization (LDAV), 2012 IEEE Symposium on, 2012, pp 9–17

Xu C, Prince J (1998) Snakes, shapes, and gradient vector flow. IEEE Trans Image Process 7(3):359–369

Yang L, Li Y (2009) City ventilation of Hong Kong at no-wind conditions. Atmos Environ 43(19):3111–3121

Yilmaz A, Javed O, Shah M (2006) Object tracking: a survey. ACM Comput Surv 38(4), Article No. 13

Zhang Y, Zhang X, Maybank S, Yu R (2013) An IR and visible image sequence automatic registration method based on optical flow. Mach Vis Appl 24(5):947–958
Acknowledgments
The authors would like to thank the anonymous reviewers of this paper for their valuable feedback. This research was supported by the German Science Foundation (DFG, Grant 1131) as part of the International Graduate School (IRTG 1131) at University of Kaiserslautern, Germany. Any opinions, findings, and conclusions or recommendations expressed in this material are those of the authors and do not necessarily reflect the views of the sponsoring agency.
Electronic supplementary material
Below is the link to the electronic supplementary material.
About this article
Cite this article
Häb, K., Feige, N.H., Huettenberger, L.S. et al. Visualizing the temporal development of thermo-radiative features on ground-based thermographs. Environ Earth Sci 72, 3781–3793 (2014). https://doi.org/10.1007/s12665-014-3472-6
Received:

Accepted:

Published:

Issue Date:

DOI: https://doi.org/10.1007/s12665-014-3472-6
Keywords