Abstract
Hydrogeochemistry of an area helps in understanding the geological processes which control the chemistry of water and play an important role in determining the suitability of groundwater for various purposes. In the present study, an attempt has been made to understand the geological processes controlling the quality of water in a part of North and South 24-Parganas districts of West Bengal. 39 representative groundwater samples were collected from the study area and physico-chemical parameters were analyzed for all the samples. Schoeller and Durov diagram were used to understand the hydrochemical nature of water. Results obtained from water chemistry were used in the interpretation of controlling processes using different conventional graphs, and determining the quality of groundwater. Silicate weathering and ion exchange are the dominant processes controlling the chemistry of groundwater in the study area, where calcium and magnesium in the water are replaced by the sodium and potassium in the minerals from the host rock as chloro-alkaline indices are negative at most of the places. Saturation index was calculated to understand the mineralogy of the subsurface. The groundwater is oversaturated with iron containing minerals like Fe(OH)3, goethite, and hematite, while undersaturated with anhydrite and gypsum. The groundwater suitability was determined by calculating water quality index for drinking purpose; while SAR, and residual sodium carbonate indices for the agricultural purpose. The groundwater in the study area is not suitable for drinking, but can be used for other household use and in irrigation for agriculture.
This is a preview of subscription content, log in to check access.
Access options
Buy single article
Instant access to the full article PDF.
US$ 39.95
Price includes VAT for USA
Subscribe to journal
Immediate online access to all issues from 2019. Subscription will auto renew annually.
US$ 199
This is the net price. Taxes to be calculated in checkout.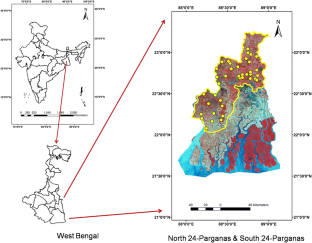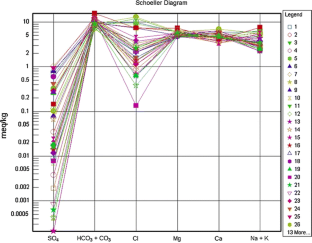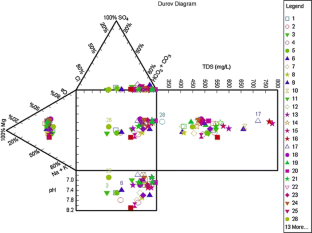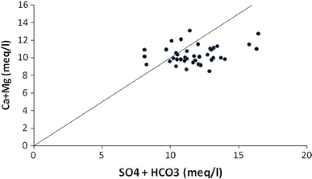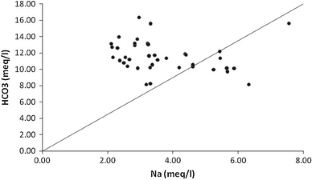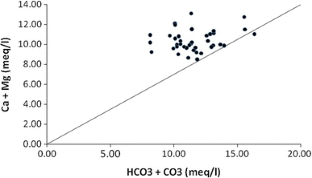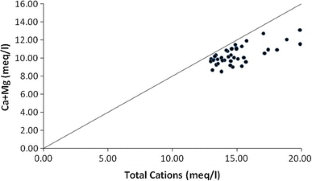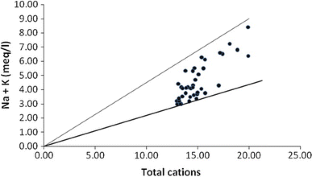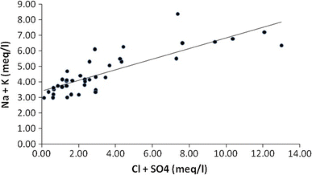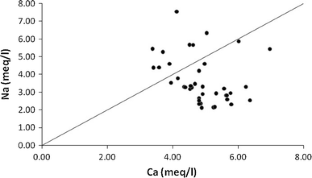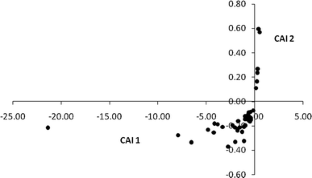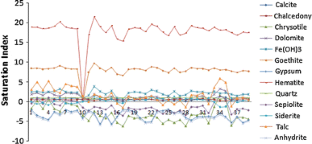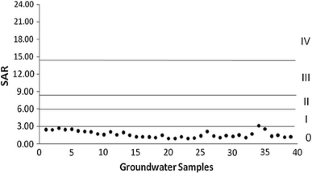 References
Acharyya SK, Chackraborty P, Lahiri S, Raymahashay BC, Guha S, Bhowmik A (1999) Arsenic poisoning in the Ganges delta. Nat 401:545

Acheampong SY, Hess JW (1998) Hydrogeological and hydrochemical framework of the shallow groundwater system in the southern Voltaian sedimentary basin, Ghana. J Hydrogeol 6:527–537

APHA (2005) Standard methods for the examination of water and waste water, 21st edn. American Public Health Association, Washington DC

Asadi SS, Vuppala P, Reddy MA (2007) Remote sensing and GIS techniques for evaluation of groundwater quality in municipal corporation of Hyderabad (Zone-V), India. Int J Environ Res and Public Heal 4(1):45–52

Avvannavar SM, Shrihari S (2008) Evaluation of water quality index for drinking purposes for river Netravathi, Mangalore, South India. Environ Monit Assess 143:279–290

Boyacioglu H (2007) Development of a water quality index based on a European classification scheme. Water SA 33(1):101–106

Chakraborti D, Das D, Samanta BK, Mandal BK, Chowdhury T, Chanda CR, Chowdhury PP, Basu GK (1996) Arsenic in groundwater in six districts of West Bengal, India. Environ Geochem Health 18:5–15

Chetia M, Chatterjee S, Banerjee S, Nath MJ, Singh L, Srivastava RB, Sarma HP (2011) Groundwater arsenic contamination in Brahmaputra river basin: a water quality assessment in Golaghat (Assam), India. Environ Monit Assess 173:371–385

Das D, Chatterjee A, Mandal BK, Samanta G, Chakraborty D, Chanda B (1995) Arsenic in groundwater in six districts of West Bengal, India: the biggest arsenic calamity in the world, Part 2: Arsenic concentration in drinking water, hair, nails, urine, skin-scale and liver tissue (biopsy) of the affected people. Anal 120:917–924

Dasgupta AM, Purohit KM (2001) Status of surface and groundwater quality of Mandiakadar—Part II: agricultural utilities. Pollut Res 20(2):219–225

Datta PS, Tyagi SK (1996) Major ion chemistry of groundwater of Delhi area: chemical weathering processes and groundwater flow regime. J Geol Soc India 47:179–188

Datta PS, Bhattacharya SK, Tyagi SK (1996) 18O studies on recharge of phreatic aquifers and groundwater flow-paths of mixing in the Delhi area. J Hydrol 176:25–36

Deutsch WJ (1997) Groundwater geochemistry: fundamentals and application to contamination. CRC Press, Boca Raton

Durov SA (1949) Treugolnaja forma graficeskogo vyrazenija rezultatov vodnych analizov I primenenije jejo k klassifikaciji prirodnych vod. Gidrochem.materialy 16:54

Durvey VS, Sharma LL, Saini VP, Sharma BK (1997) Handbook on the methodology of water quality assessment. Rajasthan Agriculture University, India

Eaton EM (1950) Significance of carbonate in irrigation water. Soil Sci 69:12–133

Edmunds WM, Carrillo-Rivera JJ, Cardona A (2002) Geochemical evolution of groundwater beneath Mexico City. J Hydrol 258:1–24

Elangovan D, Chalakh ML (2006) Arsenic pollution in West Bengal. Tech Dig 9:31–35

Freeze RA, Cherry JA (1979) Groundwater. Prentice-Hall, New Jersey

Giridharan L, Venugopal T, Jayaprakash M (2008) Evaluation of the seasonal variation on the geochemical parameters and quality assessment of the groundwater in the proximity of River Cooum, Chennai, India. Environ Monit Assess 143:161–178

Handa BK (1969) Description and classification of media for hydro-geochemical investigations. In: Symposium on ground water studies in arid and semiarid regions, Roorkee

Jameel A, Sirajudeen J (2006) Risk assessment of physico-chemical contaminants in groundwater of Pettavaithalai Area, Tiruchirappalli, Tamilnadu, India. Environ Monit Assess 123:299–312

Karanth KR (1987) Groundwater assessment, development and management (pp720). Tata McGraw Hill, New Delhi

Khurshid SH, Hasan N, Zaheeruddin M (2002) Water quality status and environmental hazards in parts of Yamuna-Karwan sub-basin of Aligarh-Mathura district, Uttar Pradesh. India. J Appl Hydrol 14(4):30–37

Kortatsi BK (2007) Hydrochemical framework of groundwater in the Ankobra Basin, Ghana. Aquat Geochem 13:41–74

Kumar M, Ramanathan AL, Rao MS, Kumar B (2006) Identification and evaluation of hydrogeochemical processes in the groundwater environment of Delhi. Environ Geol 50:1025–1039

Kumar M, Kumari K, Ramanathan AL, Saxena R (2007) A comparative evaluation of groundwater suitability for irrigation and drinking purposes in two intensively cultivated districts of Punjab, India. Environ Geol 53:553–574

Lakshmanan E, Kannan R, Senthil Kumar M (2003) Major ion chemistry and identification of hydrogeochemical processes of ground water in a part of Kancheepuram district, Tamil Nadu. India. Environ Geosci 10(4):157–166

Leguey S, Leon DRD, Ruiz AI, Cueva J (2010) The role of biomineralization in the origin of sepiolite and dolomite. Am J Sci 310:165–193

Mitra BK (1998) Spatial and temporal variation of ground water quality in sand dune area of aomori prefecture in Japan. 2006 ASAE Annual Meeting, Paper number 062023

Mukherjee S, Kumar BA, Kortvelyessy L (2005) Assessment of Groundwater Quality in the South 24 Parganas, West Bengal Coast. India. J Environ Hydrol 13:15

Mukherjee A, Bromssen MV, Scanlon BR, Bhattacharya P, Fryar AE, Hasan Md A, Ahmed KM, Chatterjee D, Jacks G, Sracek O (2008) Hydrogeochemical comparison and effects of overlapping redox zones on groundwater arsenic near the Western (Bhagirathi sub-basin, India) and Eastern (Meghna sub-basin, Bangladesh) margins of the Bengal Basin. J Contam Hydrol 99:31–48

Naik S, Purohit KM (2001) Studies on water quality of river Brahmani in Sundargarh district, Orissa. Ind J Environ and Ecoplanning 5(2):397–402

Nickson R, McArthur J, Ravenscroft P, Burgess W, Ahmed KM (2000) Mechanism of arsenic poisoning of groundwater in Bangladesh and West Bengal. Appl Geochem 15:403–413

PHED (1991) National drinking water mission: submission project on arsenic pollution in groundwater in West Bengal. Final Report by Steering Committee, Arsenic Investigation Project, Government of West Bengal 57

Ragunath HM (1987) Groundwater. Wiley Eastern, New Delhi, p 563

Rajmohan N, Elango L (2004) Identification and evolution of hydrogeochemical processes in the groundwater environment in an area of the Palar and Cheyyar River Basins, Southern India. Environ Geol 46:47–61

Ravikumar P, Somashekar RK, Angami M (2011) Hydrochemistry and evaluation of groundwater suitability for irrigation and drinking purposes in the Markandeya River basin, Belgaum District, Karnataka State, India. Environ Monit Assess 173:459–487

Richards LA (1954) Diagnosis and improvement of saline alkali soils: agriculture. vol 160, Handbook 60. US Department of Agriculture, Washington, DC

Rina K, Singh CK, Datta PS, Singh N, Mukherjee S (2013) Geochemical modelling, ionic ratio and GIS based mapping of groundwater salinity and assessment of governing processes in Northern Gujarat, India. Environ Earth Sci 69:2377–2391

Sarin MM, Krishnaswamy S, Dilli K, Somayajulu BLK, Moore WS (1989) Major ion chemistry of the Ganga- Brahmaputra river system: weathering processes and fluxes to the Bay of Bengal. Geochim Cosmochim Acta 53:997–1009

Sastri JCV (1994) Groundwater chemical quality in river basins, hydrogeochemical modeling. In: Lecture notes—refresher course, School of Earth Sciences. Bharathidasan University, Tiruchirapalli

Schoeller H (1955) Geochimie des eaux souterraines application aux eaux de gisements de petrole; Revue Inst. Pet Et Ann Des Combust Liq 10(181–213):219–246

Schoeller H (1965) Qualitative evaluation of groundwater resources. In Methods and techniques of groundwater investigations and development. UNESCO, pp 54–83

Schoeller H (1967) Geochemistry of groundwater. An international guide for research and practice. UNESCO, Paris, pp 1–18

Schoeller H (1977) Geochemistry of groundwater. Groundwater studies—an international guide for research and practice Ch 15. UNESCO, Paris, pp 1–18

Singh N, Singh RP, Mukherjee S, McDonald K, Reddy KJ (2013) Hydrogeological processes controlling the release of arsenic in parts of 24 Parganas district, West Bengal. Environ Earth Sci. doi:10.1007/s12665-013-2940-8

Stallard RF, Edmond JM (1983) Geochemistry of the Amazon, the influence of geology and weathering environment on the dissolved load. J Geophys Res 88:9671–9688

Subba Rao N (2006) Seasonal variation of groundwater quality in a part of Guntur district, Andhra Pradesh, India. Environ Geol 49:413–429

Subba Rao N (2008) Factors controlling the salinity in groundwater in parts of Guntur district, Andhra Pradesh, India. Environ Monit Assess 138:327–341

Subramani T, Elango L, Damodarasamy SR (2005) Groundwater quality and its suitability for drinking and agricultural use in Chithar River Basin, Tamil Nadu, India. Environ Geol 47:1099–1110

Tiwari TN, Mishra MA (1985) A preliminary assignment of water quality index of major Indian rivers. Ind J Environ Protection 5:276–279

United Nations Environment Program (UNEP) (1999) Global environment outlook 2000. Earthscan, UK

WHO (1989) Health Guidelines for the use of wastewater in Agriculture and Aquaculture. Report of a WHO Scientific Group-Technical Report Series 778, Geneva: World Health Organization. p 74

Yidana SM, Ophori D, Banoeng-Yakubo B (2008) Groundwater availability in the shallow aquifers of the southern Voltaian system: a simulation and chemical analysis. Environ Geol 55:1647–1657

Yogendra K, Puttaiah ET (2008) Determination of water quality index and suitability of urban water body in Shimoga Town, Karnataka. In: The 12th world lake conference, pp 342–346

Zuane JD (1990) Drinking water quality: Standards and control. Van Nostrand Reinhold, New York
Acknowledgments
Financial support as Senior Research fellowship provided by the University Grant Commission is duly acknowledged. The author is also thankful to Jawaharlal Nehru University for providing various research facilities.
About this article
Cite this article
Singh, N., Singh, R.P., Kamal, V. et al. Assessment of hydrogeochemistry and the quality of groundwater in 24-Parganas districts, West Bengal. Environ Earth Sci 73, 375–386 (2015). https://doi.org/10.1007/s12665-014-3431-2
Received:

Accepted:

Published:

Issue Date:
Keywords
Hydrochemical facies

Silicate weathering

Ion exchange

Chloro-alkaline indices

Saturation index