Abstract
Most of the arid and semi-arid zones of the Indian subcontinent experience serious health problems due to high concentration of fluoride in drinking water. The Vellore District of Tamil Nadu suffers from high concentration of fluoride in water. However, most of the past studies in this region focused on tannery-related pollution and not on fluoride contamination. The present study attempts to identify the factors influencing the origin and spatial distribution of fluoride in the district. From the observed hydrochemical results of 68 well samples in the context of water level, well depth and hydrochemical parameters, F− concentration showed increasing trend in the presence of Na+ and HCO3 −. This is due to the alkaline nature of groundwater that favors the dissolution of F−-rich minerals. The occurrence of high fluoride in Na–HCO3 type of water confirmed this hypothesis. However, Ca2+ showed an insignificant correlation with F−. The high Na/Ca ratio (>1) in 73 % of the samples and the result of Na/Na+Cl plot suggest the occurrence of cation exchange in the study area. The major source of F− was identified as products of the weathering and the dissolution of fluorites, amphiboles and micas present in the geological formations in the study area. The positive relationship between NO3 − and F− in few wells located in agricultural fields suggest possible source of F− from the application of fertilizers. More than 25 % of the samples had higher values of fluoride than the permissible limit of drinking water according to Indian standards. Spatial distribution of fluoride showed a higher concentration in the southwest part of the study area, namely, Thirupathur and Vaniyambadi. This study shows that contamination was high in certain parts of Vellore District and the quality of water must be maintained by resorting to appropriate treatment and management strategies.
Access options
Buy single article
Instant access to the full article PDF.
USD 39.95
Price excludes VAT (USA)
Tax calculation will be finalised during checkout.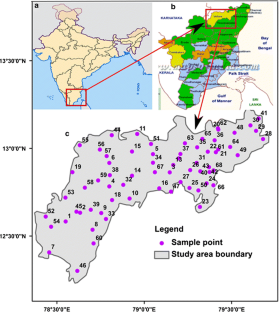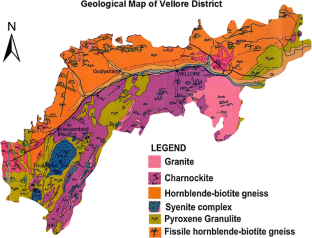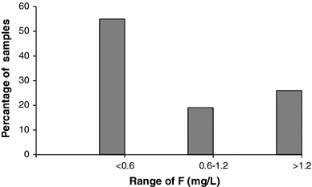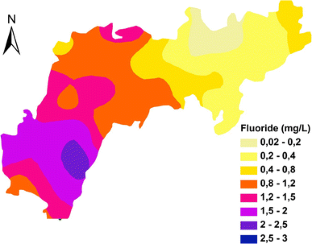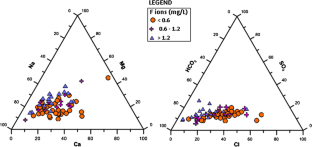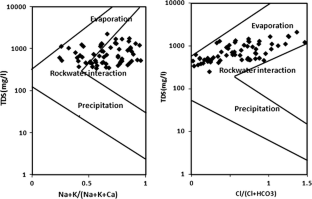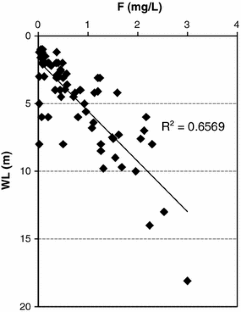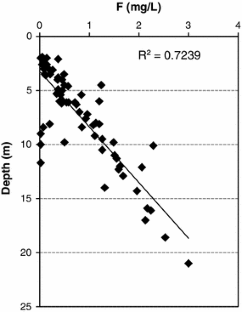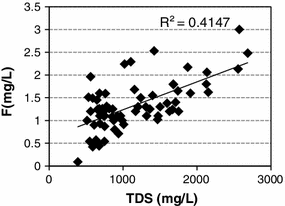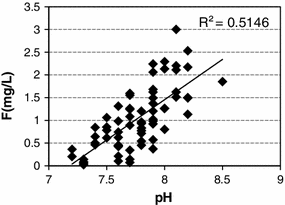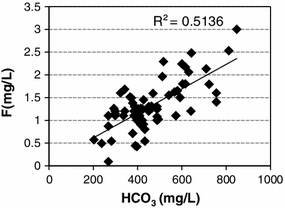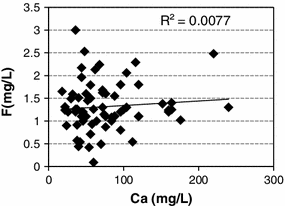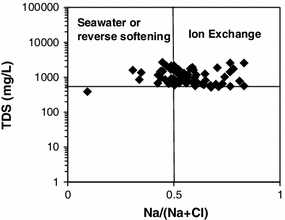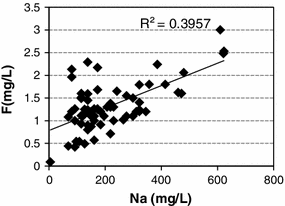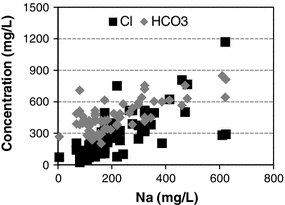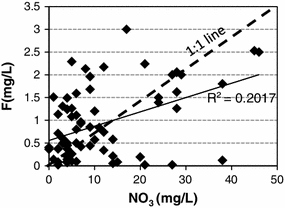 References
Apambire WB, Boyle DR, Michel FA (1997) Geochemistry, genesis and health implications of fluoriferous ground waters in the upper regions of Ghana. Environ Geol 33:13–24

APHA (1995) Standard methods foe estimation of water and waste water, 19th edn. American Public Health Association, Washington DC

Bell MC, Ludwig TG (1970) The supply of fluoride to man: ingestion from water, fluorides and human health. WHO Monograph series. 59

BIS (1992) Indian standard specifications for drinking water. BIS:10500. http://hppcb.gov.in/EIAsorang/Spec.pdf

Brindha K, Rajesh R, Murugan R, Elango L (2011) Fluoride contamination in groundwater in parts of Nalgonda District. Environ Monit Assess, Andhra Pradesh. doi:10.1007/s10661-010,13480

Dar MA, Sankar K, Dar IM (2011) Major ion chemistry and hydrochemical studies of groundwater of parts of Palar river basin, Tamil Nadu, India. Environ Monit Assess 176:621–636

Dhiman SD, Ashok Keshari K (2006) Hydrogeochemical evaluation of high-fluoride groundwaters a case study from Mehsana District. Gujarat, India. Hydrol Sci 51:1149–1162

Fantong WY, Satake H, Ayonghe SN, Suh EC, Adelana SMA, Fantong EBS, Banseka HS, Gwanfogbe CD, Woincham LN, Uehara Y, Zhan J (2010) Geochemical provenance and spatial distribution of fluoride in groundwater of Mayo Tsanaga River Basin, Far North Region, Cameroon: implications for incidence of fluorosis and optimal consumption dose. Environ Geochem Health 32:147–163

Gao X, Wang Y, Li Y, Guo Q (2007) Enrichment of fluoride in groundwater under the impact of saline water intrusion at the salt lake area of Yuncheng basin, northern China. Environ Geol 53:795–803

Gibbs RJ (1970) Mechanisms controlling worlds water chemistry. Science 170:1088–1090

Gupta S, Banerjee S, Saha AR, Datta AJK, Mondal AN (2006) Fluoride geochemistry of groundwater in nalhati-1 block of the Birbhum district, West Bengal, India. Res Rep Fluoride 39:318–320

Handa BK (1975) Geochemistry and genesis of fluoride containing ground waters in India. Ground Water 13:275–281

Hegelson HC (1969) Thermodynamics of hydrothermal systems at elevated temperatures and pressures. Am J Sci 267:729–804

Hem JD (1970) Study and interpretation of the chemical characteristics of natural water. Geological Survey Water Supply Paper 1473, 2nd edn. United States Government Printing Office. Washington

Indu R, Krishnan S, Shah T (2007) Impacts of groundwater contamination with fluoride and arsenic: affliction severity, medical cost and wage loss in some villages of India. Int J Rural Manag 3:69–93

ISI (1983) Indian standard specification for drinking water. IS:10500

Jacks G, Rajagopalan K, Alveteg T, Jonsson M (1993) Genesis of high-F groundwaters, Southern India, Applied geochemistry, vol 8, suppl 2, environmental geochemistry, selected papers from the 2nd international symposium, January, pp 241–244

Kim Y, Kim J, Kim K (2011) Geochemical characteristics of fluoride in groundwater of Gimcheon, Korea: lithogenic and agricultural origins. Environ Earth Sci 63:1139–1148

Kumar M, Kumari K, Ramanathan AL, Saxena R (2007) A comparative evaluation of groundwater suitability for irrigation and drinking purposes in two intensively cultivated Districts of Punjab, India. Environ Geol 53:553–574

Kuppuraj RM, Selvaraj D, Govindaraj S, Rangaswamy M, Narayanasamy JR, Kuppanagounder K (2012) Assessment of groundwater quality in the flood plains of upper Palar River, India. Chin J Geochem 31:15–23

Padhi S, Muralidharan D (2011) Fluoride occurrence and mobilization in geo-environment of semi-arid Granite watershed in Southern peninsular India. Environ Earth Sci. doi:10.1007/s12665-011-1255-x

Piper AM (1953) A graphic procedure for the geo-chemical interpretation of water analysis. USGS Groundwater, Note no. 12

Rafiquea T, Naseemb S, Usmania TH, Bashirb E, Khana FA, Bhangerc MI (2009) Geochemical factors controlling the occurrence of high fluoride groundwater in the Nagar Parkar area, Sindh, Pakistan. J Hazard Mater 171:424–430

Rajmohan N, Elango L (2004) Identification and evolution of hydrogeochemical processes in the groundwater environment in an area of the Palar and Cheyyar River Basins, Southern India. Environ Geol 46:47–61

Ramamohana Rao NV, Suryaprakasa Rao K, Schuiling RD (1993) Fluorine distribution in waters of Nalgonda District, Andhra Pradesh, India. Environ Geol 21:84–89

Ramesam V, Rajagopalan K (1985) Fluoride ingestion into the natural water of hardrock areas, Peninsular India. J Geol Soc India 26:125–132

Rao NS (2009) Fluoride in groundwater, Varaha River Basin, Visakhapatnam District, Andhra Pradesh, India. Environ Monit Asses 152:47–60

Rao NS (2011) High-fluoride groundwater. Environ Monit Assess 176:637–645

Rao NS, Devadas DJ (2003) Fluoride incidence in groundwater in an area of Peninsular India. Environ Geol 45:243–253

Reddy AGS, Reddy DV, Rao PN, Prasad KM (2010) Hydrogeochemical characterization of fluoride rich groundwater of Wailpalli watershed, Nalgonda District, Andhra Pradesh, India. Environ Monit Assess 171:561–577

Sajil Kumar PJ, Jegathambal P, James EJ (2011) Multivariate and geostatistical analysis of groundwater quality in Palar river basin. Int J Geol 5:108–119

Sajil Kumar PJ, James EJ (2013) Physicochemical parameters and their sources in groundwater in the Thirupathur region, Tamil Nadu, South India. Appl Water Sci 3:219–228

Sami K (1992) Recharge mechanisms and geochemical processes in a semi-arid sedimentary basin, Eastern Cape, South Africa. J Hydrol 139:27–48

Saxena VK, Ahmed S (2001) Dissolution of fluoride in groundwater: a water–rock interaction study. Environ Geol 40:1084–1087

Shaji E, Bindu VijuJ, Thambi DS (2007) High fluoride in groundwater of Palghat District, Kerala. Curr Sci 92:240–245

Subba Rao N, Surya Rao P (2010) Major ion chemistry of groundwater in a river basin: a study from India. Environ Earth Sci 61:757–775

Subramani T, Rajmohan N, Elango L (2010) Groundwater geochemistry and identification of hydrogeochemical processes in a hard rock region, Southern India. Environ Monit Assess 162:123–137

WHO (1993) Guidelines for drinking-water quality, vol 2—health criteria and other supporting information, and vol 3—drinking-water quality control in small community supplies, 2nd edn

WHO (2011) Guidelines for drinking-water quality, 4th edn. World Health Organization, Geneva

Wodeyar BK, Sreenivasan G (1996) Occurrence of fluoride in the groundwaters and its impact in Peddavankahalla basin, Bellary District, Karnataka—a preliminary study. Curr Sci 70:71–73
About this article
Cite this article
Sajil Kumar, P.J., Jegathambal, P. & James, E.J. Factors influencing the high fluoride concentration in groundwater of Vellore District, South India. Environ Earth Sci 72, 2437–2446 (2014). https://doi.org/10.1007/s12665-014-3152-6
Received:

Accepted:

Published:

Issue Date:

DOI: https://doi.org/10.1007/s12665-014-3152-6
Keywords
Fluoride

Spatial distribution

Geochemical controls

Vellore

Tamil Nadu