Abstract
Laboratory testing is often used to derive the mechanical properties of rock. Testing conditions heavily influence the results of such laboratory experiments in which factors, including the water content, diameter of samples, slenderness of sample and strain (or loading) rates are of great importance. This paper evaluates the influences of four major test conditions: water content, strain rate, sample diameter and sample slenderness, on the peak uniaxial compressive strength (UCS) and modulus of elasticity (MoE) of sandstone. Following the Taguchi approach, an experimental study was conducted on cylindrical sandstone specimens, and the results were interpreted using signal-to-noise ratio (S/N) and analysis of variance (ANOVA). The results reveal that water content is the most influential test condition for peak UCS and the influence of sample diameter, slenderness and strain rate decreases in the cited order. MoE is greatly affected by sample slenderness, whereas the other three test conditions show an approximately similar and smaller influence. These characteristics were further verified by the ANOVA results. These behaviours are consistent with the results reported in the literature. Finally, the Taguchi approach, which is a very useful and versatile technique, which has not been effectively applied in rock mechanics and rock engineering, was successfully used to evaluate the influences of different test conditions on the peak UCS and MoE of laboratory rock samples.
Access options
Buy single article
Instant access to the full article PDF.
USD 39.95
Price includes VAT (USA)
Tax calculation will be finalised during checkout.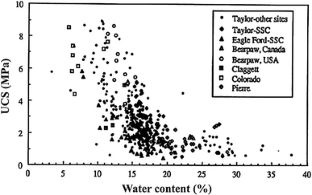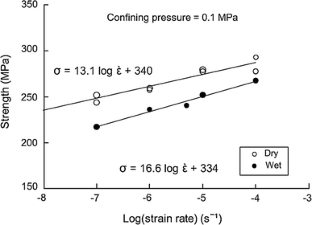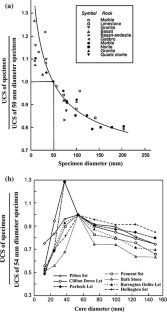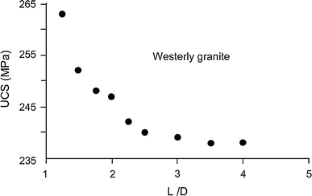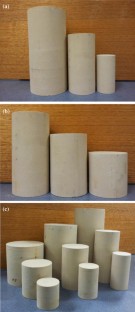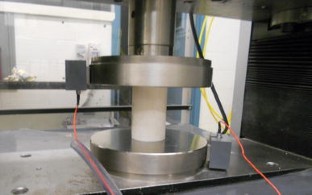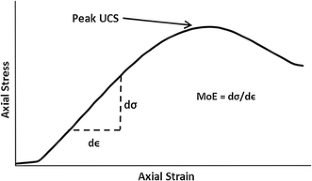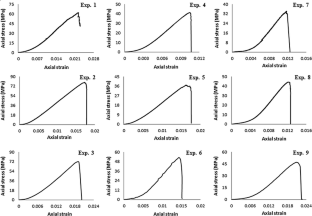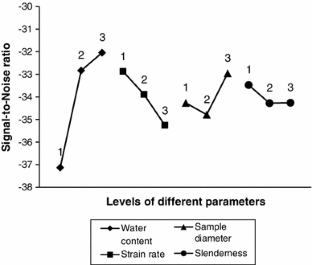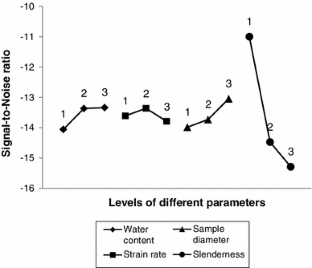 References
Alm O (1982) The effect of water on the mechanical properties and microstructures of granitic rock at high pressure and high temperature. In: Proceedings of the 23rd symposium on rock mechanics, University of California, Berkeley, pp 261–269

ASTM (2000) American society for testing and materials. Annual book of ASTM standards, vol 04.08. ASTM, Philadelphia

Atkinson BK (1976) The temperature and strain rate-dependent mechanical behavior of a polycrystalline galena ore. Econ Geol 71:513

Baud P, Zhu W, Wong T (2000) Failure mode and weakening effect of water on sandstone. J Geophys Res 105:16371–16389

Bell FG, Culshaw MG (1993) A survey of the geotechnical properties of some relatively weak Triassic sandstones. In: Cripps JC, Coulthard JM, Culshaw MG, Forster A (eds) The engineering geology of weak rock, vol 8. Balkema, Rotterdam, pp 139–148

Brace WF, Martin RJ (1968) A test of the effective stress law for crystalline rocks of low porosity. Int J Rock Mech Min Sci 5:415–426

Brodsky NS, Getting JC, Spetzler HA (1979) The effect of strain rate on the stiffness and compressive strength of lunar analogues. Lunar Planet Sci X:155–156

Catane SG, Orense RP, Nobuki T (2007) Effect of water saturation on the compressive strength and failure modes of the Diliman tuff. In: Technical proceedings 12th ASEP international convention, pp 117–128

Ceryan N, Okkan U, Kesimal A (2013) Prediction of unconfined compressive strength of carbonate rocks using artificial neural networks. Environ Earth Sci 68:807–819

Colback PS, Wiid BS (1965) The influence of moisture content on the compressive strength of rocks. In: Proceedings of the 3rd Canadian symposium on rock mechanics, Toronto, pp 65–83

Duperret A, Taibi S, Mortimore RN, Daigneault M (2005) Effect of groundwater and sea weathering cycles on the strength of chalk rock from unstable coastal cliffs of NW France. Eng Geol 78:321–343

Ghani JA, Choudhury IA, Hassan HH (2004) Application of Taguchi method in the optimization of end milling parameters. J Mat Process Technol 145:84–92

Goodman RE (1989) Introduction to rock mechanics, 2nd edn. Wiley, New York

Hawkins AB (1998) Aspects of rock strength. Bull Eng Geol Environ 57:17–30

Hoek E, Brown ET (1980) Underground excavations in rock. The institute of mining and metallurgy, London

Hsu SC, Nelson P (1993) Characterization of cretaceous clayshales in North America. In: Anagnostopoulos (ed) Geotechnics engineering of hard soils–soft Rocks. Balkema, Rotterdam, pp 139–146

ISRM (1979) Suggested methods for determining the uniaxial compressive strength and deformability of rock materials—1. Suggested methods for determination of the uniaxial compressive strength of rock materials. Int J Rock Mech Min Sci 16(2):137–138

Jackson R, Lau JSO (1990) The effect of specimen size on the laboratory mechanical properties of Lac du Bonnet grey granite. In: Cunha P (ed) Scale effects in rock masses. Balkema, Rotterdam

John M (1972) The influence of length to diameter ratio on rock properties in uniaxial compression: a contribution to standardisation in rock mechanics testing. Republic of South Africa CSIR No. ME1083/5

Kang SS, Kim HY, Jang BA (2012) Correlation of in situ modulus of deformation with degree of weathering, RMR and Q-system. Environ Earth Sci. doi:10.1007/s12665-012-2088-y

Mahmutoglu Y (2006) The effects of strain rate and saturation on a micro-cracked marble. Eng Geol 82(3):137–144

Mann RL, Fatt I (1960) Effect of pore fluids on the elastic properties of sandstone. Geophysics 25(2):433–444

Masuda K (2001) Effects of water on rock strength in a brittle regime. J Struct Geol 23:1653–1657

Mogi K (2007) Experimental rock mechanics. Taylor & Francis, London

Muller WH, Briegel U (1978) The rheological behavior of polycrystalline anhydrite. Ecol Geol Helv 71:397

Nalbant M, Gokkaya H, Sur G (2007) Application of Taguchi method in the optimization of cutting parameters for surface roughness in turning. Mater Des 28:1379–1385

Olivera R (1993) The engineering geology of weak rock. In: Cripps JC, Coulthard JM, Culshaw MG, Forster A (eds) Weak rock materials, vol 8. Engineering Group Geological Society Special Publications, London, pp 5–15

Omar H, Rod S, David R (2005) A study of the effect of strain rate on stiffness and strength in silty mudstone using multistage triaxial testing. In: Proceedings of post mining conference, Nancy

Phadke MS (1989) Quality engineering using robust design. Prentice-Hall, NJ

Rama Rao S, Padmanabhan G (2012) Application of Taguchi methods and ANOVA in optimization of process parameters for metal removal rate in electrochemical machining of Al/5 % SiC composites. Int J Engng Res App 2(3):192–197

Romana M, Vásárhelyi B (2007) A discussion on the decrease of unconfined compressive strength between saturated and dry rock samples. In: Soussa LR, Ollala C, Grossmann NF (eds) The second half century of rock mechanics. Taylor & Francis, London, pp 139–142

Sharma V, Chattopadhyaya S (2011) Multi response optimization of process parameters based on Taguchi—fuzzy model for coal cutting by water jet technology. Int J Adv Manuf Technol 56:1019–1025

Song W, Li J, Zhang W, Hu X, Wang L (2012) An experimental study on the remediation of phenanthrene in soil using ultrasound and soil washing. Environ Earth Sci 66:1487–1496

Sousa LKO (2012) The influence of the characteristics of quartz and mineral deterioration on the strength of granitic dimensional stones. Environ Earth Sci. doi:10.1007/s12665-012-2036-x

Taguchi G (1990) Introduction to quality engineering. Asian Productivity Organization, Tokyo

Taguchi G, Hocheng (1987) Taguchi methods orthogonal arrays and linear graphs, tools for quality engineering. American Supplier Institute, Dearborn, pp 35–38

Tan O, Zaimoglu AS, Sinan H, Selim A (2005) Taguchi approach for optimization of the bleeding on cement-based grouts. Tunn Undergr Space Technol 20:167–173

Tang SH, Tan YJ, Sapuan SM, Sulaiman S, Ismail N, Samin R (2007) The use of Taguchi method in the design of plastic injection mould for reducing warpage. J Mater Process Technol 182(1–3):418–426

Tang F, Mao X, Zhang L, Yin H, Li Y (2011) Effects of strain rates on mechanical properties of limestone under high temperature. Minist Sci Technol China 21(6):857–861

Thuro K, Plinninger RJ, Zah S, Schutz S (2001) Scale effect in rock strength properties: 1. Unconfined compressive test and Brazilian test. Rock mechanics; a challenge for society. ISRM regional symposium, EUROCK 2001, Finland, pp 169–174

Tuncay E, Babur O (2006) Minimization of warpage and sink index in injection-molded thermoplastic parts using Taguchi optimization method. Mater Des 27(10):853–861

Tuncay E, Hasançebi N (2009) The effect of length to diameter ratio of test specimens on uniaxial compressive strength of rock. Bull Eng Geol Environ 68(4):491–497

Unlu T, Yilmaz O (2008) Investigation of the shape effect on the uniaxial compressive strength of the intact rock. In: Turk N, Deliormanli AH, Kincal C (eds) 9th Regional rock mechanics symposium, Izmir, pp 121–141

Wu DH, Chang MS (2004) Use of Taguchi method to develop a robust design for the magnesium alloy die casting process. Mat Sci Eng A 379(1–2):366–371

Yasar E, Erdogan Y (2004) Estimation of rock physicomechanical properties using hardness methods. Eng Geol 71:281–288

Yuki N, Aoto S, Yoshinaka R, Yoshihiro O, Terada M (1995) The scale and creep effect on the strength of welded tuff. In: Yoshinaka R, Kikuchi K (eds) International workshop on rock foundation. Balkema, Tokyo
About this article
Cite this article
Wasantha, P.L.P., Ranjith, P.G. The Taguchi approach to the evaluation of the influence of different testing conditions on the mechanical properties of rock. Environ Earth Sci 72, 79–89 (2014). https://doi.org/10.1007/s12665-013-2938-2
Received:

Accepted:

Published:

Issue Date:
Keywords
Taguchi method

Rock strength

Testing conditions