Abstract
This paper presents the results of morphological and microclimatic surveys and speleothem analyses of ten karst caves located in different isles in Ha Long Bay, a famous tourist attraction in Vietnam. Characteristically, the caves have enormous entrances, roomy interiors, but short length, typical of karst caves in tropical climates. The cave microclimate was found to be significantly dependent on the outside atmosphere and human activities. There was a clear spatial variation in macro features and fabrics of speleothems from entrance (porous, microcrystalline) to rear (solid, macrocrystalline) of the caves. Microstructure analysis with the use of an environmental scanning electron microscope shows a gradual decrease of biological activity and microclimate instability from outside to the innermost parts of the caves are the causes for this spatial variation. Past and present deterioration of caves and speleothems directly due to tourist activities and vandalism has been observed. On the other hand, there are signs of speleothem regrowth in the caves where tourism has been stopped. This study has proved that caves and their speleothems in Ha Long Bay are highly dynamic and understanding of their environment requires immediate methodological attention. Based on the analytical results, it is recommended that regulation of visitor frequency and removal of lamp-flora are necessary for sustainable development of the show caves and their speleothems.
Access options
Buy single article
Instant access to the full article PDF.
US$ 39.95
Tax calculation will be finalised during checkout.
Subscribe to journal
Immediate online access to all issues from 2019. Subscription will auto renew annually.
US$ 119
Tax calculation will be finalised during checkout.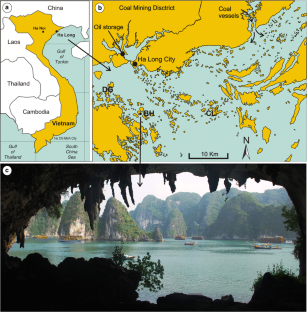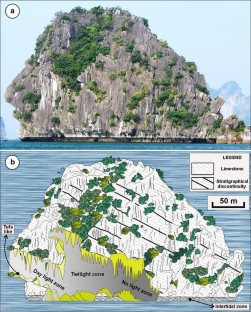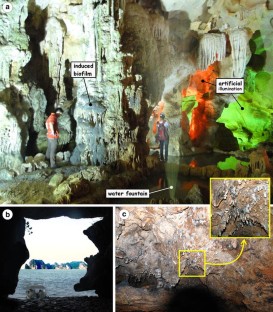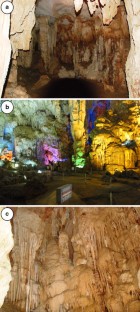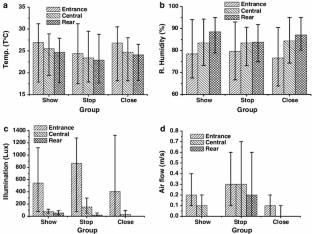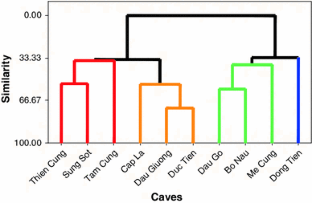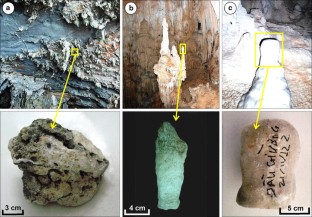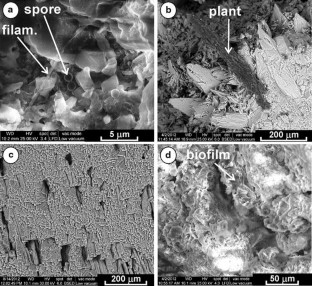 References
Baker A, Genty D (1998) Environmental pressures on conserving cave speleothems: effects of changing surface land use and increased cave tourism. J Env Manage 53:165–175

Burton EA, Walter LM (1987) Relative precipitation rates of aragonite and Mg calcite from seawater: temperature or carbonate ion control? Geology 15:111–114

de Freitas CR, Littlejohn RN, Clarkson TS, Kristament IS (1982) Cave climate: assessment of airflow and ventilation. J Climatol 2:383–397

Dreybrodt W (1999) Chemical kinetics, speleothem growth, and climate. Boreas 28(3):347–356

Faimon J, Stelcl J, Kubešova S, Zimák J (2003) Environmentally acceptable effect of hydrogen peroxide on cave "lamp-flora", calcite speleothems and limestones. Env Poll 122:417–422

Ford TD (1989) Tufa—the whole dam story. Cav Sci 16:39–50

Ford TD, Pedley HM (1992) Tufa deposits of the world. J Speleol Soc Japan 17:46–63

Ford TD, Pedley HM (1996) A review of tufa and travertine deposits of the world. Ear Sci Rev 41:117–175

Frisia S, Borsato A, Fairchild IJ, McDermott F, Selmo EM (2002) Aragonite–calcite relationships in speleothems (Grotte de Clamouse, France): environment, fabrics and carbonate geochemistry. J Sed Res 72:687–699

Gamble DW, Dogwiler JT, Mylroie JE (2000) Field assessment of the microclimatology of tropical flank margin caves. Clim Res 16:37–50

Gázquez F, Calaforra JM, Rull F, Forti P, García-Casco A (2012) Organic matter of fossil origin in the amberine speleothems from El Soplao Cave (Cantabria, Northern Spain). Int J Speleol 41(1):113–123

Hamilton-Smith E (2002) Management assessment in karst areas. Act Carsol 31(1):13–20

Hill CA, Forti P (1997) Cave minerals of the world: huntsville. National Speleological Society, Alabama (p 380)

Hoyos M, Soler V, Canaveras JC, Sánchez-Moral S, Sanz-Rubio E (1998) Microclimatic characterization of a karstic cave: human impact on micro environmental parameters of a prehistoric rock art cave (Candamo Cave, northern Spain). Env Geol 33(4):231–242

Kogovšek J, Šebela S (2004) Water tracing through the vadose zone above Postojnska Jama, Slovenia. Env Geol 45:992–1001

MINITAB (2004) MINITAB Version 14.12.0. Quality Plaza, 1829 Pine Hall Rd, State College, PA

MOJ (2005) Environmental Protection Law No. 52/2005/QH11 (in Vietnamese). http://www.moj.gov.vn/vbpq/Lists/Vn%20bn%20php%20lut/View_Detail.aspx?ItemID=16747 (accessed 27th Aug. 2013)

MOSTE (1996) Circular No.12 2891/TT-KCM on guidance for environmental protection of Ha Long Bay (in Vietnamese). http://thuvienphapluat.vn/archive/Thong-tu/Thong-tu-2891-TT-KCM-huong-dan-bao-ve-moi-truong-vinh-Ha-Long-vb40259t23.aspx (accessed 27th Aug. 2013)

Mulec J (2012) Lampenflora. In: White W, Culver DC (eds) Encyclopedia of caves, 2nd edn. Elsevier, Amsterdam, pp 451–455

Mulec J, Kosi G (2009) Lampenflora algae and methods of growth control. J Cav Karst Stud 71(2):109–115

Mylroie JE, Carew JL (1995) Geology and karst geomorphology of San Salvador Island, Bahamas. Carbon Evapor 10:193–206

Nguyen LV, Nguyen NK, Hoang HV, Tran TQ, Vu NT (2012) Characteristics of groundwater in karstic region in northeastern Vietnam. Env Ear Sci. doi:10.1007/s12665-012-1548-8

Suric M, Lončarić R, Lončar N (2010) Submerged caves of Croatia: distribution, classification and origin. Env Ear Sci 61(7):1473–1480

Taborosi D, Hirakawa K (2004) Biota and biological processes associated with subaerial tufa stalactites in the tropics. Cav Karst Sci 31(2):51–62

Taborosi D, Hirakawa K, Sawagaki T (2005) Carbonate precipitation along a microclimatic gradient in a Thailand cave—continuum of calcareous tufa and speleothems. J Cav Karst Stud 67(1):69–87

Toomey RS III, Olson RA, Kovar S, Adams M, Ward RH (2009) Relighting Mammoth cave's new entrance: improving visitor experience, reducing exotic plant growth, and easing maintenance. In: White WB (ed) ICS 2009 15th International congress of speleology, Proceedings, 19–26 July, vol 2. Greyhound Press, Kerrville, pp 1223–1228

Tran HT, Dang BV, Ngo CK, Hoang QD, Nguyen QM (2011) Structural controls on the occurrence and morphology of karstified assemblages in northeastern Vietnam: a regional perspective. Env Ear Sci. doi:10.1007/s12665-011-1057-1

Viles HA (1988) Organisms and karst geomorphology. In: Viles HA (ed) Biogeomorphology. Basil Blackwell, New York, pp 319–350

Viles HA, Goudie AS (1990) Tufas, travertines and allied carbonate deposits: Progress in phys geogra 14:19–41

Waltham T (2000) Karst and caves of Ha Long Bay. Int Caver, pp 24–31

Wefer FL (1991) An annotated bibliography of cave meteorology. Cave Geol 2:84–119

White WB (1997) Thermodynamic equilibrium, kinetics, activation barriers, and reaction mechanisms for chemical reactions in karst terrains. Env Geol 30(1–2):46–58
Acknowledgments
This research is within the framework of the research agreement between the Vietnam Academy of Science and Technology (VAST), Vietnam, and the Consejo Superior de Investigaciones Cientificas (CSIC), Spain. The paper was written with support from protocol LOTUS No. 44/2012/HĐ-NĐT, MOST, Vietnam. We are grateful to the Ha Long Management Board for granting cave visit permission. Appreciation is sent to Dr. Zoran Kilibarda and another anonymous reviewer for their invaluable advice and comments. This paper was edited by Prof. Alexander Scheeline, University of Illinois at Urbana-Champaign.
Electronic supplementary material
Below is the link to the electronic supplementary material.
Supplementary material 1 (DOC 128 kb)
Supplementary material 2 (RAR 34390 kb)
About this article
Cite this article
Duc, T.A., Guinea, J.G. Vulnerability, pressures, and protection of karst caves and their speleothems in Ha Long Bay, Vietnam. Environ Earth Sci 71, 4899–4913 (2014). https://doi.org/10.1007/s12665-013-2884-z
Received:

Accepted:

Published:

Issue Date:
Keywords
Microclimate

Speleothems

Tourism

Tropical climate

Lamp-flora