Abstract
An investigation of soil salinization was carried out in the Nanshantaizi area (Northwest China) with WET Sensor. This device can measure such soil parameters as bulk soil electrical conductivity, water content, and the pore water electrical conductivity that are important for soil salinization assessments. A distribution map of soil salinization was produced, and the factors influencing soil salinization and its processes were discussed in detail. The study shows that moderately salinized to salt soils are mainly observed in the alluvial plain, where groundwater level is high and lateral recharge water contains high salinity. Nanshantaizi is covered by slightly salinized soils. The soil salinization distribution estimated by WET Sensor is generally consistent with the actual levels of salinization. Soil salinity in Nanshantaizi is mostly of natural origin and accumulated salts could leach to deeper soils or aquifers by water percolation during irrigation. Groundwater evaporation, groundwater level depth and quality of recharge water are important factors influencing soil salinization in the alluvial plain.
Access options
Buy single article
Instant access to the full article PDF.
USD 39.95
Price excludes VAT (USA)
Tax calculation will be finalised during checkout.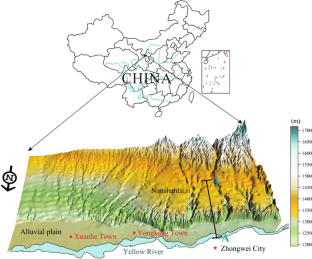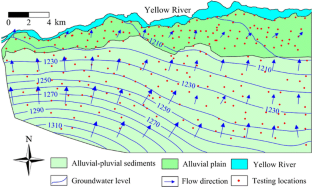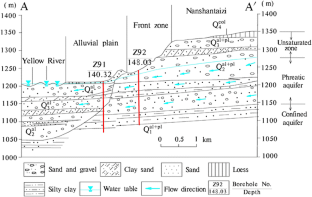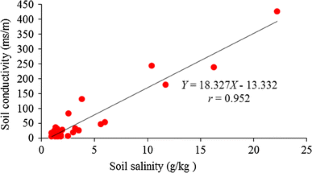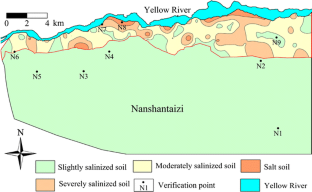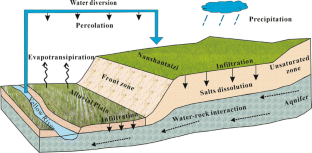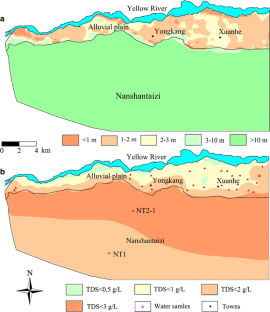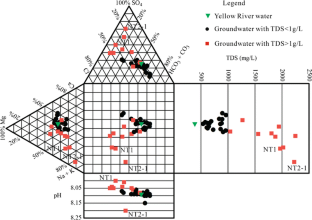 References
Acosta JA, Faz A, Jansen B, Kalbitz K, Martínez-Martínez S (2011) Assessment of salinity status in intensively cultivated soils under semiarid climate, Murcia, SE Spain. J Arid Environ 75:1056–1066. doi:10.1016/j.jaridenv.2011.05.006

Aidarov IP, Pankova EI (2007) Salt accumulation and its control on the plains of central Asia. Eurasian Soil Sci 40(6):608–615. doi:10.1134/S1064229307060026

Austin RS, Rhoades JD (1979) A compact, low-cost circuit for reading four-electrode salinity sensors. Soil Sci Soc Am J 48:808–810

Benyamini Y, Mirlas V, Marish S, Gottesman M, Fizik E, Agassi M (2005) A survey of soil salinity and groundwater level control systems in irrigated fields in the Jezre'el Valley, Israel. Agric Water Manag 76:181–194. doi:10.1016/j.agwat.2005.01.016

Castrignano A, Buttafuoco G, Puddu R (2008) Multi-scale assessment of the risk of soil salinization in an area of south-eastern Sardinia (Italy). Precision Agric 9:17–31. doi:10.1007/s11119-008-9054-4

Dalton FN, van Genuchten MT (1986) The time-domain reflectometry method for measuring soil water content and salinity. Geoderma 38:237–250

De Leeuw J, van den Dool A, De Munck W, Nieuwenhuize J, Beeftink WG (1991) Factors influencing the soil salinity regime along an intertidal gradient. Estuar Coast Shelf Sci 32:87–97. doi:10.1016/0272-7714(91)90030-F

Delta-T Devices Ltd (2007) User Manual for the WET Sensor: type WET-2. Delta-T Devices Ltd, 42

Feng W, Ji YC, Shen SX, Fang GY (2009) Design of time domain reflectometry for application of soil moisture and bulk electrical conductivity measurements. Trans Chinese Soc Agric Mach 40(5):59–62 [in Chinese]

Ghiglieri G, Carletti A, Pittalis D (2012) Analysis of salinization processes in the coastal carbonate aquifer of Porto Torres (NW Sardinia, Italy). J Hydrol 432–433:43–51. doi:10.1016/j.jhydrol.2012.02.016

Herrero J, Pérez-Coveta O (2005) Soil salinity changes over 24 years in a Mediterranean irrigated district. Geoderma 125:287–308. doi:10.1016/j.geoderma.2004.09.004

Houk E, Frasier M, Schuck E (2006) The agricultural impacts of irrigation induced waterlogging and soil salinity in the Arkansas Basin. Agric Water Manag 85:175–183. doi:10.1016/j.agwat.2006.04.007

Huang EX (2010) Research progress of remote sensing technique in soil salinization. J Anhui Agri Sci 38(13):6849–6850

Huang CH, Xue X, Wang T, De Mascellis R, Mele G, You QG, Peng F, Tedeschi A (2011) Effects of saline water irrigation on soil properties in northwest China. Environ Earth Sci 63:701–708. doi:10.1007/s12665-010-0738-5

Ibrakhimov M, Khamzina A, Forkutsa I, Paluasheva G, Lamers JPA, Tischbein B, Vlek PLG, Martius C (2007) Groundwater table and salinity: spatial and temporal distribution and influence on soil salinization in Khorezm region (Uzbekistan, Aral Sea Basin). Irrig Drainage Syst 21:219–236. doi:10.1007/s10795-007-9033-3

Karpachevskii LO, Yakovleva LV, Fedotova AV (2008) Soil salinization of the baer mounds in the Volga River Delta. Eurasian Soil Sci 41(2):135–139. doi:10.1134/S1064229308020038

Lesch SM (1995) Spatial prediction of soil salinity using electromagnetic induction techniques 1. Statistical prediction models: a comparison of multiple linear regression and cokriging. Water Resour Res 31(2):373–386. doi:10.1029/94WR02179

Li Y, Pang H, Zhang H, Chen F (2008) Effect of irrigation management on soil salinization in Manas River Valley, Xinjiang China. Front Agric China 2(2):216–223. doi:10.1007/s11703-008-0028-0

Li PY, Wu JH, Qian H (2013a) Assessment of groundwater quality for irrigation purposes and identification of hydrogeochemical evolution mechanisms in Pengyang County China. Environ Earth Sci 69(7):2211–2225. doi:10.1007/s12665-012-2049-5

Li PY, Qian H, Wu JH, Zhang YQ, Zhang HB (2013b) Major ion chemistry of shallow groundwater in the Dongsheng Coalfield, Ordos Basin China. Mine Water Environ 32(3):195–206. doi:10.1007/s10230-013-0234-8

Lu YJ, Qian H, Wei YN, Wu JH, Song BD, Fang Y (2011) Effects of Land Development and Arrangement on Groundwater and Soil Salinization in Mid-northern Ningxia. Ningxia Institute of Land Resources Investigation and Monitoring, Yinchuan, p 384 [in Chinese]

Metternichta GI, Zinck JA (2003) Remote sensing of soil salinity: potentials and constraints. Remote Sens Environ 85:1–20. doi:10.1016/S0034-4257(02)00188-8

Ministry of geology and mineral resources of PRC (1993) analytical methods of groundwater, DZ/T 0064.1–0064.80–93. [in Chinese]

Ministry of Health of PRC and standardization administration of PRC (2006) Standard examination methods for drinking water, GB/T 5750–2006 [in Chinese]

Ministry of Water Resources of PRC (1995) Water quality analytical methods, SL 78–94–1994 [in Chinese]

Mirlas V (2012) Assessing soil salinity hazard in cultivated areas using MODFLOW model and GIS tools: a case study from the Jezre'el Valley, Israel. Agric Water Manag 109:144–154. doi:10.1016/j.agwat.2012.03.003

Miyamoto S, Riley T, Gobran G, Petticrew J (1986) Effects of saline water irrigation on soil salinity, pecan tree growth and nut production. Irrig Sci 7:83–95

Novikova AF, Luo G, Konyushkova MV (2009) Salinization dynamics in irrigated soils of the Svetloyarsk irrigation system Volgograd Oblast. Eurasian Soil Sci 42(13):1479–1486. doi:10.1134/S1064229309130080

Paine JG (2003) Determining salinization extent, identifying salinity sources, and estimating chloride mass using surface, borehole, and airborne electromagnetic induction methods. Water Resour Res 39(3):1–10. doi:10.1029/2001WR000710

Pisinaras V, Tsihrintzis VA, Petalas C, Ouzounis K (2010) Soil salinization in the agricultural lands of Rhodope District, northeastern Greece. Environ Monit Assess 166:79–94. doi:10.1007/s10661-009-0986-6

Qian H, Li PY, Howard KWF, Yang C, Zhang XD (2012) Assessment of groundwater vulnerability in the Yinchuan Plain, Northwest China using OREADIC. Environ Monit Assess 184:3613–3628. doi:10.1007/s10661-011-2211-7

Rahimian MH, Poormohammadi S (2012) Assessing the Impact of Climate Change on Evapotranspiration and Soil Salinization. In: Filho WL (ed) Climate Change and the Sustainable Use of Water Resources, Springer-Verlag, Berlin Heidelberg, pp 69–76. doi:10.1007/978-3-642-22266-5_5

Smith AJ (2008) Rainfall and irrigation controls on groundwater rise and salinity risk in the Ord river irrigation area, northern Australia. Hydrogeol J 16:1159–1175. doi:10.1007/s10040-008-0301-6

Sun YR (2000) Experimental survey for the effects of soil water content and soil salinity on soil electrical conductivity. J China Agri Univ 5(4):39–41 [in Chinese]

Tarchouna LG, Merdy P, Raynaud M, Pfeifer H-R, Lucas Y (2010) Effects of long-term irrigation with treated wastewater. Part I: evolution of soil physico-chemical properties. Appl Geochem 25:1703–1710. doi:10.1016/j.apgeochem.2010.08.018

Tefera B, Sterk G (2010) Land management, erosion problems and soil and water conservation in Fincha'a watershed, western Ethiopia. Land Use Policy 27:1027–1037. doi:10.1016/j.landusepol.2010.01.005

Topp GC, Davis JL, Annan AP (2003) The early development of TDR for soil measurements. Vadose Zone J 24:492–499. doi:10.2136/vzj2003.4920

Wang QJ, Wang WY, Zhang JF (1992) Relation of soil electric conductivity and soil water to salinity content and its effect of the unit weight. Shaanxi Mech Coll J 8(4):269–273 [in Chinese]

Wang Y, Li Y, Xiao D (2008) Catchment scale spatial variability of soil salt content in agricultural oasis, Northwest China. Environ Geol 56:439–446. doi:10.1007/s00254-007-1181-0

Wenner F (1915) A method for measuring earth resistivity. J Franklin Inst 180(3):469–478

Williams BG, Baker GC (1982) An electromagnetic induction technique for reconnaissance surveys of soil salinity hazards. Aust J Soil Res 20:107–118

Wu JH, Li PY, Qian H (2013) Variations of hydrogeochemical characteristics of shallow groundwater caused by agricultural activities. Asian J Chem 25(13):7441–7444
Acknowledgments
The research was supported by the Doctor Postgraduate Technical Project of Chang'an University (2013G5290002 and CHD2011ZY022) and the National Natural Science Foundation of China (41172212). We are thankful to the anonymous reviewers for their useful comments that have helped us a lot in improving the quality of our paper.
About this article
Cite this article
Wu, J., Li, P., Qian, H. et al. Assessment of soil salinization based on a low-cost method and its influencing factors in a semi-arid agricultural area, northwest China. Environ Earth Sci 71, 3465–3475 (2014). https://doi.org/10.1007/s12665-013-2736-x
Received:

Accepted:

Published:

Issue Date:

DOI: https://doi.org/10.1007/s12665-013-2736-x
Keywords
Soil salinity

Soil salinization investigation

Soil electrical conductivity

WET sensor

Agricultural irrigation

Water percolation