Abstract
As one of the largest copper–molybdenum (Cu–Mo) mines in the world, the Erdenet Mine in Mongolia has been active since 1978 and is expected to continue operations for at least another 30 years. In this study, the potential impacts of mining activities on the soil and water environments have been evaluated. Water samples showed high concentrations of sulfate, calcium, magnesium, Mo, and arsenic, and high pH values in the order of high to low as follows: tailing water > Khangal River > groundwater. Statistical analysis and the δ2H and δ18O values of water samples indicate that the tailing water directly affects the stream water and indirectly affects groundwater through recharge processes. Soil and stream sediments are highly contaminated with Cu and Mo, which are major elements of ore minerals. Based on the contamination factor (CF), the pollution load index (PLI), and the degree of contamination (Cd), soil appears to be less contaminated than stream sediments. The soil particle size is similar to that of tailing materials, but stream sediments have much coarser particles, implying that the materials have different origins. Contamination levels in stream sediments display a tendency to decrease with distance from the mine, but no such changes are found in soil. Consequently, soil contamination by metals is attributable to wind-blown dusts from the tailing materials, and stream sediment contamination is caused by discharges from uncontained subgrade ore stock materials. Considering the evident impact on the soil and water environment, and the human health risk from the Erdenet Mine, measures to mitigate its environmental impact should be taken immediately including source control, the establishment of a systematic and continuous monitoring system, and a comprehensive risk assessment.
Access options
Buy single article
Instant access to the full article PDF.
USD 39.95
Price excludes VAT (USA)
Tax calculation will be finalised during checkout.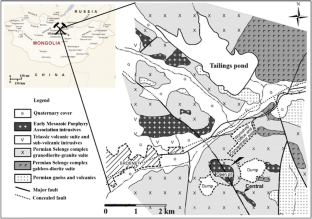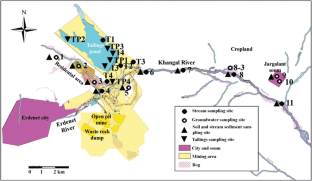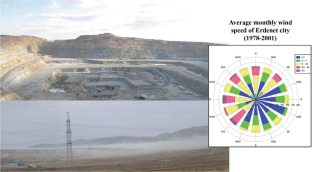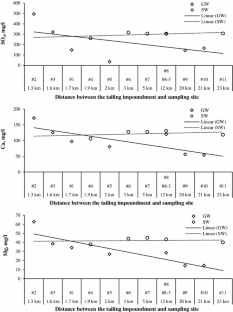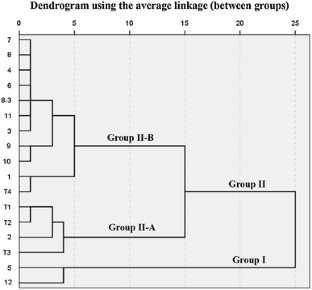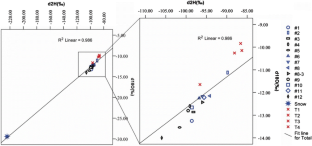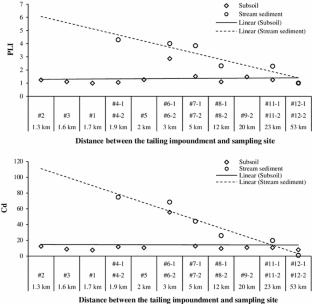 References
ASTM Standard D4972-01 (2001) Standard test method for pH of Soils. West Conshohocken, PA. http://www.astm.org

Barcelona MJ, Gibb JP, Helfrich JA, Garske EE (1985) Practical guide for ground-water sampling. Illinois State Water Survey, Champaign, IL

ELAW (Environmental Law Alliance Worldwide) (2010) Guidebook for evaluating mining projects EIAs. http://www.elaw.org/mining-eia-guidebook

Erdenet Mining Corporation (2011) Work plan of the Erdenet copper–molybdenum open pit mine. Erdenet Mining Corporation, Erdenet

Gerel O, Dandar S, Amar-Amgalan S, Javkhlanbold D, Myagmarsuren Se, Myagmarsuren Sa, Munkhtsengel B, Syoyolmaa B (2005) Geochemistry of granitoids and altered rocks of the Erdenet porphyry copper–molybdenum deposit, central Mongolia. Proceedings of the Eighth Biennial SGA Meeting Beijing, China, pp 1137–1140

Hakanson L (1980) An ecological risk index for aquatic pollution control: a sedimentological approach. Water Res 14:975–1001

Hounslow AW (1995) Water quality data analysis and interpretation. CRC Press, Inc., Boca Raton

Loska K, Cebula J, Pelczar J, Wiechua D, Kwapuliñski J (1997) Use of enrichment, and contamination factors together with eoaccumulation indexes to evaluate the content of Cd, Cu, and Ni in the Rybnik water Reservoir in Poland. Water Air Soil Pollut 93:347–365

Luís AT, Teixeira P, Almeida SFP, Matos JX, Silva EF (2011) Environmental impact of mining activities in the Lousal area (Portugal): chemical and diatom characterization of metal-contaminated stream sediments and surface water of Corona stream. Sci Tot Environ 409:4312–4325

MASM (2005) (Mongolian Agency for Standardization and Metrology) Drinking water quality MNS 0900:2005

MASM (Mongolian Agency for Standardization and Metrology) (2008) Soil quality. Soil pollutants elements and substance MNS 5850:2008

Pavlowsky RT, Owen MC, Martin DJ (2010) Distribution, geochemistry, and storage of mining sediment in channel and floodplain deposits of the Big River System in St. Francois, Washington, and Jefferson counties, Missouri. The Ozarks Environmental and Water Resources Institute (OEWRI), Missouri State University, Springfield

Qingjie G, Jun D, Yunchuan D, Qingfei W, Liqiang Y (2008) Calculating pollution indices by heavy metals in ecological geochemistry assessment and a case study in parks of Beijing. J China Univ Geosci 19:230–241

Sakan SM, Dordevic DS, Manojlovic DD, Predrag PS (2009) Assessment of heavy metal pollutants accumulation in the Tisza River sediments. J Environ Manage 90:3382–3390

SDWF (Safe Drinking Water Foundation) (2012) Mining and water pollution. http://www.safewater.org/PDFS/resourcesknowthefacts/Mining+and+Water+Pollution.pdf

SPSS Inc. (2007) Statistics base 17.0 user's guide. SPSS, Inc, Chicago

Tomlinson DL, Wilson JG, Harris CR, Jeffrey DW (1980) Problems in the assessment of heavy-metal levels in estuaries and the formation of a pollution index. Helgoländer Meeresunters 33:566–575

USEPA (United States Environmental Protection Agency) (1992) Sediment classification methods compendium. United States Environmental Protection Agency, Washington

Varol M (2011) Assessment of heavy metal contamination in sediments of the Tigris River (Turkey) using pollution indices and multivariate statistical techniques. J Haz Mater 195:355–364

WHO (World Health Organization) (2011) Guideline for drinking water quality. World Health Organization, Geneva

World Bank (2006) The Mongolia: a review of environmental and social impacts in the mining sector. http://www.worldbank.org/eapenvironment

Zabowski D, Henry CL, Zheng Z, Zhang X (2001) Mining impacts on trace metal content of water, soil and stream sediments in the Hei River basin, China. Water Air Soil Pollut 131:261–273
Acknowledgments
This research was supported by the 2011 Techno Peace Corps (TPC) project of the Korea Research Foundation. Authors are thankful to the Erdenet Mining Corp. engineers for their cooperation with the fieldwork and anonymous reviewers for their constructive comments.
Appendix
Appendix
See Table 3.
About this article
Cite this article
Battogtokh, B., Lee, J.M. & Woo, N. Contamination of water and soil by the Erdenet copper–molybdenum mine in Mongolia. Environ Earth Sci 71, 3363–3374 (2014). https://doi.org/10.1007/s12665-013-2727-y
Received:

Accepted:

Published:

Issue Date:

DOI: https://doi.org/10.1007/s12665-013-2727-y
Keywords
Mining impact

Pollution index

Contamination sources

Tailings impact

Erdenet mine