Abstract
Over the past decades, the Gujarat state of India experienced intensive agricultural and industrial activities, fertilizer consumption and abstraction of groundwater, which in turn has degraded the ground water quality. Protection of aquifers from nitrate pollution is a matter of prime concern for the planners and decision-makers. The present study assessed the spatial and temporal variation of groundwater nitrate levels in areas with different land use/land cover activities for both pre- and post-monsoon period. The pre-monsoon nitrate level (1.6–630.7 mg/L) in groundwater was observed to be higher as compared to the post-monsoon level (2.7–131.7 mg/L), possibly due to insufficient recharge and evaporation induced enrichment of agrichemical salts in groundwater. High HCO3 − (200–1,000 mg/L) as well as SO4 2−/Cl− (0.111–0.992) in post-monsoon period provides a favourable environment for denitrification, and lower the NO3 levels during the post-monsoon period. The K vs NO3 scatter plot suggests a common source of these ions when the concentration is <5 mg/L, the relationships between different pollutants and nitrate also suggest that fertilizers and other sources, such as, animal waste, crop residue, septic tanks and effluents from different food processing units present in the area can be attributed to higher nitrate levels in the groundwater. Appropriate agronomic practices such as application of fertilizers based on calibrated soil tests and proper irrigation with respect to crop can minimize the requirement for inorganic fertilizers, which can bring down the cost of cultivation considerably, and also protect groundwater from further degradation.
This is a preview of subscription content, log in to check access.
Access options
Buy single article
Instant access to the full article PDF.
US$ 39.95
Price includes VAT for USA
Subscribe to journal
Immediate online access to all issues from 2019. Subscription will auto renew annually.
US$ 199
This is the net price. Taxes to be calculated in checkout.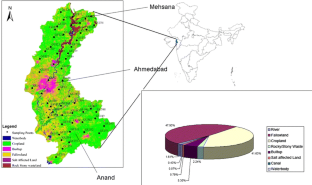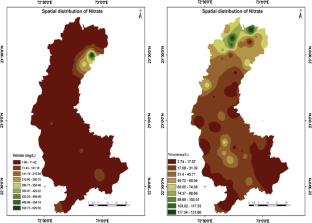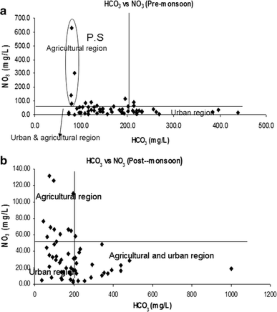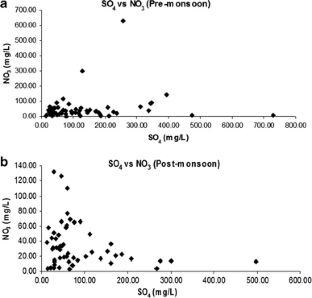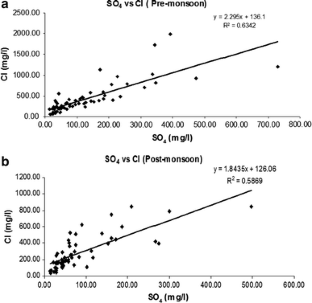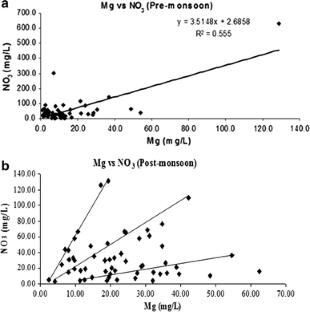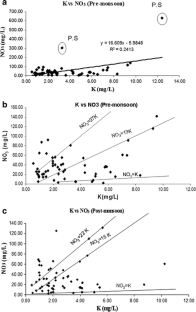 References
Addiscott TM, Whitmore AP, Powlsen DS (1991) Farming. Fertilizers and the nitrate problem. CAB International, Wallingford, p 170

Agarwal M, Gupta SK, Deshpande RD, Yadava MG (2006) Helium, radon and radiocarbon studies on a regional aquifer system of the North Gujarat—Cambay region, India. Chem Geol 228:209–232. doi:10.1016/j.chemgeo.2005.10.007

American Public Health Association (APHA) (2005) Standard methods for the examination of water and waste water, 21st edn. American Public Health Association, Washington DC

Appelo CAJ, Postma D (1994) Geochemistry. Groundwater and pollution. Balkema, Rotterdam, p 536

Bureau of Indian Standards (BIS) (1991) Drinking water specification. IS 10500:1991

Burrough PA, McDonnell RA (1998) Principles of geographical information systems for land resources assessment. Oxford University Press, New York

Datta PS, Desai DI, Gupta SK (1980) Hydrological investigations in Sabarmati basin. I. Groundwater recharge estimation using tritium tagging method. Proc of the Indian Nat Sci Acad Part A 46(1):84–98

Datta PS, Deb DL, Tyagi SK (1996) Stable isotope (180) investigations on the processes controlling fluoride contamination of groundwater. J Contam Hydrol 24(1):85–96. doi:10.1016/0169-7722(96)00004-6

Datta PS, Deb DL, Tyagi SK (1997) Assessment of groundwater contamination from fertilizers in the Delhi area based on 180, NO3 and K+ composition. J Contam Hydrol 27:249–262. doi:10.1016/S0169-7722(96)00099-X

Fertilizer association of India (2009) http://www.indiastats.com

Galy A, Frace-Lanord C (1999) Weathering processes in the Ganges–Brahmaputra basin and the riverine alkalinity budget. Chem Geol 159:31–60

Hamed Y, Awad S, Saad AB (2013) Nitrate contamination in groundwater in the Sidi Aïch–Gafsa oases region, Southern Tunisia. Environ Earth Sci. doi:10.1007/s12665-013-2445-5

Jacks G, Sharma VP (1983) Nitrogen circulation and nitrate in groundwater in an agricultural catchment in southern India. Environ Geol 5:61–64

Johnsson HM, Larsson KM, Hoffmann M (2002) SOILNDB: a decision support tool for assessing nitrogen leaching losses from arable land. Environ Model Softw 17(6):505–517

Lasserre F, Razack M, Banton OA (1999) GIS-linked model for the assessment of nitrate contamination in groundwater. J Hydrol 224:81–90

Majumder RK, Hasnat MA, Hossain S, Ikeue K, Machida M (2008) An exploration of nitrate concentration in groundwater aquifers of central-west region of Bangladesh. J Hazard Mater 159:536–543. doi:10.1016/j.jhazmat.2008.02.110

Mueller TG, Pusuluri NB, Mathias KK, Cornelius PL, Barnhisel RI, Shearer SA (2004) Map quality for ordinary kriging and inverse distance weighted interpolation. Soil Sci Soc Am 68:2042–2047

Nolan BT, Ruddy BC, Hitt KJ, Helsel DR (1997) Risk of nitrate in groundwaters of the United States—a national perspective. Environ Sci Technol 31:2229–2236. doi:10.1021/es060911u

Rajmohan N, Elango L (2005) Nutrient chemistry of groundwater in an intensively irrigated region of southern India. Environ Geol 47:820–830. doi:10.1007/s00254-004-1212-z

Rajmohan N, Elango L (2006) Hydrogeochemistry and its relation to groundwater level fluctuation in the Palar and Cheyyar River basins, southern India. Hydrol Process 20:2415–2427. doi:10.1002/hyp.6052

Rao SM, Sekhar M, Rao PR (2013) Impact of pit-toilet leachate on groundwater chemistry and role of vadose zone in removal of nitrate and E. coli pollutants in Kolar District, Karnataka. India. Environ Earth Sci 68:927–938. doi:10.1007/s12665-012-1794-9

Refsgaard JC, Thorsen M, Jensen JB, Kleeschulte S, Hansen S (1999) Large scale modeling of groundwater contamination from nitrate leaching. J Hydrol 221:117–140

Rina K, Datta PS, Singh CK, Mukherjee S (2011) Characterization and evaluation of processes governing the groundwater quality in parts of the Sabarmati basin, Gujarat using hydrochemistry integrated with GIS. Hydrol Process 26:1538–1551. doi:10.1002/hyp.8284

Singh CK, Shashtri S, Mukherjee S (2011) Integrating multivariate statistical analysis with GIS for geochemical assessment of groundwater quality in Shiwaliks of Punjab, India. Environ Earth Sci 62:1387–1405. doi:10.1007/s12665-010-0625-0

Starr RC, Gillham RW (1993) Denitrification and organic carbon availability in two aquifers. Ground Water 31(6):934–948

Tiedje JM (1994) Denitrifiers. In: Weaver RW et al (eds) Methods of soil analysis: Part 2. Microbiological and biochemical properties. Soil Sci Soc of America, Madison, WI, pp 245–267

US Environmental Protection Agency (2000) Drinking water standards and health advisories. US Environmental Protection Agency, Office of Water, 822-B-00-001, p 12

WHO (1984) Guidelines for drinking water quality, vol vol 1. World Health Organisation, Geneva, pp 53–73

WHO (World Health Organization) (2007) Chemical safety of drinking water: Assessing priorities for risk management, WHO, Geneva, pp 160

Widory D, Kloppmann W, Chery L, Bonnin J, Rochdi H, Guinamant JL (2004) Nitrate in groundwater: an isotopic multi-tracer approach. J Contam Hydrol 72:165–188

Wylie BK, Shaffer MJ, Hall MD (1995) Regional assessment of NLEAP NO3-N leaching indices. Water Resour Bull 31(3):399–408
Acknowledgments
The author (Kumari Rina) thanks the University Grants Commission for providing the fellowship to carry out this research. The author also thanks Jawaharlal Nehru University for providing various instrument facilities to carry out research work.
About this article
Cite this article
Rina, K., Datta, P.S., Singh, C.K. et al. Determining the genetic origin of nitrate contamination in aquifers of Northern Gujarat, India. Environ Earth Sci 71, 1711–1719 (2014). https://doi.org/10.1007/s12665-013-2575-9
Received:

Accepted:

Published:

Issue Date:
Keywords
Nitrate

Pollution

Groundwater

Water quality

Denitrification

Agriculture

India