Abstract
Antibiotics have been commonly used to prevent animal diseases and promote livestock productivity. However, its release into the surrounding environments leads to ecological disturbance and risks to human health. This study was conducted to monitor the occurrence and seasonal variations of antibiotics in water, sediment, and soil close to a swine manure composting facility, Korea. Various types of antibiotics such as tetracyclines (TCs) including tetracycline, chlortetracycline, and oxytetracycline, and sulfonamides (SAs) including sulfamethazine, sulfamethoxazole, and sulfathiazole were measured by the high-performance liquid chromatography-tandem mass spectrometry via a solid-phase extraction. In the results it was identified that the variations of measured antibiotics' concentrations in water, sediment, and soil are depending on the season. The observed concentration levels of TCs were higher in winter than in summer season, indicating that the low temperature is a parameter attributing to interruption of its degradation in water, sediment, and soil. The concentration levels of SAs were significantly higher than those of TCs and in general, all measured antibiotics' concentrations were also in general higher in Korea when compared to those in other countries. The long-term monitoring of antibiotics' residues in aquatic and terrestrial environments is necessary.
This is a preview of subscription content,
to check access.
Access this article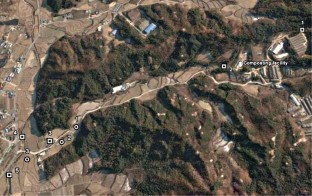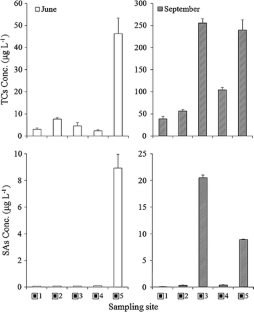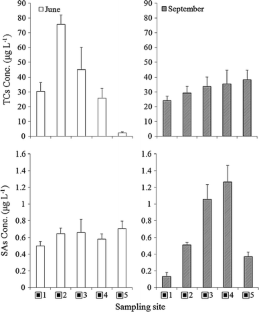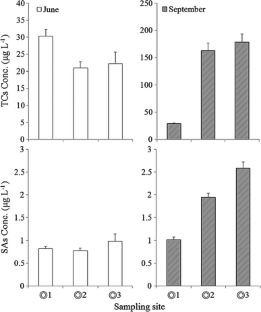 Similar content being viewed by others
References
Blackwell PA, Kay P, Boxall BA (2007) The dissipation and transport of veterinary antibiotics in a sandy loam soil. Chemosphere 67:292–299

Bound JP, Voulvoulis N (2004) Pharmaceuticals in the aquatic environment- a comparison of risk assessment strategies. Chemosphere 56:1143–1155

Bruhn ST, Seibicke T, Schulten HR, Leinweber P (2004) Sorption of sulfonamide pharmaceutical antibiotic on whole soils and particle-size fractions. J Environ Qual 33:1331–1342

Carlson K, Yang S, Kim SC (2004) Antibiotic in the environment: antibiotics in the Catche La Poudre River. Agron News 24:4–6

Chee-Sanford JC, Aminov RI, Krapac IJ, Garrigues-Jeanjean N, Mackie RI (2001) Occurrence and diversity of tetracycline resistance genes in lagoons and groundwater underlying two swine production facilities. Appl Environ Microbiol 67:1494–1502

Choi K, Kim Y, Park J, Park CK, Kim MY, Kim HS, Kim P (2008) Seasonal variations of several pharmaceutical residues in surface water and sewage treatment plants of Han River, Korea. Sci Total Environ 405:120–128

Hamscher G, Pawelzick HT, Hoper H, Nau H (2005) Different behavior of tetracyclines and sulfonamides in sandy soils after repeated fertilization with liquid manure. Environ Toxicol Chem 24:861–868

Heberer T (2002) Occurrence, fate, and removal of pharmaceutical residues in the aquatic environment: a review of recent research data. Toxicol Let 131:5–17

Heim S, Schwarzbauer J, Littke R (2004) Monitoring of waste deposit derived groundwater contamination with organic tracers. Environ Chem Let 2:21–25

Hu X, Zhou Q, Luo Y (2010) Occurrence and source analysis of typical veterinary antibiotics in manure, soil, vegetables and groundwater from organic vegetable bases, northern China. Environ Pollut 158:2992–2998

Jones AD, Bruland GL, Agrawal SG, Vasudevan D (2005) Factors influencing the sorption of oxytetracycline to soils. Environ Toxicol Chem 24:761–770

KFDA (2006) Annual Report of National Antimicrobial Resistance Management (NARMP). Korea Food Drug Admin 3:297–313

Kim SC, Carlson K (2007a) Quantification of human and veterinary antibiotics in water and sediment using SPE/LC/MS/MS. Anal Bioanal Chem 387:1301–1315

Kim SC, Carlson K (2007b) Temporal and spatial trends in the occurrence of human and veterinary antibiotics in aqueous and river sediment matrices. Environ Sci Technol 41:50–57

Kim Y, Jung J, Kim M, Park J, Boxall ABA, Choi K (2008) Prioritizing veterinary pharmaceuticals for aquatic environment in Korea. Environ Toxicol Pharm 26:167–176

Kim SC, Yang JE, Ok YS, Carlson K (2010) Dissolved and colloidal fraction transport of antibiotics in soil under biotic and abiotic conditions. Water Qual Res J Canada 45:275–285

Kim KR, Owens G, Kwon SI, So KH, Lee DB, Ok YS (2011) Occurrence and environmental fate of veterinary antibiotic in the terrestrial environment. Water Air Soil Pollut 163:163–174

Kim KR, Owens G, Ok YS, Park WK, Lee DB, Kwon SI (2012) Decline in extractable antibiotics in manure-based composts during composting. Waste Manage 32:110–116

Klavarioti M, Mantzavinos D, Kassinos D (2008) Removal of residual pharmaceuticals from aqueous systems by advanced oxidation processes. Environ Int 26:167–176

KMA (2011) Korea Meteorological Administration. http://www.kma.go.kr/index.jsp

Kolpin DW, Furlong ET, Meyer MT, Thurman EM, Zaugg SD, Barber LB, Buxton HT (2002) Pharmaceuticals, hormones, and other organic wastewater contaminants in U.S. streams, 1999–2000: a national reconnaissance. Environ Sci Technol 36:1202–1211

Kwon SI, Owens G, Ok YS, Lee DB, Jeon WT, Kim JG, Kim KR (2011) Applicability of the Charm II system for monitoring antibiotic residues in manure-based composts. Waste Manage 31:39–44

Lee HY, Lim JE, Kim SC, Kim KR, Lee SS, Kwon OK, Yang JE, Ok YS (2010) Environmental monitoring of selected veterinary antibiotics in soils, sediments and water adjacent to a poultry manure composting facility in Gangwon Province, Korea. Korean Soc Environ Eng 32:278–286

Ok YS, Kim SC, Kim KR, Lee SS, Moon DH, Lim KJ, Sung JW, Hur SO, Yang JE (2011) Monitoring of selected veterinary antibiotics in environmental compartments near a composting facility in Gangwon Province, Korea. Environ Monit Assess 174:693–701

SAS (2003) SAS/Insight 9.1 user's guide, vol 1. SAS Institute Inc, North Carolina

Sassman SA, Lee LS (2005) Sorption of three tetracyclines by several soils: assessing the role of pH and cation exchange. Environ Sci Technol 39:7452–7459

Schmitt H, Stoob K, Hamscher G, Smit E, Seinen W (2006) Tetracyclines and tetracycline resistance in agricultural soils: microcosm and field studies. Microb Ecol 51:267–276

Seo YH, Choi JK, Kim SK, Min HK, Jung YS (2007) Prioritizing environmental risks of veterinary antibiotics based on the use and the potential to reach environment. Korean J Soil Sci Fert 40:43–50

Ter Laak TL, Gebbink WA, Tolls J (2006) The effect of pH and ionic strength on the sorption of sulfachloropyridazine, tylosin, and oxytetracycline to soil. Environ Toxicol Chem 25:904–911

Thiele-Bruhn S (2003) Pharmaceutical antibiotic compounds in soils–a review. J Plant Nutr Soil Sci 166:145–167

Tolls J (2001) Sorption of veterinary pharmaceuticals in soils: a review. Environ Sci Technol 35:3397–3406

Vaclavik E, Sorensen BH, Ingerslev F (2004) Evaluation of manometric respiration tests to assess the effects of veterinary antibiotic in soil. Chemosphere 56:667–676

Wang Q, Yates SR (2008) Laboratory study of oxytetracycline degradation kinetics in animal manure and soil. J Agric Food Chem 56:1683–1688

Yang S, Cha J, Carlson K (2004) Quantitative determination of trace concentrations of tetracycline and sulfonamide antibiotics in surface water using solid-phase extraction and liquid chromatography/ion trap tandem mass spectrometry. Rapid Commun Mass Spectrom 18:2131–2145
Acknowledgments
This research was supported by the Ministry of Environment as "The GAIA project" in Korea. Instrumental analysis was supported by the Korea Basic Science Institute, Institute of Environmental Research and the Central Laboratory of Kangwon National University in Korea.
About this article
Cite this article
Awad, Y.M., Kim, SC., Abd El-Azeem, S.A.M. et al. Veterinary antibiotics contamination in water, sediment, and soil near a swine manure composting facility. Environ Earth Sci 71, 1433–1440 (2014). https://doi.org/10.1007/s12665-013-2548-z
Received:

Accepted:

Published:

Issue Date:

DOI: https://doi.org/10.1007/s12665-013-2548-z
Keywords