Abstract
Damming of the North Anna River in 1972 created Lake Anna, a cooling water source for the Dominion nuclear power plant as well as a popular recreation site in Spotsylvania and Orange counties, Virginia, USA. Previously dated (210-Pb) sediment cores from seven locations within the lake and three locations in the adjoining Waste Heat Treatment Facilities (WHTF) were analyzed for trace metals (Al, Ba, Zn, Cd, Cu, Fe, Mn and Pb) and polychlorinated biphenyls (PCBs) to examine the environmental evolution of the reservoir system. The reservoir has a history of mining activities in its watershed and unusually elevated concentrations of PCBs were found in fish tissues from previous studies. Therefore, dated sediment cores provided the framework for both the temporal and spatial analysis of possible sources and flux histories for both trace metals and PCBs. The trace metals results suggest that, though the upper reaches are relatively less impacted, the old mine tailings from the now ceased mining activities in the watershed of Contrary Creek tributary continue to dominate the sediment chemistry of the lower portion of the lake basin, signified by sediment enrichment of Pb, Cd, Cu, and Zn. Lagoon-2 of the WHTF also seems to be receiving unusually high loadings of Cd (12.5 ± 1.07 μg/g) that is probably associated with waste materials from the nuclear power plant that maintains the lagoons. PCB sediment concentrations were relatively low in the lower sections of the basins with values typically being <3.5 ng/g. The upper reaches of the basin had several PCB hotspots, with the surface sediments of Terry's Run tributary having values as high as 53.13 ng/g. The spatial distribution of PCBs seems to suggest the upper reaches of the basin as the probable source, with the unusually high concentrations near bridges suggesting a possible link between the PCBs and old bridge fill materials. The oldest lacustrine sediments also had relatively high trace metals and PCB values signifying a probable role of soil disruption and sediment reconcentration during reservoir construction.
Access options
Buy single article
Instant access to the full article PDF.
US$ 39.95
Tax calculation will be finalised during checkout.
Subscribe to journal
Immediate online access to all issues from 2019. Subscription will auto renew annually.
US$ 119
Tax calculation will be finalised during checkout.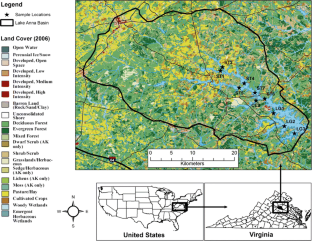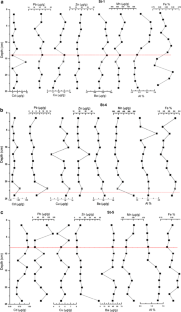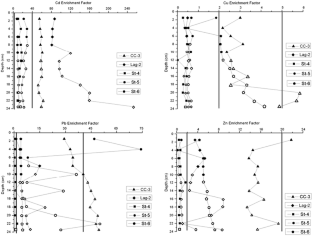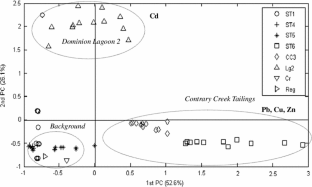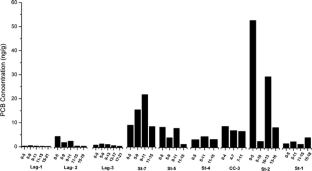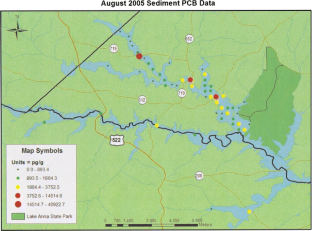 Notes
1.

Revision A: chlorinated biphenyl congers in water, sediment, and tissue by HRGC/HRMS (EPA 821-R-00-002).
References
Alexander CR, Smith RG, Calder FD, Schropp SJ, Windom HL (1993) The historical record of metal enrichment in two florida estuaries. Estuaries 16(3B):627–637

Balogh SJ, Triplett LD, Engstrom DR, Nollet YH (2010) Historical trace metal loading to a large river recorded in the sediments of lake st. croix. J. Paleolimnol 44:517–530

Berquist CR Jr (2003) Digital representation of the 1993 geologic map of Virginia––expanded explanation. Commonwealth of Virginia Department of Mines, Minerals and Energy Publication 174: pp 61–63

Beutel MW, Horne AJ (1999) A review of the effects of hypolimnetic oxygenation on lake and reservoir water quality. J Lake Reserv Manag 15(4):285–297

Blood ER (1975) Distribution of heavy metals in Lake Anna, a system affected by acid mine drainage. Virginia Commonwealth University, MS thesis

Burd B, Macdonald R, Boyd J (2000) Punctuated recovery of sediments and benthic infauna: a 19-year study of tailings deposition in a british columbia fjord. Marine Environmental Res 49:145–175

Clark E, Odhiambo BK (2012) Comparative analysis of watershed erosion, reservoir sedimentation and trace metals in two virginia lakes. Geological Society of America abstracts with programs, V. 44, No. 7

Committee on Inland Aquatic Ecosystems water science and technology board (1996) Freshwater ecosystems: revitalizing educational programs in limnology: National Academy Press, Washington DC

Conko KM, Rice KC, Kennedy MM (2004) Atmospheric wet deposition of trace elements to a suburban environment, Reston, Virginia, USA. Atmos Environ 38:4025–4033

Conrad CF, Fugate D, Daus J, Chisholm-Brause CJ, Kuehl SA (2007) Assessment of the historical trace metal contamination of sediments in the Elizabeth River, Virginia. Mar Pollut Bull 54:385–395

Cranor WL, Perkins SD, Clark RC, Tegerdine GA (2005) Analysis of SPMD samples from the October/November 2004 deployment in Lake Anna, VA for PCBs as bioavailable organic contaminants. A July 2005 report prepared for the Virginia Department of Environment, Quality, p 43

Dickhut RM, Gustafson KE (1995) Atmospheric inputs of selected polycyclic aromatic hydrocarbons and polychlorinated biphenyls to southern chesapeake bay. Mar Pollut Bull 30(6):385–396

Eisenreich SJ, Hollod GJ, Johnson TC (1979) Accumulation of polychlorinated biphenyls (PCBs) in surficial lake superior sediments atmospheric deposition. Environ Sci Technol 13(5):569–573

Elder JH Jr (1985) Soil survey of spotsylvania county virginia U.S. Department of Agriculture, Soil Conservation Service, Washington D.C

Hatt BE, Fletcher TD, Walsh CJ, Taylor SL (2004) The influence of urban density and drainage infrastructure on the concentrations and loads of pollutants in small streams. Environ Manage 34(1):112–124

Irabien MJ, Rada M, Gomez J, Soto J, Mananes A, Viguri J (2008) An assessment of anthropogenic impact in a nature reserve: the santona marshes (Northern Spain). J Iberian Geol 34(2):235–242

James R. Reed and Associates, Inc. (1976) Environmental study of lake anna, Virginia (Ichthyology, trace metals). Annual report prepare for the virginia electric and power company, p 109

Kamptner E (2009) Soils and fill material at bridges as possible source of polychlorinated biphenyls (PCBs) into Lake Anna waters and sediments. Earth and environmental sciences department, University of Mary Washington, Thesis 86p

Karuppiah M, Gupta G (1996) Impact of point and nonpoint source pollution on pore waters of two chesapeake bay tributaries. Ecotoxicol Environ Saf 35:81–85

Kim G, Scudlark JR, Church TM (2000) Atmospheric wet deposition of trace elements to chesapeake and delaware bays. Atmos Environ 34:3437–3444

King RS, Beaman JR, Whigham DF, Hines AH, Baker ME, Weller DE (2004) Watershed land use is strongly linked to PCBs in white perch in chesapeake bay sub-estuaries. Environ Sci Technol 38:6546–6552

Kouadio I, Trefry JH (1987) Sediment trace metal contamination in the ivory coast, west africa. Water Air Soil Pollut 32:145–154

Lake Anna Special Area Plan Committee (2000). Lake Anna special area plan report, p 113

Lerman A (1978) Lakes: chemistry, geology, physics. Springer-Verlag, Berlin, p 363

Love AH, Esser BK, Hunt JR (2003) Reconstructing contaminant deposition in a San Francisco Bay Marina, California. Environ Engineering 129:659–666

Mahler BJ (2001) Trends in metals in urban and reference lake sediments across the United States, 1970–2001. Environ Toxicol Chem 25(7):1698–1709

Markofsky M, Harleman DRF (1971) A predictive model for thermal stratification and water quality in reservoirs: water pollution control research series, 16130 DJH 01/71, 283p

Mihnea PE (1992) Conventional methods applied in pollution control of the romanian coastal waters of the black sea, science of the total environment supplement 1992, pp 1165–1178

Munish AB, Boardman GD, Flick GJ, Cobb J, Lane RM (2009) Pesticides (OCPs) and polychlorinated biphenyls (PCBs) concentration in various fish species along the chesapeake bay near virginia beach on the atlantic coastline. Open Oceanography J 3:1–7

Odhiambo BK (2007) Sediment chronology to aid in historical analysis of PCB influx in Lake Anna sediments: spotsylvania and orange counties Virginia. US Army Corps of Engineers, Norfolk

Odhiambo BK, Ricker MC (2012) Spatial and isotopic analysis of watershed soil loss and reservoir sediment accumulation rates in Lake Anna, Virginia, USA. Environ Earth Sci 65:373–384. doi:10.1007/s12665-011-1098-5

Odhiambo BK, Macdonald RW, O'Brien MC, Harper JR, Yunker MB (1996) Transport and fate of mine tailings in a coastal fjord of british columbia as inferred from sediment record. Sci Total Environ 191:77–94

Paonessa LJ, Bupp SL, Knepper D, Williamson E (2005) Literature review and land use history of a portion of the lake Anna watershed, Spotsylavania and Orange Counties, Virginia. A versar Inc. report prepared for the US Army Corps of Engineers, p 89

Rule JH (1986) Assessment of trace element geochemistry of hampton roads and lower chesapeake bay area sediments. Envir Geol Wat Sci 8:209–219

Scudlark JR, Rice KC, Conko KM, Briker OP, Church TM (2005) Transmission of atmospherically derived trace elements through an undeveloped, forested maryland watershed. Water Air Soil Pollut 163:53–79

Sinex SA, Helz GR (1981) Regional geochemistry of trace elements in chesapeake bay sediments. Environ Geol 3:315–323

Smith SM (2006) Geochemistry of Delaware, Maryland, Virginia, and West Virginia national uranium resources evaluation hydrochemical and stream sediments reconnaissance program. USGS Report OFR 97-292: NURE HSSR Data. http://pubs.usgs.gov/of/1997/ofr-97-0492/state/nure_dmv.htm, Visited April 2012

Stumm W, Baccini P (1978) Man-made chemical perturbation of lakes. In: Lerman A (ed) Lakes; chemistry, geology and physics. Springer-Verlag, New York, pp 91–126

Swarzenski PW, Baskaran M, Rosenbauer RJ, Orem WH (2006) Historical distribution in sediments from the mississippi river delta. Estuaries Coasts 29(6B):1094–1107

Taylor SR (1964) Abundance of chemical elements in the continental crust: a new table. Geochemica et cosmochimica acta 24:283–294

US Army Corps of Engineers (2005) Literature review and land use history of a portion of the Lake Anna watershed, Spotsylvania and Orange Counties, Virginia. Report prepared by Vasar Inc

Van Metre P, Wilson JT, Callender E, Fuller CC (1998) Similar rates of decrease of persistent, hydrophobic and particle-reactive contaminants in riverine systems. Environ Sci Technol 32:3312–3317

Venkatesan MI (2003) Fate and transport of planar and mono-ortho polychlorinated biphenyls and polychlorinated naphthalenes in southern california sediments. California Sea Grant College Program Report, Coastal 03–05. http://repositories.cdlib.org/csgc/rcr/Coastal03_05. Visited July 2011

Vollenweider RA (1990) Eutrophication: conventional and non-conventional considerations and comments on selected topics.In: R de Bernardi et al (eds) Scientific perspectives in theoretical and applied limnology: Mem 1st Ital. Idrobiol 47: 77–134

Webster L, Russell M, Walsham P, Phillips LA, Hussy I, Dalgarno JE, Moffat C (2011) An assessment of persistent organic pollutants in scottish coastal and offshore marine environments. J Environ Monit 13:1288–1307

Yesilonis ID, Pouyat RV, Neerchal NK (2008) Spatial distribution of metals in soils in baltimore, maryland: role of native parent material, proximity to major roads, housing age and screening guidelines. Environ Pollut 156:723–731

Zwolsman JJG, Berger GW, Van Eck GTM (1993) Sediment accumulation rates, historical input, postdepositional mobility and retention of major elements and trace metals in salt marsh sediments of the scheldt estuary SW netherlands. Marine Chem 44:73–94
Acknowledgments
The authors would like thank the University of Mary Washington for funding some components of this project. Sediment chronology and PCB analysis was funded through The Army Corp of Engineers, Norfolk District and Virginia DEQ. We also wish to express our gratitude to Dr. D. Hydorn, M. Ricker, Dr. G. Woodwell, Dr. N. Tibert, and Elyse Clark for their support and contributions to the Lake Anna research effort.
About this article
Cite this article
Odhiambo, B.K., Brown, V., Armentrout, G. et al. Sediment trace metals and PCB input history in Lake Anna, Virginia, USA. Environ Earth Sci 69, 2103–2117 (2013). https://doi.org/10.1007/s12665-013-2500-2
Received:

Accepted:

Published:

Issue Date:
Keywords
Trace metals

Polychlorinated biphenyls (PCB)

Lake Anna

Sediments