Abstract
Soil radon (222Rn) has been monitored during winter months under cool-temperate deciduous stands of different surface geology in Tomakomai and in Sapporo, Hokkaido, Japan. Radon level was lower in Tomakomai of immature soil of porous volcanic ash emitted from an active volcano (Mt. Tarumae), compared with those in Sapporo of alluvial sediments. In Tomakomai, mean value of the 222Rn activity concentration was higher in winter (570 Bq m−3) than in summer (350 Bq m−3) at a depth of 1 m, which is consistent with the results in cold and dry winter reported in the literature. In contrast, soil radon decreasing with decreasing soil temperature from mid-September (5.0 kBq m−3) remained low (2.6 kBq m−3) under persistent snow in Sapporo, which had already been observed in the same location. Measurements of the activity concentrations of 222Rn in snow and in snow air as well as in soil air indicate that the small amount of 222Rn is released from the ground surface to the overlying snowpack with a 222Rn flux density of 0.4 mBq m−2 s−1 under thick snow cover in Sapporo.
This is a preview of subscription content, log in to check access.
Access options
Buy single article
Instant access to the full article PDF.
US$ 39.95
Price includes VAT for USA
Subscribe to journal
Immediate online access to all issues from 2019. Subscription will auto renew annually.
US$ 199
This is the net price. Taxes to be calculated in checkout.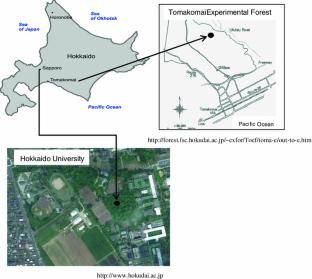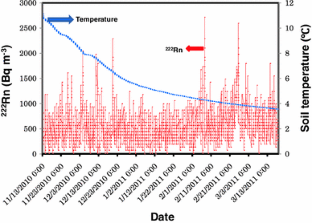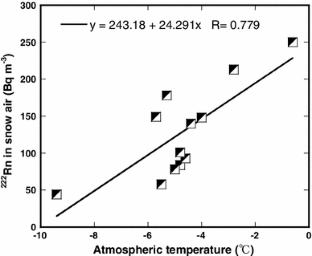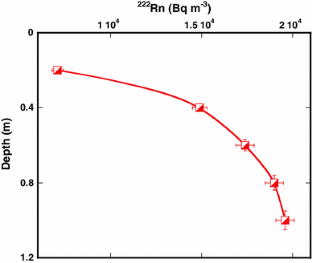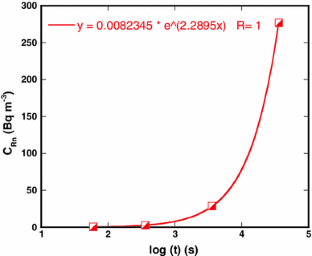 References
Argonne National Laboratory, US. 7.EFFECTIVE RADON DIFFUSION COEFFICIENT. http://www.ead.anl.gov/resrad/datacoll/radon.htm. Accessed 2 May 2012

Castelluccio M, Moroni M, Tuccimei P, Neznal M, Neznal M (2010) Soil gas radon concentration and permeability at "Valle della Caffarella" Testi Site (Roma, Italy). 10th International Workshop on the Geological Aspects of Radon Risk Mapping, Prague, Czech Republic

Darby S, Hill D, Auvinen A, Barros-Dios JM, Baysson H, Bochicchio F, Deo H, Falk R, Forastiere F, Hakama M, Heid I, Kreienbrock L, Kreuzer M, Lagarde F, Mäkeläinen I, Muirhead C, Oberaigner W, Pershagen G, Ruano-Raivina A, Ruosteenoja E, Posario AS, Timarche M, Tomásek L, Shitley E, Wichmann HE, Doll R (2005) Radon in homes and risk of lung cancer. Collaborative analysis of individual data from 13 European case-control studies. Br Med J 330:223–237

Ershaidat NM, Abu-Jaber NS, Al-Bataina BA, Shobaki JM, Jaradat AS (2009) Relationship between the effective diffusion coefficient of soil radon and groundwater recharge in semi-arid areas. Environ Earth Sci 59:261–268

Etiope G, Martinelli G (2002) Migration of carrier and trace gases in the geosphere: an overview. Phys Earth Planet Inter 129:185–204

Fujiyoshi R, Morimoto H, Sawamura S (2002) Investigation of the soil radon variation during the winter months in Sapporo, Japan. Chemosphere 47:369–373

Fujiyoshi R, Kinoshita M, Sawamura S (2005) Variation of 222Rn activity concentration in soil gas at a site in Sapporo, Japan. Environ Geochem Health 27:539–547

Fujiyoshi R, Sakamoto K, Imanishi T, Sumiyoshi T, Sawamura S, Vaupotič J, Kobal I (2006) Meteorological parameters contributing to variability in 222Rn activity concentration in soil gas at a site in Sapporo, Japan. Sci Total Environ 370:224–234

Fujiyoshi R, Haraki Y, Sumiyoshi T, Amano T, Kobal I, Vaupotič J (2010) Tracing the sources of gaseous components (222Rn, CO2 and its carbon isotopes) in soil air under a cool-temperate deciduous stand in Sapporo, Japan. Environ Geochem Health 32(1):73–82

Ghosh D, Deb A, Sengupta R (2009) Anomalous radon emission as precursor of earthquake. J Appl Geophys 69:67–81

Griffiths AD, Zahorowski W, Element A, Werczynski S (2010) A map of radon flux at the Australian land surface. Atmos Chem Phys 10:8969–8982

Hassan NM, Hosoda M, Ishikawa T, Sorimachi A, Sahoo S, Tokonami S, Fukushi M (2009) Radon migration process and its influence factors. Rev Jpn J Phys 44(2):218–231

Hopke PK, Borak TB, Doull J, Cleaver JE, Eckerman KF, Gundersen LCS, Harley NH, Hess CT, Kinner NE, Kopacky KJ, McKone TE, Sextro RG, Simon SL (2000) Health risks due to radon in drinking water. Environ Sci Technol 34(6):921–926

Japan Meteorological Agency. http://www.jma-net.go.jp/sapporo/ Accessed 20 April 2012

Japanese Society of Soil Science and Plant Nutrition (1997) Analytical Methods in Soil Environment. In: Konno T (ed) Hakuyusha Japan (in Japanese)

Khan MS, Srivastava DS, Azam A (2012) Study of radium content and radon exhalation rates in soil samples of northern India. Environ Earth Sci 67:1363–1371

Krewski D, Lubin JH, Zielinski JM, Alavanja M, Catalan VS, Field RW, Klotz JB, Létoumeau EG, Lynch CF, Lyon JI, Sandler DP, Schoenberg JB, Stech DJ, Stolwijlk JA, Weomberg C, Wilcox HB (2005) Residential radon and risk of lung cancer. A combined analysis of 7 North American case-control studies. Epidemiology 16:137–145

Neznal M, Matolin M, Just G, Turek K (2004) Short-term temporal variations of soil gas radon concentration and comparison of measurement techniques. Radiat Prot Dosim 108(1):55–63

Perrier F, Richon P, Sabroux JC (2009) Temporal variations of radon concentration in the saturated soil of Alpine grassland: the role of groundwater flow. Sci Total Environ 407:2361–2371

Sakoda A, Ishimori Y, Yamaoka K (2011) A comprehensive review of radon emanation measurements for mineral, rock, soil, mill, tailing and fly ash. Appl Radiat Isot 69:1422–1435

Schery S, Whittlestone S, Hart K, Hill S (1989) The flux of radon and thoron from Australian soils. J Geophys Res 94:8567–8576

Vaupotič J, Gregorič A, Kobal I, Fujiyoshi R, Okabayashi M, Sakuta Y (2012) Radon in soil gas at selected sites in Hokkaido, Japan. International Symposium on Natural Radiation Exposures and Low Dose Radiation Epidemiological Studies (NARE 2012), Hirosaki, Japan

Winkler R, Ruckerbauer F, Bunzl K (2008) Radon concentration if soil gas: a comparison of the variability resulting from different methods, spatial heterogeneity and seasonal fluctuations. Sci Total Environ 272:273–282

Yakovleva VS (2005) A theoretical method for estimating the characteristics of radon transport in homogeneous soil. Ann Geophys 48(1):195–198

Yamazawa H, Miyazaki T, Moriizumi J, Iida T, Takeda S, Nagara S, Sato K, Tokizawa T (2005) Radon exhalation from a ground surface during a cold snow season. Int Cong Ser 1276:221–222

Yu D, Kim JK (2004) A physiologically based assessment of human exposure to radon released from groundwater. Chemosphere 54(5):639–645
Acknowledgments
The present research was supported by Japan Society for the Promotion of Science (JSPS) and Slovenian Research Agency under Japan–Slovenia Research Cooperative Program in 2010–2011. The present authors would appreciate Prof. Tsutomu Hiura and his group for helping field works in the Tomakomai Experimental Forest, Hokkaido University.
About this article
Cite this article
Fujiyoshi, R., Okabayashi, M., Sakuta, Y. et al. Soil radon in winter months under snowpack in Hokkaido, Japan. Environ Earth Sci 70, 1159–1167 (2013). https://doi.org/10.1007/s12665-012-2203-0
Received:

Accepted:

Published:

Issue Date:
Keywords
Radon

Soil air

Snowpack

Transport