Abstract
Alkaline soils occupy approximately 5 % of the Earth's land surface (7 million km), and this may increase due to the global trend towards increasing desertification, yet the extent to which these soils modulate carbon dynamics on regional and global scales is inadequately studied and poorly understood. Railroad Valley (RRV) playa (Nevada, USA) is a semi-arid playa with highly alkaline soils (pH > 10) and no vegetation. The extreme, alkaline environment and absence of vascular vegetation make RRV an ideal site to investigate the role of physiochemical processes of soil-atmosphere CO2 exchange. Both field and laboratory investigations were conducted. This work shows how the atmospheric CO2 mixing ratio decreases at nighttime at RRV playa to a value well below the average global background CO2 concentration. Laboratory investigations using soil samples collected at RRV playa confirmed that CO2 uptake by RRV playa soils occurs when temperatures are decreased. Both field and laboratory studies suggest that the alkaline RRV soil acts as a CO2 reservoir during colder periods, such as at nighttime. These results highlight the importance of investigating carbon dynamics in previously understudied environments. Given how little information is available on the CO2 flux in desert and semi-arid alkaline ecosystems lacking vegetation, our findings draw attention to these environments as becoming increasingly important for carbon fluxes on regional and global scales.
Access options
Buy single article
Instant access to the full article PDF.
US$ 39.95
Tax calculation will be finalised during checkout.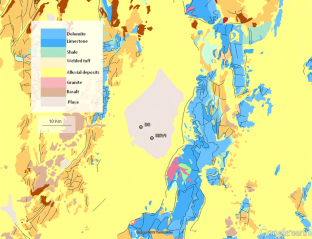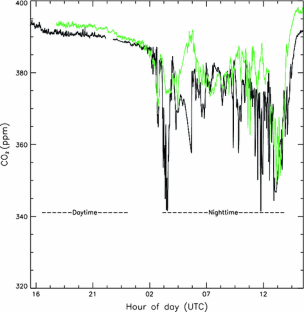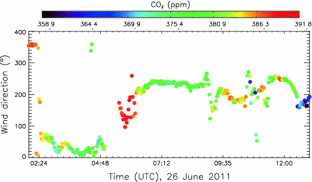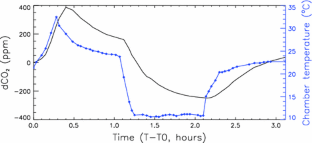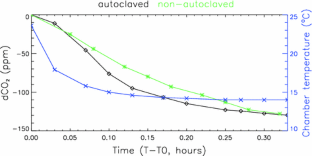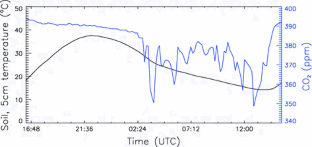 References
Ball BA, Virginia RA, Barrett JE, Parsons AN, Wall DH (2009) Interactions between physical and biotic factors influence CO2 flux in Antarctic dry valley soils. J Soil Bio 41:1510–1517

Chen HW, Gerbig JC, Hoefer A, Rella CW, Crosson ER, Van Pelt AD, Steinbach J, Kolle O, Beck V, Daube BC, Gottlieb EW, Chow VY, Santoni GW, Wofsy SC (2010) High-accuracy continuous airborne measurements of greenhouse gases (CO2 and CH4) using the cavity ring-down spectroscopy (CRDS) technique. Atmos Meas Tech 3:375–386

Corbin KD, Denning AS, Lokupitiya EY, Schuh AE, Miles NL, Davis KJ, Richardson S, Baker IT (2010) Assessing the impact of crops on regional CO2 fluxes and atmospheric concentrations. Tellus B 62:521–532

Crosson ER (2008) A cavity ring-down analyzer for measuring atmospheric levels of methane, carbon dioxide and water vapor. Appl Phys B 92:403–408

Dumanski J (2004) Carbon sequestration, soil conservation and the Kyoto protocol: summary of implications. Clim Change 65:255–261

Emmerich WE (2003) Carbon dioxide fluxes in a semiarid environment with high carbonate soils. J Agr Met 116:91–102

Flanagan LB, Brooks JR, Varney GT, Berry SC, Ehleringer JR (1996) Carbon isotope discrimination during photosynthesis and the isotope ratio of respired CO2 in boreal forest ecosystems. Global Biogeochem Cycles 10:629–640

Hastings SJ, Oechel WC, Muhlia-Melo A (2005) Diel, seasonal and annual variation in the net ecosystem CO2 exchange of a desert shrub community (Sarcocaulescent) in Baja California, Mexico. Glob Change Biol 11:927–939

Huenneke LF, Anderson JP, Remmenga M, Schlesinger WH (2002) Desertification alters patterns of aboveground net primary production in Chihuahuan ecosystems. Glob Change Biol 8:247–264

Kuze A, O'Brien DM, Taylor TE, Day JO, O'Dell CW, Kataoka F, Yoshida M, Mitomi Y, Bruegge CJ, Pollock H, Basilio R, Helmlinger M, Matsunaga T, Kawakami S, Shiomi K, Urabe T, Suto H (2011) Vicarious calibration of the GOSAT sensors using the Railroad Valley desert playa. IEEE TGRS 49:1781–1795

Liu R, Li Y, Wang Q (2011) Variations in water and CO2 fluxes over a saline desert in western China. Hydrol Process 26:513–522

Ludington S, John DA, Muntean JL, Hanson AD, Castor SB, Henry CD, Wintzer N, Cline JS, Simon AC (2009) Mineral resource assessment of northern Nye County, Nevada—a progress report. USGS open file report 2009–1271

Luo H, Oechel WC, Hastings SJ, Zulueta R, Qian Y, Kwon H (2007) Mature semiarid chaparral ecosystems can be a significant sink for atmospheric carbon dioxide. Glob Change Biol 13:386–396

Melnikov NB, O'Neill BC (2006) Learning about the carbon cycle from global budget data. Geophys Res Lett 33:L02705

Parsons AN, Barrett JE, Wall DH, Virginia RA (2004) Soil carbon dioxide flux in Antarctic dry valley ecosystems. Ecosystems 7:286–295

Pattey E, Strachan IB, Desjardins RL, Massheder J (2002) Measuring nighttime CO2 flux over terrestrial ecosystems using eddy covariance and nocturnal boundary layer methods. J Agr For Met 113:145–158

Reid KH, Steyn EG (1997) Diel variations of boundary-layer carbon dioxide in a coastal city-observations and comparison with model results. Atmos Environ 31:3101–3114

Sanderman J (2012) Can management induced changes in the carbonate system drive soil carbon sequestration? A review with particular focus on Australia. Agric Ecosyst Env 155:70–77

Schlesinger WH (2000) Carbon sequestration in soils: some cautions amidst optimism. Agric Ecosyst Env 82:121–127

Scott RL, Huxman TE, Cable WL, Emmerich WE (2006) Partitioning of evapotranspiration and its relation to carbon dioxide exchange in a Chihuahuan Desert shrubland. Hydrol Process 20:3227–3243

Serrano-Ortiz P, Sànchez-Cañete EP, Oyonarte C (2012) Recarbonization of the biosphere: the carbon cycle in drylands, 1st edn. Springer, Netherlands

Stevenson BA, Verburg PSJ (2006) Effluxed CO2–13C from sterilized and unsterilized treatments of a calcareous soil. J Soil Bio 38:1727–1733

Sturm P, Leuenberger M, Valentino FL, Lehmann B, Ihly B (2006) Measurements of CO2, its stable isotopes, O2/N2, and 222Rn at Bern, Switzerland. Atmos Chem Phys 6:1991–2004

Thome KJ (2001) Absolute radiometric calibration of landsat 7 ETM+ using the reflectance-based method. Remote Sens Environ 78:27–38

Tonooka H, Palluconi FD, Hook DJ, Matsunaga T (2005) Vicarious calibration of ASTER thermal infrared bands. IEEE TGRS 43:2733–2746

Wang Y, Munger JW, Xu S, McElroy MB, Hao J, Nielson CP, Ma H (2010) CO2 and its correlation with CO at a rural site near Beijing: implications for combustion efficiency in China. Atmos Chem Phys 10:8881–8897

Winderlinch J, Chen H, Gerbig C, Seifert T, Kolle O, Lavrič JV, Kaiser C, Höfer A, Heimann M (2010) Continuous low-maintenance CO2/CH4/H2O measurements at the Zotino Tall Tower Observatory (ZOTTO) in Central Siberia. Atmos Meas Tech 3:1113–1128

Wohlfahrt G, Fenstermaker LF, Arnone JA (2008) Large annual net ecosystem CO2 uptake of a Mojave Desert ecosystem. Glob Change Biol 14:1475–1487

Wu X, Yao Z, Bruggemann N, Shen ZY, Wolf B, Dannenmann M, Zheng X, Butterbach-Bahl K (2010) Effects of soil moisture and temperature on CO2 and CH4 soil-atmosphere exchange of various land use/cover types in a semi-arid grassland in Inner Mongolia, China. J Soil Bio 42:773–787

Xie J, Yan L, Zhai C, Li C, Lan Z (2009) CO2 absorption by alkaline soils and its implication to the global carbon cycle. Environ Geol 56:953–961

Yates EL, Schiro K, Loewenstein M, Sheffner EJ, Iraci LT, Tadić JM, Kuze A (2011) Carbon dioxide and methane at a desert site—a case study at Railroad Valley playa, Nevada, USA. Atmosphere 2:702–714
Acknowledgments
We specifically acknowledge the cooperation and efforts of the personnel involved in the Railroad Valley vicarious calibration experiment from the Atmospheric CO2 Observations from Space (ACOS) Team, Japan Aerospace Exploration Agency (JAXA), National Institute for Environmental Studies (NIES), Colorado State University (CSU) and particular thanks to G. Jacobson from Picarro Inc. We also thank the University of Arizona Remote Sensing Group for making the research facilities at Railroad Valley available, Prof. Craig Clements (San Jose State University) for additional instrumentation and Adrienne Frisbee for guidance. We acknowledge financial support from NASA's Earth Science Division and Oak Ridge Associated Universities (ORAU) through the NASA Postdoctoral Program (E.L.Y., J.M.T.). The participation of B. M. Bebout, C. A. Kelley and A. M. Detweiler was made possible by financial support from NASA's Exobiology Program.
About this article
Cite this article
Yates, E.L., Detweiler, A.M., Iraci, L.T. et al. Assessing the role of alkaline soils on the carbon cycle at a playa site. Environ Earth Sci 70, 1047–1056 (2013). https://doi.org/10.1007/s12665-012-2194-x
Received:

Accepted:

Published:

Issue Date:
Keywords
Semi-arid ecosystem

Playa

Alkaline soils

Carbon dioxide flux

Carbon cycle

Carbon dioxide adsorption