Abstract
Military shooting range soils contaminated by heavy metals have been subjected to remediation efforts to alleviate the detrimental effects of exposure on humans and the surrounding environment. Waste materials can be used as cost-effective soil amendments to immobilize heavy metals in contaminated soils. In this study, naturally occurring lime-based waste materials including egg shells, oyster shells, and mussel shells were assessed for their effectiveness toward heavy metal immobilization in military shooting range soil in Korea. Soil was treated in batch leaching experiments with 0, 2.5, 5, 10, and 15% of each lime-based waste material. The results showed that the lime-based waste materials effectively reduced water-soluble Pb at an application rate of 2.5% by weight of the soil. Increase in soil pH from 6.6 to 8.0 was considered to be the main chemistry of Pb immobilization, which was supported by the formation of insoluble Pb species at high pH values as confirmed by the visual MINTEQ thermodynamic model. In contrary, water-soluble Cu was increased in the lime-based waste material-treated soils when compared to the untreated soil. This was likely attributed to the formation of soluble Cu–DOC (dissolved organic carbon) complexes as all lime-based waste materials applied increased DOC contents in the soil. Therefore, care must be taken in selecting the appropriate amendment for immobilizing metals in shooting range soils.
Access options
Buy single article
Instant access to the full article PDF.
US$ 39.95
Tax calculation will be finalised during checkout.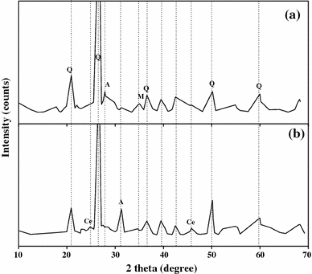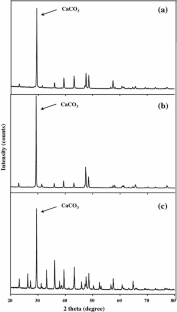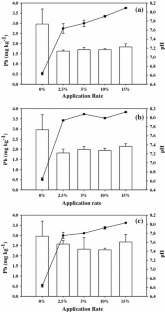 References
Al-Tabbaa A, Perera ASR (2006) UK stabilization/solidification treatment and remediation—part I: binders, technologies, testing and research. Land Contam Reclam 14:1–22

Bache BW (1984) The role of calcium in buffering soils. Plant Cell Environ 7:391–395

Cao X, Ma LQ, Chen M, Hardison DW Jr, Harris WG (2003) Weathering of lead bullets and their environmental effects at outdoor shooting ranges. J Environ Qual 32:526–534

Cao X, Dermatas D, Xu X, Shen G (2008) Immobilization of lead in shooting range soils by means of cement, quicklime, and phosphate amendments. Environ Sci Pollut Res 15:120–127

Cao X, Wahbi A, Ma L, Li B, Yang Y (2009) Immobilization of Zn, Cu, and Pb in contaminated soils using phosphate rock and phosphoric acid. J Hazard Mater 164:555–564

Chen QY, Tyrer M, Hills CD, Yang XM, Carey P (2009) Immobilisation of heavy metal in cement-based solidification/stabilisation: a review. Waste Manage 29:390–403

Chrysochoou M, Dermatas D, Grubb DG (2007) Phosphate application to firing range soils for Pb immobilization: the unclear role of phosphate. J Hazard Mater 144:1–14

Dermatas D, Shen G, Chrysochoou M, Grubb DG, Menounou N, Dutko P (2006) Pb speciation versus TCLP release in army firing range soils. J Hazard Mater 136:34–46

Dermatas D, Chrysochoou M, Grubb DG, Xu X (2008) Phosphate treatment of firing range soils: lead fixation or phosphorous release? J Environ Qual 37:47–56

Gee GW, Or D (2002) Particle size analysis. In: Dane JH, Topp GC (eds) Methods of soil analysis, part 4, physical methods. Soil Science Society of America, Inc, Madison, pp 255–293

Green Korea United (2008) Environmental problems related to military activities. UNEP Asia-Pacific Meeting, CSO report from Republic of Korea. http://green-korea.tistory.com/44. Accessed 16 Jan 2008

Grybos M, Davranche M, Gruau G, Petitjean P, Pédrot M (2009) Increasing pH drives organic matter solubilization from wetland soils under reducing conditions. Geoderma 154:13–19

Gulson BL, Palmer JM, Bryce A (2002) Changes in blood lead of a recreational shooter. Sci Total Environ 293:143–150

Gustafsson JP (2008) Visual MINTEQ Ver. 2.6. KTH. Stockholm, Sweden

Hashimoto Y, Taki T, Sato T (2009) Sorption of dissolved lead from shooting range soils using hydroxyapatite amendments synthesized from industrial byproducts as affected by varying pH conditions. J Environ Manag 90:1782–1789

Hong CO, Lee DK, Chung DY, Kim PJ (2007) Liming effects on cadmium stabilization in upland soil affected by gold mining activity. Archives of Environ Contam Toxicol 52:496–502

Jo IS, Koh MH (2004) Chemical changes in agricultural soils of Korea: data review and suggested countermeasures. Environ Geochem Health 26:105–117

Jung K, Ok YS, Chang SX (2011) Sulfate adsorption properties of acid-sensitive soils in the Athabasca oil sands region in Alberta, Canada. Chemosphere 84:457–463

Karlik B (1995) Liming effect on dissolved organic matter leaching. Water Air Soil Pollut 85:949–954

Kuo S (1996) Phosphorus. In: Sparks DL, Page AL, Helmke PA, Loeppert RH, Soltanpour PN, Tabatabai MA, Johnston CT, Sumner ME (eds) Methods of soil analysis, part 3, chemical methods. Soil Science Society of America, Inc, Madison, pp 869–919

Kwon HB, Lee CW, Jun BS, Yun JD, Weon SY, Koopman B (2004) Recycling waste oyster shells for eutrophication control. Resour Conserv Recycling 41:75–82

Labare MP, Butkus MA, Riegner D, Schommer N, Atkinson J (2004) Evaluation of lead movement from the abiotic to biotic at a small-arms firing range. Environ Geol 46:750–754

Lee IS, Kim OK, Chang YY, Bae B, Kim HH, Baek KH (2002) Heavy metal concentrations and enzyme activities in soil from a contaminated Korean shooting range. J Biosci Bioeng 94:406–411

Lindsay WL (1979) Chemical equilibria in soils. Wiley, New York, pp 328–342

Ma LQ, Hardison DW, Harris WG, Cao X, Zhou Q (2007) Effects of soil property and soil amendment on weathering of abraded metallic Pb in shooting ranges. Water Air Soil Pollut 178:297–307

MIFAFF (2006) Statistical yearbook. Ministry for Food, Agriculture, Forestry and Fisheries, Republic of Korea. http://www.mifaff.go.kr. Accessed 15 Dec 2009

Migliorini M, Pigino G, Bianchi N, Bernini F, Leonzio C (2004) The effects of heavy metal contamination on the soil arthropod community of a shooting range. Environ Pollut 129:331–340

MOE (2010) Soil Environment Conservation Act. Ministry of Environment, Republic of Korea

Moon DH, Cheong KH, Kim TS, Kim J, Choi SB, Ok YS, Moon OR (2010) Stabilization of Pb contaminated army firing range soil using calcinated waste oyster shells. Kor Soc Environ Eng 32:1353–1358

Moon DH, Cheong KH, Khim J, Grubb DG, Ko I (2011) Stabilization of Cu-contaminated army firing range soils using waste oyster shells. Environ Geochem Health 33:159–166

NIAST (2000) Method of soil and plant analysis Suwon. Natl Inst Agric Sci Technol (NIAST), Korea

Nierop KGJ, Jansen B, Vrugt JA, Verstraten JM (2002) Copper complexation by dissolved organic matter and uncertainty assessment of their stability constants. Chemosphere 49:1191–1200

Ok YS, Chang SX, Feng Y (2007a) Sensitivity to acidification of forest soils in two watersheds with contrasting hydrological regimes in the oil sands region of Alberta. Pedosphere 17:747–757

Ok YS, Yang JE, Zhang YS, Kim SJ, Chung DY (2007b) Heavy metal adsorption by a formulated zeolite-Portland cement mixture. J Hazard Mater 147:91–96

Ok YS, Oh SE, Ahmad M, Hyun S, Kim KR, Moon DH, Lee SS, Lim KJ, Jeon WT, Yang JE (2010) Effects of natural and calcined oyster shells on Cd and Pb immobilization in contaminated soils. Environ Earth Sci 61:1301–1308

Ok YS, Kim SC, Kim DK, Skousen JG, Lee JS, Cheong YW, Kim SJ, Yang JE (2011a) Ameliorants to immobilize Cd in rice paddy soils contaminated by abandoned metal mines in Korea. Environ Geochem Health 33:23–30

Ok YS, Lee SS, Jeon WT, Oh SE, Usman ARA, Moon DH (2011b) Application of eggshell waste for the immobilization of cadmium and lead in a contaminated soil. Environ Geochem Health 33:31–39

Ok YS, Lim JE, Moon DH (2011c) Stabilization of Pb and Cd contaminated soils and soil quality improvements using waste oyster shells. Environ Geochem Health 33:83–91

Ok YS, Usman ARA, Lee SS, El-Azeem SAMA, Choi B, Hashimoto Y, Yang JE (2011d) Effects of rapeseed residue on lead and cadmium availability and uptake by rice plants in heavy metal contaminated paddy soil. Chemosphere 85:677–682

Oste LA, Temminghoff EJM, Riemsdijk WHV (2002) Solid-solution partitioning of organic matter in soils as influenced by an increase in pH or Ca concentration. Environ Sci Technol 36:208–214

Park HJ, Jeong SW, Yang JK, Kim BG, Lee SM (2007) Removal of heavy metals using waste eggshell. J Environ Sci 19:1436–1441

Pehlivan E, Özkan AM, Dinç S, Parlayici Ş (2009) Adsorption of Cu2+ and Pb2+ ion on dolomite powder. J Hazard Mater 167:1044–1049

Robinson BH, Bischofberger S, Stoll A, Schroer D, Furrer G, Roulier S, Gruenwald A, Attinger W, Schulin R (2008) Plant uptake of trace elements on a Swiss military shooting range: uptake pathways and land management implications. Environ Pollut 153:668–676

Schmidt U (2003) Enhancing phytoextraction: the effect of chemical soil manipulation on mobility, plant accumulation, and leaching of heavy metals. J Environ Qual 32:1939–1954

Schumacher BA (2002) Methods for the determination of total organic carbon (TOC) in soils and sediments. Ecological Research Assessment Support Center. US Environmental Protection Agency, Washington DC

Sorvari J, Antikainen R, Pyy O (2006) Environmental contamination at finnish shooting ranges-the scope of the problem and management options. Sci Total Environ 366:21–31

Spuller C, Weigand H, Marb C (2007) Trace metal stabilization in a shooting range soil: mobility and phytotoxicity. J Hazard Mater 141:378–387

USEPA (1996) Soil screening guidance: user's guidance. Office of solid waste and emergency response, USEPA, Washington DC

USEPA (1998) Method 3051A: microwave assisted acid digestion of sediments, sludges, soils and oils. Test methods for evaluating solid waste, physical/chemical methods. Office of Solid Waste and Emergency Response, USEPA, Washington DC

Wang YM, Chen TC, Yeh KJ, Shue MF (2001) Stabilization of an elevated heavy metal contaminated site. J Hazard Mater 88:63–74

Yang JE, Skousen J, Ok YS, Yoo KR, Kim HJ (2006) Reclamation of abandoned coal mine wastes using lime cake by-products in Korea. Mine Water Environ 25:227–232

Yang JE, Kim HJ, Ok YS, Lee JY, Park J (2007a) Treatment of abandoned coal mine discharged waters using lime wastes. Geosci J 11:111–114

Yang JE, Kim JS, Ok YS, Yoo KR (2007b) Mechanistic evidence and efficiency of the Cr(VI) reduction in water by different sources of zerovalent irons. Water Sci Technol 55:197–202

Yang JE, Lee WY, Ok YS, Skousen J (2009) Soil nutrient bioavailability and nutrient content of pine trees (Pinus thunbergii) in areas impacted by acid deposition in Korea. Environ Monit Assess 157:43–50

Zhao XL, Masaihiko S (2007) Amelioration of cadmium polluted paddy soils by porous hydrated calcium silicate. Water Air Soil Pollut 183:309–315
Acknowledgments
This study was supported by the National Research Foundation of Korea Grant funded by the Korean Government (Project number: 2009-0071439). Instrumental analysis was supported by a grant from the Institute of Environmental Research and the Central Laboratory of Kangwon National University in Korea.
About this article
Cite this article
Ahmad, M., Moon, D.H., Lim, K.J. et al. An assessment of the utilization of waste resources for the immobilization of Pb and Cu in the soil from a Korean military shooting range. Environ Earth Sci 67, 1023–1031 (2012). https://doi.org/10.1007/s12665-012-1550-1
Received:

Accepted:

Published:

Issue Date:
Keywords
Small arms firing ranges

Resource recycling

Remediation

Chemical stabilization

Dissolved organic matter

Chemical equilibrium model