Abstract
The heat island effect in urban meteorology has received significant attention in the recent years. In order to investigate the heat island effect on urban soil, two observation stations were built, respectively, in an urban area and a rural area of Nanjing city, China. The temperatures of underground soil (0–300 cm depth) were recorded continuously for 1 year from June 2009 to June 2010. The data show that the urban soil temperature is generally higher than the rural soil temperature, and reveal an obvious heat island effect in urban soil with average intensity of 2.02°C over the 1-year period. The intensity varies between days, months and seasons: the daily urban heat island intensity (UHII) of soil ranges from 0.37°C to 3.98°C; the monthly UHII of soil ranges from 1.34°C (November) to 3.05°C (July); the order of seasonal UHII is summer (2.45°C) > winter (2.03°C) > spring (1.63°C) > autumn (1.53°C). The temperature data indicate that the maximum influence depth of daily synoptic events on the subsurface temperature is approximately 60 cm; the UHII generally increases with increasing depth. In addition to soil temperature, the temporal–spatial variation of soil moisture in a 100 cm profile depth was also investigated in this study. It is found that the moisture content of urban soil is generally lower than that of rural soil, which reveals an obvious dry island effect with average intensity of −7.2% over the 1-year period; the maximum single-day urban dry island intensity (UDII) in soil is −28.0%; the maximum average monthly UDII is −19.1%, observed in July; the seasonal UDII shows a tendency of summer (−13.8%) > spring (−6.3%) > autumn (−5.2%) > winter (−3.7%). In profile, soil moisture content generally increases with increasing depth, and the maximum UDII is −25.8% at 40 cm depth. In addition, the large-scale measurement results of 600 general points also confirm that the heat island and dry island effects are exist in urban soil.
Access options
Buy single article
Instant access to the full article PDF.
USD 39.95
Price excludes VAT (USA)
Tax calculation will be finalised during checkout.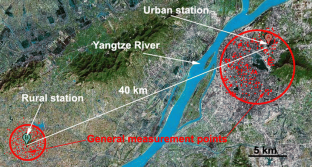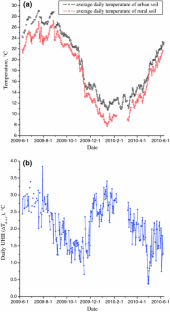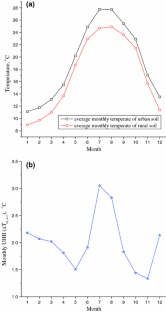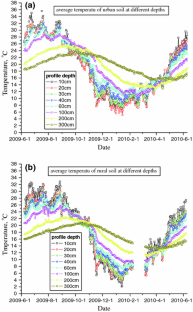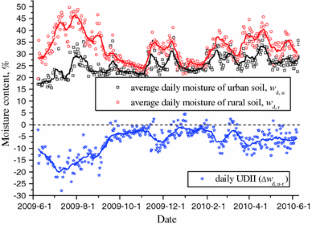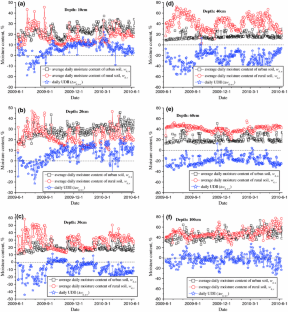 References
Abu-Hamdeh NH (2003) Thermal properties of soils as affected by density and water content. Biosystems Eng 86(1):97–102

Akbari H, Pomerantz M, Taha H (2001) Cool surfaces and shade trees to reduce energy use and improve air quality in urban areas. Sol. Energ J 70:295–310

Bai B, Zhao C (2003) Temperature effects on mechanical characteristics of clay soils. Rock and Soil Mechanics 24(4):533–537

Brohan P, Kennedy JJ, Harris I, Tett SFB, Jones PD (2006) Uncertainty estimates in regional, global observed temperature changes: a new data set from1850. J Geophys Res Atmos 111:D12106. doi:10.1029/2005JD006548

Buechley RW, Bruggen JV, Trippi LE (1972) Heat island = death island? Environ Res 5:85–92

Changnon SA, Kunkel JKE, Reinke BC (1996) Impacts and responses to the 1995 heat wave: a call to action. Bull Am Meteorol Soc 77:1497–1506

Chudnovsky A, Ben-Dor E, Saaroni H (2004) Diural thermal behavior of selected urban objects using remote-sensing measurements. Energy and Build 36:1047–1063

Cui YJ, Sultan N, Delage P (2000) A thermomechanical model for saturated clays. Can Geotech J 37(2):607–620

Delage P, Sultan N, Cui YJ (2000) On the thermal consolidation of Boom clay. Can Geotech J 37(4):343–354

Delta-T (2004) User manual for the profile probe type PR2 2.0, Delta-T Devices Ltd

Ferguson G, Woodbury AD (2004) Subsurface heat flow in an urban environment. J Geophys Res 109:B02402

Ferguson G, Woodbury AD (2007) Urban heat island in the subsurface. Geophys Res Lett 34:L23713

Figuerola PI, Mazzeo NA (1998) Urban–rural temperature differences in Buenos Aires. Int J Climatol 18:1709–1723

Gan YK (2011) Study on the distributed monitoring for the steel bar corrosion in concrete using BOTDR. Dissertation, Nanjing University

Gedzelman SD, Austin S, Cermak R et al (2003) Mesoscale aspects of the urban heat island around New York City. Theor Appl Climatol 75(1):29–42

Gobakis K, Kolokotsa D, Synnefa A, Saliari M, Giannopoulou K, Santamouris M (2011) Development of a model for urban heat island prediction using neural network. Sustain Cities Soc 1:104–115

Golden JS, Kaloush KE (2006) Mesoscale and microscale evaluation of surface pavement impacts on the urban heat island effects. Int J Pavement Eng 7(1):37–52

Hinkel KM, Nelson FEN, Klene AE, Bell JH (2003) The urban heat island in winter at barrow, Alaska. Int J Climatol 23:1889–1905

Howard L (1820) Climate of london deduced from meteorological observations, vol 1–3. Harvey and Darton, London

Huang L, Huang H, Xiang D, Zhu J, Li J (2007) The diurnal change of air temperature in four types of land cover and urban heat island effect in Nanjing, China. Ecol Environ 16(5):1411–1420

Hung T, Uchihama D, Ochi S, Yasuoka Y (2006) Assessment with satellite data of the urban heat island effect in Asian mega cities. Int J Appl Earth Obs Geoinformation 8(1):34–48

Imhoff ML, Zhang P, Wolfe RE, Bounoua L (2010) Remote sensing of the urban heat island effect across biomes in the continental USA. Remote Sens Environ 114:504–513

Jauregui E (1997) Heat island development in Mexico City. Atmos Environ 31(22):3821–3831

Jenerette GD, Harlan SL, Brazel A, Jones N, Larsen L, Stefanov WL (2007) Regional relationships between surface temperature, vegetation, and human settlement in a rapidly urbanizing ecosystem. Landsc Ecol 22:353–365

Jung A, Kardevan P, Tokei L (2005) Detection of urban effect on vegetation in a less built-up Hungarian city by hyperspectral remote sensing. Phys Chem Earth 30(1–3):255–259

Krarti M (1995) Effect of spatial variation of soil thermal properties on slab-on-ground heat transfer. Build Environ 31(1):51–57

Lachenbruch AH (1957) Three-dimensional heat conduction in permafrost beneath heated buildings. US Geol Surv Bull 1052-B:51–69

Landsberg HE (1981) The Urban Climate. Academic Press, New York

Liu C, Shi B, Tang CS, Gao L (2011) A numerical and field Investigation of underground temperatures under urban heat island. Build Environ 46(5):1205–1210

Lu Y, Liu J, Gu K, Tang CS, Gao L (2011) Laboratory study on urban heat island effect on the acid corrosion of concrete in superficial soil layers. J Disaster Prev Mitig Eng (in press)

Mihalakakou M, Santamouris N, Papanikolaou C (2004) Cartalis simulation of the urban heat island phenomenon in Mediterranean climates. Pure Appl Geophys 161:429–451

Mirzaei PA, Haghighat F (2010) Approaches to study urban heat island-abilities and limitations. Build Environ 45(10):2192–2201

Mitchell JK, Soga K (2005) Fundamentals of soil behavior, 3rd edn edn. John Wiley & Sons, INC, pp 251–320

Nahlawi H, Kodikara JH (2006) Laboratory experiments on desiccation cracking of thin soil layers. Geotech Geol Eng 24:1641–1664

Oke TR (1973) City size and the urban heat island. Atmos Environ 7:769–779

Oke TR (1982) The energetic basis of the urban heat island. Quart J Royal Meteorol Soc 102:1–24

Oke TR (1987) Boundary layer climate. Methuen, London, pp 252–302

Oke TR (1995) The heat island of the urban boundary layer: characteristic causes and effects. In: Cermak JE, Davenport AG, Plate EJ, Viegas DX (eds) Wind climate in cities. Kluwer Academic Publishers, Dordrecht, pp 81–107

Onishi A, Cao X, Ito T, Shi F, Imura H (2010) Evaluating the potential for urban heat-island mitigation by greening parking lots. Urban For Urban Green 9:323–332

Peterson TC (2003) Assessment of urban versus rural in situ surface temperatures in the contiguous United States: no difference found. J Clim 16:2941–2959

Peterson TC, Owen TW (2005) Urban heat island assessment: metadata are important. J Clim 18:2637–2646

Pickett STA, Cadenasso ML, Grove JM, Boone CG, Groffman PM, Irwin E, Kaushal SS, Marshall V, McGrath BP, Nilon CH, Pouyat RV, Szlavecz K, Troy A, Warren P (2011) Urban ecological systems: Scientific foundations and a decade of progress. J Environ Manag 92:331–362

Pouyat RV, Yesilonis I, Russell-Anelli J, Neerchal NK (2007) Soil chemical and physical properties that differentiate urban land-use and cover. Soil Sci Soc Am J 71:1010–1019

Pu R, Gong P, Michishita R, Sasagawa T (2006) Assessment of multi-resolution and multi-sensor data for urban surface temperature retrieval. Remote Sens Environ 10:211–225

Rajasekar U, Weng Q (2009) Urban heat island monitoring and analysis using a non-parametric model: A case study of Indianapolis. ISPRS J Photogramm Remote Sens 64:86–96

Ricketts T, Imhoff M (2003) Biodiversity, urban areas, and agriculture locating priority ecoregions for conservation. Conserv Ecol 8(2):1

Saaroni H, Ziv B (2003) The impact of a small lake on heat stress in a Mediterranean urban park: the case of Tel Aviv, Israel. Int J Biometeorol 47:156–165

Shashua-Bar L, Hoffman ME (2000) Vegetation as climatic component in the design of an urban street-an empirical model for predicting the cooling effect of urban green areas with trees. Energy Build 31:221–235

Shi B, Shao Y, Liu C, Wang B (2009) Impact and key issue of urban heat island effect to soil-engineering properties. J Eng Geol 17(2):180–187

Shu J, Jiang T, X Y (2000) Temporal characteristics of urban heat island in Shanghai. Shanghai Environ Sci 19(11):532–534

Stone B (2007) Urban, rural temperature trends in proximity to large U.S. cities 1951–2000. Int J Climatol 27:1801–1807

Tang CS, Shi B, Gu K (2012) Experimental investigation on soil water evaporation process during drying. J Eng Geol 19(6):875–881

Taniguchi M (2007) Combined effects of urbanization and global warming on subsurface temperatures in four Asian cities. Vadose Zone J 6:591–596

Trenberth KE (2004) Climatology rural land use change and climate. Nature 427:213–213

Trenberth KE, Jones PD, Ambenje P, Bojariu R, Easterling D, Klein Tank A et al (2007) Observations: surface and atmospheric climate change. In: Solomon S, Qin D, Manning M, Chen Z, Marquis M, Averyt KB, Tignor M, Miller HL (eds) Climate change 2007: the physical science basis. Contribution of Working Group I to the Fourth Assessment Report of the Intergovernmental Panel on Climate Change. Cambridge University Press, Cambridge

Voogt JA, Oke TR (2003) Thermal remote sensing of urban climates. Remote Sens Environ 86:370–384

Weng Q, Lu D, Schubring J (2004) Estimation of land surface temperature-vegetation abundance relationship for urban heat island studies. Remote Sens Environ 89:467–483

Wong NH, Yu C (2005) Study of green areas and urban heat island in a tropical city. Habitat Int 29(3):547–558

Wu H (2000) City heat island effect of Guilin and karst. J Guilin Inst Technol 20(2):192–198

Wu Q, Shi B, Liu Y (2002) Interaction process between frozen engineering permafrost region and highway along QingHai-Xizang plateu highway. Sci China (Ser D) 32(6):514–520

Yang X, Yuan R, Chen S (2001) The study of the causes of karst collapses in Qixiashan Hill area of Nanjing. Acta Scientiarum Naturalium Universitatis Pekinensis 37(6):839–844

Yang Y, Su W, Jiang N (2006) Time-space character analysis of urban heat island effect in Nanjing city using remote sensing. Remote Sens Technol Appl 21(6):488–492

Zeng Y, Qiu XF, Gu LH, He YJ, Wang KF (2009) The urban heat island in Nanjing. Quat Int 208:38–43

Zhang J, Hou Y, Li G et al (2005) A study on daily and seasonal change of urban heat island of Beijing based on satellite remote sensing. Sci in China Ser D Earth Sci 35(Supplement I):187–194

Zhou C, Wang Y, Liu Z, Zhang H (2006) Evolution of landform and karst development in Tangshan, Nanjing. Sci Geogr Snica 26(1):47–51
Acknowledgments
Financial support from key project of Natural Science Foundation of China (NSFC, NO. 40730739) is gratefully acknowledged. The authors would like to give special thanks to Dr. Sue Struthers for help in correcting the English of this paper. Thanks to Guang-Qing Wei, Yi Lu, Jun Xi and Yu-Kuan Gan for their help in constructing the observation stations.
Electronic supplementary material
Below is the link to the electronic supplementary material.
About this article
Cite this article
Shi, B., Tang, CS., Gao, L. et al. Observation and analysis of the urban heat island effect on soil in Nanjing, China. Environ Earth Sci 67, 215–229 (2012). https://doi.org/10.1007/s12665-011-1501-2
Received:

Accepted:

Published:

Issue Date:

DOI: https://doi.org/10.1007/s12665-011-1501-2
Keywords