Abstract
Meteorological data and heat stress indices from 1958 to 2007 in the Three Gorges area were investigated in this study. It is found that there is a (1) mild augmentation of the diurnal temperature range in the region (2) antithetical trends in mean\maximum\minimum temperatures, indicated by warmer winters and slightly cooler summers and (3) declining linear trends of the number of (very) hot days and annual frequencies of (long) heat waves, despite rising frequencies of (very) hot days and annual short heat waves. A U-shape was detected for all the climatic indices, with low values occurring mostly in the 1980s. However, spatial variations exist. Decreasing trends of hot days and frequency of heat waves were more evident in areas like Shapingba, where high annual temperatures were recorded. The finding also suggests a positive impact of the subtropical high on high temperatures and extreme temperature events.
Access options
Buy single article
Instant access to the full article PDF.
USD 39.95
Price excludes VAT (USA)
Tax calculation will be finalised during checkout.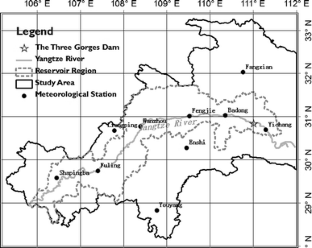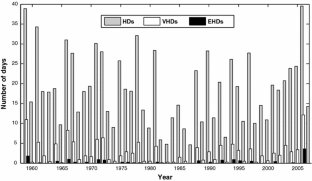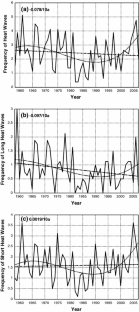 References
Bartolini G, Morabito M, Crisci A, Grifoni D, Torrigiani T (2008) Recent trends in Tuscany (Italy) summer temperature and indices of extremes. Int J Climatol 28:1751–1760

Beniston M, Stephenson DB (2004) Extreme climatic events and their evolution under changing climatic conditions. Global Planet Change 44:1–9

Beniston M, Stephenson DB, Christensen OB, Ferro CAT, Frei C, Goyette S, Halsnaes K, Holt T, Jylha K, Koffi B, Palutikof J, Scholl R, Semmler T, Woth K (2007) Future extreme events in European climate: an exploration of regional climate model projections. Clim Change 81:71–95

Chen XY, Zhang Q, Ye DX, Liao YM, Zhu CH, Zou XK (2009) Regional climate change over Three Gorges reservoir area. Res Environ Yangtze Basin 18(1):47–51 (In Chinese)

Chongqing Statistical Bureau (2007) Chongqing statistical yearbook 2007. China Statistics Press, Beijing (In Chinese)

Dear K, Ranmuthugala G, Kjellstrom T, Skinner C, Hanigan I (2005) Effects of temperature, ozone on daily mortality during the August 2003 heat wave in France. Arch Environ Occup Health 60:205–212

Ding YH, Ren GY, Zhao ZG et al (2007) Detection, causes and projection of climate change over China: an overview of recent progress. Adv Atmos Sci 24(6):954–971

Easterling DR, Horton B, Jones PD et al (1997) Maximum and minimum temperature trends for the Globe. Science 277:364–367

Feng G, Yang J, Wan S, Hou W, Zhi R (2009) On prediction of record-breaking daily temperature events. Acta Meteorol Sin 23:666–680

Gaffen DJ, Ross RJ (1998) Increased summertime heat stress in the US. Nature 396:529–530

Gong Z, Wang X, Zhi R, Feng G (2009) Regional characteristics of temperature changes in China during the past 58 years and its probable correlation with abrupt temperature change. Acta Physica Sin 58:4342–4353 (In Chinese)

Guerova G, Jones N (2007) A global model study of ozone enhancement during the August 2003 heat wave in Europe. Environ Chem 4:285–292

Horton B (1997) Geographical distribution of changes in maximum and minimum temperatures. Atmos Res 37:101–117

Hu Y, He Y, Dong W (2009) Changes in temperature extremes based on a 6-hourly dataset in China from 1961–2005. Adv Atmos Sci 26:1215–1225

Hubei Statistical Bureau (2007) Hubei statistical yearbook 2007. China Statistics Press, Beijing (In Chinese)

Hunt BG (2007) A climatology of heat waves from a multimillennial simulation. J Clim 20:3802–3821

IPCC (2007) Climate change 2007: synthesis report. IPCC website: http://www.ipcc.ch/pdf/assessment-report/ar4/syr/ar4_syr.pdf Accessed 12 Sep 2008

Karl TR, Easterling DR (1999) Climate extremes: selected review and future research directions. Clim Change 42:309–325

Karl TR, Knight RW (1997) The 1995 Chicago heat wave: how likely is a recurrence? Bull Am Meteorol Soc 78:1107–1119

Koffi B, Koffi E (2008) Heat waves across Europe by the end of the 21st century: multiregional climate simulations. Clim Res 36:153–168

Kysely J (2010) Recent severe heat waves in central Europe: how to view them in a long-term prospect? Int J Climatol 30:89–109

Kysely J, Kim J (2009) Mortality during heat waves in South Korea, 1991 to 2005: how exceptional was the 1994 heat wave? Clim Res 38:105–116

Liao YM, Zhang Q, Chen DL (2007) Summer climate characteristics in the Three Gorges area during 1951–2006. Adv Clim Change Res 3(6):368–372 (In Chinese)

Lin DS, Wu CG, Zhou ZX, Xiao WF, Wang PC (2010) Trends of air temperature variations in Three Gorges reservoir area from 1960 to 2006. Res Environ Yangtze Basin 19(9):1038–1043 (In Chinese)

Liu BH, Xu M, Henderson M (2004) Taking China's temperature: daily range, warming trends, and regional variations, 1955–2000. J Clim 17:4453–4462

Luber G, McGeehin M (2008) Climate change and extreme heat events. Am J Prev Med 35:429–435

Ma ZS, Zhang Q, Qin YY (2010) Numerical simulation and analysis of the effect of Three Gorges reservoir project on the regional climate change. Res Environ Yangtze Basin 19(9):1044–1052 (In Chinese)

Manton MJ, Della-Marta PM, Haylock MR et al (2001) Trends in extreme daily rainfall and temperature in Southeast Asia and the South Pacific: 1961–1998. Int J Climatol 21:269–284

Marengo JA, Camargo CC (2008) Surface air temperature trends in Southern Brazil for 1960–2002. Int J Climatol 28:893–904

Miller NL, Jin J, Tsang CF (2005) Local climate sensitivity of the Three Gorges Dam. Geophys Res Lett 32:334–335

Nasrallah HA, Nieplova E, Ramadan E (2004) Warm season extreme temperature events in Kuwait. J Arid Enviro 56:357–371

Poumadere M, Mays C, Mer SL, Blong R (2005) The 2003 heat wave in France: dangerous climate change here and now. Risk Anal 25:1483–1494

Qian W, Qin A (2006) Spatial-temporal characteristics of temperature variation in China. Meteorol Atmos Phys 93:1–16

Qin J, Zhang J (2009) The impacts of extreme events of weather and climate on infectious disease. J Hyg Res 38:762–764 (In Chinese)

Ren GY, Guo J, Xu MZ et al (2005) Climate changes of China's mainland over the past half Century. Acta Meteorol Sin 63:942–956 (In Chinese)

Smoyer-Tomic KE, Kuhn R, Hudson A (2003) Heat wave hazards: an overview of heat wave impacts in Canada. Nat Hazards 28:463–485

Song LC, Cannon AJ, Whitfleld PH (2007) Changes in seasonal patterns of temperature and precipitation in China during 1971–2000. Adv Atmos Sci 24:459–473

Su BD, Jiang T, Jin WB (2006) Recent trends in observed temperature and precipitation extremes in the Yangtze River basin, China. Theor Appl Climatol 83:139–151

Tan J, Zheng Y, Song G, Kalkstein LS, Kalkstein AJ, Tang X (2007) Heat wave impacts on mortality in Shanghai, 1998 and 2003. Int J Biometerorol 51:193–200

Wang QL, Zhang LF (2008) Circulation characteristics of high temperature and drought in Summer of 2006 in Chongqing. Arid Meterorol 26:1–7

Wu SH, Yin YH, Zheng D, Yang QY (2006) Moisture conditions and climate trends in China during the period 1971–2000. Int J Climatol 26:193–206

Wu J, Gao XJ, Zhang DF, Shi Y, Giorgi F (2011) Regional climate model simulation of the climate effects of the Three Gorges reservoir with specific application to the summer 2006 drought over the Sichuan–Chongqing area. J Trop Meteorol 27(1):44–52 (In Chinese)

Xiong K, Feng G, Wang Q, Hu J (2009) Spatial-temporal characteristics of record-breaking temperature events over China in recent 46 years. Acta Physica Sin 58:8107–8115 (In Chinese)

Xu YH (1991) Climate of Southwest China. China Meteorological Press, Beijing, pp 17–22 (In Chinese)

Yang H, Xu Y, Zhang L, Pan J, Li X (2010) Projected change in heat waves over China using the PRECIS climate model. Clim Res 42:79–88

Ye DX, Zou XK, Zhang Q, Chen XY (2008) An analysis of climatic characteristics of high Temperature in the Three Gorges Area. J Trop Meteorol 24(2):200–204 (In Chinese)

Ye DX, Zhang Q, Zou XK, Chen XY (2009) Changing trends of major meteorological disasters in recent decades over Three Gorges reservoir area. Res Environ Yangtze Basin 18(3):296–300 (In Chinese)

Zhai PM, Sun AJ, Ren FM (1999) Changes of climate extremes in China. Clim Change 42:203–218

Zhang Q, Xu C, Zhang Z, Chen YD (2009) Changes of temperature extremes for 1960–2004 in far-west China. Stoch Environ Res Risk Assess 23:721–735

Zhang TY, Fan L, Sun J, He YK, Dong XN, Ren YJ (2010a) Characteristics of climate change in the Three Gorges reservoir area during 1961–2008. Res Environ Yangtze Basin 19(Z1):52–61 (In Chinese)

Zhang TY, Cheng BY, Li YH, Tang HY (2010b) Variability of extreme high temperature and response to regional warming in the Three Gorges reservoir during 1961–2008. Meteorol Mon 36(12):86–93 (In Chinese)
Acknowledgments
The authors thank the financial support of the key project of National Natural Science Foundation of China (40635028), China Educational Foundation for Undergraduate Students of Sciences (Grant#J0630531), and Peking University President Fund. We are grateful to the two anonymous reviewers who provided valuable comments and suggestions for the revision of the manuscript. We also thank Tina for her help with linguistic revision.
About this article
Cite this article
Deng, H., Zhao, F. & Zhao, X. Changes of extreme temperature events in Three Gorges area, China. Environ Earth Sci 66, 1783–1790 (2012). https://doi.org/10.1007/s12665-011-1401-5
Received:

Accepted:

Published:

Issue Date:

DOI: https://doi.org/10.1007/s12665-011-1401-5
Keywords