Abstract
Although the mining activity of the Idrija mine in Slovenia ceased in 1995, a large amount of mining dregs containing high concentrations of mercury remains in the area. The mining dregs were transported with river flow and deposition along the Idrija River. To estimate the dispersion and change in the chemical form of mercury, a total of 28 soil core samples were taken around the river. The individual core samples were separated into layers for the analysis of their chemical composition, carbon contents, total mercury (T-Hg) and methylmercury (MeHg) concentrations. The chemical composition measured by X-ray fluorescence spectrometry was useful to estimate the dispersion of tailings: the fluvial terrace soil had a chemical composition similar to that of the tailings and could be distinguished clearly from the forest soil. The highest T-Hg concentration, 1,100 mg kg−1, was observed in the fluvial terrace soil near the mine. Although the concentration decreased gradually along with distance from the mine, concentrations higher than 200 mg kg−1 of T-Hg were still observed in the fluvial terrace soil approximately 20 km downstream from the mine. In the vertical distribution of T-Hg in the hillslope soil, a higher value was observed in the upper layers, which suggests the recent atmospheric deposition of mercury. The concentration of MeHg was the lowest at the riverside and higher in the hillslope soil, which was the opposite of the T-Hg distribution. The total organic carbon content tracked similarly with the distribution of MeHg and a linear relation with a significantly high correlation coefficient was obtained. The distinction may be related to the different dispersion process of mercury, and the organic carbon contents may be an important factor for MeHg formation.
This is a preview of subscription content, log in to check access.
Access options
Buy single article
Instant access to the full article PDF.
US$ 39.95
Price includes VAT for USA
Subscribe to journal
Immediate online access to all issues from 2019. Subscription will auto renew annually.
US$ 199
This is the net price. Taxes to be calculated in checkout.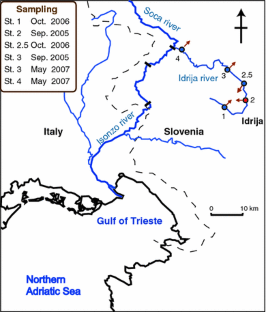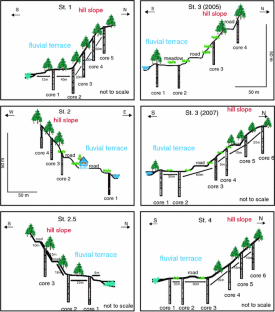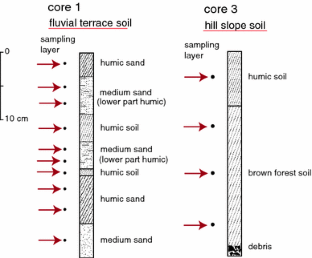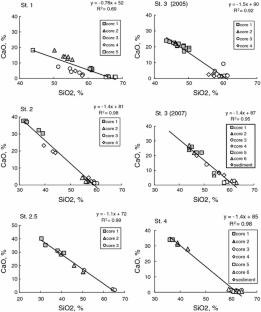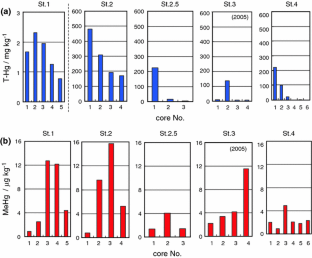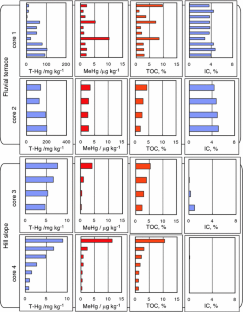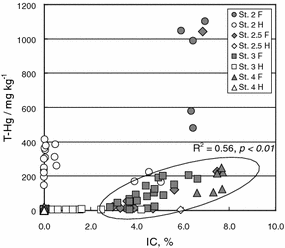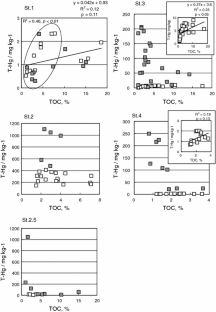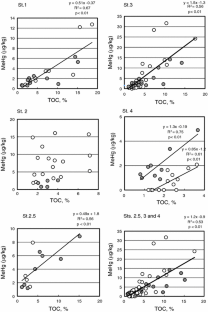 References
Akagi H, Nishimura H (1991) Speciation of mercury in the environment. In: Suzuki T, Imura N, Clarkson TW (eds) Advances in mercury toxicology. Plenum Press, New York, pp 53–76

Akagi H, Malm O, Branches FJP et al (1995) Human exposure to mercury due to gold mining in the Tapajos River basin, Amazon, Brazil: speciation of mercury in human hair, blood and urine. Water Air Soil Pollut 80:85–94

Balogh SJ, Huang Y, Offerman HJ, Meyer ML, Johnson DK (2003) Methylmercury in rivers draining cultivated watersheds. Sci Total Environ 304:305–313

Biester H, Gosar M, Muller G (1999) Mercury speciation in tailings of the Idrija mercury mine. J Geochem Explor 65:195–204

Biester H, Gosar M, Covelli S (2000) Mercury speciation in sediments affected by dumped mining residues in the drainage area of the Idrija mercury mine, Slovenia. Environ Sci Technol 34:3330–3336

Bonzongo JC, Lyons WB, Hines ME, Warwick JJ, Faganeli J, Horvat M, Lechler PJ, Miller JR (2002) Mercury in surface waters of three mine-dominated river systems: Idrija River, Slovenia; Carson River, Nevada; and Madeira River, Brazilian Amazon. Geochem Explor Environ Anal 2:111–119

Covelli S, Faganeli J, Horvat M, Brambari A (2001) Mercury contamination of coastal sediments as the result of long-term cinnabar minig activity (Gulf of Trieste, northern Adriatic sea). Appl Geochem 16:541–558

Ericksen JA, Gustin MS, Schorran DE, Johnson DW, Lindberg SE, Coleman JS (2003) Accumulation of atmospheric mercury in forest foliar. Atmos Environ 37:1613–1622

Fu X, Feng X, Zhu W, Rothenberg S, Yao H, Zhang H (2010) Elevated atmospheric deposition and dynamics of mercury in a remote upland forest of southwestern China. Environ Pollut 158:2324–2333

Gnamuš A, Byrne AR, Horvat M (2000) Mercury in the soil–plant–deer–predator food chain of a temperate forest in Slovenia. Environ Sci Technol 34:3337–3345

Gosar M, Sajn R, Biester H (2006) Binding of mercury in soils and attic dust in the Idrija mercury mine area (Slovenia). Sci Total Environ 369:150–162

Hall BD, St. Louis VL (2004) Methylmercury and total mercury in plant litter decomposing in Upland forests and flooded landscapes. Environ Sci Technol 38:5010–5021

Hines ME, Faganeli J, Adatto I, Horvat M (2006) Microbial mercury transformations in marine, estuarine and freshwater sediment downstream of the Idrija Mercury Mine, Slovenia. Appl Geochem 21:1924–1939

Horvat M, Liang L, Azemard S, Mandić V, Villeneuve J-P, Coquery M (1997) Certification of total mercury and methylmercury concentrations in mussel homogenate (Mytilus edulis) reference material, IAEA-142. Fresenius J Anal Chem 358:411–418

Horvat M, Jereb V, Fajon V, Logar M, Bonzongo JC, Faganeli J, Hines ME, Bonzongo J-C (2002) Mercury distribution in water, sediment and soil in the Idrija and Soca river systems. Geochem Explor Environ Anal 2:287–296

Kotonik J, Horvat M, Dizdarevic T (2005) Current and past mercury distribution in air over the Idrija Hg mine region, Slovenia. Atmos Environ 39:7570–7579

Kocman D, Horvat M, Kotonik J (2004) Mercury fractionation in contaminated soils from the Idrija mercury mine region. J Environ Monit 6:696–703

Kono Y, Tomiyasu T (2009) Biomonitoring of atmospheric mercury levels with the epiphytic fern Lepisorus thunbergianus (Polypodiaceae). Chemosphere 77:1387–1392

Logar M, Horvat M, Akagi H, Ando T, Tomiyasu T, Fajon V (2001) Determination of total mercury and monomethylmercury compounds in water samples from Minamata Bay, Japan: an interlaboratory comparative study of different analytical techniques. Appl Organomet Chem 15:515–526

Lupsina V, Horvat M, Jeran Z, Stegnar P (1992) Investigation of mercury speciation in Lichens. Analyst 117:673–675

Malm O, Branches FJP, Akagi H et al (1995) Mercury and methylmercury in fish and human hair from the Tapajos river basin, Brazil. Sci Total Environ 175:141–150

Matsuo N, Suzuki T, Akagi H (1989) Mercury concentration in organs of contemporary Japanese. Arch Environ Health 44:293–303

Mosbaek H, Tjell JC, Sevel T (1988) Plant uptake of airborne mercury in background areas. Chemosphere 17:1227–1236

Munthe J, Lyvén B, Parkman H, Lee YH, Iverfeldt Å, Haraldsson C, Verta M, Porvari P (2001) Mobility and methylation of mercury in forest soils development of an In-Situ stable isotope tracer technique and initial results. Water Air Soil Pollut: Focus 1(3-4):385–393

Qiu G, Feng X, Wang S, Shang L (2005) Mercury and methylmercury in riparian soil, sediments, mine-waste calcines, and moss from abandoned Hg mines in east Guizhou province, southwestern China. Appl Geochem 20:627–638

Rea AW, Lindberg SE, Keeler GJ (2001) Dry deposition and foliar leaching of mercury and selected trace elements in deciduous forest throughfall. Atmos Environ 35:3453–3462

Silva-Filho EV, Machado W, Oliveira RR, Sella SM, Lacerda LD (2006) Mercury deposition through litterfall in an Atlantic Forest at Ilha Grande, Southeast Brazil. Chemosphere 65:2477–2484

Tomiyasu T, Matsuo T, Miyamoto J, Imura R, Anazawa K, Sakamoto H (2005) Low level mercury uptake by plants from natural environments–mercury distribution in Solidagoaltissima L. Environ Sci 12:231–238

Wiener JG, Knights BC, Sandheinrich MB, Jeremiason JD, Brigham ME, Engstrom DR, Woodruff LG, Cannon WF, Balogh SJ (2006) Mercury in soils, lakes, and fish in Voyageurs National Park (Minnesota): importance of atmospheric deposition and ecosystem factors. Environ Sci Technol 40:6261–6268

Xiao Z, Sommar J, Lindqvist O, Giouleka E (1998) Atmospheric mercury deposition to grass in south Sweden. Sci Total Environ 213:85–94
Acknowledgments
This work was supported by Grants-in-Aid (No.15404003 and No.18404001) for Scientific Research from the Japan Society for the Promotion of Science.
About this article
Cite this article
Tomiyasu, T., Matsuyama, A., Imura, R. et al. The distribution of total and methylmercury concentrations in soils near the Idrija mercury mine, Slovenia, and the dependence of the mercury concentrations on the chemical composition and organic carbon levels of the soil. Environ Earth Sci 65, 1309–1322 (2012). https://doi.org/10.1007/s12665-011-1379-z
Received:

Accepted:

Published:

Issue Date:
Keywords
Total mercury

Methylmercury

Idrija mercury mine

Soil

TOC

XRF