Abstract
Consuming edible plants contaminated by heavy metals transferred from soil is an important pathway for human exposure to environmental contaminants. In the past several decades, heavy metal accumulation in contaminated soil has been widely studied; however, few researches investigated the background levels of metals in plants and evaluated the difference in plants grown in soils produced from different parent rocks. In this study, a systemic survey of heavy metal distribution and accumulation in the soil–pepper system was investigated in an unpolluted area, Hainan Island, China. Levels of Cu, Pb, Zn and Cd were measured in soils and pepper fruits from five representative pepper-growing areas with different soil parent rocks (i.e. basalt, granite, sedimentary rock, metamorphic rock and alluvial deposits). Average concentrations of Cu, Pb, Zn and Cd in pepper fruits were 11.52, 0.84, 8.77 and 0.05 mg/kg, respectively. The concentrations of heavy metals in soils are controlled by the parent materials and varied greatly from in different areas. Heavy metal contents in all pepper samples were lower than the Chinese maximum contaminant levels. The relationship between heavy metals in soils and biological absorption coefficient (BAC) of pepper fruits suggests that the uptake ability of pepper for soil metals depends mainly on the physiological mechanism, while in some cases, the soil types and supergene environment are also important.
This is a preview of subscription content, log in to check access.
Access options
Buy single article
Instant access to the full article PDF.
US$ 39.95
Price includes VAT for USA
Subscribe to journal
Immediate online access to all issues from 2019. Subscription will auto renew annually.
US$ 199
This is the net price. Taxes to be calculated in checkout.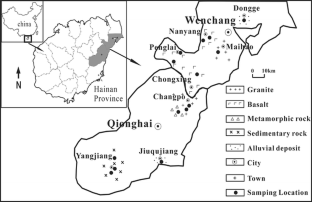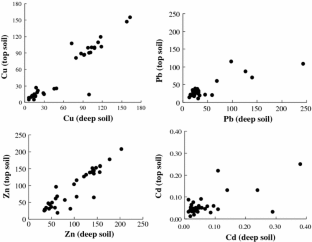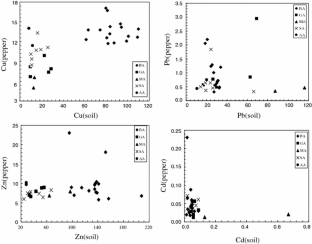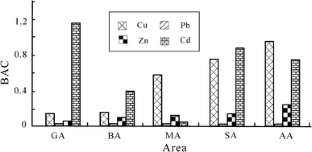 References
Babula P, Adam V, Opatrilova R, Zehnalek J, Havel L, Kizek R (2008) Uncommon heavy metals, metalloids and their plant toxicity: a review. Environ Chem Lett 6:189–213

Bi XY, Ren LM, Gong M, He YS, Wang L, Ma ZD (2010) Transfer of cadmium and lead from soil to mangoes in an uncontaminated area, Hainan Island, China. Geoderma 155:115–120

Calderon J, Navarro ME, Jimenez-Capdeville ME, Santos-Diaz MA, Golden A, Rodriguez-Levya I, Borja-Aburto V, Diaz-Barriga F (2001) Exposure to arsenic and lead and neuropsychological development in Mexican children. Environ Res 85:69–76

Cheng FM, Zhao NC, Xu HM, Li Y, Zhang WF, Zhu ZW, Chen MX (2006) Cadmium and lead contamination in japonica rice grains and its variation among the different locations in southeast China. Sci Total Environ 359:156–166

Chojnacka K, Chojnacki A, Gorecka H, Gorecki H (2005) Bloavailability of heavy metals from polluted soils to plants. Sci Total Environ 337:175–182

Fakayode SO, Onianwa PC (2002) Heavy metal contamination of soil, and bioaccumulation in Guinea grass (Panicum maximum) around Ikeja Industrial Estate, Lagos, Nigeria. Environ Geol 43:145–150

Fernandez JA, Aboal JR, Carballeira A (2000) Use of native and transplanted mosses as complementary techniques for biomonitoring mercury around an industrial facility. Sci Total Environ 256:151–161

Guan DS, Peart MR (2006) Heavy metal concentrations in plants and soils at roadside locations and parks of urban Guangzhou. J Environ Sci China 18:495–502

Guo YP, Wu GA, Fu YR (2007) Evaluation of heavy metal pollution of soil in pepper fields in Hainan Province. Geol Sci Technol Inf 26:91–96 (in chinese with abstract in English)

Jung MC, Thornton I (1996) Heavy metal contamination of soils and plants in the vicinity of a lead-zinc mine, Korea. Appl Geochem 11:53–59

Krishna AK, Govil PK (2004) Heavy metal contamination of soil around Pali industrial area, Rajasthan, India. Environ Geol 47:38–44

Krishna AK, Govil PK (2005) Heavy metal distribution and contamination in soils of Thane-Belapur industrial development area, Mumbai, Western India. Environ Geol 47:1054–1061

Li JT, Qiu JW, Wang XW, Zhong Y, Lan CY, Shu WS (2006) Cadmium contamination in orchard soils and fruit trees and its potential health risk in Guangzhou, China. Environ Pollut 143:159–165

Mantovi P, Bonazzi G, Maestri E, Marmiroli N (2003) Accumulation of copper and zinc from liquid manure in agricultural soils and crop plants. Plant Soil 250:249–257

Markovic M, Cupac S, Durovic R, Milinovic J, Kljajic P (2010) Assessment of heavy metal and pesticide levels in soil and plant products from agricultural area of Belgrade, Serbia. Arch Environ Contam Toxicol 58:341–351

Nan ZR, Zhao CY, Li JJ, Chen FH, Sun W (2002) Relations between soil properties and selected heavy metal concentrations in spring wheat (Triticum aestivum L.) grown in contaminated soils. Water Air Soil Poll 133:205–213

Radwan MA, Salama AK (2006) Market basket survey for some heavy metals in Egyptian fruits and vegetables. Food Chem Toxicol 44:1273–1278

Waldrop MP, Balser TC, Firestone MK (2000) Linking microbial community composition to function in a tropical soil. Soil Biol Biochem 32:1837–1846

We SH, Zhou QX, Saha UK, Xiao H, Hu YH, Ren LP, Ping G (2009) Identification of a Cd accumulator Conyza canadensis. J Hazard Mater 163:32–35

Wei ZY, Guo B, Qi ZP (2009) Assessment on heavy metals pollution of paddy soil in Wenchang City, Ha inan Province. J Anhui Agric Sci 37:17616–17619 (in chinese with abstract in English)

WM/T2-2004 (2004) Green Standards of medicinal plants and preparations for foreign trade and economy. Ministry of Commerce of the People's Republic of China

Yoon J, Cao XD, Zhou QX, Ma LQ (2006) Accumulation of Pb, Cu, and Zn in native plants growing on a contaminated Florida site. Sci Total Environ 368:456–464
Acknowledgments
This study was supported by the China Geological Survey and Hainan Geological Survey. The authors appreciate the valuable suggestions and comments of Dr. Yamin Deng (China University of Geosciences).
About this article
Cite this article
Guo, Y., Fu, Y., Yan, S. et al. Heavy metal distribution between parent soil and pepper in an unpolluted area, Hainan Island, China. Environ Earth Sci 66, 1083–1089 (2012). https://doi.org/10.1007/s12665-011-1314-3
Received:

Accepted:

Published:

Issue Date:
Keywords
Heavy metals

Soil

Pepper fruits

Biological absorption coefficient (BAC)