Abstract
Terra rossa and eutric cambisol soils were surveyed in Slovenia. At both sites, 6–13 boreholes were drilled in a regular 24 m × 24 m square grid. Soil samples from various depths were taken for gamma spectrometric analysis, and radon in soil gas was measured at a depth of 80 cm using an AlphaGuard instrument. The following ranges of activity concentration (Bq kg−1) were obtained for 238U, 226Ra, 228Ra, 40K and 137Cs: in terra rossa, 64–74, 70–84, 45–49, 293–345, 20–30 and, in eutric cambisol, 55–80, 132–147, 50–57, 473–529, 106–272. Radon activity concentrations in both soils ranged from about 100 kBq m−3 to 370 kBq m−3.
This is a preview of subscription content, log in to check access.
Access options
Buy single article
Instant access to the full article PDF.
US$ 39.95
Price includes VAT for USA
Subscribe to journal
Immediate online access to all issues from 2019. Subscription will auto renew annually.
US$ 199
This is the net price. Taxes to be calculated in checkout.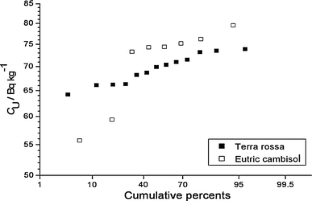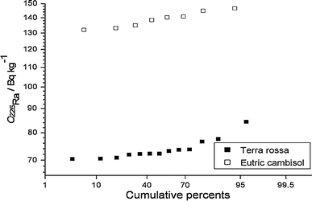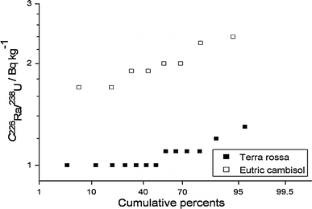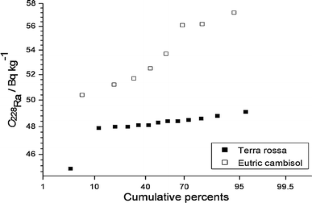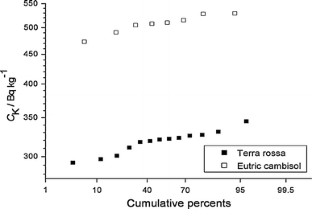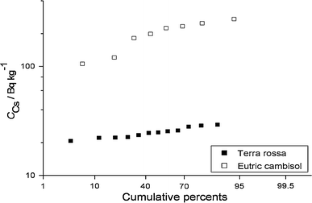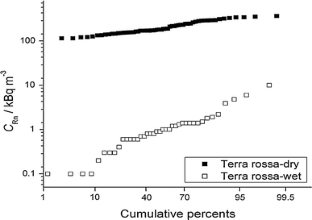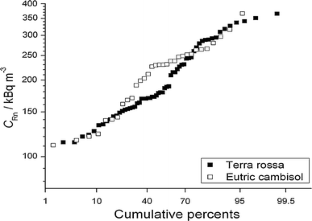 References
Baixeras C, Backmeister GU, Climent H, Albarracín D, Enge W, Freyer K, Treutler HC, Jönsson G, Ghose R, Monnin M, Font L, Devantier R, Seidel J-L, Sciocchetti G, Cotellessa G (1996) Report on the first phase activity of an EU project concerning coordinated radon measurements in five European countries. Environ Int 22:S687–S697

Barišić D (1993) Radionuclides in soils of Istria. Ph.D. Thesis, University of Zagreb, Croatia (in Croatian, abstract in English)

Barišić D, Vertačnik A, Lulić S (1999) Caesium contamination and vertical distribution in undisturbed soils in Croatia. J Environ Radioact 46:361–374

Barišić D, Bromenshenk JJ, Kezić N, Vertačnik A (2002) The role of honey bees in environmental monitoring in Croatia. In: Devillers J, Pham-Delegue MH (eds) Honey Bees: Estimating the Environmental Impact of Chemicals. Taylor & Francis, London, pp 160–185

Bochicchio F, Campos Venuti G, Nuccetelli C, Risica S, Tancredi F (1996) Indoor measurements of 220Rn and 222Rn and their decay products in a Mediterranean climate area. Environ Int 22(Suppl. 1):S633–S639

Brajnik D, Miklavžič U, Tomšič J (1992) Map of natural radioactivity in Slovenia and its correlation to emanation of radon. Radiat Prot Dosim 45:273–276

Brajnik D, Korun M, Miklavžič U (1993) Regional distribution of natural and man-made radioactivity in Slovenia. Sci Total Environ 130(131):147–153

Buser S (1965) Basic geological map of Yugoslavia 1:100 000, Ribnica (in Slovene). Geological survey of Yugoslavia, Belgrade, p 56

Chauchan RP, Chakarvarti SK (2002) Radon diffusion through soil and fly ash: effect of compaction. Radiat Meas 35:143–146

Choubey VM, Mukherjee PK, Bajwa BS, Vivek Walia (2008) Geological and tectonic influence on water–soil–radon relationship in Mandi–Manali area, Himachal Himalaya. Environ Geol 52:1163–1171

Doi M, Kobayashi S (1994) Characterization of Japanese wooden house with enhanced radon and thoron concentrations. Health Phys 66:274–282

Durrani SA, Badr I (1995) Geostatistically controlled field study of radon levels and the analysis of their spatial variation. Radiat Meas 25:565–572

Etiope G, Marinelli G (2001) Migration of carrier gases in the geosphere: an overview. Phys Earth Planet Interiors 4069:1–2

Fukui M (2007) Evaluation of radon in soil gas and natural radioactivity in surface soil of Kinki District. Japan J Nucl Sci Technol 44:1106–1116

Greeman DJ, Rose AW (1996) Factors controlling the emanation of radon and thoron in soils of the eastern U.S.A. Chem Geol 129:1–14

Hosoda M, Shimo M, Sugino M, Furukawa M, Fukushi M (2007) Effect of soil moisture content on radon and thoron exhalation. J Nucl Sci Technol 44:664–672

Jurkovšek B, Toman M, Ogorelec B, Šribar L, Drobne K, Poljak M, Šribar L (1996) Geological map of the southern part of the Trieste–Komen plateau. Cretaceous and Paleogene carbonate rocks, 1:50.000 (in Slovene). Geological Survey of Slovenia, Ljubljana, p 143

Kemski J, Klingel R, Schneiders H, Siehl A, Wiegand J (1992) Geological structure and geochemistry controlling radon in soil gas. Radiat Prot Dosim 45:235–239

Kemski J, Siehl A, Stegemann R, Valdivia-Manchego M (2001) Mapping of geogenic radon potential in Germany. Sci Total Environ 272:217–230

Kozak K, Mazur J, Vaupotič J, Kobal I, Janik M, Kochowska E (2009) Calibration of radon measuring devices of the Radon Center in the IFJ-KR-600 Radon Chamber. Jožef Stefan Institute Report IJS-DP-10103

Kristan J, Kobal I (1973) A modified scintillation cell for the determination of radon in uranium mine atmosphere. Health Phys 24:103–104

Leenhouts HP, Brugmans MJP (2001) Calculation of the 1995 lung cancer incidence in the Netherlands and Sweden caused by smoking and radon: risk implication for radon. Radiat Environ Biophys 40:11–21

Murray AS, Aitken MJ (1988) Analysis of low level natural radioactivity in small mineral samples for use in thermoluminescence dating, using high-resolution gamma spectrometry. Int J Appl Radiat Isot 39:145–158

Nazaroff WW, Moed BA, Sextro RG (1988) Soil as a source of indoor radon: generation, migration and entry. In: Nazaroff WW, Nero AV Jr (eds) Radon and its decay products in indoor air. Wiley, Toronto

Neznal Mar, Neznal Mat, Šmarda J (1996) Assessment of radon potential of soils–A five-year experience. Environ Int 22(Suppl. 1):819–828

Ota M, Iida T, Yamazawa H, Nagara S, Ishimori Y, Sato K, Tokizawa T (2007) Suppression of radon exhalation from soil by covering with clay-mixed soil. J Nucl Sci Technol 44:791–800

Papachristodoulou C, Ioannides K, Spathis S (2007) The effect of moisture content on radon diffusion through soil: assessment in laboratory and field experiments. Health Phys 92:257–264

Quindós LS, Fernández PL, Soto J, Ródenas C, Gómez J (1994) Natural radioactivity in Spanish soils. Health Phys 66:194–200

Ruckerbauer F, Winkler R (2001) Radon concentration in soil gas: a comparison of methods. Appl Radiat Isot 55:273–280

Rushing DA, Garcia WJ, Clark DA (1964) Analysis of effluents and environmental samples. In: IAEA (International Atomic Energy Agency) symposium on radiological health and safety in mining and milling of nuclear materials, 12–16 October 1963, International Atomic Energy Agency, Vienna

Segovia N, Tamez E, Mena M (1992) Radon-in-soil concentration levels in Mexico. Radiat Prot Dosim 45:241–244

Shery SD, Whittlestone S, Hart KP, Hill SE (1989) The flux of radon and thoron from Australian soils. J Geophys Res 94:8567–8576

Shuller P, Ellis A, Kirchner G (1997) Vertical migration of fallout of 137Cs in soils from S. Chile. Sci Total Environ 193:197–205

Šporar M (2007) Soil evaluation in Slovenia (in Slovene). Atlas, Biotechnical Faculty, University of Ljubljana  

Steinhäusler F (1996) Environmental 220Rn: a review. Environ Int 22(Suppl. 1):S1111–S1123

Sušin J (1964) Contribution of terra rossa knowledge. PhD thesis, University of Ljubljana (in Slovene)

Tokonami S, Sun Q, Akiba S, Zhuo W, Furukawa M, Ishikawa T, Hou C, Zhang S, Narazaki Y, Ohji B, Yonehara H, Yamada Y (2004) Radon and thoron exposure for cave residents in Sahnxi and Shaanxi Province. Radiat Res 162:390–396

United Nations Scientific Committee on the Effects of Atomic Radiation (UNSCEAR), 2000. Effects and risks of ionizing radiation, Report to the general assembly, United Nations, 2000

Vaupotič J, Ančik M, Škofljanec M, Kobal I (1992) Alpha scintillation cells for direct measurement of indoor radon. J Environ Sci Health A27:1535–1540

Vaupotič J, Križman M, Planinić J, Adamič K, Stegnar P, Kobal I, Pezdič J (1994) Systematic indoor radon and gamma measurements in kindergartens and play schools in Slovenia. Health Phys 66:550–556

Vaupotič J, Šikovec M, Kobal I (2000) Systematic indoor radon and gamma-ray measurements in Slovenian schools. Health Phys 78:559–562

Vaupotič J, Andjelov M, Kobal I (2002) Relationship between radon concentrations in indoor air and soil gas. Environ Geol (Berlin) 42:583–587

Vaupotič J, Žvab P, Gregorič A, Dujmović P, Kocman D, Kobal I, Kozak K, Mazur J, Kochowska E, Haber R (2007) Soil gas radon potential on radon prone areas (in Slovene, abstract in English). Jožef Stefan Institute Report IJS-DP-9694

Vaupotič J, Žvab P, Gregorič A, Kobal I, Kocman D, Kotnik J, Križman M (2008) Radon mapping in Slovenia based on its levels in soil gas. In: Book of abstracts 33rd international geological congress, 6–14 August 2008, Oslo, Norway. Abstract no. S. l.: s. n

Winkler R, Ruckerbauer F, Bunzl K (2001) Radon concentration in soil gas: a comparison of the variability resulting from different methods, spatial heterogeneity and seasonal fluctuations. Sci Total Environ 272:273–282

Zhang B, Chen B, Gao Y, Wang Y, Cui H, Li Z (2005) Thoron levels in traditional Chinese residential dwellings. Radiat Environ Biophys 44:193–199

Žvab P, Vaupotič J, Dolenec T (2006) Reasons for elevated radon levels inside the building in Divača. Geologija (Ljubljana) 49:409–415
Acknowledgments
The study was financed by the Slovenian Research Agency and the Ministry of Science and Technology of Croatia. The authors thank Ms. Petra Dujmović, Ms. Jana Burger, Mr. Tomislav Kardum and Mr. Ludvik Lipič for their technical assistance in field measurements and laboratory analyses.
About this article
Cite this article
Vaupotič, J., Žvab Rožič, P. & Barišić, D. Environmental aspect of radon potential in terra rossa and eutric cambisol in Slovenia. Environ Earth Sci 66, 223–229 (2012). https://doi.org/10.1007/s12665-011-1228-0
Received:

Accepted:

Published:

Issue Date:
Keywords
Terra rossa

Eutric cambisol

Radioactivity of soil

Radon in soil gas