Abstract
The effects of climate change on annual runoff were analyzed on the basis of hydrologic and meteorological data for the past 50 years recorded by six meteorological stations and the Kenswatt Hydrological Station in the headstream of the Manas River watershed. The long-term trends of climate change and hydrological variations were determined in a nonparametric test, and the periodicities were determined employing the extrapolation method of periodic variance analysis. Subsequently, a periodicity-trend superposition model was used to predict future change. The results show that both the climate factors (temperature and precipitation) and runoff have increased considerably and have significant relations; the relation between temperature and runoff is the more significant. There is periodicity of 18 years in the change in annual runoff, and the primary periodicity of changes in temperature and precipitation is, respectively, 3 and 15 years. The runoff variations are affected by climate change in the headstream, but do not shift simultaneously with abrupt changes in temperature and precipitation in the headstream. There is a significant positive relationship in winter between the North Atlantic Oscillation (NAO) and runoff, while there are negative correlations annually and in summer for the runoff lagging the NAO by 1 year. The NAO has certain effects on climate change that are mainly due to atmospheric circulation in the Manas River Basin, and thus, the NAO affects the runoff.
Access options
Buy single article
Instant access to the full article PDF.
USD 39.95
Price excludes VAT (USA)
Tax calculation will be finalised during checkout.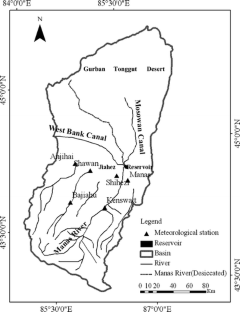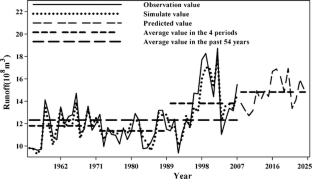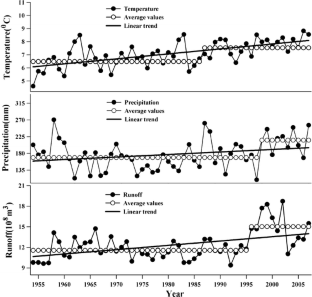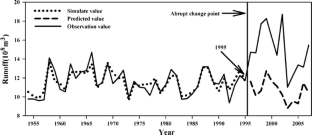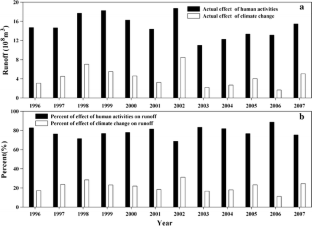 References
Boehmer K, Memon A, Mitchell B (2000) Towards sustainable water management in Southeast Asia experiences from Indonesia and Malaysia. Water Int 25(3):356–377. doi:10.1080/02508060008686843

Chen YN, Xu ZX (2005) Plausible impact of global climate change on water resources in the Tarim River Basin. Sci China (D) 48(1):65–73. doi:10.1360/04yd0539

Cheng WM, Zhou CH, Liu HJ, Zhang Y, Jiang Y, Zhang YC, Yao YH (2006) The oasis expansion and eco-environment change over the last 50 years in Manas River Valley, Xinjiang. Sci China (D) 49(2):163–175. doi:10.1007/s11430-004-5348-1

Gan TY (1998) Hydroclimatic trends and possible climatic warming in the Canadian Prairies. Water Resour Res 34(11):3009–3015. doi:10.1029/98WR01265

Huntington TG (2006) Evidence for intensification of the global water cycle: review and synthesis. J Hydrol 319(1–4):83–95. doi:10.1016/j.jhydrol.2005.07.003

Jury MR, Melice JL (2000) Analysis of Durban rainfall and Nile River flow 1871–1999. Theor Appl Climatol 67(3–4):161–169. doi:10.1007/s007040070005

Kantelhardt JW, Rybski D, Zschiegner SA, Braun P, Bunde EK, Livina V, Havlin S, Bunde A (2003) Multifractality of river runoff and precipitation: comparison of fluctuation analysis and wavelet methods. Phys A 330(1–2):240–245. doi:10.1016/j.physa.2003.08.019

Li HJ, Jiang ZH, Yang Q (2009) Association of North Atlantic Oscillations with Aksu River runoff in China. J Geogr Sci 19:12–24. doi:10.1007/s11442-009-0012-5

Ling HB, Xu HL, Shi W, Zhang QQ (2009) Security assessment of water resource in Manasi River Basin by AHP and fuzzy comprehensive evaluation(in Chinese). Chin J Appl Ecol 20(9):2219–2224

Ling HB, Xu HL, Qiao M, Fan ZL, Shi W, Zhang QQ (2010) Temporal-spatial evolution of stream construction and its driving forces in Manas River Basin during 1958–2006(in Chinese). Prog Geogr 29(9):1129–1136

Liu DL, Liu XZ, Li BC, Zhao SW, Li XG (2009) Multiple time scale analysis of river runoff using wavelet transform for Dagujia River Basin, Yantai, China. Chin Geogr Sci 19(2):158–167. doi:10.1007/s11769-009-0158-1

Nan F, Li YL, Shi XM (2003) Relationship of the fluctuations of stream discharge of the Manas River and climatic changes (in Chinese). Res Soil Water Conserv 10(3):59–61

Shi YF, Shen YP, Kang ES, Li DL, Ding YJ, Zhang GW, Hu RJ (2007) Recent and future climate change in northwest China. Clim Chang 80(3–4):379–393. doi:10.1007/s10584-006-9121-7

Shorthouse C, Arnell N (1999) The effects of climatic variability on spatial characteristics of European river flows. Phys Chem Earth 24(1–2):7–13. doi:10.1016/S1464-1909(98)00003-3

Vanbelle G, Hughes JP (1984) Nonparametric-tests for trend in water-quality. Water Resour Res 20(1):127–136. doi:10.1029/WR020i001p00127

Xu HL, Ye M, Song YD (2005) Analysis and prediction on the periodical change of water resources in the Tarim River Watershed (in Chinese). Arid Zone Res 22(4):454–457

Xu CC, Chen YN, Li WH, Chen YP (2006) Climate change and hydrologic process response in the Tarim River Basin over the past 50 years. Chin Sci Bull 51(Supp.I):25–36. doi:10.1007/s11434-006-8204-1

Yang LM, Zhang QY (2008) Effects of the North Atlantic Oscillation on the summer rainfall anomalies in Xinjiang (in Chinese). Chin J Atmos Sci 32(5):1187–1196

Ye HC, Yang DQ, Zhang TJ, Zhang XB, Ladochy S, Ellison M (2004) The impact of climatic conditions on seasonal river discharges in Siberia. J Hydrometeorol 5(2):286–295

Ye M, Xu HL, Song YD (2006) The utilization of water resources and its variation tendency in Tarim River Basin. Chin Sci Bull 51(Supp. I):16–24. doi:10.1007/s11434-006-8203-2

Zhou KF, Chen X, Zhou HR, Zhang Q, Zuo QT, Zhang HB, Yan JF, Chen C (2006) Study on RS- and GIS-based ecological capital assessment in arid areas. Chin Sci Bull 51(Supp. I):213–220. doi:10.1007/s11434-006-8228-6

Zuo QT, Gao F (2004) Periodic overlap prediction model and its three improved models of hydrological time series (in Chinese). J Zhengzhou Univ (Eng Sci) 25(4):67–73
Acknowledgments
This study is financially supported mainly by the National Basic Research Program of China (973Program) (No. 2009CB421308) and the National Science and Technology Project of China (No. 2007BAC17B01).
About this article
Cite this article
Ling, H., Xu, H., Shi, W. et al. Regional climate change and its effects on the runoff of Manas River, Xinjiang, China. Environ Earth Sci 64, 2203–2213 (2011). https://doi.org/10.1007/s12665-011-1048-2
Received:

Accepted:

Published:

Issue Date:

DOI: https://doi.org/10.1007/s12665-011-1048-2
Keywords
Climate change

Periodicity and trend of runoff

Human activity

Manas River Basin

Arid region