Abstract
Interferometric synthetic aperture radar data from ERS and ENVISAT sensors were utilized in the analysis of the post-failure deformations in the area of Lubietova town in Central Slovakia. The catastrophic landslide of 1977 together with surrounding landslides in the Lubietova area were analysed with the help of persistent scatterers (PS) technique in order to evaluate recent and past deformations of the unstable slopes. Although long-term precise geodetic monitoring of the 1977 landslide revealed differential deformations inside the sliding mass, due to the lack of the PS located inside the landside caused by temporal decorrelation, unfortunately, these records could not be directly compared. The adjacent landslides with sufficient number of PS were analysed by transformation of the line of sight displacements recorded by the sensors to the slope vector direction. This procedure allowed identification of the precise boundaries of the actively moving landslide parts and the updating of the landslide inventory for the Lubietova area.
Access options
Buy single article
Instant access to the full article PDF.
USD 39.95
Price includes VAT (USA)
Tax calculation will be finalised during checkout.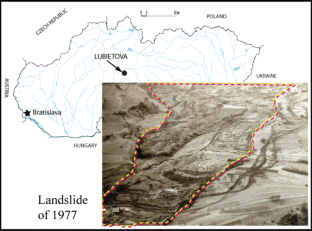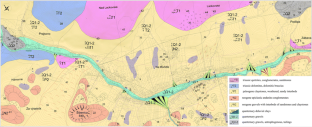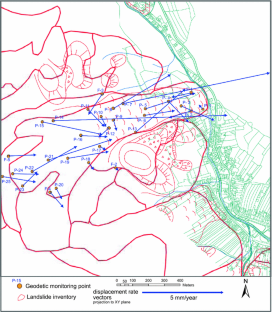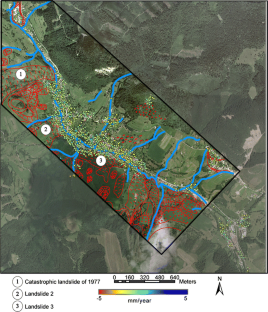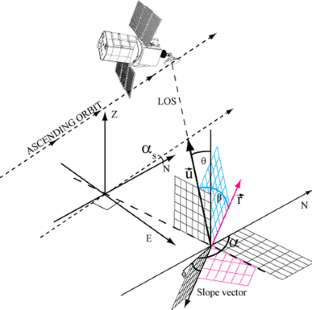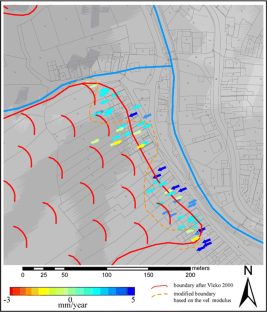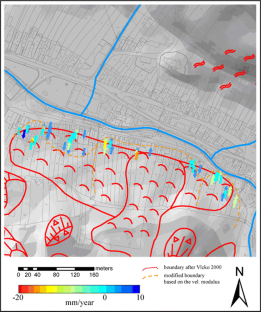 References
Amelung F, Galloway DL, Bell JW, Zebker HA, Laczniak RJ (1999) Sensing the ups and downs of Las Vegas: InSAR reveals structural control of land subsidence and aquifer-system deformation. Geology 27(6):483–486

Berardino P, Fornaro G, Lanari R, Sansosti E (2002) A new algorithm for surface deformationmonitoring based on small baseline differential SAR interferograms. IEEE Trans Geosci Remote Sens 40(11):2375–2383

Bovenga F, Nutricato R, Refice A, Wasowski J (2006) Application of multi-temporal differential interferometry to slope instability detection in urban/peri-urban areas. Eng Geol 88:219–240

Cascini L, Fornaro G, Peduto D (2010) Advanced low- and full-resolution DInSAR map generation for slow-moving landslide analysis at different scales. Eng Geol 112(1–4):29–42

Colesanti C, Wasowski J (2004) Satellite SAR interferometry for wide-area slope hazard detection and site-specific monitoring of slow landslides. In: Proceedings of the ninth internaternation symposium on landslides, June 28–July 2, 2004, Rio de Janeiro, pp 795–802

Colesanti C, Wasowski J (2006) Investigating landslides with spaceborne Synthetic Aperture Radar (SAR) interferometry. Eng Geol 88:173–199

Colesanti C, Ferretti A, Prati C, Rocca F (2003) Monitoring landslides and tectonic motion with the permanent scatterers technique. Eng Geol 68:1–14

Crosetto M, Crippa B, Biescas E (2005) Early detection and in-depth analysis of deformation phenomena by radar interferometry. Eng Geol 79(1–2):81–91

Farina P, Colombo D, Fumagalli A, Marks F, Moretti S (2006) Permanent scatterers for landslide investigations: outcomes from the ESA-SLAM project. Eng Geol 88:200–217

Farina P, Casagli N, Ferretti A (2008) Radar-interpretation of InSAR measurements for landslide investigations in civil protection practices. In: Proceedings of the 1st North American landslide conference, Vail, Colorado, 3–7 June 2007, pp 272–283

Ferretti A, Prati C, Rocca F (1999) Multibaseline InSAR DEM reconstruction: the wavelet approach. IEEE Trans Geosci Remote Sens 37(2):705–715

Ferretti A, Prati C, Rocca F (2000) Non-linear subsidence rate estimation using permanent scatterers in differential SAR interferometry. IEEE Trans Geosci Remote Sens 38(5):2202–2212

Ferretti A, Prati C, Rocca F (2001) Permanent scatterers in SAR interferometry. IEEE Trans Geosci Remote Sens 39(1):8–20

Fornaro G, Pauciullo A, Serafino F (2007) Multipass SAR Processing for urbanized areas imaging and deformation monitoring at small and large scales. Urban Remote Sensing Joint Event URS 2007 Paris, 11–13 April

Fruneau B, Achache J, Delacourt C (1996) Observation and modelling of the Saint-E′ tienne-de-Tine′e landslide using SAR interferometry. Tectonophysics 265:181–190

Gabriel AK, Goldstein RM, Zebker HA (1989) Mapping small elevation changes over large areas: differential radar interferometry. J Geophys Res 94(B7):9183–9191

Guarnieri AM, Tebaldini S (2008) On the exploitation of target statistics for SAR interferometry applications. IEEE Trans Geosci Remote Sens 46(11):3436–3443

Hasager ChB, Jensen NO, Nielsen M, Furevik B (2002) SAR satellite image derived wind speed maps validated with in situ meteorological observations and footprint theory for offshore wind resource mapping. In: 2002 Global Windpower Proceedings 2–5 April 2002, CNIT-La Défense, Paris, France. http://sitecoremedia.risoe.dk/research/vea/Documents/globalwindpower2002_proceedings.pdf. Accessed 4 May 2010

Henry E, Mayer C, Rott H (2004) Mapping mining-induced subsidence from space in a hard rock mine: example of SAR interferometry application at Kiruna mine. CIM Bull 97(1083):1–5

Herrera G, Davalillo JC, Cooksley G, Monserrat O, Pancioli V (2009) Mapping and monitoring geomorphological processes in mountainous areas using PSI data: Central Pyrenees case study. Nat Hazards Earth Syst 9:1587–1598

Hilley GE, Bürgmann R, Ferretti A, Novali F, Rocca F (2004) Dynamics of slow-moving landslides from permanent scatterer analysis. Science 304:1952–1955

Jadroň D, Fussgänger E, Banský M, Tyleček B, Malgot J, Fekeč J, Frnčo M (1975) Lubietova landslide—detailed survey, final report, pp 106 (in Slovak)

Kampes BM, Adam N (2005) The STUN algorithm for persistent scatterer interferometry. In: Fringe 2005 Workshop, Frascati, Italy. http://earth.esa.int/fringe2005/proceedings/papers/58_kampes.pdf. Accessed 19 Jan 2009

Malet JP, Maquaire O, Calais E (2002) The use of Global Positioning System techniques for the continuous monitoring of landslides—application to the Super-Sauze earth flow (Alpes de Haute-Provence, France). Geomorphology 43:33–54

Malgot J (1978) Slope deformations in the vicinity of Lubietova. Geol Průzkum 20(1):11–14 (in Slovak)

Manzo M, Ricciardi GP, Casu F, Ventura G, Zeni G, Borgstrom S, Berardino P, Del Gaudio C, Lanari R (2006) Surface deformation analysis in the Ischia Island (Italy) based on spaceborne radar interferometry. J Volcanol Geotherm Res 151(4):399–416

Massonnet D, Feigl KL (1998) Radar interferometry and its application to changes in the earth's surface. Rev Geophys 36(4):441–500

Míka R (1999) Assessment of the Lubietova landslide stability. In: Klukanová A (ed) Partial monitoring system of geofactors of the environment Slovak republic. GSSR, Bratislava, pp 54–58 (in Slovak)

Mora O, Mallorqui JJ, Broquetas A (2003) Linear and nonlinear terrain deformation maps from a reduced set of interferometric SAR images. IEEE Trans Geosci Remote Sens 41(10):2243–2253

Nemčok A (1982) Landslides in Slovak Carpathians. Veda, vyd. SAV Bratislava, p 319 (in Slovak)

Novali F, Ferretti A, Prati C, Rocca F, Savio G, Musazzi S (2005) PSInSAR validation by means of a blind experiment using dihedral reflectors. In: Proceedings FRINGE 2005, Frascati, Italy, 28 November–2 December 2005. ESA SP-610. http://earth.esa.int/workshops/fringe2005/proceedings/papers/253_novali.pdf. Accessed 9 December 2009

Prokesova R, Kardos M, Medvedova A (2010) Landslide dynamics from high-resolution aerial photographs: a case study from the Western Carpathians, Slovakia. Geomorphology 115:90–101

Righini G, Del Ventisette C, Constantini M, Malvarosa F, Minati F (2009) Spaceborne SAR analysis for landslides mapping in the framework of the PREVIEW project. In: Sassa K, Canuti P (eds) Landslides—disaster risk reduction. Springer, Berlin, pp 299–301

Rocca F (2003) 3D motion recovery with multi-angle and/or left right Interferometry. In: Proceedings of 3rd international workshop on ERS SAR interferometry, FRINGE 2003, Frascati, Italy, 2–5 December 2003. ESA SP-550. http://earth.esa.int/fringe03/proceedings/posters/62_roca.pdf. Accessed 6 Mar 2009

Rott H, Nagler T (2006) The contribution of radar interferometry to the assessment of landslide hazards. Adv Space Res 37(4):710–719

Rott H, Scheuchl B, Siegel A, Grasemann B (1999) Monitoring very slow slope movements by means of SAR interferometry: a case study from a mass waste above a reservoir in the Ötztal Alps, Austria. Geophys Res Lett 26:1629–1632

Rott H, Nagler T, Rocca F, Prati C, Mazzotti A, Keusen HR, Liener S, Tarchi D (2002) MUSCL—monitoring urban subsidence, cavities and landslides by remote sensing, Final Report, EC Project EVG1-CT-1999–00008. Institute for Meteorology and Geophysics, University of Innsbruck, Austria

Rott H, Nagler T, Rocca F, Prati C, Mazzotti A, Keusen HR, Liener, Tarchi D (2003) InSAR techniques and applications for monitoring landslides and subsidence. In: Benes T (ed) Geoinformation for European-wide integration, proceedings of EARSeL Assembly, Prague, June 2002. Millpress, Rotterdam, pp 25–31

Singhroy V (2009) Satellite remote sensing applications for landslide detection and monitoring. In: Sassa K, Canuti P (eds) Landslides—disaster risk reduction. Springer, Berlin, pp 143–158

Singhroy V, Mattar KE, Gray AL (1998) Landslide characteristics in Canada using interferometric SAR and combined SAR and TM images. Adv Space Res 3:465–476

Van der Kooij M (1999) Engineering geology landslide investigations and SAR Interferometry. In: Proceedings of FRINGE'99, Liege, Belgium

Vietmeier J, Wagner W, Dikau R (1999) Monitoring moderate slope movements (landslides) in the southern French Alps using differential SAR interferometry. In: Proceedings of Fringe '99, Lieges, Belgium

Vlcko J, Maas P, Ayele T (2001) Assessment of the engineering geological conditions of Lubietova village for the urbanization purposes. Final report, p 20 (in Slovak)

Wegmüller U, Werner C, Strozzi T, Wiesmann A (2005) ERS-ASAR integration in the interferometric point target analysis. In: Proceedings Fringe 2005 Workshop, Frascati, Italy, 28 November–2 December. http://earth.esa.int/workshops/fringe05/proceedings/papers/196_wegmuller.pdf. Accessed 6 March 2009

Ye X, Kaufmann H, Guo XF (2004) Landslide monitoring in the Three Gorges area using D-InSAR and corner reflectors. Photogramm Eng Remote Sens 70(10):1167–1172
Acknowledgments
This work was supported by the EU FP7 project "SAFER" (contract no. 218802), Grant of the Slovak Research and Development Agency (contract no. DO7RP-0012-09) and partly by grants from the Slovak Ministry of Education VEGA (contract no. 1/0331/09 and 1/0499/08).
About this article
Cite this article
Greif, V., Vlcko, J. Monitoring of post-failure landslide deformation by the PS-InSAR technique at Lubietova in Central Slovakia. Environ Earth Sci 66, 1585–1595 (2012). https://doi.org/10.1007/s12665-011-0951-x
Received:

Accepted:

Published:

Issue Date:
Keywords
Landslide monitoring

PS-InSAR

Radar interferometry

Lubietova landslide