Abstract
Previous studies have indicated that the Nile River deltaic plain is vulnerable to a number of aspects, including beach erosion, inundation, and relatively high rates of land subsidence. This issue motivates an update and analysis of new tide-gauge records, from which relative sea-level changes can be obtained. Estimated rates from five tide gauges are variable in terms of magnitude and temporal trend of rising sea level. Analysis of historical records obtained from tide gauges at Alexandria, Rosetta, Burullus, Damietta, and Port Said show a continuous rise in mean sea level fluctuating between 1.8 and 4.9 mm/year; the smaller rate occurs at the Alexandria harbor, while the higher one at the Rosetta promontory. These uneven spatial and temporal trends of the estimated relative sea-level rise (RSLR) are interpreted with reference to local geological factors. In particular, Holocene sediment thickness, subsidence rate and tectonism are correlated with the estimated rates of relative sea-level change. From the relatively weak correlation between them, we presume that tectonic setting and earthquakes, both recent and historical ones, contribute more to accelerated RSLR than that of dewatering and compression/dewatering of Holocene mud underlying the Nile Delta plain. As a result, large areas of the coastal plain have been subsided, but some sectors have been uplifted in response to tectonic activities of thick underlying older strata. Projection of averaged sea-level rise trend reveals that not all the coastal plain of the Nile Delta and Alexandria is vulnerable to accelerated sea-level rise at the same level due to wide variability of the land topography, that includes low-lying areas, high-elevated coastal ridges and sand dunes, accretionary beaches, and artificially protective structures. Interaction of all aspects (tectonic regime, topography, geomorphology, erosion rate, and RSLR rate) permitted to define risk areas much vulnerable to impacts of sea incursion due to accelerated sea-level rise.
Access options
Buy single article
Instant access to the full article PDF.
US$ 39.95
Tax calculation will be finalised during checkout.
Subscribe to journal
Immediate online access to all issues from 2019. Subscription will auto renew annually.
US$ 119
Tax calculation will be finalised during checkout.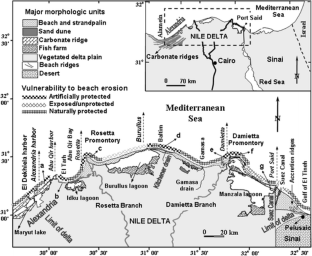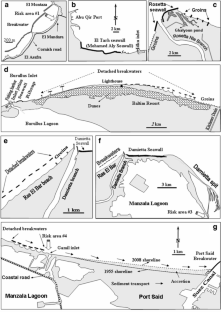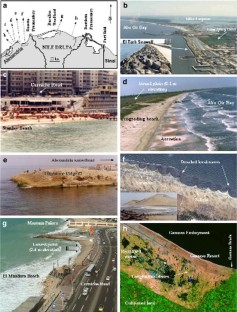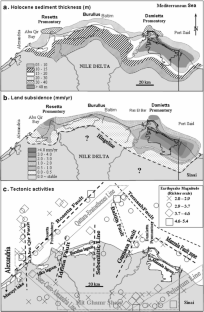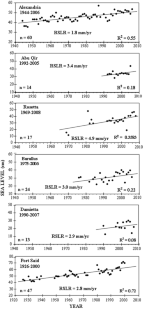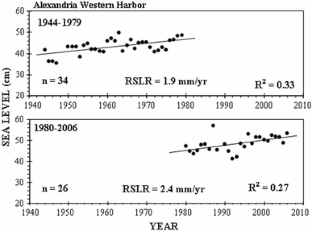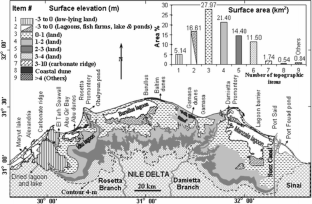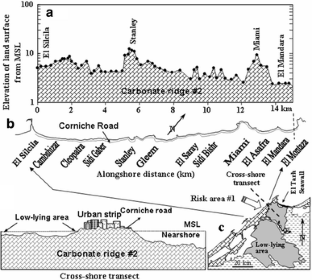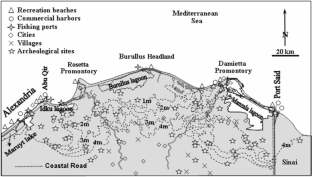 References
Ambraseys MM, Melville CF, Adam RD (1994) The Seismicity of Egypt, Arabia and the Red Sea: a historical review. Cambridge University Press, Cambridge, p 216

Arrowsmith A (1802) Plan of the Operations of the British and Ottoman Forces in Egypt. London (map, 1sheet)

Bleier R (1997) Will Nile water go to Israel?: North Sinai pipelines and the politics of scarcity. Middle East Policy 5:113–124

Blodget HW, Taylor PT, Roark JH (1991) Shoreline changes along the Rosetta-Nile Promontory: Monitoring with satellite observations. Mar Geol 99:67–77

Broadus JJ, Milliman S, Edwards D, Aubrey, Gable (1986) Rising sea level and damming of rivers: possible effects in Egypt and Bangladesh. In: Titus J (ed) Effect of changes in Stratospheric Ozone and Global Climate, vol 4, pp 165–189

Bruun P (1962) Sea level rise as a cause of shore erosion. Proc Am Soc Civ Eng J Water Harbors Div 88:117–130

Bruun P (1988) The Bruun rule of erosion by sea-level rise: a discussion on large-scale two- and three-dimensional usages. J Coastal Res 4:627–648

Butzer KW (1960) On the Pleistocene shorelines of Arabs' Gulf, Egypt. J Geol 68:626–637

IPCC (Intergovernmental Panel on Climate Change (1990) Scientific Assessment of Climate Change. WMO/UNEP Intergovernmental Panel on Climate Change, Geneva, 365 pp

Chen Z, Warne AG, Stanley DJ (1992) Late Quaternary evolution of the northwest Nile Delta between Rosetta and Alexandria, Egypt. J Coastal Res 8:527–561

Church JA, Gregory JM, Huybrechts P, Kuhn M, Lambeck K, Nhuan MT, Qin D, Woodworth PL (2001) Changes in sea level. In: Houghton JT, Ding Y, Griggs DJ, Noguer M, van der Linden PJ, Dai X, Maskell K, Johnson CA (eds) IPCC third assessment report—climate change 2001: the scientific basis. Cambridge University Press, New York

Coleman JM (1982) Deltas: processes of depositional and models for exploration. Int. Human Resources Development Corp, Boston, p 124

Delft Hydraulics/CRI (1991) Implication of relative sea-level rise on the development of the lower Nile Delta, Egypt. Pilot study for a quantitative approach, Final Report, p 300

Dewidar Kh, Frihy OE (2008) Pre- and post-beach response to engineering hard structures using Landsat time-series at the northwestern part of the Nile delta, Egypt. J Coast Conserv Plan Manage Springer, 11:133–142

Dewidar Kh, Frihy OE (2009) Automated techniques for beach erosion assessment using Landsat series along the Northeastern Nile Delta, Egypt, under publication

Douglas BC (1991) Global sea level rise. J Geophys Res 96:6981–6992

Douglas BC (1992) Global sea level acceleration. J Geophys Res 97:12699–12706

Douglas BC (2001) Sea level change in the era of the recording tide gauge. In: Douglas BC, Kearney MS, Leatherman SP (eds) Sea level rise: history, consequences. Academic Press, San Diego, pp 65–93

El Araby H, Sultan M (2000) Integrated seismic risk map of Egypt. Seismol Res Lett 71:53

El Banna M, Frihy OE (2009) Human-induced changes in the geomorphology of the northeastern coast of the Nile delta, Egypt. Geomorphology 107:72–78

El Fishawi NM, Fanos AM (1989) Prediction of sea level rise by 2100, Nile delta coast. INQUA, Commission on Quaternary Shorelines, Newsletter 11:43–47

El Raey M (1997) Vulnerability assessment of the coastal zone of the Nile Delta in Egypt to the impacts of sea-level rise. Ocean Coast Manag 37:29–40

El Raey M, Nasr S, Frihy O, Desouk S, Dowidar Kh (1995) Potential impacts of accelerated sea-level rise on Alexandria Governorate, Egypt. J Coastal Res 51:190–204

El Raey M, Fouda, Nasr S (1997) GIS assessment of the vulnerability of Rosetta area, Egypt to impacts of sea rise. J Environ Monit Assess 47:59–77

El Raey M, Dewidar Kh, El Hattab M (1999) Adaptation to the impact of sea level rise in Egypt. J Climate Res 12:117–128

El Rafeay A (1948) History of the national movement and evolution of the governing regime in Egypt (Second Part). 353 pp (in Arabic)

El Sayed MKh (1988) Sea level rise in Alexandria during the late Holocene: archaeological evidences. In: Rapp. Comm. Int. Mer. Medit., p 31

El Sayed MKh (1991) Implications of climatic changes for coastal areas along the Nile Delta. Environ Prof USA 13:59–65

El Sayed A, Korrat I, Hussein HM (2004) Seismicity and Seismic hazard in Alexandria (Egypt) and its surroundings. Pur Appl Geophys 161:1003–1019

Emery KO, Aubrey DG, Goldsmith V (1988) Coastal neo-tectonics of the Mediterranean from tide-gauge records. Mar Geol 81:41–52

Fanos AM, Khafagy AA, Dean RG (1995) Protective works on the Nile Delta Coast. J Coastal Res 11:516–528

Fourtau R (1893) La region de Maryut; 'etude Geologique. Bulletin de l'Institut d'Egypt; ser. 3, 141 pp

Frihy OE (1992a) Beach response to sea level rise along the Nile delta coast of Egypt. In Woodworth PL (ed) Sea level changes: determination and effects geophysical monograph 69. American Geophysical Union, IUGG, vol 2, pp 81–85

Frihy OE (1992b) Sea-level rise and shoreline retreat of the Nile delta promontories, Egypt. Nat Hazards 5:65–81

Frihy OE (2003) The Nile delta-Alexandria coast: vulnerability to sea-level rise, consequences and adaptation. J Mitigation Adapt Strateg Glob Change 8:115–138

Frihy OE, Dean R (1992) Artificial beach nourishment projects on the Egyptian coast. In: International Coastal Congress (ICC) Kiel, Germany, 7–12 September 1992, pp 84–95

Frihy OE, Komar PD (1993) Long-term shoreline changes and the concentration of heavy minerals in beach sands of the Nile delta, Egypt. Mar Geol 115:253–261

Frihy OE, Fanos MA, Khafagy AA, Komar PD (1991) Nearshore sediment transport patterns along the Nile Delta Egypt. J Coastal Eng Neth 15:409–429

Frihy OE, El Banna MM, El Kolfat AI (2004a) Environmental impacts of Baltim and Ras El Bar shore-parallel breakwater systems on the Nile delta littoral zone, Egypt. Environ Geol 45:381–390

Frihy OE, Iskander MM, Badr AE (2004b) Effect of shoreline and bedrock irregularity on the morphodynamics of Alexandria coast littoral cell, Egypt. Geo-Mar Lett 24:195–211

Frihy OE, Shereet S, El Banna M (2008) Pattern of beach erosion and scour depth along the Rosetta Promontory and their effect on the existing protection works, Nile Delta, Egypt. J Coast Res 24:857–866

Garziglia S, Migeon S, Ducassou E, Loncke L, Mascle J (2008) Mass-transport deposits on the Rosetta province (NW Nile deep-sea turbidite system, Egyptian margin): characteristics, distribution, and potential causal processes. Mar Geol 250:180–198

Goodfriend GA, Stanley DG (1996) Reworking and discontinuities in Holocene sedimentation in the Nile Delta: documentation from amino acid racemization and stable isotopes in mollusk shells. Mar Geol 129:271–283

Goodfriend GA, Stanley DG (1999) Rapid strand-plain accretion in the northeastern Nile Delta in the 9th century A.D. and the demise of the port of Pelusium. J Geol 27:147–150

Gornitz V (1991) Global coastal hazards from future sea level rise, palaeogeography, palaeoclimatology, palaeoecology. Glob Planet Change Sect 89:379–398

Hassouba AM (1980) Quaternary sediments from the coastal plain of northwestern Egypt from Alexandria to El Omyid, PhD thesis, Imperial Collage, London, 320 pp

Houghton JT, Meira Filho LG, Callander BA, Harris N, Kattenberg A, Maskell K (1996) Cambridge University Press, Cambridge, pp 359–405

Ibrahim MM (1963) The last subsidence movement of land on the Mediterranean coast, unpublished report, Mineral Wealth and Ground Water. Ministry of Scientific Research, Egypt, p 12

Inman DL, Elwany HS, Khafagy AA, Golik A (1992) Nile Delta profiles and migration sand blankets. In: Proceeding at the 23rd international conference on coastal engineering. American Society of Civil Engineering, vol 2, pp 3273–3284

Kebeasy RM (1990) Seismicity. In: Said R (ed) Geology of Egypt. Balkema, Roterdam, pp 51–59

Kuenen PH (1950) Marine geology. Wiley, New York, p 568

Lakhan VC, Pepper DA (1997) Relationship between concavity and convexity of a coast and erosion and accretion patterns. J Coastal Res 13:226–232

Lindell LT, Alexandersson ET, Norman JO (1991) Satellite mapping of oolitic ridges in Arabs Gulf, Egypt. J Geocarto Int Sweden 1:49–60

Milliman JD, Broadus JM, Gable F (1989) Environmental and economic implications of rising sea level and subsidence deltas: The Nile and Bengal examples. Ambio 18:340–345

Morton RA, Buster NA, Krohn MD (2002) Subsurface controls on historical subsidence rates and associated wetland loss in south-central Louisiana. Trans Gulf Coast Assoc Geol Soc 52:767–778

Moufaddal W, El Sayed E, El Deghady E (2008) Updating morphometric and edaphic information of lakes Edku and Burullus, northern Egypt, with the aid of satellite remote sensing. Egypt J Aquat Res 34:291–310

Neev D, Bakler N, Emery KO (1987) Mediterranean coasts of Israel and Sinai. Taylor & Francis, New York, p 130

Nicholls RJ (1998) Assessing erosion of sandy beaches due to sea level rise. In: Maund JG, Eddleston M (eds) Geohazards in engineering geology, geological society, London. Engineering Geology Special Publications, vol 15, pp 71–76

Nicholls RJ, Hoozemans FM (1996) The Mediterranean: vulnerability to coastal implications of climate change. Ocean Coast Manag 31:105–132

Pirazzoli PA (1991) World Atlas of Holocene sea-level changes. Elsevier Oceanography Series 58, Amsterdam, p 300

Ross AD, Uchupi E (1977) The structure and sedimentary history of the southeastern Mediterranean Sea-Nile Cone sea. Am Assoc Petrol Geol Bul 61:872–902

Said R (1981) The geological evolution of the River Nile. Springer, New York, p 151

Said R, Philip G, Shukri NM (1956) Post tyrrhenian climatic fluctuations in Northern Egypt. Quaternaria 3:167–172

Sanchez-Arcilla A, Jimenez JA, Valdemoro HI, Gracia V (2008) Implications of climatic change on Spanish Mediterranean low-lying coasts: The Ebro Delta case. J Coast Res 24:306–316

Sestini G (1989) Nile Delta: a review of depositional environments and geological history. In: Whateley KG, Pikering KT (eds) Deltas. Sites and traps for fossil fuels. Blackwell Scientific Publications, Geological Society Special Publication, London, vol 41, pp 99–127

Sestini G (1990) Impacts of global climate change in the Mediterranean region: responses and policy options. In Titus JG (Ed) Changing climate and the coast, vol 2: Western Africa, the Americas, the Mediterranean basin, and the rest of Europe, pp 115–125

Sestini G (1992) Implications of climate change for the Nile delta. In: Jeftic L, Milliman JD, Sestini G (eds) Climate Change and the Mediterranean. Environmental and Societal Impacts of Climate and Sea-level Rise in the Mediterranean Sea. Edward Arnold, London, pp 533–601

Sharaf El Din SH, Khafagy AM, Fanos AM, Ibrahim AM (1989) Extreme sea level values on the Egyptian Mediterranean coast for the next 50 years. International Seminar on Climatic Fluctuations and Water Management, Cairo, p 15

Shukri NM, Philip G, Said R (1956) The Geology of the Mediterranean Coast between Rosetta and Bardia, Part II, Pleistocene sediments: Geomorphology and microfacies. Bulletin de l'Institut d'Egypt 37:395–427

Sneh A, Weissbrod T (1973) Nile delta: the defunct Pelusiac branch Identified. Science 180:59–61

Stanley DJ (1988) Subsidence in the northeastern Nile delta: rapid rates, possible causes, and consequences. Science 240:497–500

Stanley DJ (1990) Recent subsidence and northeast tilting of the Nile delta, Egypt. Mar Geol 94:147–154

Stanley DJ (1997) Mediterranean deltas: subsidence as a major control of relative sea-level rise. Bulletin Institut Oceanographique Monaco 18:35–62

Stanley DJ (2005a) Growth faults, a distinct carbonate-siliciclastic interface and recent coastal evolution, NW Nile Delta, Egypt. J Coast Res SI:309–318

Stanley DJ (2005b) Submergence and burial of ancient coastal sites on the subsiding Nile delta margin, Egypt. Méditerranée 104:65–73

Stanley DJ, Goodfriend GA (1997) Recent subsidence of the northern Suez canal. Sci Corresp 388:335–336

Stanley DJ, Warne AG (1993a) Nile delta: recent geological evolution and human impacts. Science 260:628–634

Stanley DJ, Warne AG (1993b) Nile delta: recent geological evolution and human impacts. Science 260:628–634

Stanley DJ, Warne AG (1994) Worldwide initiation of Holocene marine deltas by deceleration of sea-level. Science 265:228–231

Stanley DJ, Goddio F, Schnepp G (2001) Nile flooding sank two ancient cities. Nature 412:293–294

Stive MJ, Roelvink JA, DeVriend HJ (1990) Large scale coastal evolution concept. In: Proceedings 22nd coastal engineering conference ASCE, New York, pp 1962–1974

Toussoun O (1934) Les ruines sous-marines de la Baie d'Abuquir. Bull Soc R Arch Alexandria 29:342–352

Warne AG, Stanley DG (1993) Late Quaternary evolution of the northwest Nile delta and adjacent coast in the Alexandria region, Egypt. J Coast Res 1:26–64

Warne AG, Stanley DG (1995) Sea-level change as critical factor in development of basin margin sequence: new evidence from late Quaternary record. J Coast Res Spec Issue 17:240–321

Warrick RA, Oerlemans J, Woodworth PL, Meier MF, le Provost C (1995) Changes in sea level. In: Climate change 1995: the science of climate change

Woodworth PL (1990) A search for accelerations in records of European mean sea level. Int J Climatol 10:129–143

World Bank (2007) World Bank weighs sea level risks in poor areas. http://www.msnbc.msn.com/id/17150339

Zaghloul ZA, Elgamal MM, El Araby H, Abdel Wahab W (1999) Evidences of neotectonics and ground motions in the northern Nile Delta. In: Zaghloul ZM, Elgamal MM (eds) Deltas-Modern and Ancient. Proceedings of Mansoura University, first international symposium on the deltas, Egypt, pp 209–217
Acknowledgments
We express our deep appreciation to Prof. Daniel Stanley, Smithsonian, Institution, Washington, D.C. and Dr. Douglas George, Coastal and Marine Geology, USGS Menlo Park, CA. for their constructive reviewing of the first version of the manuscript. Special appreciation is expressed to Dr. Theodore Kanellopoulos, Hellenic Centre for Marine Research, Greece, for his critical review of the manuscript.
About this article
Cite this article
El Sayed Frihy, O., Deabes, E.A., Shereet, S.M. et al. Alexandria-Nile Delta coast, Egypt: update and future projection of relative sea-level rise. Environ Earth Sci 61, 253–273 (2010). https://doi.org/10.1007/s12665-009-0340-x
Received:

Accepted:

Published:

Issue Date:
Keywords
Sea-level changes

Land subsidence

Tectonically active areas

Holocene sedimentation

Nile Delta

Mediterranean Sea