Abstract
The potable water for the residents of the town of Kolasib in Mizoram state, India, is supplied by the Public Health Engineering Department (PHED) of the Government of Mizoram without any notable treatment. The source of water is the Tuichhuahen River, flowing from north to south in the area. Water samples were analyzed for their physicochemical and bacteriological characteristics in order to obtain the current quality level of the potable water in the twon. The samples were collected from two different sources, i.e., the supply from the government agency (PHED) and from the naturally occurring springs (tuikhurs). The results suggest that the water supplied by the PHED is better than that from the tuikhurs; however, the quality of water from both sources, which are used for drinking and domestic purposes, were found to be more or less within the tolerance limits.
Access options
Buy single article
Instant access to the full article PDF.
USD 39.95
Price excludes VAT (USA)
Tax calculation will be finalised during checkout.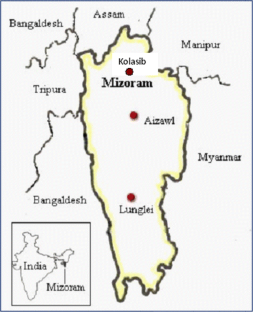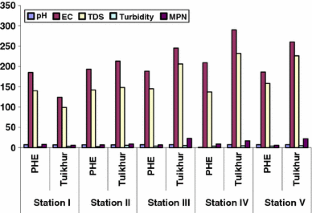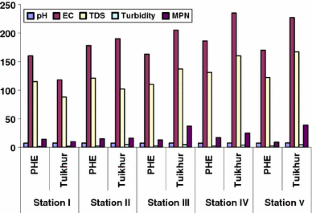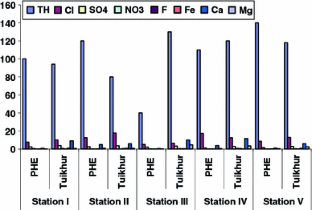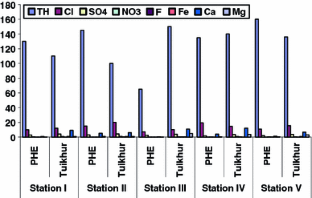 References
Abbasi SA, Vinithan S (1999) Water quality in and around an industrialized suburb of Pondichery. Indian J Environ Health 41(4):253–264

Agrawal V, Jagetia M (1997) Hydrogeochemical assessment of groundwater quality in Udaipur city, Rajasthan, India. In: Proc. Dimensions of Environmental Stress in India, Department of Geology, M.S. University, Baroda, India, pp 151–154

Andre L, Franceschi M, Pouchan P, Atteia O (2005) Using geochemical data and modeling to enhance the understanding groundwater flow in a regional deep aquifer, Aquitaine Basin, Southwest of France. J Hydrol 305:40–62

APHA AWWA (1998) Standard methods for the examination of water and waste water analysis, 20th edn. American Public Health Association, Washington, DC

Appelo CA, Postma D (1993) Geochemistry, groundwater and pollution. Balkema, Rotterdam

Basu KN, Padmalal D, Maya K, Sareeja R, Aurn PR (2007) Quality of surface and groundwater around tile and brick clay mines in Chalakudy river basin, southwestern India. J Geol Soc India 69:279–284

Brennan SK, Lowenstein TK (2002) The major ion composition of Silurian sea water. Geochim Cosmochim Acta 66:2683–2700

Carpenter SR, Karaco NF, Correll DL, Howarth RW, Sharpley AN, Smith VH (1998) Non-point pollution of surface water with phosphorus and nitrogen. Ecol Appl 8:559–568

Chae GT, Yun ST, Mayer B, Kim KH, Kim SY, Kwon JS, Kim K, Koh YK (2007) Fluorine geochemistry in bedrock groundwater of South Korea. Sci Total Environ 385:272–283

Chen J, Wang F, Xia X, Zhang L (2002) Major element chemistry of the Changjiang (Yangtze River). Chem Geol 187:231–255

Cruz JV, Amaral CS (2004) Major ion chemistry of groundwater from perched water bodies of Azores, (Portugal) volcanic archipelago. Appl Geochem 19:445–459

Dasgupta AM, Purohit KM (2001) Status of surface and groundwater quality of Mandiakadar Part II agricultural utilities. Pollut Res 20(2):219–225

Deutsch WJ (1997) Ground water geochemistry: fundamentals and applications to contamination. Lewis, New York

FAO UNO (1988) Requirements of vitamin A, iron, folate and vitamin B12. FAO Food and Nutrition Series, No. 23 Report of a Joint FAO/WHO Expert Consultation Rome, Food and Agriculture Organization of the United Nations

Gupta S, Maheto A, Roy P, Datta JK, Saha RN (2008) Geochemistry of groundwater Burdwan district, West Bengal India. Environ Geol 53:1271–1282

Handa BK (1975) Geochemistry and genesis of fluoride containing ground waters in India. Ground Water 13(3):275–281

Hussain I, Hussain J, Dhinsa SS (2005) Groundwater quality variation in Bhilwara district, Rajasthan. Pollut Res 24(3):723–725

ISI (1991) Indian Standard Specification for Drinking water. BIS 10500

Jahed KGR, Dehghani MH, Mahvi AH, Rafati L, Tavanafar E (2008) Concentration of nitrate and nitrite in groundwater resources of Hamdan Province, Iran. Res J Chem Environ 12(4):56–58

Jeelani G, Shah AQ (2007) Hydrogeochemistry of Dal Lake of Kashmir valley. J Appl Geochem 9(1):120–134

Khurshid SH, Hasan N, Zaheeruddin (2002) Water quality status and environmental hazards in parts of Yamuna, Karwan sub-basin of Aligarh–Mathura districts, Uttar Pradesh, India. J Appl Hydrol 14(4):30–37

Mazumdar D, Gupta N (2000) Nitrate pollution of groundwater and associated human health disorders. Indian J Environ Health 42(1):28–39

Mishra PC, Pradhan KC, Patel RK (2003) Quality of water for drinking and agriculture in and around a mine in Keonjhar district, Orissa. Indian J Environ Health 45(3):213–220

Niranjanbabu P, Subbarao N, Chandrarao P, Prakesarao J et al (1997) Groundwater quality and its importance in the land developmental programmes. India J Geol 69(4):305–312

Pulle JS, Khan AM, Ambore NE, Kadam DD, Pawar SK (2005) Assessment of groundwater quality of Nanded city. Pollut Res 24(3):657–660

Rajurkar NS, Nongbri B, Patwardhan AM (2003) Physico-chemical and biological investigations of river Umshyrpi at Shillong, Meghalaya. Indian J Environ Health 45(1):83–92

Rowell DL (1994) Soil science: methods and applications. Longman, Harlow

Singh AK (2002) Quality assessment of surface and sub-surface water of Damodar river basin. Indian J Environ Health 44(1):41–49

Singh AL (2003) Urban water supply and occurrence of disease: a case study of the low-income households of Aligarh city. In: Singh DN, Singh J, Prudhvi Raju KN (eds) Water crisis and sustainable management. Tara Book Agency, Varanasi, pp 250–266

Sreedevi PD (2004) Groundwater quality of Pageru river basin Cuddapah district of Andhra Pradesh. J Geol Soc Ind 64(5):619–636

Subbarao N, Srinivasarao G, Venketeswarara S, Madhusudanareddy P, John Devadas D (1999) Environmental control of groundwater quality in a tribal region of Andhra Pradesh, India. J Geol 71(4):299–304

Subbrao N (2006) Seasonal variation of groundwater quality in a part of Guntur district Andhra Pradesh, India. Environ Geol 49:413–429

Sujatha D, Reddy RB (2003) Quality characterization of groundwater in the southeastern part of the Ranja Reddy district Andhra Pradesh, India. Environ Geol 44(5):579–586

Sunitha V, Sudarsha, Rajeswara Reddy B (2005) Hydrogeochemistry of groundwater, Gutti area Anantpur district Andhra Pradesh, India. Pollut Res 24(1):217–224

WHO (1984) Guidelines for drinking water quality. World Health Organization, Geneva
About this article
Cite this article
Kumar, S., Bharti, V.K., Singh, K.B. et al. Quality assessment of potable water in the town of Kolasib, Mizoram (India). Environ Earth Sci 61, 115–121 (2010). https://doi.org/10.1007/s12665-009-0326-8
Received:

Accepted:

Published:

Issue Date:

DOI: https://doi.org/10.1007/s12665-009-0326-8
Keywords
Tuikhur

Potable water

Rock water interaction