Abstract
Background
Although studies have proven that liver cirrhosis affects cardiac hemodynamics by means of circulatory overload, they present with definite cardiac functional alteration mostly with end-stage disease. There is limited data on relationship between progression of cirrhosis, cardiac mechanics and sub-clinical dysfunction. This study was done to assess ventricular myocardial mechanics using speckle tracking and deformation imaging among Child-Turcotte-Pugh (CTP) classification A and B cirrhosis.
Method
Seventy patients with cirrhosis of Child-Pugh A/B class and sixty-two healthy subjects were prospectively evaluated by standard conventional echocardiography and deformation imaging with rotational echocardiography. Clinical stage of liver cirrhosis was assessed by model for end-stage liver disease (MELD) scores and CTP classification.
Results
Mean ages of patients with cirrhosis and controls were 55.64±14 years and 52.24±12 years, respectively. Though left ventricular (LV) dimensions (end diastolic dimension: 47.27±4.6 mm vs. 45.03±3.8 mm, p = 0.003; end systolic dimension: 30.33±4.9 mm vs. 28.40±2.91 mm, p = 0.006) and volumes (end diastolic volume: 82.08±22.53 mL vs. 68.18±15.75 mL, p = 0.001; end systolic volume: 28.60±8.42 mL vs. 22.18±7.48 mL, p = 0.001) were significantly higher in patients with cirrhosis, mean ejection fraction (EF) by Simpsons method was higher among controls (65.83±5.79% vs. 68.35±5.79%, p = 0.009). Left atrial volume was higher in cirrhosis group indicating presence of diastolic dysfunction (41.24±14.10 mL vs. 26.08±6.4 mL, p = 0.001). Global longitudinal strain as assessed by speckle tracking echocardiography did not show statistical significant difference between two groups (−22.35±4.08% vs. −21.80±2.54%, p = 0.348). Median value of torsion parameters in patients with cirrhosis did not differ compared to controls (torsion in degrees: 2.46 vs. 2.79, p = 0.268).
Conclusion
Patients with Child-Pugh A and B stages of cirrhosis present with preserved longitudinal strain, normal torsion but with subtle diastolic dysfunction. Higher MELD score may correlate with increased longitudinal strain possibly due to hyperdynamic state.
This is a preview of subscription content,
to check access.
Access this article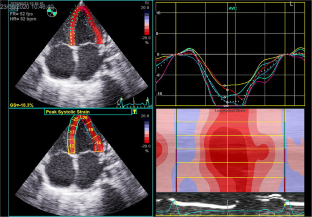 Similar content being viewed by others
References
Pudil R, Pelouch R, Praus R,Vašatováb M, Hůlek P. Heart failure in patients with liver cirrhosis. Cor et Vasa. 2013;55:e391–6.

Altekin RE, Caglar B, Karakas MS, Ozel D, Deger N, Demir I. Evaluation of subclinical left ventricular systolic dysfunction using two-dimensional speckle-tracking echocardiography in patients with non-alcoholic cirrhosis. Hellenic J Cardiol. 2014;55:402–10.

Abd-El-Aziz TA, Abdou M, Fathy A, Wafaie M. Evaluation of cardiac function in patients with liver cirrhosis. Intern Med. 2010;49:2547–52.

Ahmad H, Gayat E, Yodwut C, et al. Evaluation of myocardial deformation in patients with sickle cell disease and preserved ejection fraction using three-dimensional speckle tracking echocardiography. Echocardiography. 2012;29:962–9.

Mitchell C, Rahko PS, Blauwet LA, et al. Guidelines for performing a comprehensive transthoracic echocardiographic examination in adults: recommendations from the American Society of Echocardiography. J Am Soc Echocardiogr. 2019;32:1–64.

Sengupta PP, Tajik AJ, Chandrasekaran K, Khandheria BK. Twist mechanics of the left ventricle: principles and application. JACC Cardiovasc Imaging. 2008;1:366–76.

Regan TJ, Levinson GE, Oldewurtel HA, Frank MJ, Weisse AB, Moschos CB. Ventricular function in noncardiacs with alcoholic fatty liver: role of ethanol in the production of cardiomyopathy. J Clin Invest. 1969;48:397–407.

Kim HM, Kim HK, Lee JH, et al. Myocardial structural and functional changes in patients with liver cirrhosis awaiting liver transplantation: a comprehensive cardiovascular magnetic resonance and echocardiographic study. J Cardiovasc Magn Reson. 2020;22:25.

Kwon HM, Moon YJ, Jung KW, et al. Appraisal of cardiac ejection fraction with liver disease severity: implication in post-liver transplantation mortality. Hepatology. 2020;71:1364–80.

Pagourelias ED, Sotiriou P, Papadopoulos CE, Cholongitas E, Giouleme O, Vassilikos V. Left ventricular myocardial mechanics in cirrhosis: A speckle tracking echocardiographic study. Echocardiography. 2016;33:223–32.

Rimbaş RC, Baldea SM, Guerra RDGA, et al. New definition criteria of myocardial dysfunction in patients with liver cirrhosis: a speckle tracking and tissue doppler imaging study. Ultrasound Med Biol. 2018;44:562–74.

Sampaio F, Pimenta J, Bettencourt N, et al. Systolic and diastolic dysfunction in cirrhosis: a tissue-Doppler and speckle tracking echocardiography study. Liver Int. 2013;33:1158–65.

Ögütmen Koç D, Şahin T, Öksüz S, et al. Right ventricular dysfunction in cirrhosis: a speckle-tracking echocardiography study. J Surg Med. 2020;4:1036–40.

Kazankov K, Holland-Fischer P, Andersen NH, et al. Resting myocardial dysfunction in cirrhosis quantified by tissue Doppler imaging. Liver Int. 2011;31:534–40.

Bijnens BH, Cikes M, Claus P, Sutherland GR. Velocity and deformation imaging for the assessment of myocardial dysfunction. Eur J Echocardiogr. 2009;10:216–26.

Savu O, Jurcuţ R, Giuşcă S, et al. Morphological and functional adaptation of the maternal heart during pregnancy. Circ Cardiovasc Imaging. 2012;5:289–97.

Chen Y, Chan AC, Chan SC, et al. A detailed evaluation of cardiac function in cirrhotic patients and its alteration with or without liver transplantation. J Cardiol. 2016;67:140–6.

Zhang K, Braun A, von Koeckritz F, et al. Right heart remodeling in patients with end-stage alcoholic liver cirrhosis: speckle tracking point of view. J Clin Med. 2019;8:1285.
Ethics declarations
Conflict of interest
MSP, JS, KN, SS, SKN, and MSR declare no competing interests.
Ethics statement
The study was performed conforming to the Helsinki declaration of 1975, as revised in 2000 and 2008 concerning human and animal rights, and the authors followed the policy concerning informed consent as shown on Springer.com.
Informed consent was obtained from patient and their guardian.
Disclaimer
The authors are solely responsible for the data and the contents of the paper. In no way, the Honorary Editor-in-Chief, Editorial Board Members, the Indian Society of Gastroenterology or the printer/publishers are responsible for the results/findings and content of this article.
Additional information
Publisher's note
Springer Nature remains neutral with regard to jurisdictional claims in published maps and institutional affiliations.
About this article
Cite this article
Poojary, M.S., Samanth, J., Nayak, K. et al. Evaluation of subclinical left ventricular systolic dysfunction using two-dimensional speckle-tracking echocardiography in patients with Child-Pugh A and B cirrhosis: A case-control study. Indian J Gastroenterol 41, 567–575 (2022). https://doi.org/10.1007/s12664-022-01277-w
Received:

Accepted:

Published:

Issue Date:

DOI: https://doi.org/10.1007/s12664-022-01277-w
Keywords