Abstract
Background
The role of psychological comorbidities in patients with gastroesophageal reflux disease (GERD), a common condition, still remains incompletely understood. Depression may intensify the symptoms and lower quality of life in these patients. In this study, we looked at the effectiveness of mindfulness-based stress reduction (MBSR) in relieving the symptoms of depression and the health-related quality of life of these patients.
Methods
A longitudinal, interventional open-label study was carried out on 60 patients with GERD and 60 controls. Zung Self-Rating Depression Scale (ZSDS) was used for assessing depression before and after the intervention. The GERD-Health-Related Quality of Life (GERD-HRQL) questionnaire was used to assess the health-related quality of life and the Freiburg Mindfulness Inventory (FMI) to quantify the amount of mindfulness over the study period. The correlation between the above variables was analyzed.
Result
Compared with the group not receiving MBSR, the group receiving MBSR showed a greater decrease in the levels of depression indicated by changes in the ZSDS (p < 0.001). According to the GERD-HRQL questionnaire, mental health and social functioning significantly correlated with symptoms of depression and reduction in the levels of distress and in the improvement in health-related quality of life were greater in the group receiving MBSR (p < 0.001).
Conclusion
Depressive symptoms adversely influence GERD, reducing the overall quality of life. MBSR can be an effective modality in the alleviation of these symptoms and in reduction in the levels of distress in GERD patients.
Access options
Buy single article
Instant access to the full article PDF.
US$ 39.95
Tax calculation will be finalised during checkout.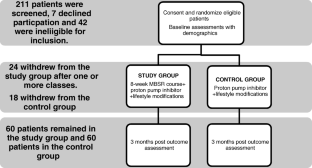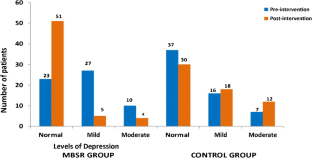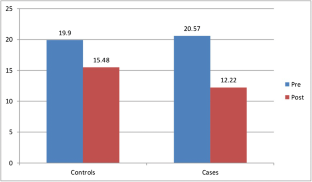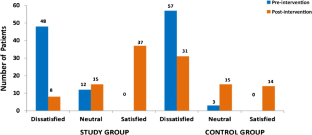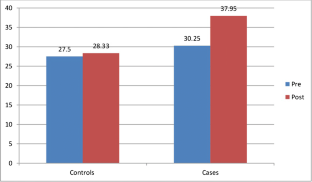 References
1.

Vakil N, van Zanten SV, Kahrilas P, Dent J, Jones R, Global Consensus Group. The Montreal definition and classification of gastroesophageal reflux disease: a global evidence-based consensus. Am J Gastroenterol. 2006;101:1900–20.

2.

Spechler SJ. Clinical manifestations and esophageal complications of GERD. Am J Med Sci. 2003;326:279–84.

3.

El-Serag HB, Sweet S, Winchester CC, Dent J. Update on the epidemiology of gastro-oesophageal reflux disease: a systematic review. Gut. 2014;63:871–80.

4.

Jeong ID. A review of diagnosis of GERD. Korean J Gastroenterol. 2017;69:96–101.

5.

Bhatia SJ, Reddy DN, Ghoshal UC, et al. Epidemiology and symptom profile of gastroesophageal reflux in the Indian population: report of the Indian Society of Gastroenterology Task Force. Indian J Gastroenterol. 2011;30:118–27.

6.

Rai RR, Gangadhar A, Mayabhate MM. Clinical profiling of patients with acid peptic disorders (APD) in India: a cross-sectional survey of clinicians. Int J Basic Clin Pharmacol. 2016;6:194–202.

7.

Fass R, Tougas G. Functional heartburn: the stimulus, the pain, and the brain. Gut. 2002;51:885–92.

8.

Engel GL. The need for a new medical model: a challenge for biomedicine. Science. 1977;196:129–36.

9.

Yang XJ, Jiang HM, Hou XH, Song J. Anxiety and depression in patients with gastroesophageal reflux disease and their effect on quality of life. World J Gastroenterol. 2015;21:4302–9.

10.

Li YM, Du J, Zhang H, Yu CH. Epidemiological investigation in outpatients with symptomatic gastroesophageal reflux from the Department of Medicine in Zhejiang Province, east China. J Gastroenterol Hepatol. 2008;23:283–9.

11.

Lee YC, Wang HP, Chiu HM, et al. Comparative analysis between psychological and endoscopic profiles in patients with gastroesophageal reflux disease: a prospective study based on screening endoscopy. J Gastroenterol Hepatol. 2006;21:798–804.

12.

Jansson C, Nordenstedt H, Wallander M, et al. A population-based study showing an association between gastroesophageal reflux disease and sleep problems. Clin Gastroenterol Hepatol. 2009;7:960–5.

13.

DeVault KR, Castell DO, American College of Gastroenterology. Updated guidelines for the diagnosis and treatment of gastroesophageal reflux disease. Am J Gastroenterol. 2005;100:190–200.

14.

Fass R. Approach to refractory gastroesophageal reflux disease in adults; Topic 2239, Version 16.0; www.uptodate.com; topic last updated: Jun 07. 2016.

15.

El-Serag H, Becher A, Jones R. Systematic review: persistent reflux symptoms on proton pump inhibitor therapy in primary care and community studies. Aliment Pharmacol Ther. 2010;32:720–37.

16.

Fass R, Shapiro M, Dekel R, Sewell J. Systematic review: proton-pump inhibitor failure in gastro-oesophageal reflux disease–where next? Aliment Pharmacol Ther. 2005;22:79–94.

17.

Bhatia V, Tandon RK. Stress and the gastrointestinal tract. J Gastroenterol Hepatol. 2005;20:332–9.

18.

Konturek PC, Brzozowski T, Konturek SJ. Stress and the gut: pathophysiology, clinical consequences, diagnostic approach and treatment options. J Physiol Pharmacol. 2011;62:591–9.

19.

Kamolz T, Pointner R. Gastroesophageal reflux disease. Minerva Gastroenterol Dietol. 2004;50:261–8.

20.

Hofmann SG, Sawyer AT, Witt AA, Oh D. The effect of mindfulness-based therapy on anxiety and depression: a meta-analytic review. J Consult Clin Psychol. 2010;78:169–83.

21.

Hölzel BK, Lazar SW, Gard T, Schuman-Olivier Z, Vago DR, Ott U. How does mindfulness meditation work? Proposing mechanisms of action from a conceptual and neural perspective. Perspect Psychol Sci. 2011;6:537–59.

22.

Kabat-Zinn J, Hanh TN. Full Catastrophe Living: Using the Wisdom of Your Body and Mind to Face Stress, Pain, and Illness. Delta Trade Paperbacks, 1990.

23.

Zung W. A rating instrument for anxiety disorders. Psychosomatics. 1971;12:371–9.

24.

Walach H, Buchheld N, Buttenmuller V, Kleinknecht N, Schmidt S. Measuring mindfulness--the Freiburg Mindfulness Inventory (FMI). Personal Individ Differ. 2006;40:1543–55.

25.

Sheehan DV, Lecrubier Y, Sheehan KH, et al. The Mini-International Neuropsychiatric Interview (M.I.N.I.): the development and validation of a structured diagnostic psychiatric interview for DSM-IV and ICD-10. J Clin Psychiatry. 1998;59 Suppl 20:22–33.

26.

Velanovich V. The development of the GERD-HRQL symptom severity instrument. Dis Esophagus. 2007;20:130–4.

27.

Dent J, El-Serag HB, Wallander MA, Johansson S. Epidemiology of gastro-oesophageal reflux disease: a systematic review. Gut. 2005;54:710–7.

28.

Spechler SJ. Epidemiology and natural history of gastro-oesophageal reflux disease. Digestion. 1992;51 Suppl 1:24–9.

29.

Wienbeck M, Babnert J. Epidemiology of reflux disease and reflux esophagitis. Scand J Gastroenterol. 1989;24 Suppl 156:7–13.

30.

Stanghellini V. Three-month prevalence rates of gastrointestinal symptoms and the influence of demographic factors: results from the Domestic/International Gastroenterology Surveillance Study (DIGEST). Scand J Gastroenterol Suppl. 1999;231:20–8.

31.

Locke GR, Talley NJ, Fett SL, Zinsmeister AR, Melton LJ. Prevalence and clinical spectrum of gastroesophageal reflux: a population-based study in Olmsted County, Minnesota. Gastroenterology. 1997;112:448–56.

32.

Wiklund I, Carlsson R, Wiklund I, Carlsson R, Carlsson J, Glise H. Psychological factors as a predictor of treatment response in patients with heartburn: a pooled analysis of clinical trials. Scand J Gastroenterol. 2006;41:288–93.

33.

Kessing BF, Bredenoord AJ, Saleh CM, Smout AJ. Effects of anxiety and depression in patients with gastroesophageal reflux disease. Clin Gastroenterol Hepatol. 2015;13:1089–95.

34.

Ronkainen J, Aro P, Storskrubb T, et al. Gastro-oesophageal reflux symptoms and health-related quality of life in the adult general population: the Kalixanda study. Aliment Pharmacol Ther. 2006;23:1725–33.

35.

Garland EL, Gaylord SA, Palsson O, Faurot K, Douglas Mann J, Whitehead WE. Therapeutic mechanisms of a mindfulness-based treatment for IBS: effects on visceral sensitivity, catastrophizing, and affective processing of pain sensations. J Behav Med. 2012;35:591–602.

36.

Labelle LE, Campbell TS, Carlson LE. Mindfulness-based stress reduction in oncology: evaluating mindfulness and rumination as mediators of change in depressive symptoms. Mindfulness. 2010;1:28–40.
Ethics declarations
Conflict of interest
SC, RR, MK, and HPN declare that they have no conflict of interest.
Ethical clearance
The authors declare that the study was performed in a manner conforming to the Helsinki declaration of 1975, as revised in 2000 and 2008 concerning human and animal rights, and the authors followed the policy concerning informed consent as shown on Springer.com. Permission was obtained from the JSS Medical College and Hospital Ethics Committee.
Disclaimer
The authors are solely responsible for the data and the content of the paper. In no way, the Honorary Editor-in-Chief, Editorial Board Members, or the printer/publishers are responsible for the results/findings and content of this article.
Additional information
Publisher's note
Springer Nature remains neutral with regard to jurisdictional claims in published maps and institutional affiliations.
About this article
Cite this article
Chandran, S., Raman, R., Kishor, M. et al. The effectiveness of mindfulness meditation in relief of symptoms of depression and quality of life in patients with gastroesophageal reflux disease. Indian J Gastroenterol 38, 29–38 (2019). https://doi.org/10.1007/s12664-019-00940-z
Received:

Accepted:

Published:

Issue Date:
Keywords
Depression

Gastroesophageal reflux disease

Mindfulness-based stress reduction

Quality of life