Abstract
Aim
Tropical sprue was considered to be the most important cause of malabsorption in adults in India. However, several reports indicate that celiac disease is now recognized more frequently.
Methods
We analyzed the clinical presentation, endoscopic and histological features of 94 consecutive patients (age >12 years) with chronic diarrhea and malabsorption syndrome. The spectrum of disease in these patients and features differentiating celiac disease and tropical sprue are reported here.
Results
Celiac disease (n = 61, 65%) was the most common cause of malabsorption followed by tropical sprue (21, 22%). Other conditions including cyclosporiasis (3), Crohn's disease (2), common variable immunodeficiency (2), lymphangiectasia (1), William's syndrome (1), and idiopathic malabsorption (3) accounted for the remainder. A greater number (21, 34%) of patients with celiac disease than those with tropical sprue (4, 19%) presented with atypical manifestations. Patients with celiac disease were younger (p = 0.001), more often had anemia, (p = 0.001), scalloping of folds (p = 0.001), moderate (p = 0.02) or severe (p = 0.001) villous atrophy, higher grade of intraepithelial lymphocytic infiltration (p = 0.001), crypt hyperplasia (p = 0.001), cuboidal (p = 0.001) and pseudostratified (p = 0.009) surface epithelial cells, and diffuse (p = 0.001) epithelial damage. In comparison, patients with tropical sprue were older and more often had normal duodenal folds, normal villi, tall columnar epithelial cells and focal epithelial damage.
Conclusions
Celiac disease was the most frequent cause of malabsorption syndrome in this series of patients. There are significant clinical and histological differences between celiac disease and tropical sprue.
We're sorry, something doesn't seem to be working properly.
Please try refreshing the page. If that doesn't work, please contact support so we can address the problem.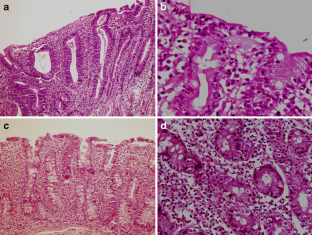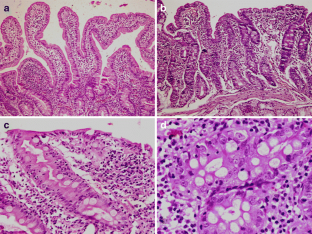 References
1.

Makharia G. Where are Indian adult celiacs? Trop Gastroenterol. 2006;27:1–3.

2.

Ramakrishna BS. Malabsorption syndrome in India. Indian J Gastroenterol. 1996;15:135–41.

3.

Ranjan P, Ghoshal UC, Aggarwal R, et al. Etiological spectrum of sporadic malabsorption syndrome in northern Indian adults at a tertiary hospital. Indian J Gastroenterol. 2004;23:94–8.

4.

Yachha SK, Misra S, Malik AK, Nagi B, Mehta S. Spectrum of malabsorption syndrome in north Indian children. Indian J Gastroenterol. 1993;12:120–5.

5.

Ramakrishna BS, Venkataraman S, Mukhopadhya A. Tropical malabsorption. Postgrad Med J. 2006;82:779–87.

6.

Poddar U, Thapa BR, Nain CK, Prasad A, Singh K. Celiac disease in India: are they true cases of celiac disease? J Pediatr Gastroenterol Nutr. 2002;35:508–12.

7.

Bhatnagar S, Gupta SD, Mathur M, et al. Celiac disease with mild to moderate histologic changes is a common cause of chronic diarrhea in Indian children. J Pediatr Gastroenterol Nutr. 2005;41:204–9.

8.

Khoshoo V, Bhan MK, Jain R, et al. Celiac disease as cause of protracted diarrhoea in Indian children. Lancet. 1988;1:126–7.

9.

Varma S, Malhotra P, Kochhar R, Varma S, Kumari S, Jain S. Celiac disease presenting as iron-deficiency anaemia in northern India. Indian J Gastroenterol. 2001;20:234–6.

10.

Sachdev A, Srinivasan V, Maheswary S, Mohan H, Ashish B, Singh LS. Adult onset celiac disease in north India. Trop Gastroenterol. 2002;23:117–9.

11.

Sood A, Midha V, Sood N, Malhotra V. Adult celiac disease in northern India. Indian J Gastroenterol. 2003;22:124–6.

12.

Fasano A, Catassi C. Current approaches to diagnosis and treatment of celiac disease: An evolving spectrum. Gastroenterology. 2001;120:636–51.

13.

Rewers M. Epidemiology of celiac disease: what are the prevalence, incidence, and progression of celiac disease? Gastroenterology. 2005;128 Suppl 1:S47–S51.

14.

Ehrenpreis ED, Salvino M, Craig RM. Improving the serum D-xylose test for the identification of patients with small intestinal malabsorption. J Clin Gastroenterol. 2001;33:36–40.

15.

Van de Kamer JH, Huinink HTB, Weyers HA. Rapid method for the determination of fat in feces. J Biol Chem. 1949;177:347–55.

16.

Allen AV, Ridley DS. Further observations on the formol-ether concentration technique for faecal parasites. J Clin Pathol. 1970;23:545–6.

17.

Garcia LS, Bruckner DA, Brewer TC, Shimizu RY. Techniques for the recovery and identification of cryptosporidium oocysts from stool specimens. J Clin Microbiol. 1983;18:185–90.

18.

Volta U, Molinaro N, Fusconi M, Cassani F, Bianchi FB. IgA antiendomysial antibody test: a step forward in celiac disease screening. Dig Dis Sci. 1991;36:752–6.

19.

Marsh MN, Crowe PT. Morphology of the mucosal lesion in gluten sensitivity. Baillières Clin Gastroenterol. 1995;9:273–93.

20.

Day DW, Jass JR, Price AB, et al. Inflammatory disorders of the small intestine. In: Day DW, Jass JR, Price AB, et al., eds. Morson and Dawson's Gastrointestinal Pathology. UK: Blackwell Science; 2001; p. 272–309.

21.

Report of Working Group of European Society of Paediatric Gastroenterology, Nutrition. Revised criteria for diagnosis of celiac disease. Arch Dis Child. 1990;65:909–1.

22.

Travis SPL, Stange EF, Lémann M, et al. European evidence based consensus on the diagnosis and management of Crohn's disease: Current management. Gut. 2006;55:16–35.

23.

Westergaard H. Tropical sprue. Curr Treat Options Gastroenterol. 2004;7:7–11.

24.

Farthing MJG. Tropical malabsorption and tropical diarrhea. In: Feldman M, Friedman LS, Brandt LJ, eds. Sleisenger and Forrtran's Gastrointestinal and Liver Disease (Pathophysiology/Diagnosis and Management). Philadelphia: Saunders. 2006; p. 2307–18.

25.

Behera B, Mirdha BR, Makharia GK, Bhatnagar S, Dattagupta S, Samantaray JC. Parasites in patients with malabsorption syndrome: a clinical study in children and adults. Dig Dis Sci. 2008;53:672–9.

26.

Sood A, Midha V, Sood N, Kaushal V, Puri H. Increasing incidence of celiac disease in India. Am J Gastroenterol. 2001;96:2804–5.

27.

Dube C, Rostom A, Sy R, et al. The prevalence of celiac disease in average-risk and at-risk Western European populations: a systematic review. Gastroenterology. 2005;128 Suppl 1:S57–S67.

28.

Cataldo F, Montalto G. Celiac disease in the developing countries: a new and challenging public health problem. World J Gastroenterol. 2007;13:2153–9.

29.

Marsh MN. The natural history of gluten sensitivity: refining and re-defining. Q J Med. 1995;85:9–13.

30.

Ross IM, Mathan VI. Immunological changes in tropical sprue. Q J Med. 1981;50:435.

31.

Bach JF. The effect of infections on susceptibility to autoimmune and allergic diseases. N Engl J Med. 2002;347:911–20.
About this article
Cite this article
Yadav, P., Das, P., Mirdha, B.R. et al. Current spectrum of malabsorption syndrome in adults in India. Indian J Gastroenterol 30, 22–28 (2011). https://doi.org/10.1007/s12664-011-0081-0
Received:

Accepted:

Published:

Issue Date:
Keywords
Celiac disease

Chronic diarrhea

Tropical sprue

Villous atrophy