Abstract
Objective
A specific type of mesenchymal stem/progenitor cells (MSPCs), CD105+ is reported to aid in cartilage regeneration through TGF-β/Smad2-signalling. The purpose of this study was to identify and characterize CD105+ MSPCs in temporomandibular joint (TMJ) cartilage.
Materials and Methods
MSPCs were isolated from mouse TMJ condyle explants and evaluated for their clonogenicity and pluripotential abilities. MSPC were examined for CD105 antigen using immunohistochemistry and flow cytometry.
Results
Immunohistochemistry revealed presence of CD105+ MSPCs in the proliferative zone of condyle's cartilage. Only 0.2% of isolated MSPCs exhibited CD105, along with the stem cell surface markers CD44 and Sca-1. In CD105+ MSPCs, intracellular immunostaining revealed significantly higher (p < 0.05) protein levels of collagen type 1, 2, proteoglycan 4. Ability for chondrogenic differentiation was found to be significantly higher (p < 0.05) after 4 weeks compared to CD105− cells, using alcian blue staining. CD105+ cells were found to resemble an early MSPC subgroup with significantly higher gene expression of biglycan, proteoglycan 4, collagen type 2, Gli2, Sox5 (p < 0.001) and Sox9 (p < 0.05). In contrast, significantly lower levels of Runx2 (p < 0.05), Osterix, Trps1, Col10a1 (p < 0.01), Ihh (p < 0.001) related to chondrocyte senescence and commitment to osteogenic lineage, were observed compared to CD105− cells.
Conclusion
The study showed the existence of a CD105+ MSPC subgroup within TMJ fibrocartilage that may be activated to aid in fibrocartilage repair.
Access options
Buy single article
Instant access to the full article PDF.
USD 39.95
Price excludes VAT (USA)
Tax calculation will be finalised during checkout.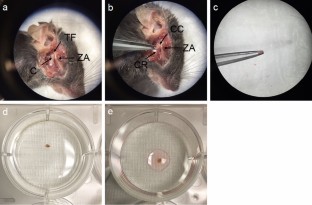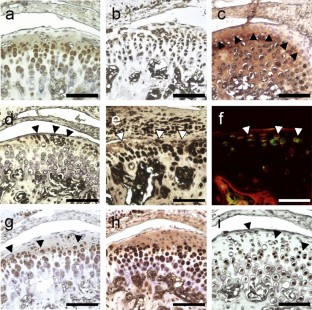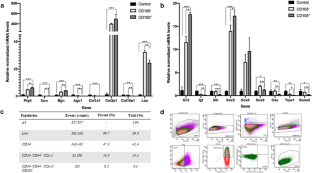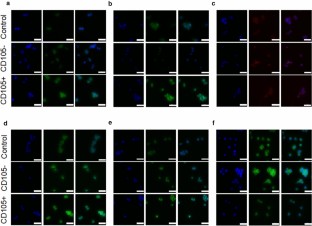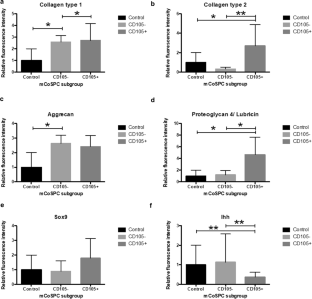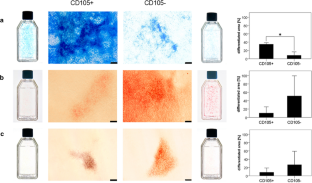 References
U.S. Department of Health and Human Services NIoH, National Institute of Mental Health. TMJ Disorders. Bethesda, MD: U.S. Government Printing Office.; 2017. Report No.: NIH Publication No. 17-3487

McNeill C, Mohl ND, Rugh JD, Tanaka TT (1990) Temporomandibular disorders: diagnosis, management, education, and research. J Am Dent Assoc 120(3):253

Robinson J, O'Brien A, Chen J, Wadhwa S (2015) Progenitor cells of the mandibular condylar cartilage. Curr Mol Biol Rep 1(3):110–114

Dy P, Wang W, Bhattaram P, Wang Q, Wang L, Ballock RT et al (2012) Sox9 directs hypertrophic maturation and blocks osteoblast differentiation of growth plate chondrocytes. Dev Cell 22(3):597–609

Tanaka E, Detamore MS, Mercuri LG (2008) Degenerative disorders of the temporomandibular joint: etiology, diagnosis, and treatment. J Dent Res 87(4):296–307

Wadhwa S, Kapila S (2008) TMJ disorders: future innovations in diagnostics and therapeutics. J Dent Educ 72(8):930–947

Gamer LW, Shi RR, Gendelman A, Mathewson D, Gamer J, Rosen V (2017) Identification and characterization of adult mouse meniscus stem/progenitor cells. Connect Tissue Res 58(3–4):238–245

Zhang W, Chen J, Zhang S, Ouyang HW (2012) Inhibitory function of parathyroid hormone-related protein on chondrocyte hypertrophy: the implication for articular cartilage repair. Arthritis Res Ther 14(4):221

Yang J, Andre P, Ye L, Yang YZ (2015) The Hedgehog signalling pathway in bone formation. Int J Oral Sci 7(2):73–79

Suzuki A, Iwata J (2016) Mouse genetic models for temporomandibular joint development and disorders. Oral Dis 22(1):33–38

Shibukawa Y, Young B, Wu C, Yamada S, Long F, Pacifici M et al (2007) Temporomandibular joint formation and condyle growth require Indian hedgehog signaling. Dev Dyn 236(2):426–434

Foster JW, Dominguez-Steglich MA, Guioli S, Kwok C, Weller PA, Stevanovic M et al (1994) Campomelic dysplasia and autosomal sex reversal caused by mutations in an SRY-related gene. Nature 372(6506):525–530

Ikeda T, Kamekura S, Mabuchi A, Kou I, Seki S, Takato T et al (2004) The combination of SOX5, SOX6, and SOX9 (the SOX trio) provides signals sufficient for induction of permanent cartilage. Arthritis Rheum 50(11):3561–3573

Bell DM, Leung KK, Wheatley SC, Ng LJ, Zhou S, Ling KW et al (1997) SOX9 directly regulates the type-II collagen gene. Nat Genet 16(2):174–178

Lefebvre V, Huang W, Harley VR, Goodfellow PN, de Crombrugghe B (1997) SOX9 is a potent activator of the chondrocyte-specific enhancer of the pro alpha1(II) collagen gene. Mol Cell Biol 17(4):2336–2346

Liu Y, Li H, Tanaka K, Tsumaki N, Yamada Y (2000) Identification of an enhancer sequence within the first intron required for cartilage-specific transcription of the alpha2(XI) collagen gene. J Biol Chem 275(17):12712–12718

Sekiya I, Tsuji K, Koopman P, Watanabe H, Yamada Y, Shinomiya K et al (2000) SOX9 enhances aggrecan gene promoter/enhancer activity and is up-regulated by retinoic acid in a cartilage-derived cell line, TC6. J Biol Chem 275(15):10738–10744

Zhang P, Jimenez SA, Stokes DG (2003) Regulation of human COL9A1 gene expression. Activation of the proximal promoter region by SOX9. J Biol Chem 278(1):117–123

Yahara Y, Takemori H, Okada M, Kosai A, Yamashita A, Kobayashi T et al (2016) Pterosin B prevents chondrocyte hypertrophy and osteoarthritis in mice by inhibiting Sik3. Nat Commun 7:10959

Barbara NP, Wrana JL, Letarte M (1999) Endoglin is an accessory protein that interacts with the signaling receptor complex of multiple members of the transforming growth factor-beta superfamily. J Biol Chem 274(2):584–594

Cheifetz S, Bellon T, Cales C, Vera S, Bernabeu C, Massague J et al (1992) Endoglin is a component of the transforming growth factor-beta receptor system in human endothelial cells. J Biol Chem 267(27):19027–19030

Quackenbush EJ, Letarte M (1985) Identification of several cell surface proteins of non-T, non-B acute lymphoblastic leukemia by using monoclonal antibodies. J Immunol 134(2):1276–1285

Gougos A, Letarte M (1990) Primary structure of endoglin, an RGD-containing glycoprotein of human endothelial cells. J Biol Chem 265(15):8361–8364

Lastres P, Bellon T, Cabanas C, Sanchez-Madrid F, Acevedo A, Gougos A et al (1992) Regulated expression on human macrophages of endoglin, an Arg-Gly-Asp-containing surface antigen. Eur J Immunol 22(2):393–397

Pierelli L, Bonanno G, Rutella S, Marone M, Scambia G, Leone G (2001) CD105 (endoglin) expression on hematopoietic stem/progenitor cells. Leuk Lymphoma 42(6):1195–1206

Fan W, Li J, Wang Y, Pan J, Li S, Zhu L et al (2016) CD105 promotes chondrogenesis of synovium-derived mesenchymal stem cells through Smad2 signaling. Biochem Biophys Res Commun 474(2):338–344

Chang CB, Han SA, Kim EM, Lee S, Seong SC, Lee MC (2013) Chondrogenic potentials of human synovium-derived cells sorted by specific surface markers. Osteoarthr Cartil 21(1):190–199

Jiang T, Liu W, Lv X, Sun H, Zhang L, Liu Y et al (2010) Potent in vitro chondrogenesis of CD105 enriched human adipose-derived stem cells. Biomaterials 31(13):3564–3571

Goichberg P (2016) Current understanding of the pathways involved in adult stem and progenitor cell migration for tissue homeostasis and repair. Stem Cell Rev 12(4):421–437

Khanna-Jain R, Mannerstrom B, Vuorinen A, Sandor GK, Suuronen R, Miettinen S (2012) Osteogenic differentiation of human dental pulp stem cells on beta-tricalcium phosphate/poly (l-lactic acid/caprolactone) three-dimensional scaffolds. J Tissue Eng 3(1):2041731412467998

Qu D, Zhu JP, Childs HR, Lu HH (2019) Nanofiber-based transforming growth factor-beta3 release induces fibrochondrogenic differentiation of stem cells. Acta Biomater 93:111–122

Fang D, Jin P, Huang Q, Yang Y, Zhao J, Zheng L (2019) Platelet-rich plasma promotes the regeneration of cartilage engineered by mesenchymal stem cells and collagen hydrogel via the TGF-beta/SMAD signaling pathway. J Cell Physiol 234(9):15627–15637

Gupte MJ, Swanson WB, Hu J, Jin X, Ma H, Zhang Z et al (2018) Pore size directs bone marrow stromal cell fate and tissue regeneration in nanofibrous macroporous scaffolds by mediating vascularization. Acta Biomater 82:1–11

Jacer S, Shafaei H, Soleimani RJ (2018) An investigation on the regenerative effects of intra articular injection of co-cultured adipose derived stem cells with chondron for treatment of induced osteoarthritis. Adv Pharm Bull 8(2):297–306

de Souza TR, Takamori ER, Menezes K, Carias RBV, Dutra CLM, de Freitas AM et al (2018) Temporomandibular joint regeneration: proposal of a novel treatment for condylar resorption after orthognathic surgery using transplantation of autologous nasal septum chondrocytes, and the first human case report. Stem Cell Res Ther 9(1):94

Dominici M, Le Blanc K, Mueller I, Slaper-Cortenbach I, Marini F, Krause D et al (2006) Minimal criteria for defining multipotent mesenchymal stromal cells. The international society for cellular therapy position statement. Cytotherapy 8(4):315–317

Anderson P, Carrillo-Galvez AB, Garcia-Perez A, Cobo M, Martin F (2013) CD105 (endoglin)-negative murine mesenchymal stromal cells define a new multipotent subpopulation with distinct differentiation and immunomodulatory capacities. PLoS ONE 8(10):e76979

Boxall SA, Jones E (2012) Markers for characterization of bone marrow multipotential stromal cells. Stem Cells Int

Fu H, Doll B, McNelis T, Hollinger JO (2007) Osteoblast differentiation in vitro and in vivo promoted by Osterix. J Biomed Mater Res A 83(3):770–778

Tu Q, Valverde P, Chen J (2006) Osterix enhances proliferation and osteogenic potential of bone marrow stromal cells. Biochem Biophys Res Commun 341(4):1257–1265

Komori T (2017) Roles of Runx2 in Skeletal Development. Adv Exp Med Biol 962:83–93

Kronenberg HM (2003) Developmental regulation of the growth plate. Nature 423(6937):332–336

Suemoto H, Muragaki Y, Nishioka K, Sato M, Ooshima A, Itoh S et al (2007) Trps1 regulates proliferation and apoptosis of chondrocytes through Stat3 signaling. Dev Biol 312(2):572–581

Chung UI, Schipani E, McMahon AP, Kronenberg HM (2001) Indian hedgehog couples chondrogenesis to osteogenesis in endochondral bone development. J Clin Invest 107(3):295–304

Komori T (2018) Runx2, an inducer of osteoblast and chondrocyte differentiation. Histochem Cell Biol 149(4):313–323

Guastaldi FPS, Hakim MA (2021) Are stem cells useful in the regeneration and repair of cartilage defects in the TMJ condyle? An In Vivo Study. J Dent Oral Disord 7(2):1159

Kim N, Cho SG (2016) Overcoming immunoregulatory plasticity of mesenchymal stem cells for accelerated clinical applications. Int J Hematol 103(2):129–137

Di Nicola M, Carlo-Stella C, Magni M, Milanesi M, Longoni PD, Matteucci P et al (2002) Human bone marrow stromal cells suppress T-lymphocyte proliferation induced by cellular or nonspecific mitogenic stimuli. Blood 99(10):3838–3843

Le Blanc K, Ringden O (2007) Immunomodulation by mesenchymal stem cells and clinical experience. J Intern Med 262(5):509–525
Acknowledgements
This study was funded in part from grants: MGH-Department of Oral and Maxillofacial Surgery Education Research Fund (Boston, MA), Jean Foundation (NH), Fondation Bertarelli (Gstaadt, Switzerland) and MGH-Walter C. Guralnick Fund (Haseotes-Bentas Foundation, Boston, MA).
Ethics declarations
Conflict of interest
The authors report no declarations of interest.
Additional information
Publisher's Note
Springer Nature remains neutral with regard to jurisdictional claims in published maps and institutional affiliations.
About this article
Cite this article
Thamm, J.R., Jounaidi, Y., Mueller, ML. et al. Temporomandibular Joint Fibrocartilage Contains CD105 Positive Mouse Mesenchymal Stem/Progenitor Cells with Increased Chondrogenic Potential. J. Maxillofac. Oral Surg. (2022). https://doi.org/10.1007/s12663-022-01721-6
Received:

Accepted:

Published:

DOI: https://doi.org/10.1007/s12663-022-01721-6
Keywords
CD105

Mesenchymal stem/progenitor cells

Cartilage regeneration

Temporomandibular joint