Abstract
The adequate three-dimensional location of the maxilla is one of the main objectives in orthognathic surgery. We propose an instrument manufactured from a Fox Plane (FP) modified with red light in the shape of a cross and a bubble level, in which we perform an occlusal registration for the trans-surgical control of the three-dimensional position of the maxilla, By adding an occlusal registration to the FP, the occlusal plane is transferred and amplified to an extraoral reference. The red light in the shape of a cross allows us to assess the success of our movements more accurately.
Access options
Buy single article
Instant access to the full article PDF.
USD 39.95
Price includes VAT (USA)
Tax calculation will be finalised during checkout.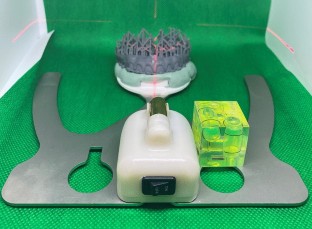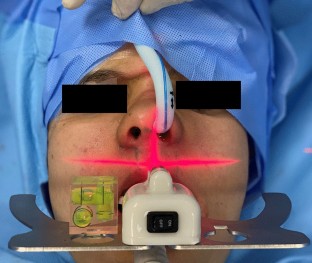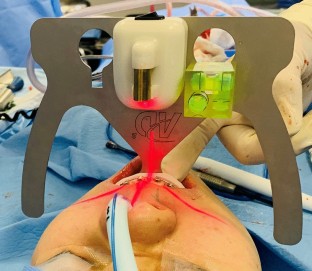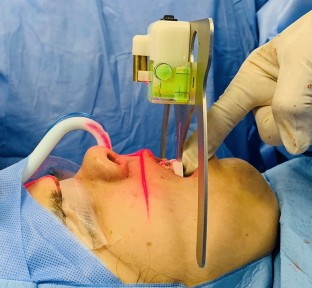 References
1.

Van Sickels JE, Larsen AJ, Triplett RG (1986) Predictability of maxillary surgery: a comparison of internal and external reference marks. Oral Surg Oral Med Oral Pathol 61(6):542–545

2.

Polido WD, Ellis E, Sinn DP (1990) An assessment of the predictability of maxillary surgery. J Oral Maxillofac Surg 48(7):697–701

3.

Heufelder M, Wilde F, Pietzka S (2017) Clinical accuracy of waferless maxillary positioning using customized surgical guides and patient specific osteosynthesis in bimaxillary orthognathic surgery. J Craniomaxillofac Surg 45(9):1578–1585

4.

Greenberg S, Buchbinder D, Turner MD, Dhillon P, Afshar AA (2021) Three-dimensional repositioning of the maxilla in orthognathic surgery using patient-specific titanium plates: a case series. J Oral Maxillofac Surg 79(4):902–913
Ethics declarations
Conflict of interest
The authors declare that they have no conflict of interest, ethical principles were respected at all times, the patient authorized and signed an informed consent for this publication.
Additional information
Publisher's Note
Springer Nature remains neutral with regard to jurisdictional claims in published maps and institutional affiliations.
About this article
Cite this article
Ramirez Lugo, R., Crespo Reinoso, P., Guevara Mejia, J. et al. Surgical Control of the Pitch, Roll and Yaw in the Maxillary Arch: A Technical Note. J. Maxillofac. Oral Surg. (2021). https://doi.org/10.1007/s12663-021-01656-4
Received:

Accepted:

Published:
Keywords
Orthognathic

Lefort

Maxillary movement

Occlusal plane